We are board game people.
We've got a bookshelf full of games for the kids, and a hollow ottoman full of games for grown-ups. Not to mention our basket-full of card games. So believe me when I say, we know our games.
Summer is the PERFECT time for game nights & family time, but I know you don't want to waste your time (or money) on games that drive you crazy or bore you to death, right? So, I've got you covered!
Below, you'll find 10 FANTASTIC board games that your whole family can enjoy. They are fun for everyone, and you'll be so glad you added these to your collection!
The BEST board games for your whole family!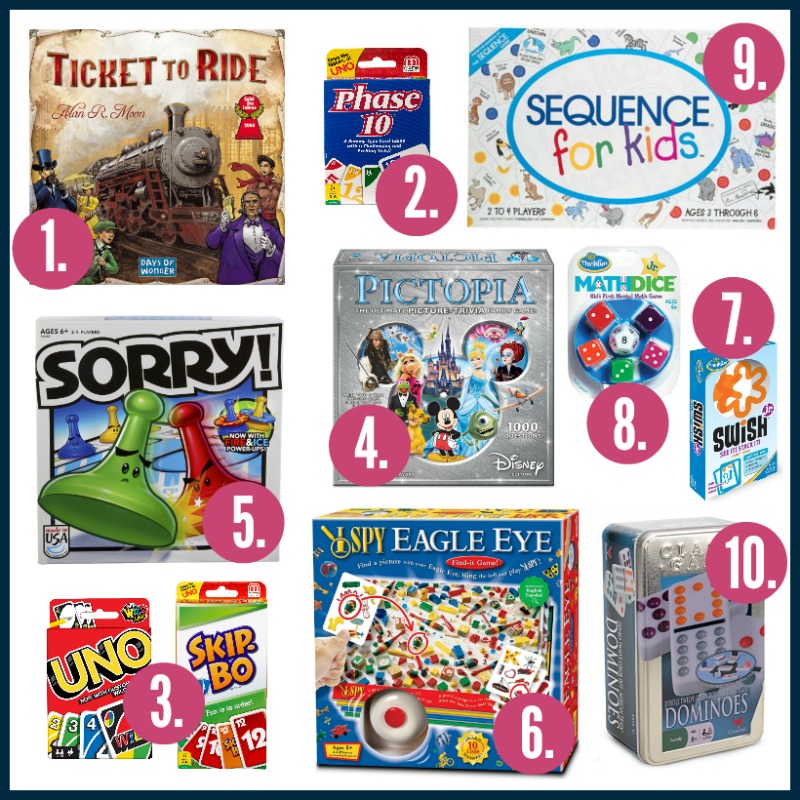 Price: $45
Number of Players: 2-5
Get it: Ticket to Ride (We also have Ticket to Ride First Explorers that we play with our little guy.)
We LOVE this game. It's SO MUCH FUN for every single one of us! When our family comes over, or we have a game night, or friends join us for dinner, THIS is the game we pull out to play, and it's always a huge hit.
If you love it, too, you'll be happy to know that you can get expansion packs, like the Rails & Sails Edition, or the Europe Edition!
Price: $8
Number of Players: 2-4
Get it: Phase 10
Jon and I have played this one since we started dating. It's small, so it's perfect to take to a coffee shop for date night! Plus, since the instructions are easy to understand, we can team up with our kiddos and play this as a whole family.
Price: $4-$7
Number of Players: 2-4
Get it: Skip-Bo & Uno
More card games to love! These are classics, and easy to play together as a family. If you've got little kids like we do, you're gonna want to grab a set of these, too. It's so hard for those little hands to keep all of those cards in one place, so these are a total must-have!
Price: $11
Number of Players: 2-6
Get it: Pictopia
We love Trivial Pursuit, but it's hard to play with kiddos who don't know a whole lot of trivia yet! Which is why this Disney Trivia game is perfect for us. It's all stuff the kids know (since we are avid Disney movie watchers!), and we have so much fun playing together.
Price: $9
Number of Players: 2-4
Get it: Sorry (Thought I gotta say, I'm partial to this classic version.)
I grew up playing this game, did you? I love sharing one of my lifetime favorite games with my kids. Plus, everyone loves sending each other back home. (It's best to team up with your little ones, for this game. Otherwise feelings can easily get hurt!)
Price: $14
Number of Players: 2-4
Get it: I Spy Eagle Eye
We play I Spy on a regular basis, so when I added this game to our rotation, it was a no brainer! My kids love finding the items, and we can spend a good afternoon around this game. Perfect for those "I'm bored" summer afternoons!
Price: $13
Number of Players: 2-6
Get it: Swish (& Swish Jr.)
This is a crazy twist on a matching card game. We just grabbed this one off Amazon and have yet to play it, but I can't wait! It seems like such a fun challenge for kids and adults. And I love that you can increase the difficulty depending on the age of the players. Such a great idea!
Price: $8
Number of Players: 2
Get it: Math Dice Jr.
Perfect for those elementary school kids who are working on learning their math facts. Or, you know, grown ups who might need a mental math review. 😉
Price: $15
Number of Players: 2-4
Get it: Sequence Jr.
We just received this game as a gift, and we're already in love. It's a great game for critical thinking, for both kids and adults! We are definitely only able to play the Junior version for now, but once the kids are older, we're excited to upgrade to the grown up version!
Price: $9
Number of Players: 2-6
Get it: Dominoes
This one never gets old, friends. I've got a wooden domino set from my childhood that we use to play together as a family. And then, you know, dominoes are always good for setting up and knocking down! (This is how our three-year-old likes to play. Can you blame him?)
Those are our top 10 games to play on family night, or lazy afternoons! I hope this list helps you find some new games to love, and maybe even some old ones that you forgot about. And don't forget – ALL game nights must be accompanied by popcorn and ice cream, of course!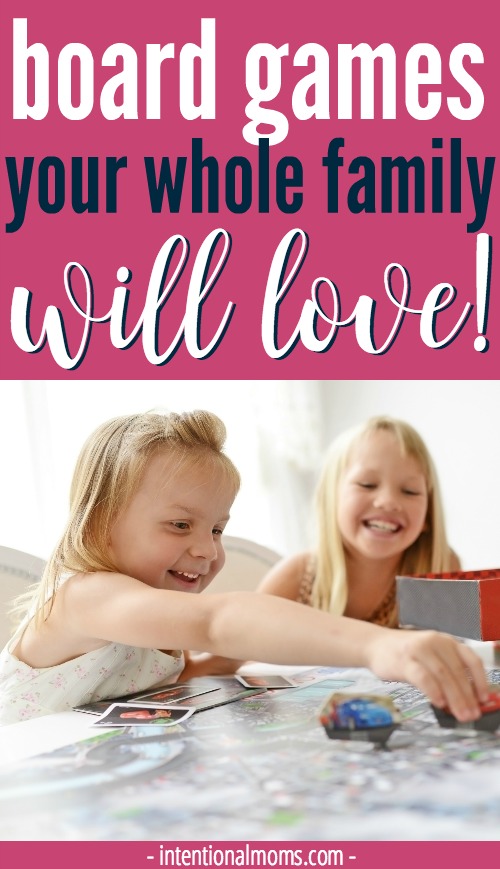 *The links above may be affiliate links, which means that, at no extra cost to you, I earn a commission on your purchase through these links. Thank you so much for your support of this site! I appreciate you!