Is there anything better than sitting down with a new book to read?
I submit that there is NOT.
I love to read, and I want my kids to love to read as well. Most of the books on this list are so good, we own them, and the ones we don't have are on my Amazon wish list! Don't get me wrong, we visit the library a lot too, but I love collecting books. Especially our family favorites. These are the books we'll read over and over again.
So, if you're looking for a list of the very BEST books for all ages, this is the place for you!
Th Ultimate Reading List for the Whole Family!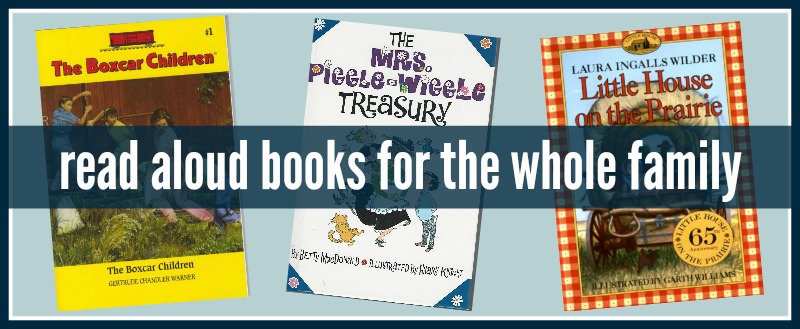 The Boxcar Children Series – Netflix confession: my kids got hooked on the Boxcar Children story through the animated movie on Netflix! It's been an easy transition to the books, and it's super fun to read these together! The kids love them.
The Little House On The Prairie Series – I'm thinking we'll be ready for these by the end of the summer. I actually never read these as a little girl *gasp!*, but I think Emily will love them, and I'm excited to read them with her! We bought this set in particular for the beautiful illustrations!
Winnie The Pooh – A classic! Everyone loves Winnie the Pooh, and my kids are no exception. We've got a nice version of this book with fun illustrations that will hold even the little guy's attention.
Mrs. Piggle Wiggle – And this was MY favorite series of books growing up! I adore Mrs. Piggle Wiggle, and her calm wisdom among some crazy kids. This book is the first in the series, and the whole family is sure to love it!
Max Lucado's Children's Books – Max Lucado books are treasures in our home. These are actually picture books with gorgeous illustrations and strong Christian themes. Each clearly point to Jesus & God's Word!
The Rhyme Bible – This is a really fun (and solid) Bible to read with the kids. It's clear, understandable, and so enjoyable to read! It also includes a lot of Bible stories that many children's Bible leave out. It's pretty comprehensive, and theologically accurate.
The Jesus Storybook Bible – The JSB is a great one too. We use this in the mornings for our devotional time with the kids. I also have it as an audiobook, so the kids can listen to it too!

Elephant & Piggie Books – HILARIOUS, you guys!! If you haven't read an Elephant & Piggie book before, you better just run to the library and get them all. You'll be laughing harder than your kids, I promise. Mo Willems is a genius.
The Bear Books – We were introduced to these books when Chick-fil-A was giving them away with kid's meals, and we fell in love! I ended up ordering the whole series online. Emmy adores them just as much as I do, and she just takes the stack of books and reads them on her bed. (And I just ordered a few books from this same author based on the Psalms!)
The Berenstain Bears Series – Same with these. Emmy will read BB books for hours! And they are classics – we've got the same ones for the kids that we read growing up. So fun!
Fancy Nancy Books – It's no surprise that our girly-girl loves Fancy Nancy! She's obsessed with these books and their characters. And I love the lessons learned in them, so it's a win-win!
Splat The Cat Books – These books are just silly. We usually get these from the library since they have such a big collection there. We've usually got one Splat adventure in our library basket each week!
Veggie Tales – I have loved every Veggie Tales book we've gotten, from the character building books to the educational ones. These books are how Emmy learned her shapes and numbers, and she still loves reading them on her own!
Llama Llama Books – Honestly, I think Emmy just likes saying "Llama Llama". But these books are cute too. We've got a few with the accompanying CD, and the kids will just sit and listen, or Emmy will read them to Nathan!

Ramona Quimby Series   |  Beverly Cleary – We are diving into these books now, and they are SO MUCH FUN. It's just a blast to read books with Emily that I loved growing up. We grabbed the whole box set, AND the audiobook version, because they are just so good!
The Henry Huggins Series  |  Beverly Cleary – Same with this series. SO GOOD. And Neil Patrick Harris narrates the audiobook and does such an incredible job. We love these too!!
The Amelia Bedelia Series  |  Herman Parish – A new spin on one of my favorite series growing up, we just LOVE these Amelia Bedelia books. Amelia is a little girl in these chapter books, and she makes the same silly mistakes as the grown-up Amelia does! So much fun.
The American Girls Series – What I love about the American Girls series is that they not only give our girls an engaging story to follow along with, they ALSO pull real facts from history, and make each era come alive for our kids. We love all of these books!
Ten Girls Who Changed The World & Ten Boys Who Changed The World  |  Irene Howat – I'll be honest – we have not started this series yet, because I don't think Emily is quite ready for them. But if you have kids with a longer attention span than the average kindergartener, you'll love these Christian books that talk about real live people who changed the world. Another example of stories that make history come alive!
The Encyclopedia Brown Series – This was Jon's favorite series as a kid! We ordered the first 4 books as a set, and this is the series that Jon is excited to read with Em. 🙂
The Who Was…? Series – I just grabbed a bunch of these books because they were on sale (I think they still are super cheap! Less than $5 a book), and I've heard how good they are. Each book focuses on a famous person in history – Walt Disney, Amelia Earhart, etc. – and tells their story.!
The Whatever After Series  |  Sarah Mlynowski – This is another series I grabbed (at Costco!) but haven't started yet. All of my friends with girls are raving about them though, and I can't wait to read them! Each book is a new spin on a classic fairy tale – I love those kind of books!
The Adventures of Sophie Mouse – I'm super excited about this sweet little book series about a girl mouse and her adventures! The illustrations are adorable, and I know Emmy will be all over this one.

Mother Daughter Book Club  |  Heather Vogel Frederick – For moms and daughters to read together. Need I say more?
The Giver  |  Lois Lowry – One of my favorites growing up, this is a classic that you'll want to read alongside your older kid, and talk about afterward!
Wonder  |  R.J. Palacio  – I have heard SO MANY GOOD THINGS about this book! I just ordered it, and am planning to read it myself this summer!
The Hunger Games  |  Suzanne Collins  – So good. So, so good. Make sure your kids are able to handle the content matter (it can be violent), but this story is so well-written and creative. I could not put these books down.
Little Women  |  Louisa May Alcott – Another classic. I'm a firm believer in giving our kids great books to read, and this is one of them! Along with…
Anne of Green Gables  |  L.M. Montgomery  – …this one! This is a beautiful, funny, endearing book for all ages. And if your kiddo loves it, there's an entire series that follows!

Small Great Things  |  Jodi Picoult – By FAR, the BEST BOOK I'VE READ in a long time. This book… I'm still thinking about it. Don't every tell me that fiction can't change lives. You need to read this book. And then come talk to me about it. I need to talk about it! It exposes and documents racism in a way I have never understood before (and probably still don't understand, but my eyes are open, at least), and really, really makes you think. (Warning: It does concern a child who passes away shortly after birth. If you've experienced a similar situation, you may want to avoid this book.)
Big Little Lies, by Liane Moriarty – Since I loved the first book of hers that I read, of course I requested the second one from the library! Honestly, I loved this one even more. It's all about school moms, and the politics and cliques and secrets that arise among women when their kids all go to school together. It's hilarious in parts and devastating in parts. All around, a good read and lots to think about. I also really liked What Alice Forgot & The Husband's Secret, by the same author!
Dear Mr. Knightley  |  Katherine Reay – One of the best books I've read, ever. I loved it SO MUCH!!! (I also really enjoyed Lizzy & Jane, but her other books fell a little flat for me.)
The O'Malley Series, by Dee Henderson – One of my all-time favorite series. I go back and read these again and again. Each book is about a sibling in the O'Malley family, and you'll fall in love with all of them! These are suspenseful & awesome.
The Redemption Series, by Karen Kingsbury – Also about each sibling in a family, these books that focus on the Baxters are the kind of books you can't put down. Also ones I read over and over again. These are more real-life issues & how we deal with them as Christians (infidelity, cancer, single-motherhood, etc.).
Pretense, by Lori Wick – I'm starting to think I have a problem with books about families… This book is about two sisters, and follows them from childhood to adulthood. I've read this multiple times since high school and it always makes me cry.
The Help, by Kathryn Stockett – This is just one of the best books I've ever read. I don't care if you saw the movie, read the book. You'll love it even more.

The Magnolia Story  |  Chip & Joanna Gaines – If you're a fan of Fixer Upper, you'll love this book. It tells their whole story, which is pretty incredible. I listened to this one on Audible (my new favorite thing ever), and it was wonderful because Chip & Joanna read their own story, so each part is in their own voices. I really loved it, and totally recommend the audiobook version.
The Life Giving Home  |  Sally & Sarah Clarkson – I read this book in slow chunks, it's an incredible resource and one I always go back to! I learn so much from Sally Clarkson's wisdom as a mother, and I love this book on creating a home that is your family's favorite place to be, all year long!
She Reads Truth  |  Rachael Myers & Amanda Bible Williams – I have the audio version of this book too, and I think I love it even more over there, because the authors read their own parts. This book is a faithful story of God's work in the lives of these two women. I was crying a few pages in. Get this one.
The Mission of Motherhood & The Ministry of Motherhood  |  Sally Clarkson  – It's probably clear that I love anything by Sally Clarkson, at this point. And that's true. I just love her wise heart for moms. She encourages us to slow down and look at the big picture – something we all desperately need, amen?
Reclaiming Home  |  Krista Gilbert – This book is just plain good. If you want to raise a countercultural family, steeped in rich relationships, read this book. Now.
Seated With Christ  |  Heather Holleman – I'm just starting this book, but it's already so good, I have to share it here. Holleman is a new author for me, so I'm excited to dive into her other books too.
Anything by Gloria Furman OR Anything by Jen Wilkin – Both of these authors are solid, gospel-loving women. Their books are rich in truth and application, based completely in Scripture, and not in the fleeting emotions that we see so prevalently in "Christian" Living books these days. You can read these books and KNOW they are quality. I love them all!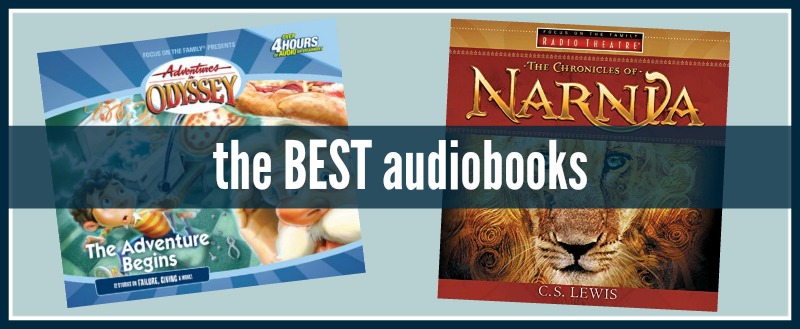 Adventures In Odyssey – Well these are just my all-time fave. When we took a cross-country road trip the summer after we got married, we spent a day at Whit's End…for ME. Before we had kids. So, you KNOW my kids are listening to these! I have a bunch from my teaching years, and am slowly collecting more.
Chronicles of Narnia – This set is AMAZING. It's like reading the books and listening to the movie at the same time. And C.S. Lewis? Classic. These are a must-have. It's a little pricey, but goes on sale on Amazon every now and then, so keep your eye out.
Disney Books on CD – These are my favorite "I need a little quiet but I can't turn on Netflix again" tool. Both Emmy and Nathan are familiar with the stories, and they can look at the books together while the CD's play! And the best part? Most of these are less than $4!! Here are a few of our favorites:
Phew! I think that's more than enough to make this a summer full of reading fun! Happy Reading, friends!
*The links above may be affiliate links, which means that, at no extra cost to you, I earn a commission on your purchase through these links. Thank you so much for your support of this site! I appreciate you!