We live in a culture that encourages, even idolizes busyness.
Wife-ing, Mommy-ing, Homemaking, Working… nothing seems to be as simple as it used to be.
Facebook and Pinterest and Instagram and a hundred other pressures tell us we need to do more, be more, if we're to be considered worth anything at all.
The bar has been raised, and if we're honest, we have a hard time keeping up.
But who raised the bar, and why did we let them? What if the standard really isn't so high?
What if, in all of our striving, we're really missing the most important thing?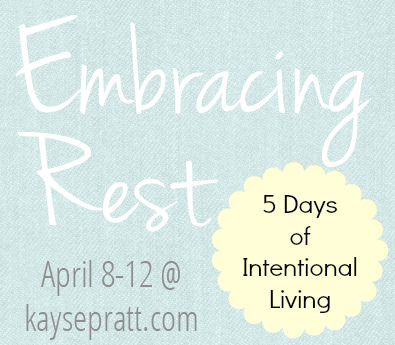 This next week, let's talk about rest. Real rest. Soul rest.
Jesus knew. He knew we would hit the wall, knew our striving would burn us out, knew we were made with this innate need for rest. And instead of fighting it and asking us to push harder, He asked us to embrace it.
"Come to me, all you who are weary and burdened, and I will give you rest." Matthew 11:28
Embracing rest. It might seem impossible. Or it could be the thing you've been missing all along.
Join me for five days as we talk about living intentionally and Embracing Rest. I hope it blesses your socks off and changes your life. It's beginning to change mine.
Posts in the Embracing Rest series:
(links will be updated as posts go live)
Day 1: Understanding Busy
Day 2: Created for Rest
Day 3: Permission to Rest
Day 4: Creating Resting Space
Day 5: A Life of Rest
– – – – – – – – – – – – – – – – – – – – – – – – – – – – – – – – – – – – – – – – – – – – – – – –
For this series, I'm linking up with 15 other amazing bloggers who are all talking about one aspect of intentional living this week. You can check out their posts and topics below: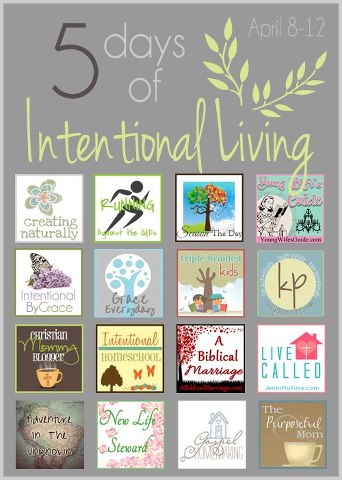 Filling Up Your Life and Not Just Your Schedule {Intentional by Grace}
Intentional Blogging {Christian Mommy Blogger}
Intentional Training {Intentional Homeschool}
Embracing Rest {KaysePratt.com}
Making Your Home a Haven {Live Called}
Cherishing Your Baby's Development {Triple Braided Kids}
Intentional Attitudes {Gospel Homemaking}
Parenting with a Purpose {Season the Day}
Empowered by Grace {Grace Everyday}
Preserving Family Memories {Creating Naturally}
Training Our Mind and Body {Running Against the Odds}
Glorifying God in Your Homemaking {Young Wife's Guide}
A God Centered Marraige {A Biblical Marriage}
Intentionally Walking with God {New Life Steward}
A Busy Mom's Guide to Teaching Character {The Purposeful Mom}
Being Content While Single {Adventure In the Unknown}