A Biblical Family Mission Statement
I have long loved the idea of creating a family mission statement. It gives your family a focus, it defines some parameters for your life together, and it just makes sense to me.
Jon was not so on board with this idea.
Aside from it maybe being more of a "girly" thing (along the same lines of color coded planning) in the eyes of my husband, he brought up a good point that most of the family mission statements I'd been showing him were based on people's own thoughts about their family. Things they wanted to do, goals they wanted to strive for, people they wanted to become, etc. Which is fine. But he noticed that, for many, a solid Scriptural foundation was missing.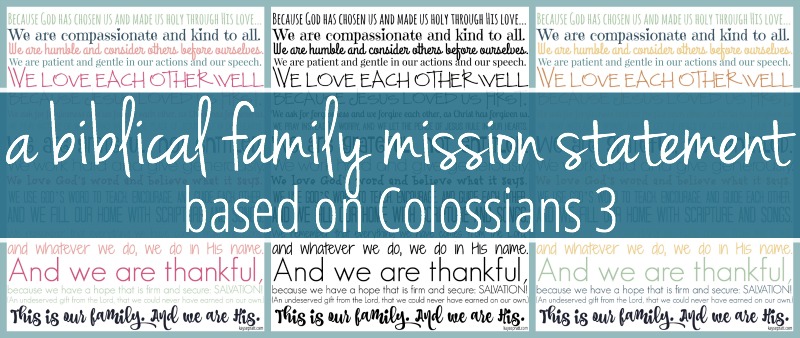 When we got married, Jon and I chose Colossians 3:12-17 as the verses we wanted read during the ceremony. These verses talk about the freedom we have to live the way God calls us to, SINCE we have put off the things of this world, and have been chosen and set apart as God's holy people.
Therefore, as God's chosen people, holy and dearly loved, clothe yourselves with compassion, kindness, humility, gentleness and patience. Bear with each other and forgive one another if any of you has a grievance against someone. Forgive as the Lord forgave you. And over all these virtues put on love, which binds them all together in perfect unity.

Let the peace of Christ rule in your hearts, since as members of one body you were called to peace. And be thankful. Let the message of Christ dwell among you richly as you teach and admonish one another with all wisdom through psalms, hymns, and songs from the Spirit, singing to God with gratitude in your hearts. And whatever you do,whether in word or deed, do it all in the name of the Lord Jesus, giving thanks to God the Father through him.

Colossians 3:12-17
We love these verses, and they are the cry of our heart for both our marriage and our family. And so, I decided to take these verses and use them as the basis for our own family mission statement.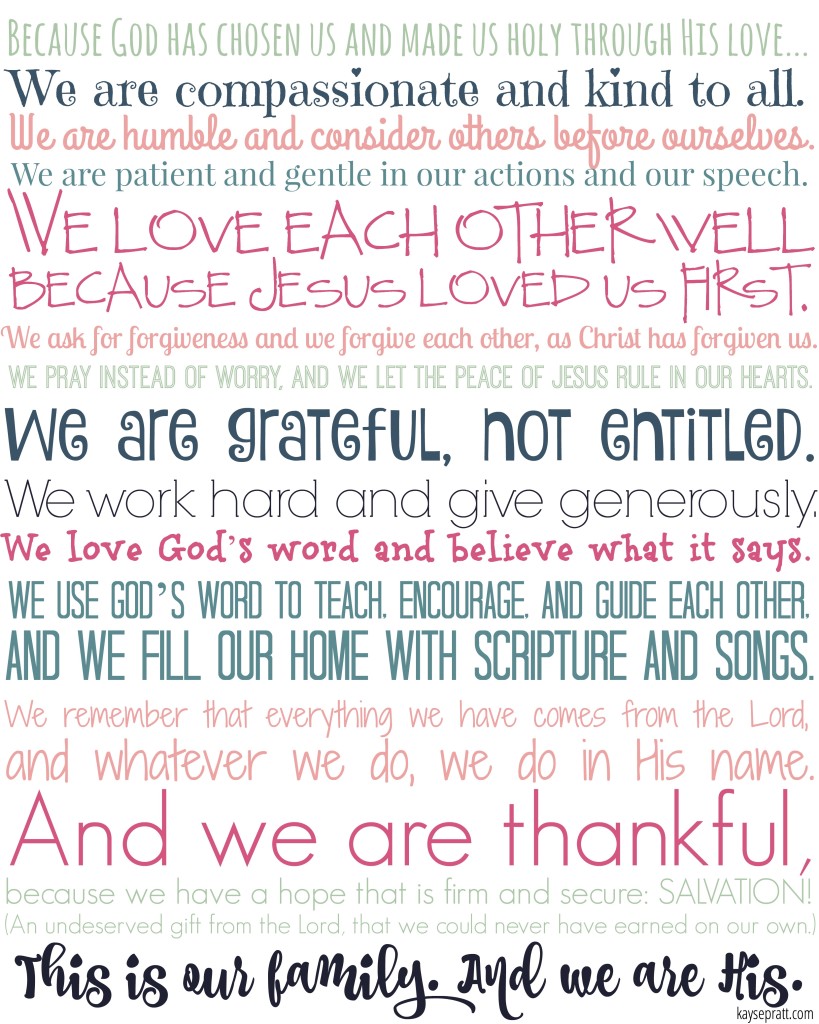 I love it so much. I've framed it and it's sitting up on a shelf in our playroom, where we all can see it each day!
If you're looking for a Biblical family mission statement, I'd love to share this with you as a printable!! I've created three different color options, and you're free to download whichever one you'd like! Or all three!!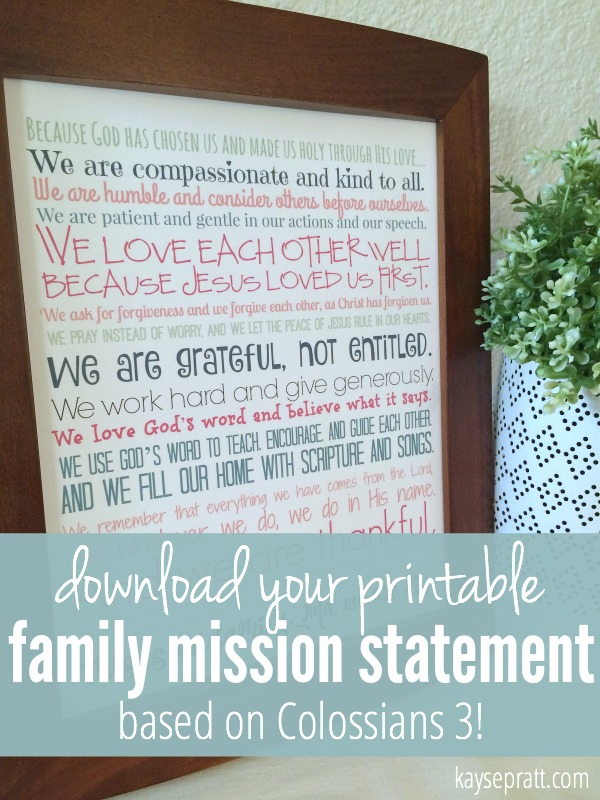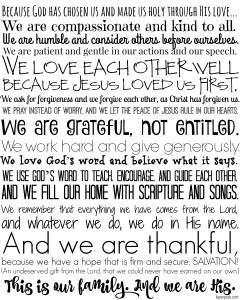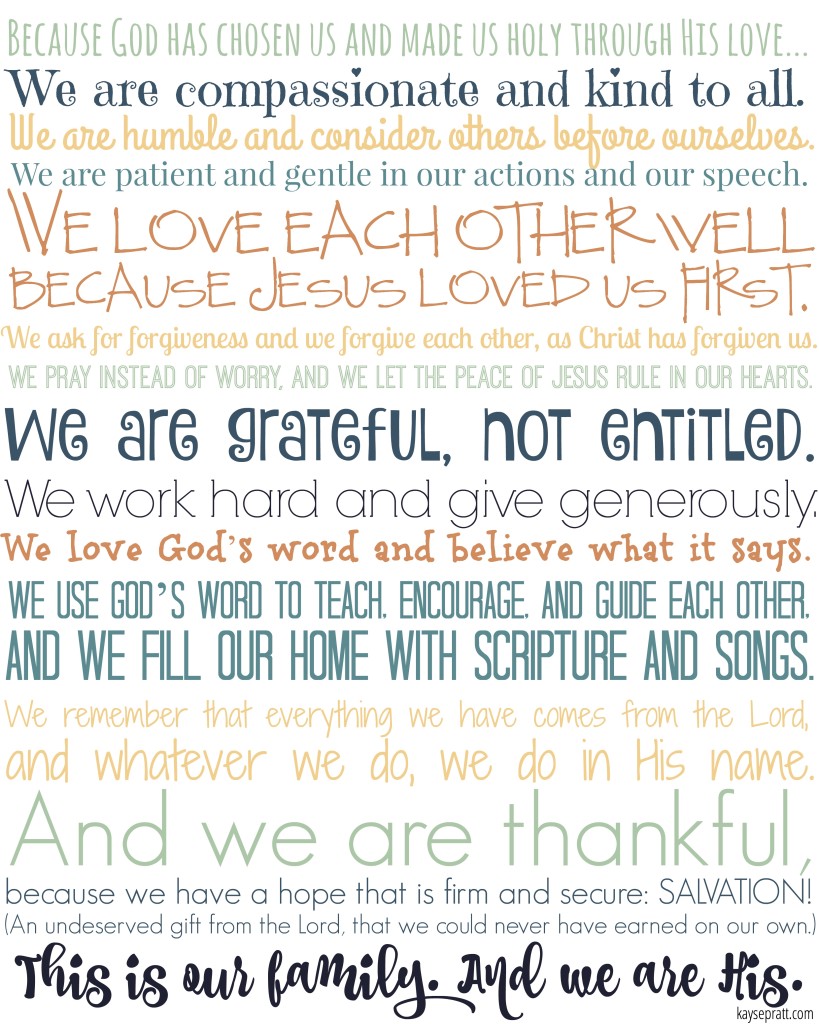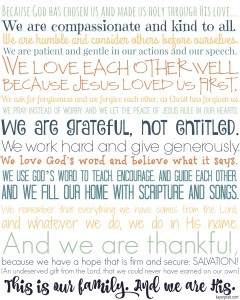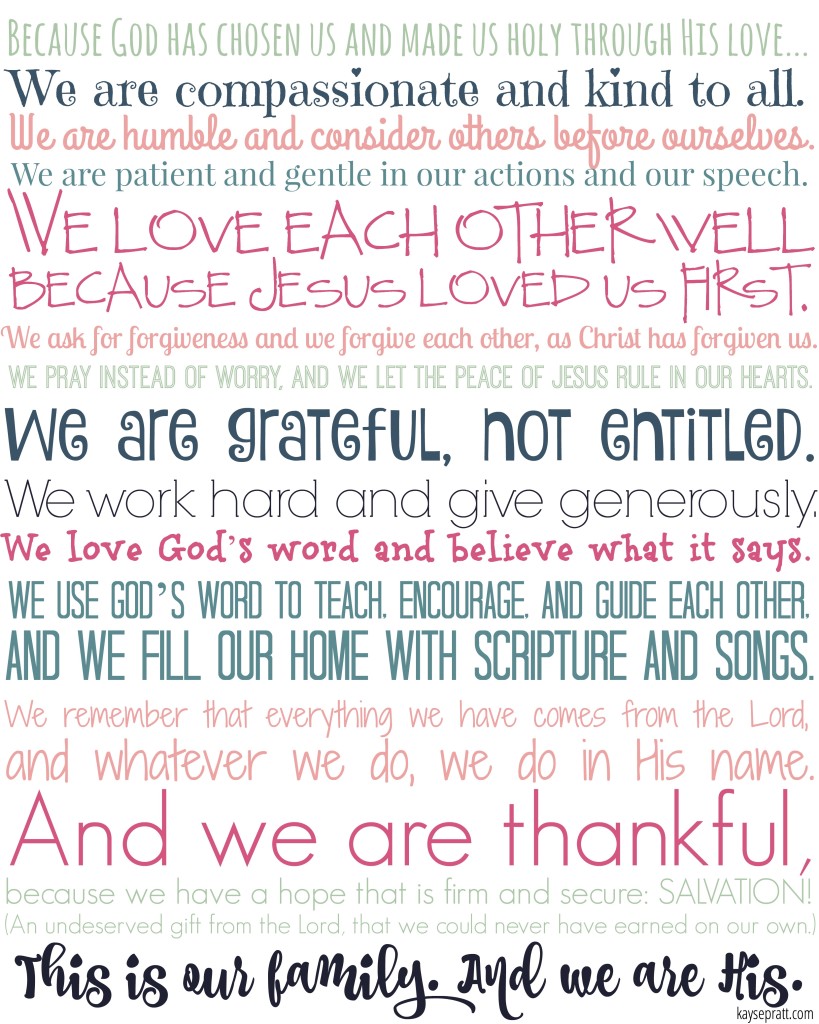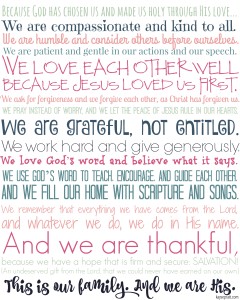 The full sizes are set at 8×10, and would be best printed on a photo printer, like at Costco! They should fit perfectly into an 8×10 frame. You can also just make it work, like I did, by printing it at full size onto cardstock, and then trimming the paper to fit in a frame.
Enjoy, friends! I hope you love it!!
Do you have a family mission statement? I'd love to hear yours!
PIN IT!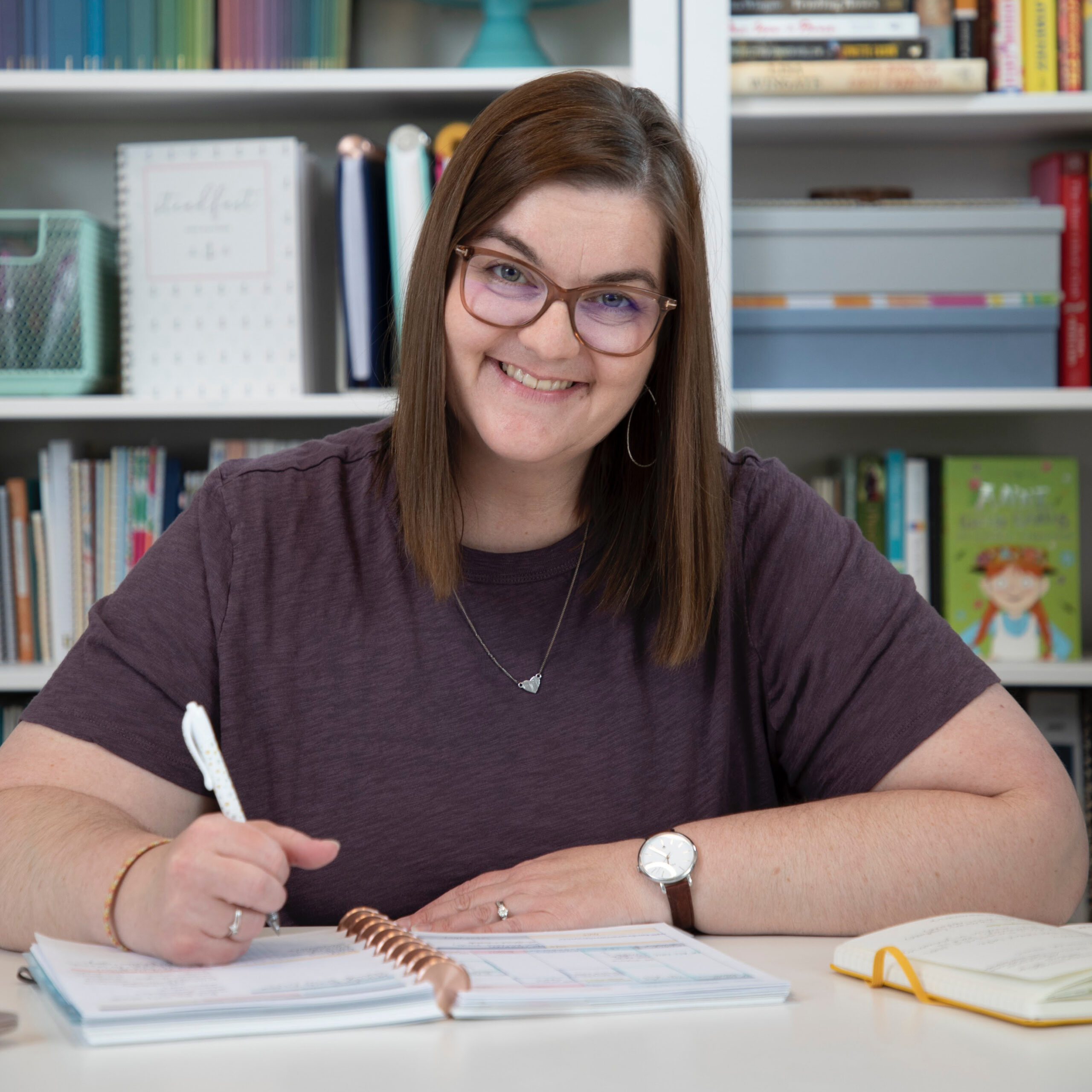 Kayse Pratt serves Christian women as a writer + designer, creating home + life management resources that help those women plan their days around what matters most. She's created the most unique planner on the market, helped over 400 women create custom home management plans, and works with hundreds of women each month inside her membership, teaching them how to plan their days around what matters most. When she's not designing printables or writing essays, you'll find Kayse homeschooling her kids, reading a cheesy novel with a giant cup of tea in hand, or watching an old show from the 90's with her husband, who is her very best friend.