I have made lots of Advent plans in the past. I've bought books, downloaded crafts, scoured Pinterest. And I've never, ever been able to follow through with any of them.
This year might be the first year I feel like I'm actually able to HANDLE some kind of Advent activities. I have two kids who are blissfully sleeping through the night, which means I am now sleeping through the night on a somewhat regular basis. And do you know what sleep does for a mom? EVERYTHING.
So, I feel like this year I could probably grab a curriculum, or make crazy plans, and actually have a shot at following through.
But I'm not going to.
This year, I want to keep Christmas simple. I want less stuff and more heart. You know what I love about this season? The slow, savoring spirit of it all. The stopping to remember what really matters, and WHO really matter, and laying aside our activities and crazy lives just to be together.
And I want that the whole season through. Not just for Christmas Eve and Christmas Day, but for every day this month. A busy Christmas packed with activities just doesn't make sense to me this year.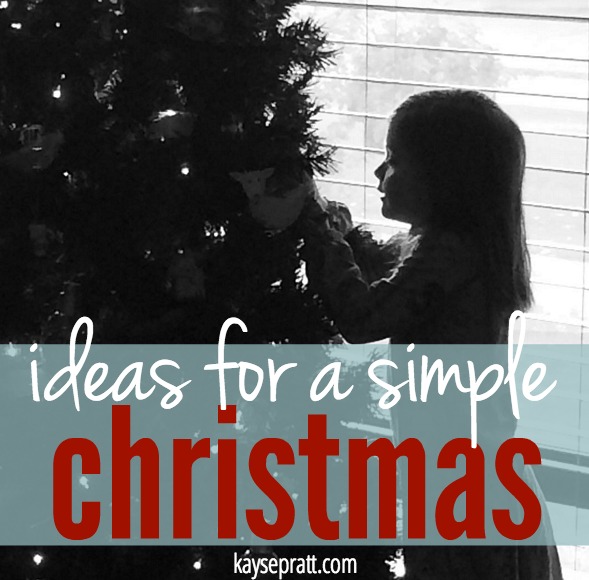 So, mommas, if you need permission to say NO to a crazy Christmas, this is it! Let's keep it simple, make it meaningful, and not hurry through it. What do you say?
Our plans are simple, and I'll share them here with you in case you need some ideas to blow off Pinterest Perfect this season, and keep things simple and joy-filled.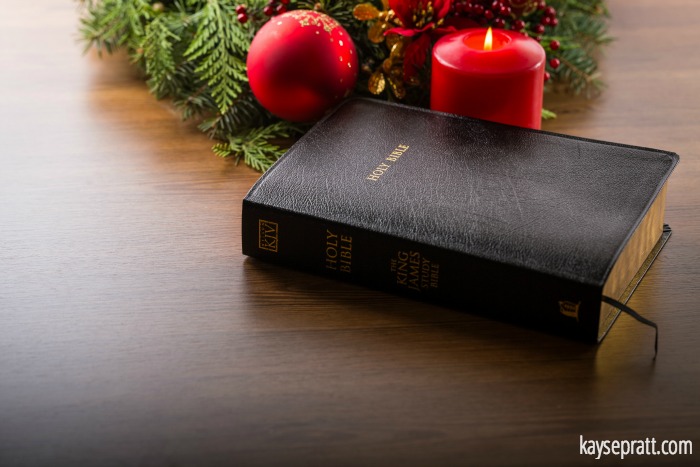 1. Read the Bible.
If I want my kids to know the real Christmas story, and also keep their eyes on Jesus this season, I think it's important that we actually read from His Word. It's simple, incredibly meaningful, and the whole entire reason for the season. Here's our reading plan:
Week of December 1 – Luke 1:5-25 | The Birth of John the Baptist Foretold
Week of December 6 – Luke 1:26-56 | The Birth of Jesus Foretold
Week of December 13 – Luke 1:57-80 | The Birth of John the Baptist
Week of December 20 – Luke 2:1-14 | The Birth of Jesus
We are reading out of the International Children's Bible, but I also just bought The Story Bible because my sister-in-law recommended it over Thanksgiving, and I'm already really loving it. There's a story for each of the passages above, which is unique in a story Bible – usually they just tell the story of Jesus's birth, not everything leading up to it. So I'm really pleased with this story Bible! We'll be reading from it each morning, and then using the International Children's Bible (which is an actual BIBLE) during dinnertime.

2. Read stories & watch movies.
Our one and only Advent "activity" is going to be choosing one Christmas book or movie every day to read or watch! This requires ZERO dollars, which I love. I requested a ton of children's Christmas books from our local library, and I gathered all the Christmas movies we own, and scheduled a few others to record. I wrote the titles of each one on an index card, and the kids get to choose one a day. (Index cards. I know. Pinterest is cringing right now.) We'll snuggle up on the couch with a blanket and some popcorn, and enjoy spending time together and getting lost in a Christmas story!
(On second thought, I did also order this, to listen to during lunch time. I'm a sucker for Odyssey.)

3. Focus on giving.
Emily is 4 (though she will tell you "ALMOST FIVE"), and we are already encountering the "I want's". "I want this…" "I really wanted that…" "Oh, you can get this for meeeee!" I'm sure you have perfect, generous children and have no idea what I'm talking about, but this is starting to be an issue in our home. So, especially at Christmastime, I want to encourage a heart of generosity in my kiddos. I want to encourage them to think about others first, to speak kindly and give generously, and acknowledge the people who are often overlooked.
So, as we can, we'll bake cookies for a neighbor, or surprise a friend with candy canes, or make a big THANK YOU sign for our mailman. Whatever we can do to encourage someone else, and share the love of Christ this season. (For lots more of these ideas, check out Light 'Em Up, from Courtney DeFeo! She's got a huge list of ideas and she is brilliant when it comes to this kind of stuff!!)
And that's it! I am done with our Christmas shopping (don't hate me), so we don't have a big need to spend lots of time in stores this season. We'll be home, making memories, reading about Jesus, eating popcorn, and getting lots of sleep.
It might not be big or flashy, but honestly, I can't wait. Growing up, my Christmases were simple and WONDERFUL. And that's the kind of Christmas I want to give my kids, too.
What about you? What are your plans for this Christmas season?