Battling Entitlement in My Home (& My Heart)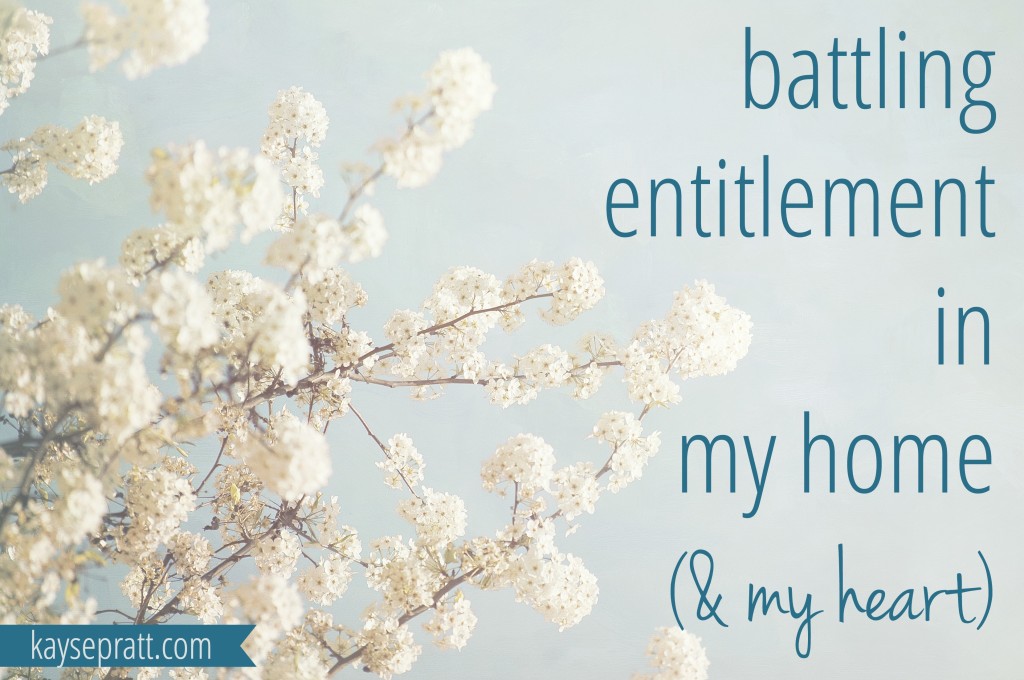 She started crying this morning because I only let her help me pour the milk into her cereal bowl. I poured the cheerios in myself, before she got there. This was, apparently, very upsetting.
And I lost it.
Because before that, she'd already cried about the shirt that was dirty and the hairbow that didn't match, and I was so tired of the negativity I could hardly stand it.
"Why can you not just be grateful for the things you have, the things you do get to do, instead of always whining and complaining about the things you don't?!" I raised my voice. I was frustrated. The entitled mentality coming from my preschooler was completely unacceptable to me.
And while I was in the middle of yelling, God got my attention in a way that He hasn't for a while. Truth. Conviction.
Children repeat what they see.
Is this not the way you approach your own life?
The change needs to start with YOUR HEART, not hers.
I got real quiet, real fast. Because UGH.
In my frustration with the entitlement mentality that I see in my daughter, I realized that I'm the root of this issue.
I do approach my life this way. I throw a fit, be it internally, when things don't go the way I want them to. I see much of life as the result of the good or bad choices I've made. I've worked hard to make right choices and do the right thing, so I expect the life I want to have. When that life doesn't come, despite my alleged "goodness", I'm angry. Offended. Ungrateful.
It's ugly, isn't it? I'm not good. Jesus is every bit of good in me. And life is not simply a result of my choices. It's also got a Master Designer that I don't always acknowledge. I might not love everything He throws my way, but I can trust that He will work it out, and know that He loves me all the while. I can be grateful. My eyes are being opened to this deeply rooted issue of ungratefulness in my own life. I didn't see it in myself, until I saw it fleshed out in my kid. And, having seen it, I desperately want a change. I want to approach my life less entitled and more grateful.
My life might not be what I wanted it to be, and it is definitely not what I planned, but it is a good life, and I can be grateful.
I can't have any more kids, but I've got two beautiful ones and I can be grateful.
My marriage is hard, and we fight a lot, but we are both committed to Jesus and each other, and I can be grateful.
I don't have a mom anymore, or live close enough to family to have any sort of access to babysitters, or sanity, but I do have a family who loves me, and people I can count on when I need them, and I can be grateful.
My best friends may all live hours away, but there's this amazing thing called THE PHONE that allows me to talk to many of them every week, and I can be grateful.
I'm not "thin & gorgeous" by any means, but I'm learning to love exercise, and figuring out how to eat right, and I am able to do both of those things, and I can be grateful.
We can't take all the trips or buy the new car or go out to eat whenever we want, but we are fighting our way out of debt and we have enough to live in our house, keep me home with the kids, and eat healthy food, and I can be grateful.
I continually struggle with depression, but I have access to a few things that actually help do me, and a husband who is dedicated to meeting my needs in this area, and I can be grateful.
The truth is, I've often lived my life focused on the proverbial cheerios I didn't get to pour. I have been perpetually grumpy about the gap between what I wanted and what I got. I have (wrongly) felt entitled to more, or different, and missed much of the beauty in my reality. That's not the legacy I want to leave for my kids. It's not the relationship I want to have with them, or with my husband, or with God! I want to see the blessings, to live grateful for the glass that is half full.
I want my home to be filled with love and compassion and joy. I want to battle entitlement and encourage generosity. I want kids who are genuinely grateful for what they have, and see the blessings in what they are given.
But if I want my kids to have genuinely grateful hearts, I have to model a genuinely grateful heart. And if I want a genuinely grateful heart, I have to ask Jesus to change it. To help me see my own life differently. To open my eyes to the gap between what I deserve and what I've been given. Because that, right there, is the gap that changes everything.
This is my prayer these days. That my own heart would change. Because if I want my kids to practice gratefulness, I've gotta do it first.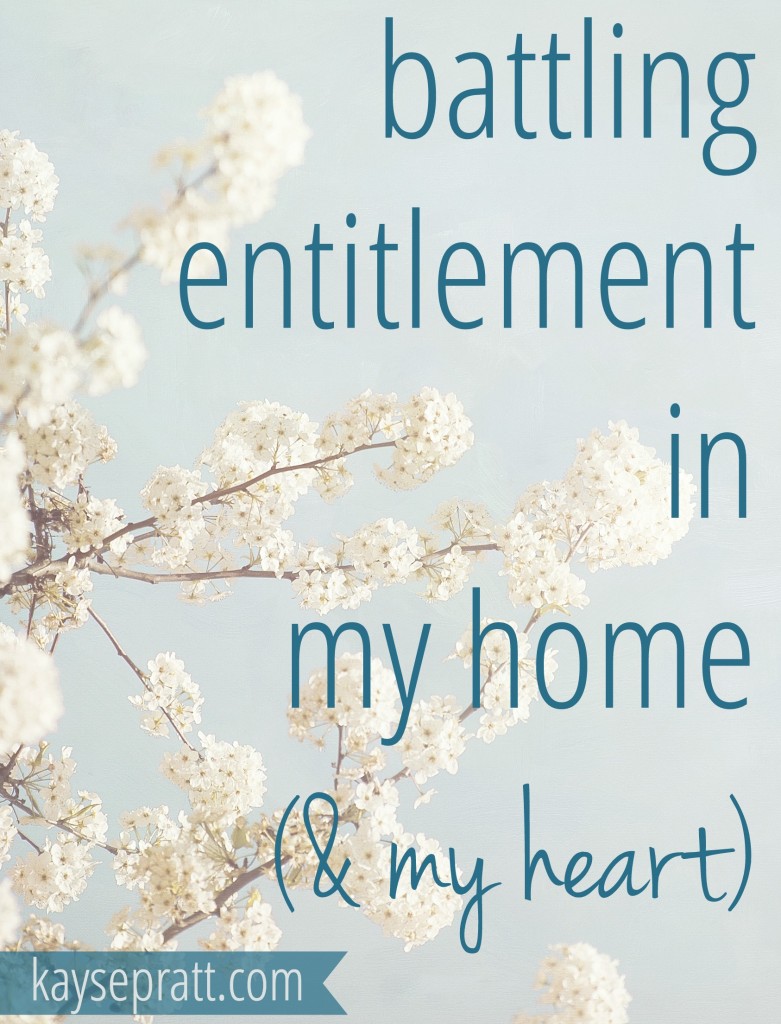 How do you battle entitlement in your own home? How do you encourage and model gratefulness?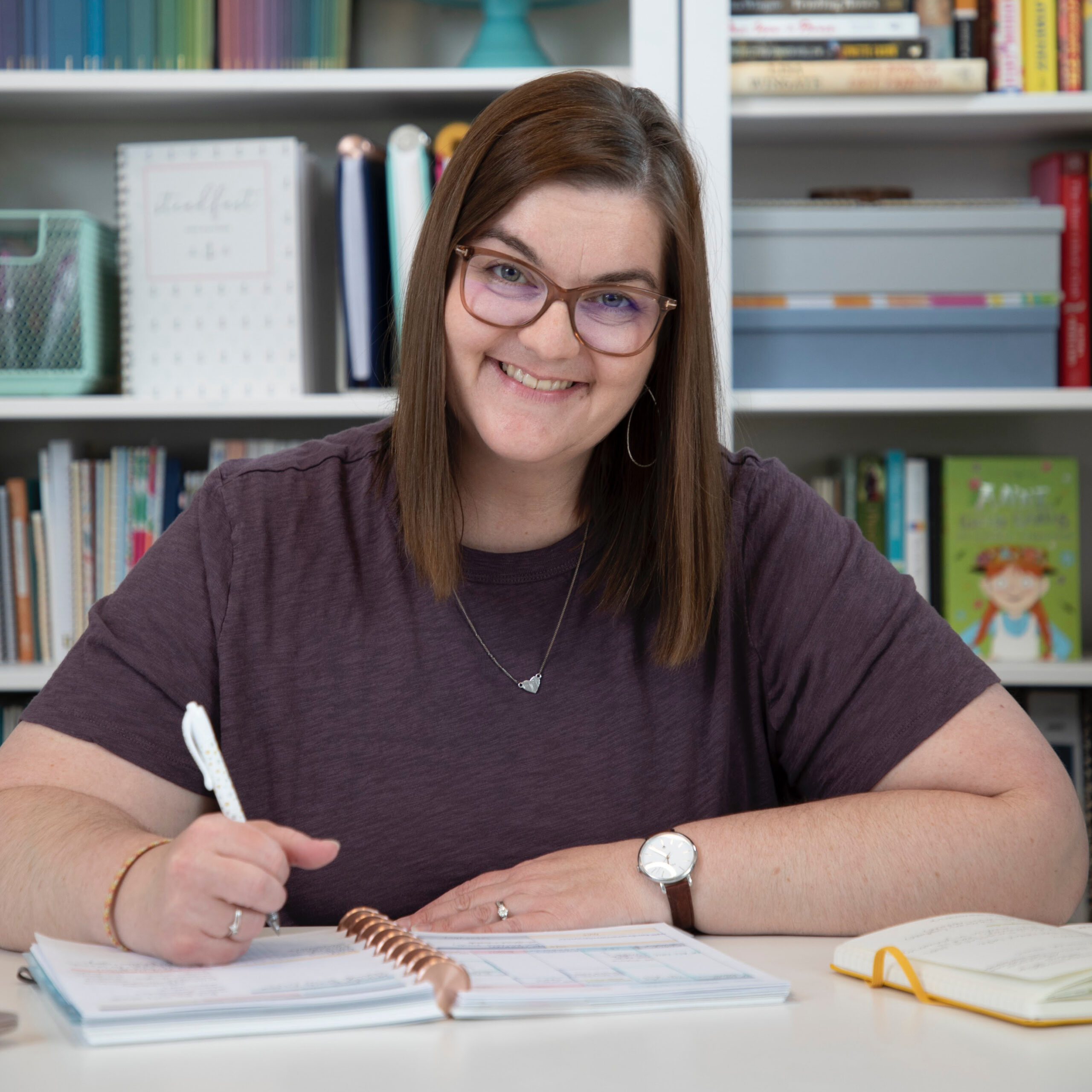 Kayse Pratt serves Christian women as a writer + designer, creating home + life management resources that help those women plan their days around what matters most. She's created the most unique planner on the market, helped over 400 women create custom home management plans, and works with hundreds of women each month inside her membership, teaching them how to plan their days around what matters most. When she's not designing printables or writing essays, you'll find Kayse homeschooling her kids, reading a cheesy novel with a giant cup of tea in hand, or watching an old show from the 90's with her husband, who is her very best friend.