I don't know about you, but when we get to this time of year, I look around at all the Advent activities and studies and feel super overwhelmed. There are so many to choose from, and each one seems complicated. Prep these crafts, read this passage, find this devotion.
In our home this year, I want to focus on one thing during Advent – the story of Christ's birth.
That's it. We'll do some simple advent activities & enjoy the Christmas season, but for both my kids and myself, I want the focus to be on waiting for the birth of Christ.
So, as the last installation of this year's Scripture Study Plan, I've created a simple Advent Scripture Study for us. It walks us through the announcement of Christ's birth, His actual birth, and Mary's song of praise to the God who brought our Savior into the world.
Each day, you'll read and write a simple passage of Scripture – which can be done alone, or together as a family.
Simple, straightforward, and nothing more than the Word of God.
I hope you enjoy the plan, use it with your kids, and share it with your friends. Let's keep our focus on the simple, beautiful miracle of Christ come to earth, to save us from our sins.
A simple way to get into the Word each day.
Sign up to receive our Simple Scripture Study Plans - monthly plans (already done for you!) for reading, writing, and memorizing Scripture in just 10 minutes a day!
You'll also receive our weekly newsletter, providing you with encouragement and resources to help you make time for what matters most.
*By subscribing, you're agreeing to our privacy policy.
Looking for a few more advent activities? Download our free Family Advent Calendar HERE!
---
PIN IT!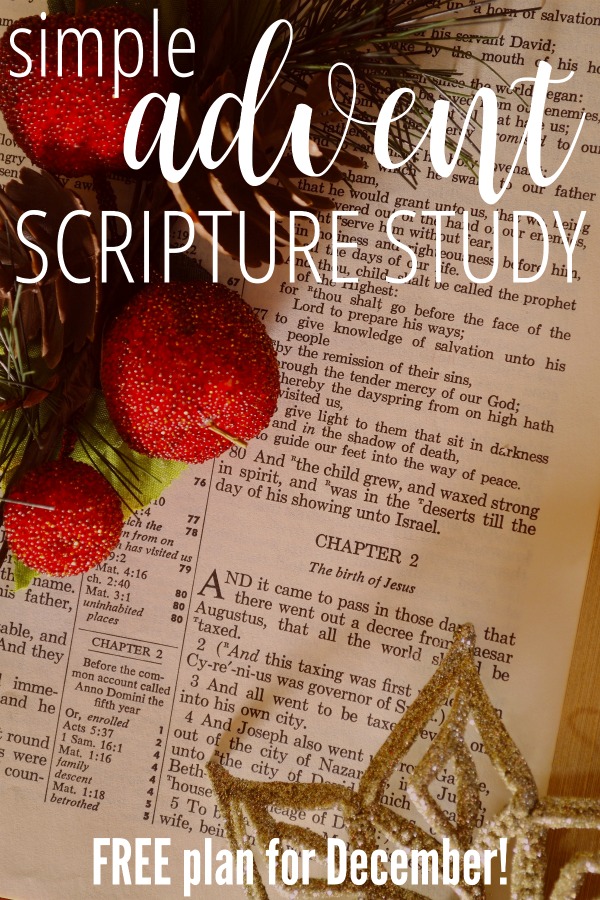 Kayse is a wife, mom, and founder of the Anchored Women community. She writes to help women fight busy, find rest, and build a life that's anchored in Christ. Kayse is also the creator of the S.O.S. Planner, the Anchored Life Kit, and other practical resources that equip women to manage their homes and families in confidence. You can find her writing and her resources at anchored-women.com!