How He and Me Became We (From the archives)
I am blessed to be married to a man who is hard working, passionate, hilarious, and always striving to be a better man.  Here's the story of how he & me became we…
It's long…you've been warned.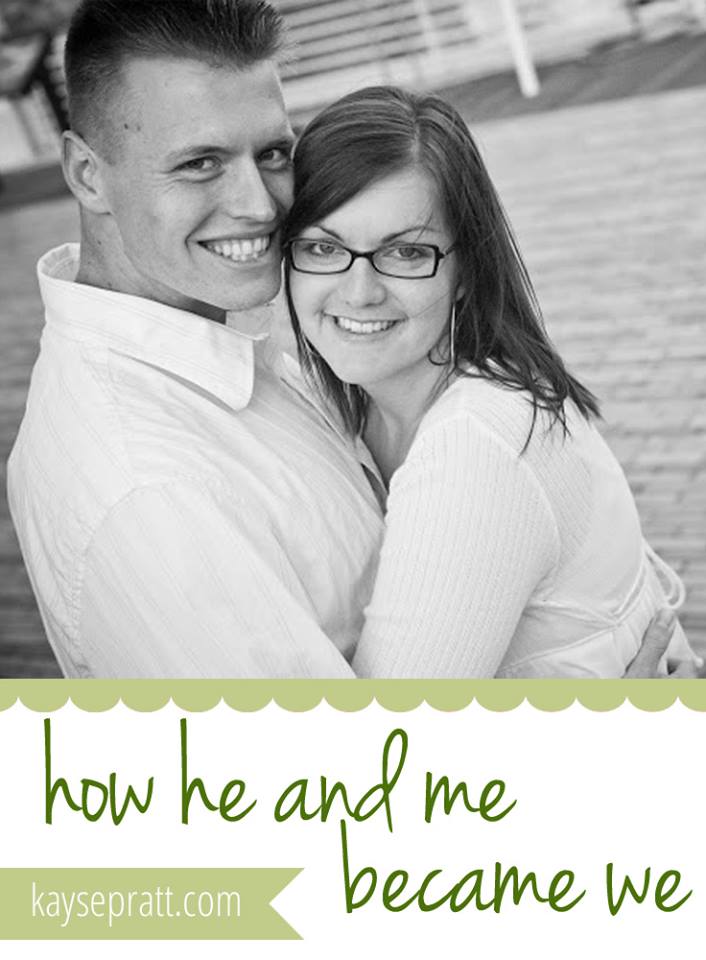 The night before I heard about Jon, I was laying in my bed, feeling sorry for myself.  It was another Saturday night alone at home, both my roommates out on dates.  Out of some sort of single desperation, I told God that I was tired of looking for a boyfriend.  I had only ever been out on a handful of dates…mostly with men who didn't actually intend our outing to be a date, or with men who turned out to be serial first daters – using the same date every time and never calling the girl back (ask me how I know he did this to multiple women…).  In any case, I felt like I had to be doing something wrong, and maybe I was too uptight and controlling (who, me?) about the whole situation.  So I told the Lord that I was done, it was totally up to Him, and I'd just start saying "yes" to whatever came along (assuming the man that came along loved Him – that was a point I was not willing to compromise on).  It wasn't like I had been saying "no" to all these perfect men, but this was my misguided way of telling God that I realized I wasn't in control of this, and I surrendered.
The next day my friend Jennifer came over to visit.  She hesitantly told me about this guy she knew from high school who was single and she knew I didn't really like the whole blind dating thing, but would I be ok with going on a double date with him…?  I said yes before she even finished talking.  I was serious about my talk with God!  Jenn was surprised, to say the least, and she said she would give him my information.
Jon sent me a facebook message soon after that.  It consisted of one line.
"So, I hear you're pretty awesome.  Is that true?"
Suave, my husband.
My initial thought was "What on earth did I just get myself into?", but I was saying yes to things, so I responded with my own one-liner.
"Well, I guess you'll just have to decide that for yourself."
Apparently that was the right answer, cause Jon wrote back right away and asked me out for that weekend.  And by "asked me out" I mean badgered me for a date.  Like, I was really sick and super busy and he insisted on seeing me in the one hour break I had between a family thing and Bible study.  To be honest, I was a little put off by the fact that he would not wait until next weekend, but, in his defense, he was going out of town.  So I agreed to meet him, runny nose, swollen eyes, and all, and I met my husband at Starbucks on October 5, 2008.
Being that he had already been a little…pushy…about the initial date, I had already decided that I didn't like him.  Plus, he was late.  However, talking to him changed my mind.  He was really interested in me, and he was funny!  (And cute, but that's neither here nor there…)  We stayed and talked for longer than the hour that I had, and he asked me out again, this time to the Marine Corps Birthday Ball that was coming up in two weeks.  I said yes. 🙂
On October 18th, Jon took me to the Birthday Ball, and I held a boy's hand for the first time.  On October 20th, he asked me to be his girlfriend.  On the 31st he asked me what I thought about getting married in the future.  It was fast, but we felt like we knew that the Lord had us in mind for each other.  Jon was unlike anyone I had ever met, and I was different than girls he had known too.  We dated long distance (he was in San Diego, I was in Orange County), saw each other on the weekends and met in the middle at least once a week.  We talked about life and faith and work and family and got to know each other better every day.  The more I knew, the more I loved.  I felt like God had answered my prayer for a husband above and beyond anything I could have asked for.
On February 28th, Jon told me he had a big day planned.  I had known the proposal was coming, but I thought "This is it!"  I wore my cutest outfit, brought my camera, and was high on well-concealed excitement.  Jon took me to downtown Long Beach, where we had taken our engagement pictures.  We went to the aquarium (I had been wanting to go there for a while), walked around, and went to dinner.
As the day went on, I tried to figure out when he would pop the question (I am no good at keeping things a surprise).  Would it be on the beach?  By the lighthouse?  At dinner?  But all these things passed, and still, no proposal.  Before dinner, Jon even went back to his car to get "my present".  EEK!! But he came back with this giant American Eagle bag.  "Ohhh…" I thought, "he put the ring in a tiny bag inside the big bag and I have to find it!"  But I opened the bag, only to find a picture frame.  I pulled it out and he told me the frame was for a picture of our engagement, which would happen sometime before my birthday (21 days later)…
I should have been happy and grateful, but all I was was disappointed!  I had really thought that a proposal was coming that night, and now I knew that it wasn't.  I tried to conceal my disappointment the best I could (and I don't conceal feelings well!), and act happy and grateful.  Jon drove me home, and I remember walking into the living room, sitting on the couch next to my roommate, and crying while I told her that I knew it was stupid, but I had really thought we'd be engaged that night, and I just felt let down.  I let myself mope for 5 minutes (that's really the limit for ungrateful moping), and then I went to bed.
The next morning, Jon picked me up for church, and I was in a much better mood, being intentionally grateful for the weekend that we had to spend together, and looking forward to dinner with both of our parents that night.  I didn't pay any special attention to the clothes I threw on that morning, just wore my normal sort of thing, jeans and a top with a sweater.  We went to church, spent the day hanging out, and then made our way to Disneyland, where we were going to meet our parents for dinner.  We had passes, so we were going a little early to walk around and go on some rides.
When we got to the park, we walked down Main Street and Jon bought me one of those light-up roses.  That was strange, he wasn't really a souvenir type of guy.  We got to the end of Main Street, and he decided that he wanted to turn around and go to California Adventure instead.  I agreed – I don't ever care where we go in Disneyland, I just love walking around!  So we made our way back out of the park and began to walk across the courtyard towards California Adventure.  It had just gotten dark, and they had turned the lights on.  Suddenly, Jon pulled me under one of the lights, kissed me, and got down on one knee!  He asked me to marry him, pulled out a beautiful ring with my mom's diamond in it, and kissed me again as I said yes!  I was so surprised, which, as I stated before, is a pretty amazing feat.  What made it even more amazing is that after I said yes, we were surrounded by people clapping, and I looked around to find our friends, taking pictures and video!  They had been strategically hidden behind light posts and trash cans. 🙂  We all made our way to the restaurant where our parents were waiting, and we had a celebratory dinner together!  Jon had planned everything, and kept it all a secret.  It was better than I could have guessed. 🙂  (And how dumb did I feel about moping the night before?!?!)
We were married on August 7, 2009 in front of 300 friends and family.  And then life together began. 🙂  Marriage is so much more amazing and complicated and wonderful and difficult and incredibly worth it. I know one thing for sure, the Lord has been faithful to us, and led us through some highs and lows, even in the short time we've been married.  We are learning every day to lean more on Him, to put each other first, and to figure out what love really looks like.  We were blessed with our sweet Emily Ann on January 2, 2011, and now we're also learning about the joys of parenting together!
So that's our story so far.  We're almost three years in.  Which really isn't a whole lot of time.  But we believe marriage is for life and we plan on spending the rest of our lives together, so, Lord willing, we've got some time to figure things out. 🙂  In the meantime, we're grateful for the blessings God has given us, and we can't wait to see what He's got for us in the future.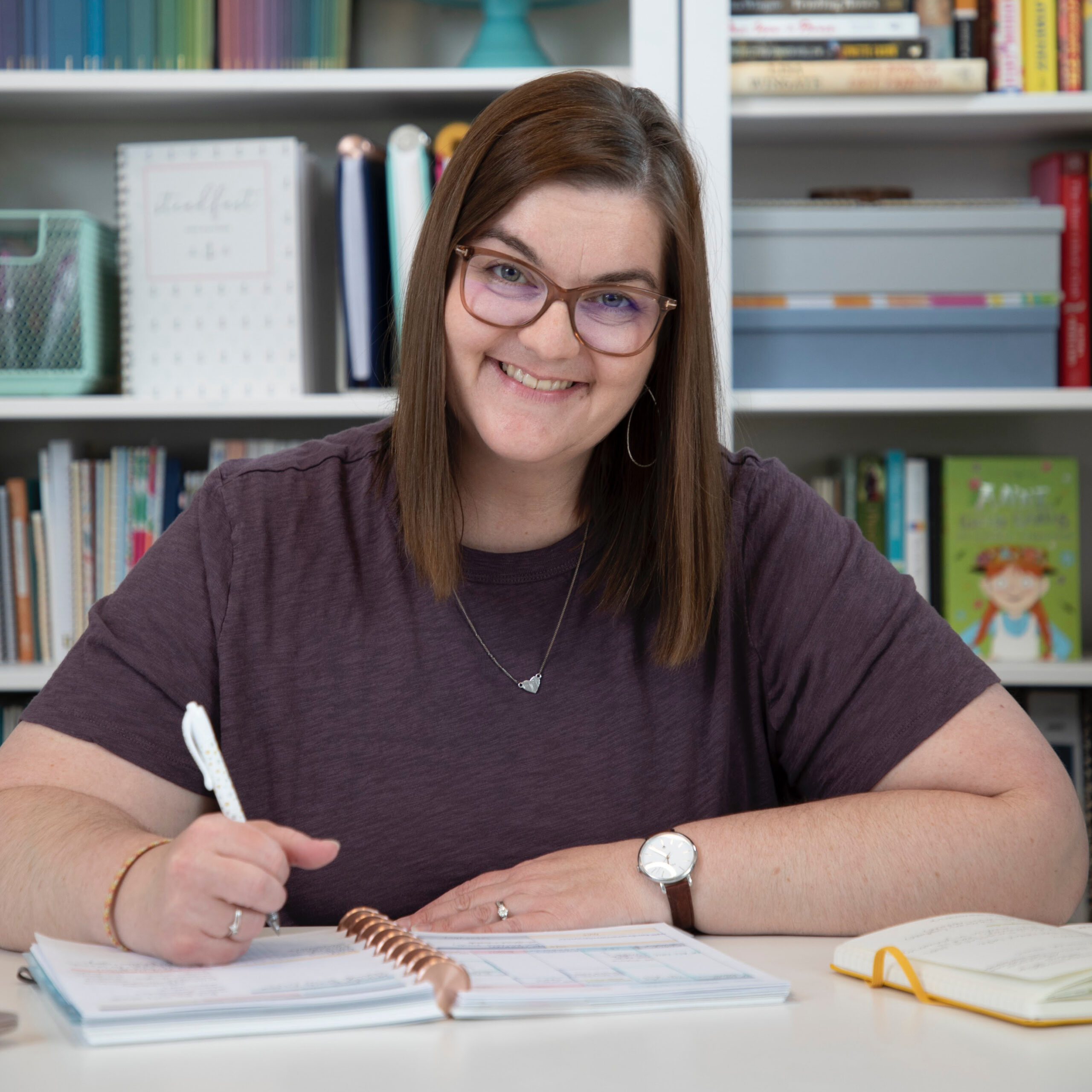 Kayse Pratt serves Christian women as a writer + designer, creating home + life management resources that help those women plan their days around what matters most. She's created the most unique planner on the market, helped over 400 women create custom home management plans, and works with hundreds of women each month inside her membership, teaching them how to plan their days around what matters most. When she's not designing printables or writing essays, you'll find Kayse homeschooling her kids, reading a cheesy novel with a giant cup of tea in hand, or watching an old show from the 90's with her husband, who is her very best friend.