7 Meaningful Mother's Day Gifts for 2016
Mother's Day is just around the corner, friends!! To be honest, I'm guessing about half of us really look forward to that day, and about half of us dread it, for one reason or another.
But you know what? You're a mom, whether your babies are here on earth or in heaven, whether you're a mom by blood or by faith, and you're worth celebrating in a meaningful way. You do hard work and you bear big burdens, and Mother's Day is a day when the world recognizes that.
Well, I recognize it, at least. And you can bet that God sees you, too.
So whether you're passing this post on to your hubby, or keeping your expectations low & buying a gift for yourself, I hope you enjoy this little collection of what I think are 7 really special, meaningful gifts that are perfect for blessing a mom this Mother's Day!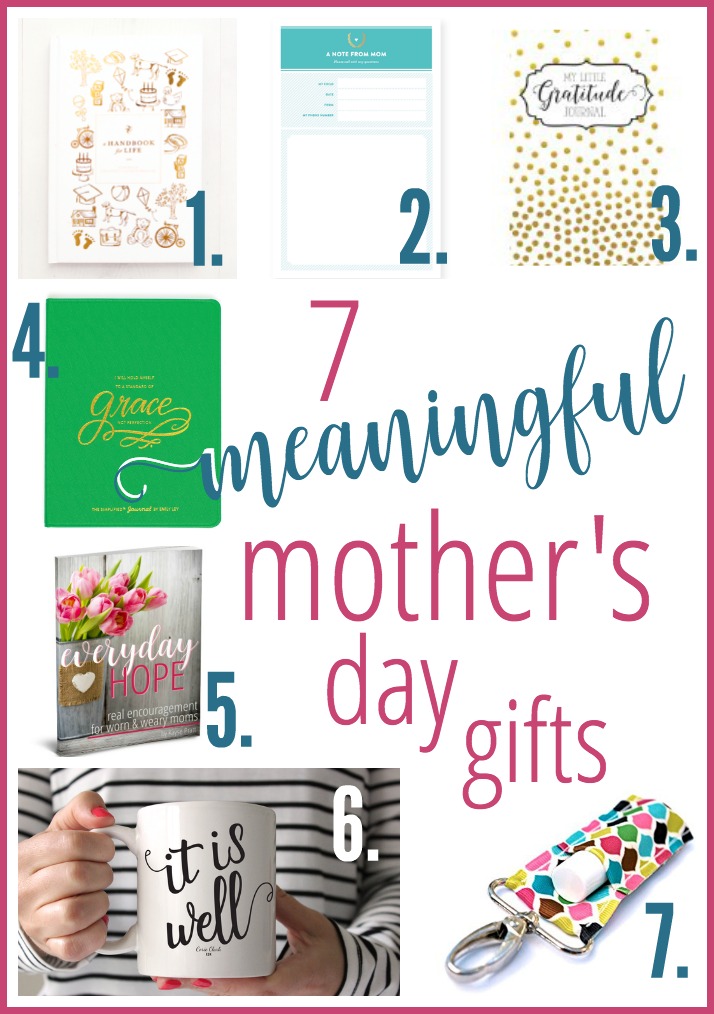 I love love love this little journal from Lara Casey. It's perfect for moms who want to pass on the important things to their children. Each page has a prompt like "Great Stories From Our Family", and "My Best Advice For You On Love", with plenty of space for you to write. This is a BEAUTIFUL gift for every mom!!
I'm a little bit obsessed with my notepads from Emily Ley. I especially love the "For Our Babysitter" pads, since we have a sitter pretty regularly. But the meal planner & grocery list pads are up there on my favorites list too!
For any mom who just needs a break, this is a really fun way to document all the things you're grateful for! It's interspersed with coloring pages (YAY!!) and drawing instructions, and it's really just a beautiful book. Such a fun and affordable gift for every mom! Paige, the creator of the LGJ, has quite a few cover options, but my favorites are the gold dots, vintage, pink dots, and rainbow geometric designs. SO CUTE!!
The Simplified Journal is my very favorite bedtime journal. There's a space to braindump, to write, and to document things that went well each day. If you've got a momma who loves to write and journal, be sure to snag this gorgeous journal for her!
I wrote everyday hope for the worn & weary momma. It's a collection of essays on motherhood, meant to encourage & point exhausted moms to Jesus. You can read more about it here, and grab a copy for your favorite mom here.
I love this coffee mug from Corie Clark! I use it for tea, but it still counts. The reminder that "It Is Well" is perfect for those chaotic mornings when we just need to slow down and remember that God's got it all under control. Have a momma friend who loves coffee? This might just be her new favorite mug.
I didn't know I needed these until I saw them! I am fully in love with the lip balm holder, nail file holder, and key fobs from Gabriel's Good Tidings. They keep your essentials handy in your purse, so you don't have to go digging around for the things you need. Seriously brilliant! I can't live without mine! Perfect for the mom on-the-go!
Each of these gifts is not only useful, but meaningful for a momma who can often feel unnoticed and unappreciated. Plus? They're all under $20! Which means you can either stay frugal, or grab a few different gifts and put them together to create an amazing basket of presents!!
And who doesn't love a basket of presents?!
I'm praying for each of you mommas as we get closer to Mother's Day, that it will be a time of joy and celebration for you. You're amazing!!!
P.S. Don't forget to snag our FREE video series for moms!
PIN IT FOR LATER: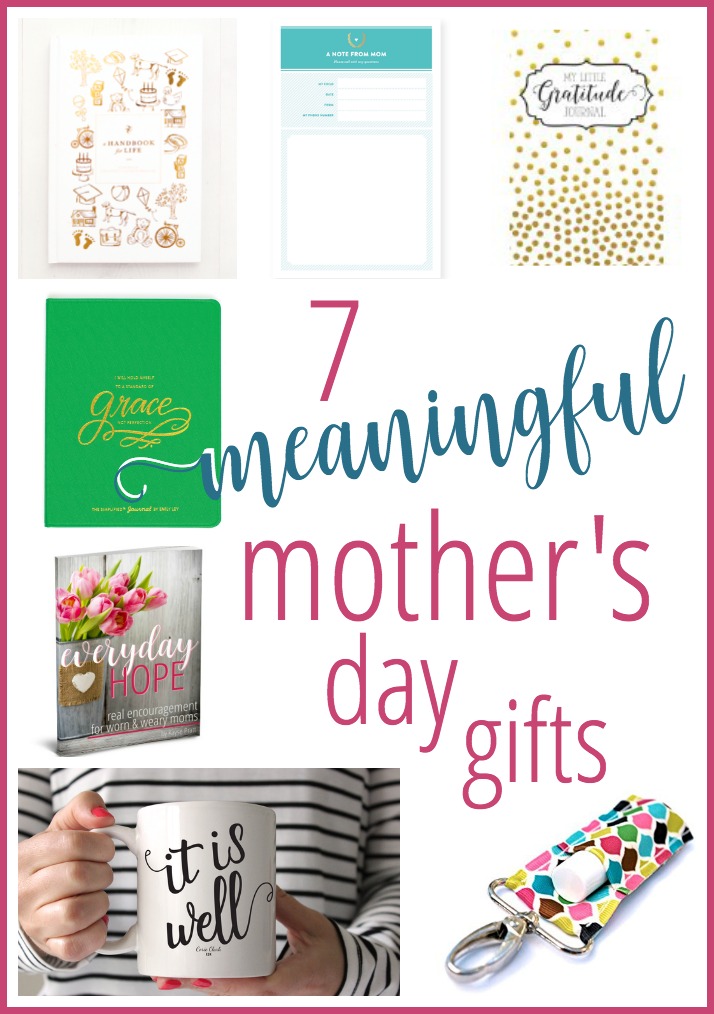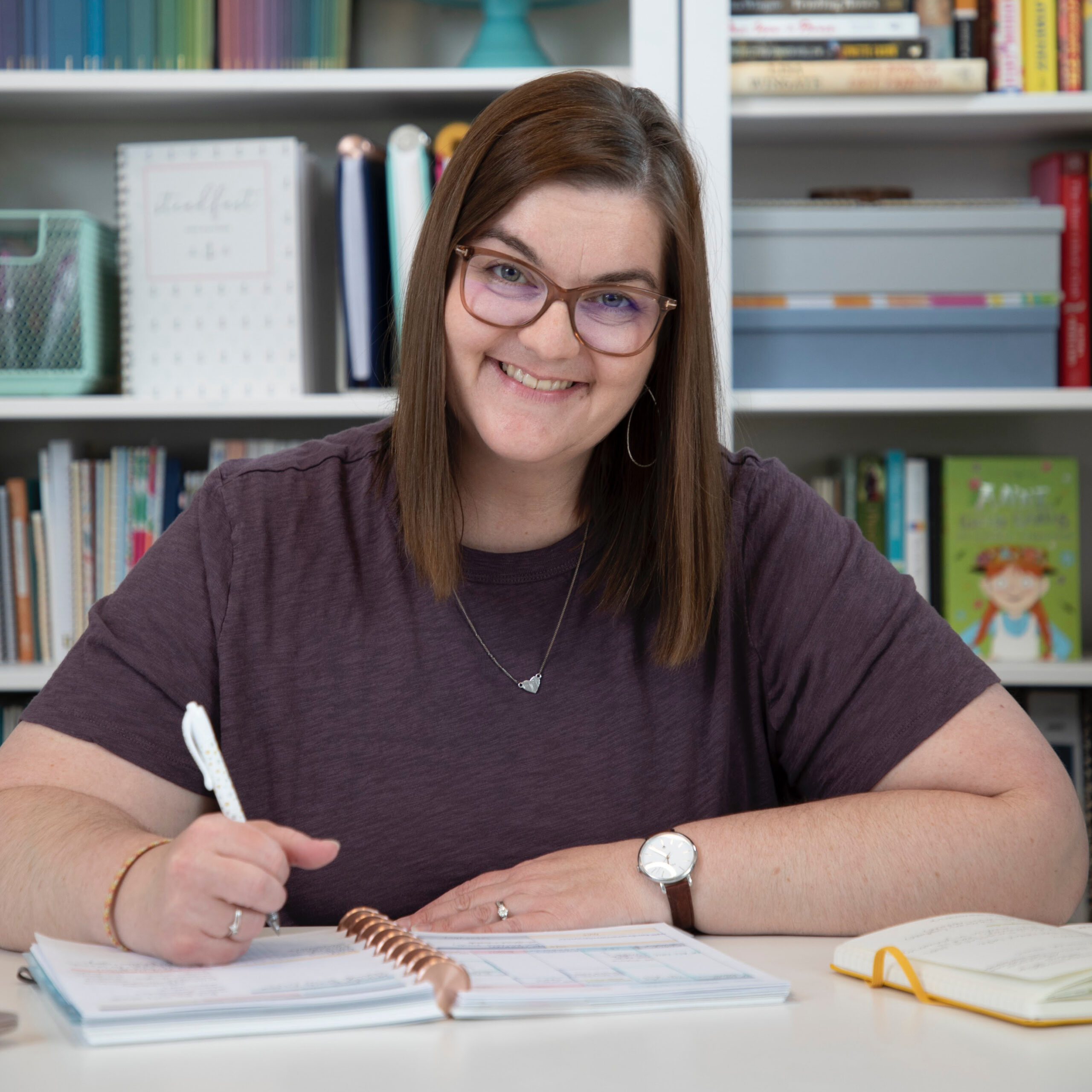 Kayse Pratt serves Christian women as a writer + designer, creating home + life management resources that help those women plan their days around what matters most. She's created the most unique planner on the market, helped over 400 women create custom home management plans, and works with hundreds of women each month inside her membership, teaching them how to plan their days around what matters most. When she's not designing printables or writing essays, you'll find Kayse homeschooling her kids, reading a cheesy novel with a giant cup of tea in hand, or watching an old show from the 90's with her husband, who is her very best friend.