I hit my limit a couple of days ago.
At the end of a long day, I love watching TV with my husband. I'm exhausted, it's brainless, and I can semi-relax. And the kids love watching a show on PBS. So over the summer, we'v gotten into the habit of splitting up – them at the kitchen counter watching a show on the iPad, and us on the couch watching the next episode of NCIS on Netflix.
I am not proud of this. I'm just telling it like it is.
It's been easy to justify it because MOMMA'S TIRED, Y'ALL, and Daddy never says "no" to watching a show, and neither do the kids. It's a few minutes of downtime before gearing up again to do the bedtime routine, and gosh-darn-it, I deserve some down time, don't I?
But a couple of days ago, I saw how distracted we all were. How my son screamed when I didn't immediately reach for the iPad at dinnertime. How no one could listen to anyone else talking, because the TV was on. And how the electronics seemed to come before relationships.
And I remembered that this wasn't what I want for my family.
I want family dinners at the dinner table, like I had growing up. I want kids who can actually focus on a conversation instead of getting distracted by a screen. I want to raise little people who know what it's like to spend time together. Not just next to each other, but TOGETHER.
So I braced myself for the reaction I knew would come when I told the kids that the next day, we wouldn't be watching TV.
Emily started crying. CRYING. Because she couldn't watch TV. And what would we dooooooooooo?
I told her we'd read books. And do puzzles.
She immediately perked up. "And play outside? And do crafts?!"
"You bet!" I said, and she literally started jumping around her room, yelling "I LOVE CRAFTS! I LOVE OUTSIDE! I LOVE PUZZLES! LET'S PLAY CARDS! IT'S GOING TO BE A GREAT DAY! CAN WE START NOW?!?!"
She was…excited? I was shocked. And that's when I realized that the problem was less the kids and more me.
When the kids are too loud, instead of sending them outside, I put on a show.
When we have lunch, I don't turn on music, I hand them the iPad.
When I need just a minute of peace and quiet forgoodnesssake, I don't get out the books, I grab the remote for the Apple TV.
They are not addicted to TV, I AM.
Today, we haven't turned it on once. This morning, when Emily woke up early, she read a book about fish and learned all about the coral reef while I took a shower. After breakfast, when their voices were bouncing off the wall, I sent them outside where they jumped on the trampoline and wore themselves out for a good long nap. During lunch, we listened to Adventures in Odyssey and talked about the decisions those characters were making. In the afternoon we got out puzzles and coloring books and played cards and read books and cooked dinner.
We did it, all of us. I didn't even watch Friends during their naptime, and you guys, that's saying something.
It wasn't a perfect day. There were arguments and consequences (them) and patience lost (me). But it was a simpler day. We had significantly less distractions, and overall, less noise.
(And don't we all want less noise? Yes and amen.)
So I took the TV away. Indefinitely. Because mommy needed to remember that there are other things to do.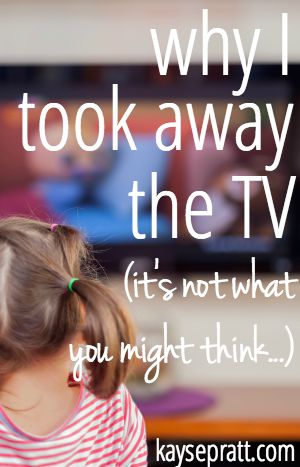 How do you handle TV in your house?
Kayse is a wife, mom, and founder of the Anchored Women community. She writes to help women fight busy, find rest, and build a life that's anchored in Christ. Kayse is also the creator of the S.O.S. Planner, the Anchored Life Kit, and other practical resources that equip women to manage their homes and families in confidence. You can find her writing and her resources at anchored-women.com!