10 essential tips for moving with little kids underfoot
As you know, we spend the entire month of June moving from one end of California to the other. From start to finish in three weeks.
It was insane.
But we've moved our fair share of times since we got married, and I'd learned my lessons. This time, we moved the right way. It might have been insane, but it actually went a lot more smoothly than it could have. I like to think that's because I am now a moving rock star. But I'm guessing it also has a lot to do with God's grace.
In any case, I wanted to share with you my very best tips for moving with little kids underfoot! (Moving with kids is a whole different ball game, folks. The kids make it a teensy bit more difficult. Ahem.)
Ready? Here we go!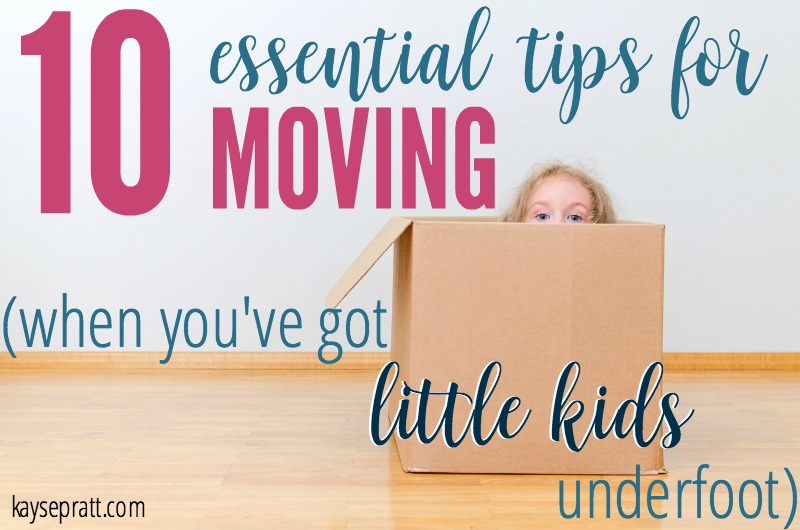 1. Get rid of half your stuff.
Seriously. You might not be losing a whole bedroom and living room like we did (we downsized from a large 3 bedroom with 2 living rooms and a backyard, to a teeny tiny 2 bedroom apartment with an itty bitty balcony), but I'm gonna guess that you don't know what's in the back of some of your cupboards. So get rid of it.
We held a two-day garage sale before we even started packing, and I literally purged every single room before I even thought about packing. I only kept things we loved, used regularly, and/or had sentimental value. That's it. Everything else went to the garage sale pile. Not only did this make packing easier, it also made us a good chunk of change that we used to cover our moving expenses.
Here's the thing – I don't regret getting rid of any of it. If anything, I wish I'd purged more, because I'm having to do it AGAIN here in this apartment. (Still too much stuff!)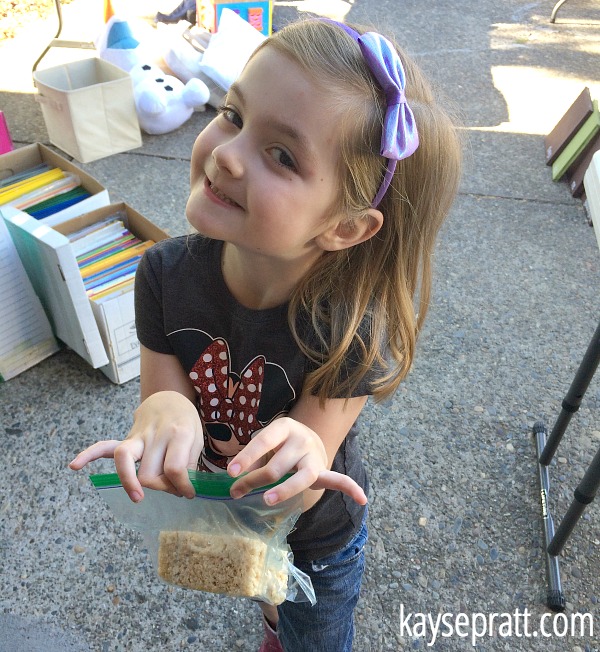 Also helpful? Cute children who sell overpriced rice krispy treats at garage sales. No one can say no to that face. This is GOLD, people.
2. Get organized from the get-go.
Clear out one corner of the house for boxes. Put all packed boxes there. Centralize, centralize, centralize! This will give you a better idea of what's done and what you still need to do.
3. Two words: Duct Tape.
Go to Target and get as many rolls of colored duct tape as you have rooms at the new house. (Or get them way cheaper here.) 6 rooms total? Get 6 rolls of different colored duct tape. Each room gets a color.
The beauty of the duct tape? No matter who is helping you move, it's SUPER CLEAR where everything goes. You're not running out to the garage to find something that should have been in the bathroom. Every box is in the correct room. It's amazing!!
Do your helpers need a little extra…help? Make signs for the door of each room, so movers know exactly where to put boxes. (Printer paper with a LABELED strip of the colored duct tape on it is just fine. No need to get all fancy. You're MOVING.)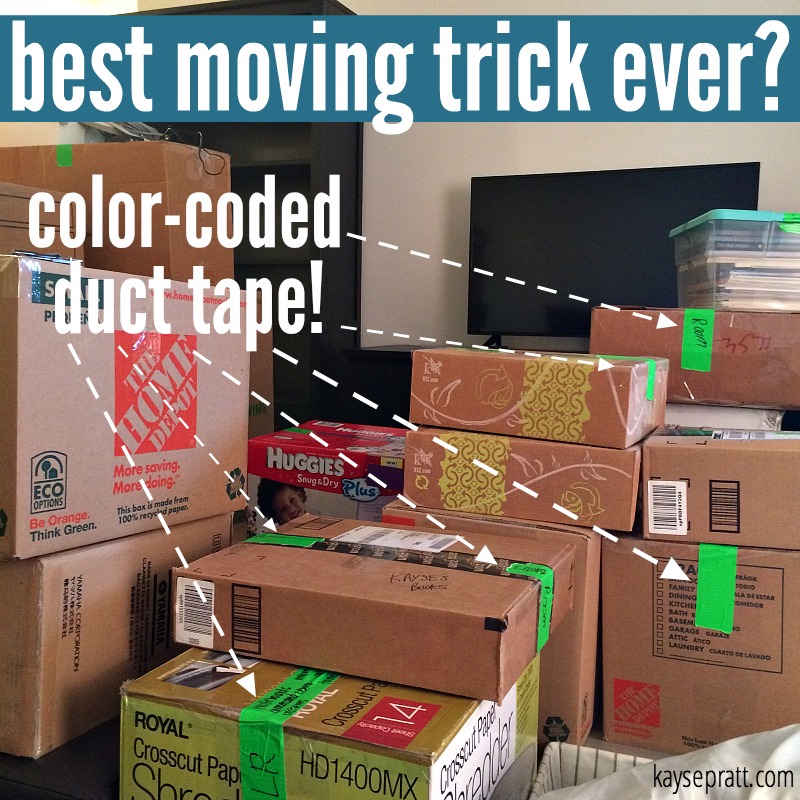 Here's my typical color key:
Red – Kitchen
Green – Living Room
Blue – Master Bedroom
Yellow – Master Bathroom
Pink – Kids Room
Orange – Hall Bathroom
Dark Blue – Garage
Grey – Storage
I use the same colors for every move, that way I can recycle boxes and basically never have to label again. Bliss.
4. Make meals easy.
Buy paper plates, utensils, and napkins, and pick out one waterbottle for everyone. These are our favorites. Pack up the rest of the kitchen and eat out for a week. Or get stuff for sandwiches/frozen pizza/whatever. It's not healthy, but it's only for a week or two, and it will keep you sane. (And sanity is everything.)
5. Bribe the children with NEW and EXCITING!
Get a few new movies/toys/electronics, and let the kids use them. We love these and these. (Mess free!) Instead of yelling at them to stay out of everything you're packing, make a big deal about their new stuff. "Woohoo! Look at what you get to do!" It's worth buying a few movies or apps on an iPad. I bought 2 MobiGos (I got both for $30, so look out for sales!), and let the kids play. That was a lifesaver!!!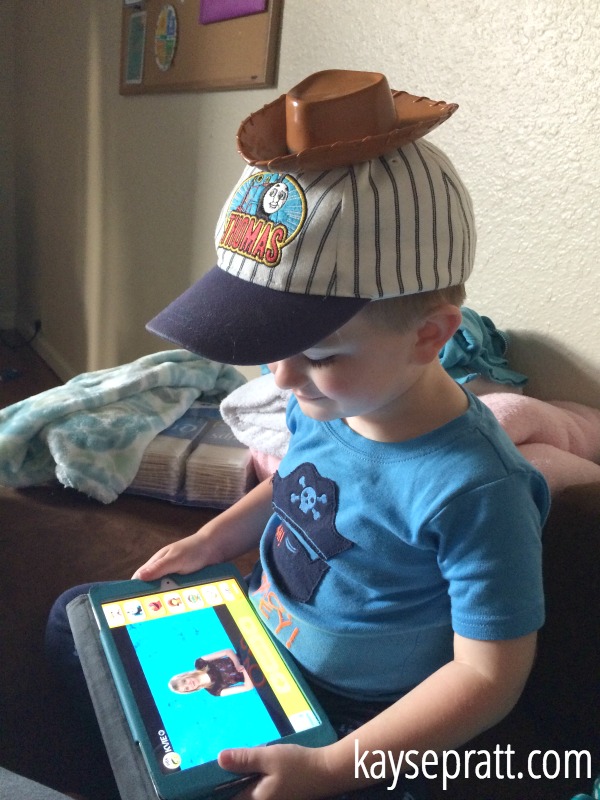 Shameless iPad usage, right here. I don't even care. I probably packed 3 boxes while he was watching PBS kids, so I call this a WIN. And yes, that is Woody's hat on top of Nathan's hat. I have no explanation.
6. Simplify the toy tornado.
Grab a plastic tub with locking handles (we used these for packing a lot of the kids stuff – see-through sides make finding essentials so much easier!), and let the kids pick out whatever toys fill that tub. Keep ONLY that tub out. Pack everything else.
7. Camp out!
Let the kids sleep on fun sleeping bags on top of their mattresses. Wash the bedding. Pack the bedding. Boom, done.
8. Conquer the clothes.
Do all the laundry. Pack one suitcase that will get your family through the next week. Pack everything else. You can wash and reuse whatever's in that suitcase if you need extra stuff.
9. Buy all the space saver bags.
These are a bit of an investment, but believe me – buy the name brand, and they will last you for a few moves. (Ask me how I know that the generic ones are TRASH.)
These space saving bags are the ones we got, and we packed all of our clothes in them. Got a lot of hanging clothes? Leave those hangers right on there! Just grab a section of your hanging clothes (maybe 5-10 items at a time) and roll them up, starting with the hangers so that the hangers are all wrapped up on the inside of the clothes roll.
Then, shove a few rolls in one of these bags and use your vacuum to suck out all the air. Just make sure the hangers are all on the inside, so they don't poke holes through your space saver bags. That kind of defeats the purpose. Anyway, suck the air our and you'll be amazed at how much space you save!
And when you get to your new house? Unzip the bags and hang your clothes right up! They are already on the hangers. You'll feel like a packing pro.
10. One room at a time.
This is maybe the most important part of my packing process. (Except for the duct tape. The duct tape is essential!) Pick ONE room to start in, and don't move on until that room is empty. As you pack boxes, label them with the right color duct tape, and move them to your central box location.
Pack. Label. Move. Repeat. THIS IS YOUR STRATEGY!
Confining the packing to one room at a time helps lessen the overwhelm and lighten your stress. When you can quickly see how many rooms are empty and how many you still have to pack, it's much easier to make a game plan, set goals, and get it done!
---
There you have it, folks! My very best moving tips, fresh off our latest move. I hope these tips make your next move a hundred times easier!
Now it's your turn! What are YOUR best moving tips? What did I miss? 
PIN IT!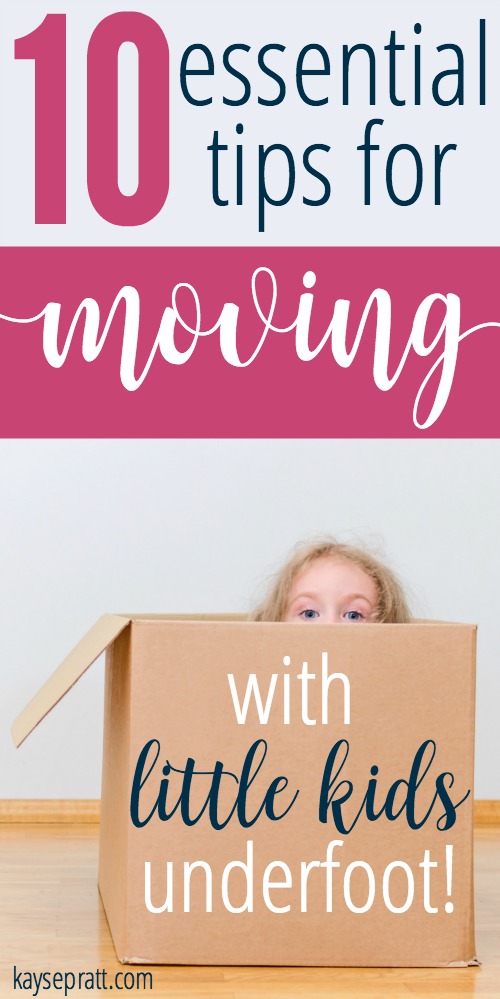 Need a little help getting organized?
Join us for this 4-part mini course on organizing every aspect of your life, including tons of free resources AND immediate access to our printable Organization Kit!
You'll also receive our weekly newsletter, providing you with encouragement and resources to help you make time for what matters most.
*By subscribing, you're agreeing to our privacy policy.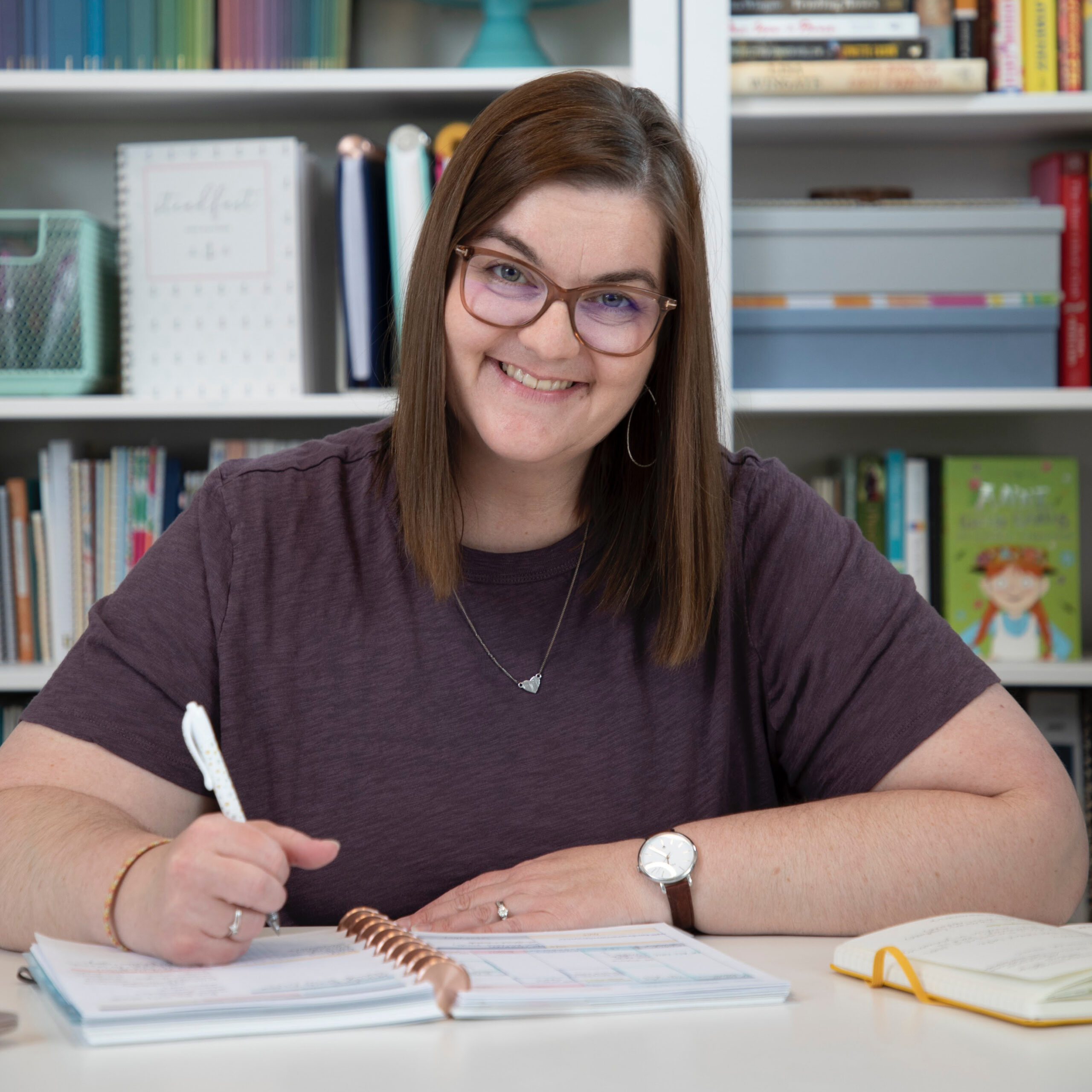 Kayse Pratt serves Christian women as a writer + designer, creating home + life management resources that help those women plan their days around what matters most. She's created the most unique planner on the market, helped over 400 women create custom home management plans, and works with hundreds of women each month inside her membership, teaching them how to plan their days around what matters most. When she's not designing printables or writing essays, you'll find Kayse homeschooling her kids, reading a cheesy novel with a giant cup of tea in hand, or watching an old show from the 90's with her husband, who is her very best friend.