It never fails. I get up semi-early, get ready, get the kids ready & fed, start heading out the door… and then I remember.
Lunch. I forgot to make her lunch.
It feels like mornings are so rushed already (no matter HOW early I get up!), I have the hardest time making lunch for my kindergartener each morning as well.
So, I changed my strategy. I started making lunches just once a week, prepping them on Sundays and keeping them all ready to go all week long. These days, I just grab a pre-made lunch on our way out the door. And that's changed everything for us!
Today, I'd love to share just 3 quick and easy tips for prepping school lunches. Hopefully, they'll change the lunch struggle for you, too!
3 quick and easy tips for prepping school lunches: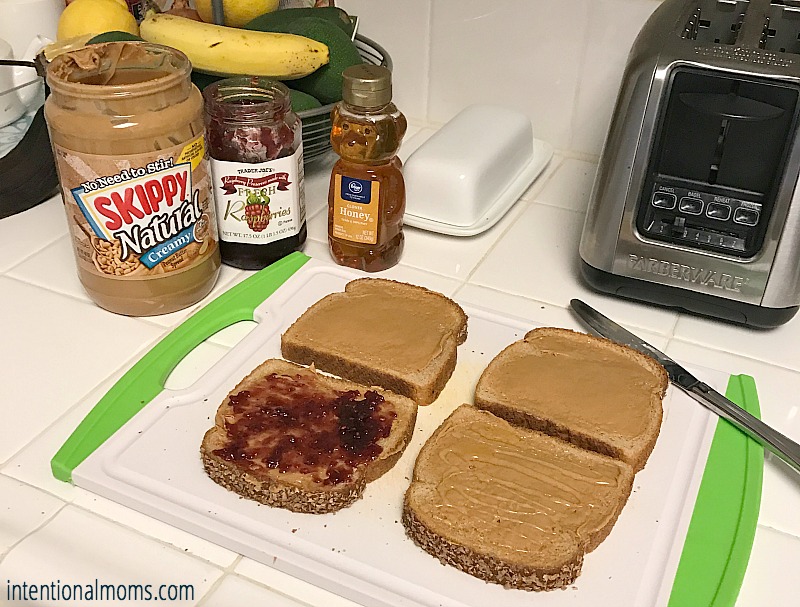 1. Prep your sandwiches on SUNDAY.
On Sunday afternoons, I get out a loaf of wheat bread, our favorite kind of peanut butter, and the jelly, and I start making sandwiches. I make 5 sandwiches for my kiddo – one for each day of the week – and then pop them all in the freezer in these special ziploc freezer bags that prevent freezer burn. If you put peanut butter on both sides of the bread, and the jelly in the middle, the sandwiches both freeze & defrost really well, staying totally fresh all week long!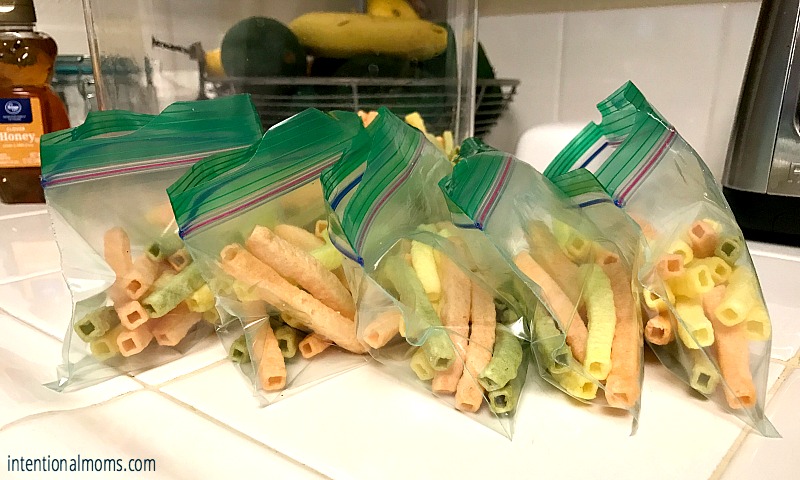 2. Prep your snacks on SUNDAY.
I also get lunch snacks ready. I tend to get fruit that doesn't require a lot of work, so I set aside a few bananas, or separate grapes into a few bags that will be easy to throw into lunches. I also grab a bag or pretzels or goldfish and separate them out into little snack size bags for the week as well.
This whole process takes me maybe 20 minutes on Sunday afternoon. And then, when I go to put lunch together in the mornings, all I have to do is grab a frozen sandwich (it defrosts by lunchtime in her lunchpail), a piece of fruit, and a snack. Literally 30 seconds, and I'm done!
3. Tuck a fun note into their lunchpail!
Emily LOVES it when she finds a note from me in her lunchbox. And I love making her feel special! But honestly, I don't have time to write out a note every morning.
So, I've created these Lunchbox Love Notes to tuck into her lunchpail each week! I print them on cardstock and keep them in a little tin on the kitchen counter. Then, as I'm throwing her food into her lunchpail, I throw one of these notes in too! I sometimes will draw an extra little heart on them, but most of the time, I just throw one in without adding anything to it. And she LOVES them!
It's an easy way to pour into my relationship with my kiddo, without requiring a ton of time during those already-busy mornings.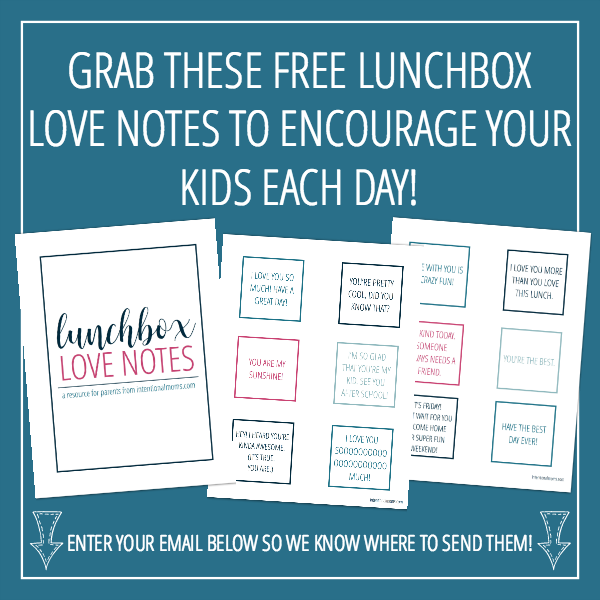 GRAB THIS FREE PRINTABLE OF LUNCHBOX LOVE NOTES FOR YOUR KIDS!
Free Lunchbox Love Notes!
Grab these free printable Lunchbox Love Notes to slip into your kids lunch each day!
*Don't Forget!
If your kids are old enough to make their own lunches, have THEM do most of this work on Sunday! Momma, you are not a slave, and you don't have to do everything yourself. Put those kids to work!
In any case, whether you're making the lunches or your kids are, having everything prepped before the week even begins saves so much time and stress during the week!
How do you save time in the kitchen on busy school mornings?
PIN IT!
Free Lunchbox Love Notes!
Grab these free printable Lunchbox Love Notes to slip into your kids lunch each day!
You'll also receive our weekly newsletter, providing you with encouragement and resources to help you make time for what matters most.
*By subscribing, you're agreeing to our privacy policy.
Kayse is a wife, mom, and founder of the Anchored Women community. She writes to help women fight busy, find rest, and build a life that's anchored in Christ. Kayse is also the creator of the S.O.S. Planner, the Anchored Life Kit, and other practical resources that equip women to manage their homes and families in confidence. You can find her writing and her resources at anchored-women.com!