The Only Hope I've Got is a well-established, family-friendly blog, where Kayse Pratt writes with simple truth on faith, life, & motherhood. Kayse maintains a tight community and a strong social media following, cultivating trust among her readers with her authentic & honest writing voice.
From Kayse: Thank you for your interest in partnering with me! I am committed to working with brands that I'm passionate about & know my readers will love, providing an authentic & beneficial partnership for both of us. I look forward to working with you!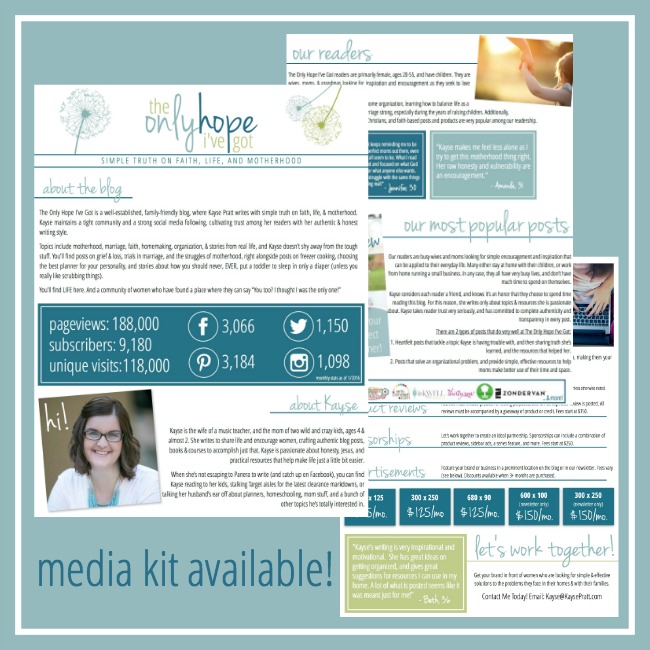 Around The Web
Site Stats
This blog is viewed daily by a growing audience of those who value faith and family. The average reader is a female between the ages of 20 and 50.
Current Statistics | As of January 2016
Private Sponsorship Details
Private sponsorships can include sidebar advertisements, social media promotion, full post reviews, and more.If you have a small business, and are interested in a sponsorship opportunity, please download our media kit and contact Kayse at [email protected]
Advertising Guidelines
Advertisements will appear in the left-hand sidebar in the size and for the duration of your choice. Ads are filled on a first come, first served basis. All ads are subject to review before placement. Ads MUST be family-friendly, and relevant to motherhood, marriage, homemaking, faith, or wellness*.  Payments must be received through PayPal before ad is posted.
No refunds.
Ads must be grammatically correct.
Ads must link to blogs/businesses that contain content and language appropriate for families.
Ads must be family-friendly, and relevant to motherhood, marriage, homemaking, and/or faith.
Advertising rates are subject to change as my blog readership grows.
Click here to read our disclosure policy.