The Best Christmas Books For Kids | The Mommy List, Week 1
We decorated for Christmas over the weekend.
Don't hate me.
I never do that before Thanksgiving. But we aren't hosting Thanksgiving this year, and I have an almost-four-year-old who was SO EXCITED to decorate for Christmas this year. So I gave in and we decorated early.
(And I kind of love it!)
I love everything about Christmas. And this year, we're embracing it a little early, because I want to enjoy every moment of it with my sweet, excited little girl.
And as a die-hard book lover, reading Christmas books is one big way that we do that. We've got a collection of Christmas books in our home, but there are a few that I know we'll be reading over and over this month.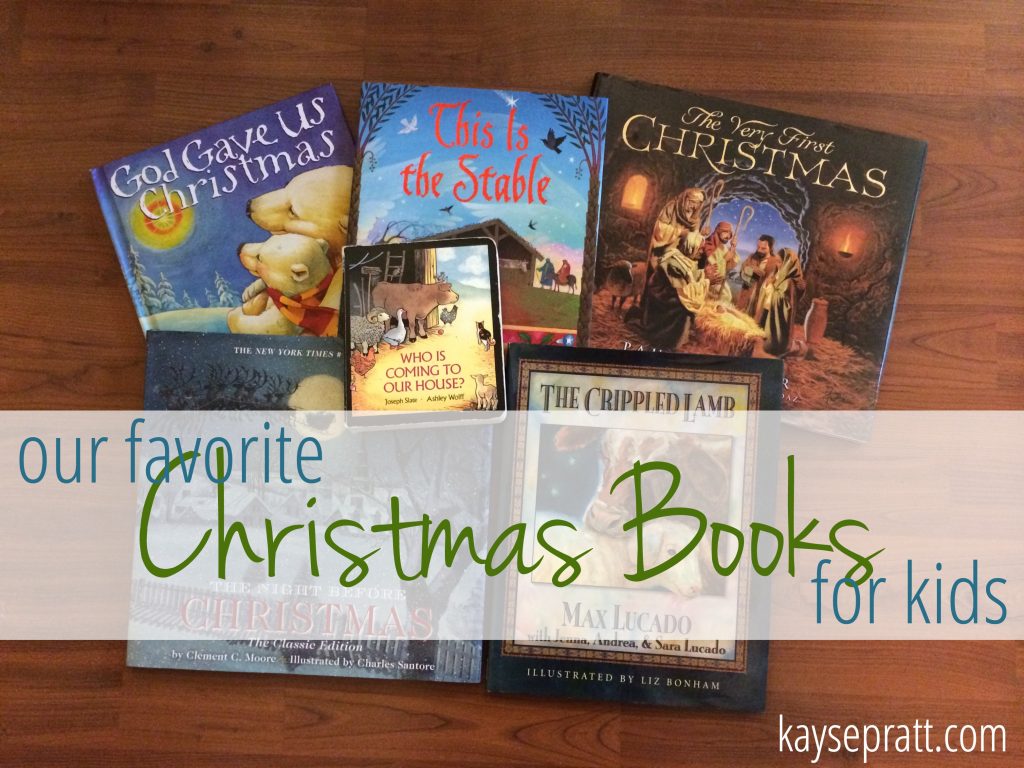 Our Favorite Christmas Books for Kids:
1. God Gave Us Christmas
, Lisa Tawn Bergren – I just found this book this year, and it's so very sweet! It's all about a momma bear who shows her little one how everything, including Christmas, comes from the Lord. The illustrations are absolutely beautiful, too. We've read it once already, and I know that we will be reading it many more times before Christmas!
2. This Is the Stable
, Cynthia Cotten – Emmy loves this one because it's super fun to read. Every page builds on the last, and by the end you've got the whole story of Christ's birth in one very long sentence. 🙂
3. The Very First Christmas
, Paul Maier – This one is for kids who are just a little older than mine. Maybe 5-12 year olds? It's a really great account of the Christmas story, told in great detail and historical context. Emmy doesn't quite have the patience for this yet (it's pretty long), but I'm saving it for when she does, because it's a really beautiful & meaningful book.
4. Who is Coming to Our House?
, Joseph Slate – My friend, Hannah, just introduced us to this book last week, and it's already a favorite!! It's the account of Christ's birth night through the eyes of the animals. And it's a board book, so it's great for both kids. Love it!
5. The Night Before Christmas
, Clement C. Moore – What's Christmas without this story? Always a fun one to read on Christmas Eve – and the illustrations in this edition are absolutely timeless.
6. The Crippled Lamb
, Max Lucado – This is by FAR my favorite Christmas book. I love all of the children's books that Lucado writes, but this one takes the cake. The sweet story of this little lamb is one that brings me to tears every time we read it! If you want one good kid's book this Christmas, make this one it!

It's your turn!
Are you ready to link up? Create your own list & post it to your blog, then come back here each week and link your post up below! In order to link up, you'll also need to link back here, and the easiest way to do that is to include The Mommy List button on your post! Just copy the code below and paste it into the text of your post. Easy Peasy! And don't forget to visit our other linky friends on this post and leave them some comment love!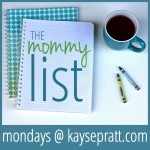 Or just grab the image below, use it in your post, and link it back to this page!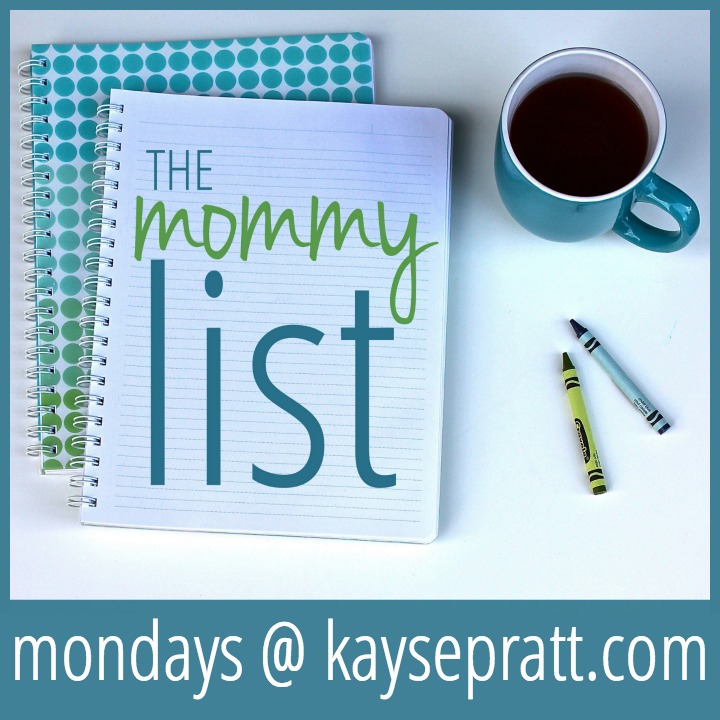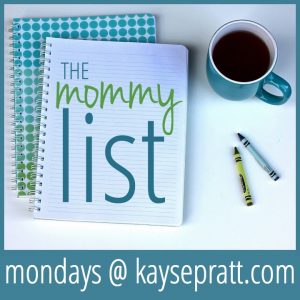 Or, if you don't have a blog, share your favorites in the comments below!
And join us next week when we link up our favorite devotionals for moms!
What am I missing? What's your favorite children's book during the Christmas season?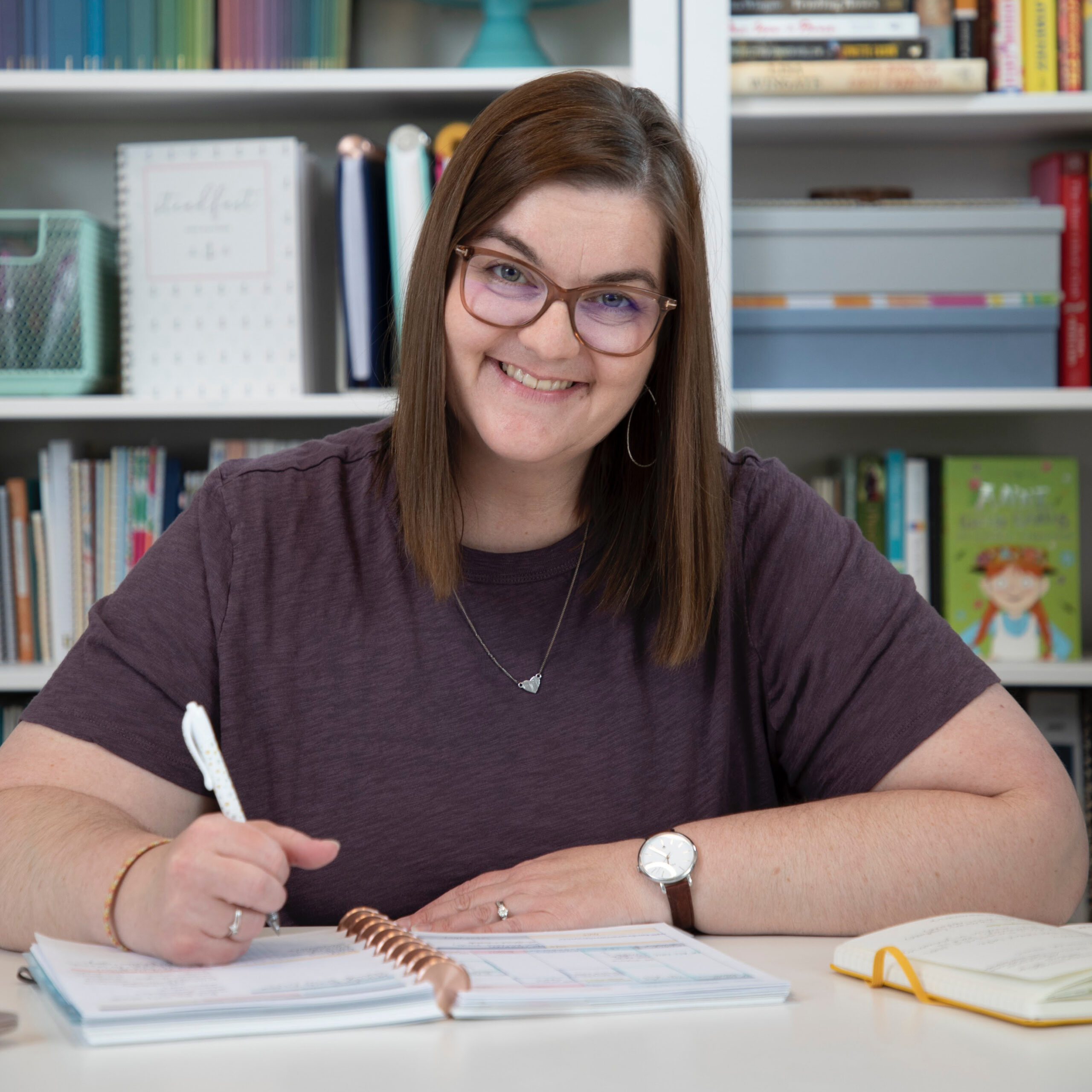 Kayse Pratt serves Christian women as a writer + designer, creating home + life management resources that help those women plan their days around what matters most. She's created the most unique planner on the market, helped over 400 women create custom home management plans, and works with hundreds of women each month inside her membership, teaching them how to plan their days around what matters most. When she's not designing printables or writing essays, you'll find Kayse homeschooling her kids, reading a cheesy novel with a giant cup of tea in hand, or watching an old show from the 90's with her husband, who is her very best friend.