Pumpkin Dump Cake (The only fall dessert you'll ever need)
And I'm not joking. It really is the only fall dessert you'll ever need.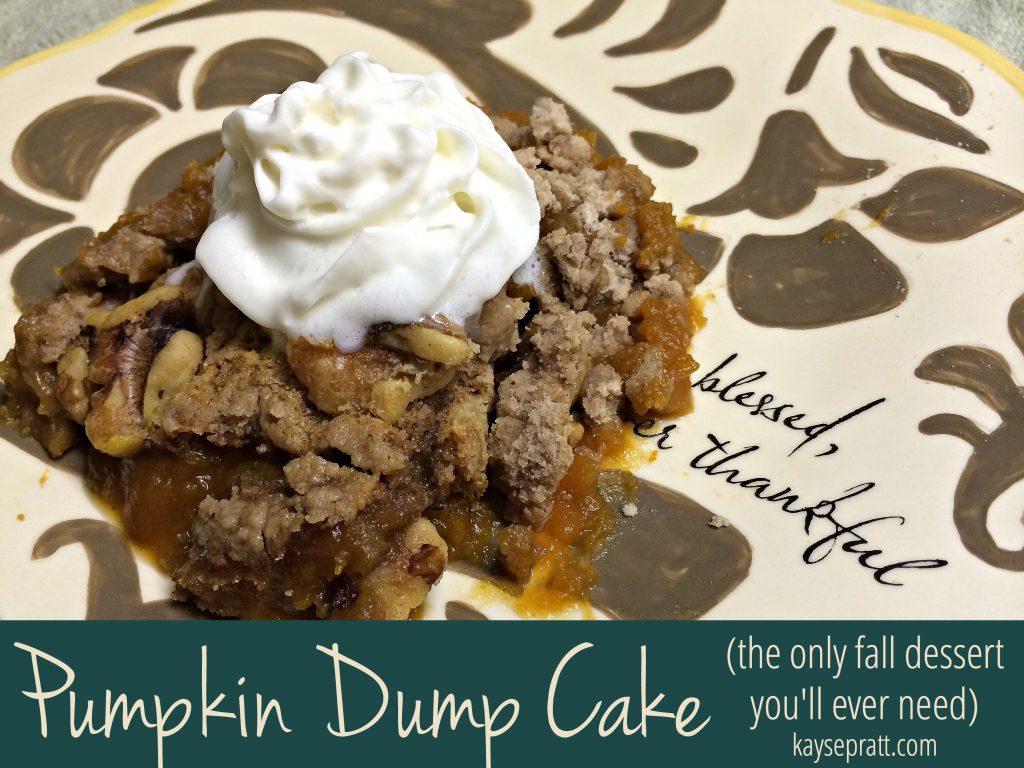 Pumpkin Dump Cake was a Thanksgiving staple in our home growing up. When I became a wife and began to run a home of my own, Pumpkin Dump Cake was no longer limited to Thanksgiving.
It was an every-week-fall-favorite kind of thing.
I've tried lots of fall desserts, lots of pumpkin things, and nothing compares to the magic of this recipe.
Here's why: It's the perfect blend of ease and deliciousness.
It takes literally two minutes to throw together. And it tastes like you've slaved for hours. See? Magic. 🙂
So, without further adieu, I give you the dessert that, should you be wise enough to make it right away, will make you the most-loved member of this year's Thanksgiving celebration.
Pumpkin Dump Cake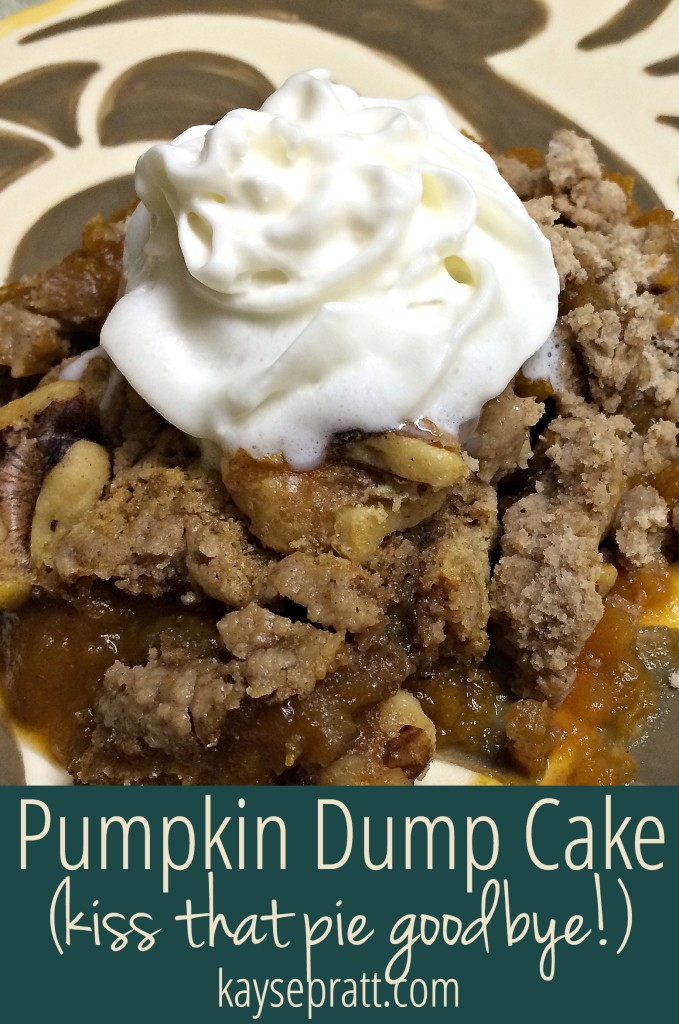 Ingredients:
1 can pumpkin pie filling (or make your own from scratch, but that will definitely take longer than 2 minutes)
1 box spice cake mix
1 cup chopped pecans or walnuts (optional, but recommended!)
1/2 stick of butter
Directions:
Dump the pumpkin pie filling into a greased 9×13 pan. Dump the dry spice cake mix on top of that. Sprinkle nuts across the top. Melt butter, then drizzle all of the melted butter across the top of the cake. Bake at 350 for 55 minutes.
DONE!! Oh, but as my Aunt Candi always says, you'll need to top it off with just a little whip cream to cut the sweet. 😉
It's AMAZING you guys. Go make it now. And revel in all the accolades that you'll get when you bring it to Thanksgiving dinner tomorrow.  Forget the turkey, it's all about the dump cake!
Enjoy!
What's your favorite fall dessert?
Kayse is a wife, mom, and founder of the Anchored Women community. She writes to help women fight busy, find rest, and build a life that's anchored in Christ. Kayse is also the creator of the S.O.S. Planner, the Anchored Life Kit, and other practical resources that equip women to manage their homes and families in confidence. You can find her writing and her resources at anchored-women.com!