Over the last few weeks, I've taken a break from writing here, with the exception of last week's series on rest. I mentioned there that I didn't really feel like my season of rest was over.
As I wrote the last post in that series, I realized that I needed this idea of rest to become a daily thing. Not a season, not a week, but a constant thing.
A simplified life, with room for rest.
Part of it really is my season – pregnant and sick with baby #2 on the way. Lots to do around here and not much energy to do it. So I need my focus to be at home.
But another part of it is my lifestyle. My personality. I'm an all or nothing kind of person – I want to be all in or all out. The idea of balance is difficult for me, as I lack self-discipline in a lot of areas.
I'll confess to you that in these few weeks, a time when I declared that I really needed more of Jesus, I have quite successfully avoided Him. Bible reading has fallen to the wayside, and though part of that is because reading makes me nauseous, another part of it is something else altogether, and I'm not sure what.
Part of me is really scared about this pregnancy. I am terrified to go through another delivery like Emmy's, terrified to be a NICU parent again. Also, the last time around, a really difficult stretch of our marriage was during my pregnancy, and I'm scared to struggle again, even though we are at maybe the best place we've ever been in our marriage.
This fear drives me away from the Lord. Fear makes me grasp to control and manage and self-sustain. It never works, but it's still my default. 
This morning I sat down for the first time in a few weeks to actually read the Bible study for the group that I'm supposed to be leading online. I read Luke 5, the story about the leper who came to Jesus and asked to be healed. At the end of the story, Luke mentions that after Jesus healed, He withdrew alone to a quiet place to pray.
I was talking with my friend this week and she said something that stuck with me. She said that forever, she'd been doing her Bible study because she was supposed to. That it was the right thing to do and she wanted to do the right thing. It's only this year that she's come to realize that Jesus doesn't really want our "supposed to", and that the time spent is really a blessing where you get to be blessed by the One who knows you intimately, instead of a box we get to check off.
It's a really amazing thing if you think about it. A relationship with someone who knows your everything and still wants to spend time with you, wants to pour into you. It's love in the purest form. Why on earth would I run from that?
I know my writing is a little (a lot?) all over the place, but I think that here is where it all comes together. A lot of the time, especially when I am struggling with fear, I treat my relationship with God as something to check off, something I'm supposed to do because I'm a good girl. But really, those times when I make the effort to withdraw to a quiet place, like Jesus did, I realize that spending time with Him is the best kind of rest. And in order to really enjoy the blessing of that, I actually have to rest first. I can't be going at full speed in my own strength and then genuinely stop and spend time with the person I'm supposed to be depending on (when I'm clearly not). Filling, meaningful, consistent quiet times, for me, require a life that is intentionally slowed and constantly dependent.
It's so against my nature.
I suppose I'm more writing to process, than writing to share some great insight with you, but I'm writing because maybe you need to hear that I'm just trying to figure it all out too. I don't have my life together, I don't succeed at reading my Bible every day, and sometimes I flat out run away from the Lord out of fear.
In sitting down with Him this morning, though, I'm reminded that fear is a lie, and our Father is full of blessing. Full of healing. He doesn't lay anything in our paths that He can't handle.
So, this morning, I am going to focus on the small things. I know I need Jesus, even when my nature says I don't, so I will pray for discipline to continue making time to spend with Him. I will do what I can, eating right and exercising, to keep this pregnancy healthy, and try my best to trust God with the rest. I will be mommy and wife and give that my heart instead of my leftovers. And I will write honestly here, sharing the things He is teaching me, embracing rest as a lifestyle instead of a temporary escape from the things I've been called to do.
I can't self-sustain. I need Him. I feel a little bit like I'm starting over, with a renewed focus on being faithful in the small things and letting go of the rest.
Really, I think that might be all that any of us can honestly do. Small, faithful steps, one foot in front of the other, following Him.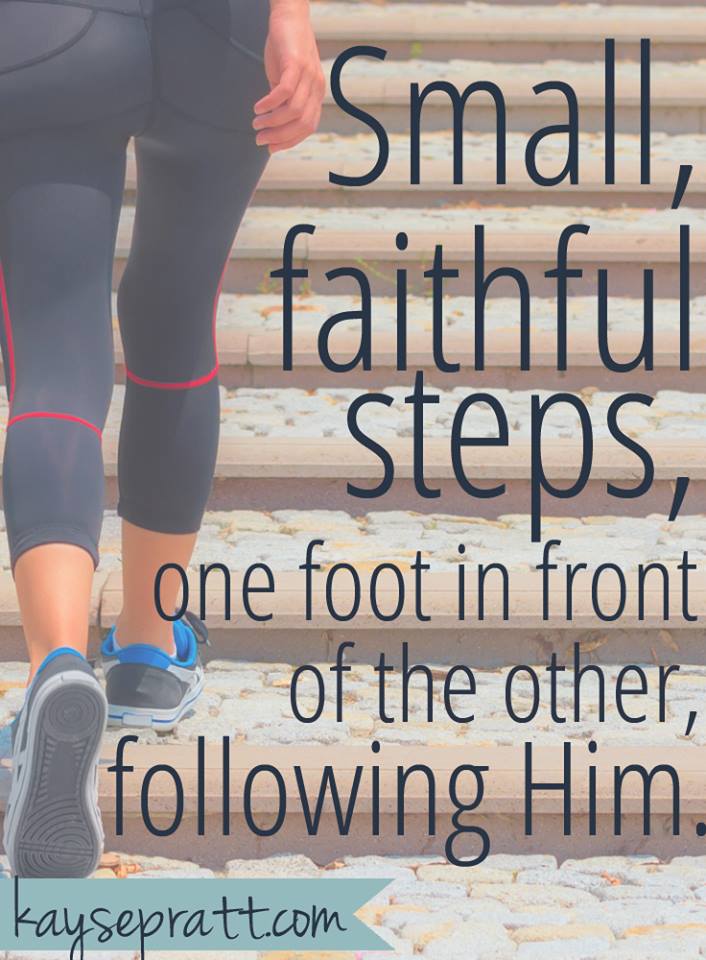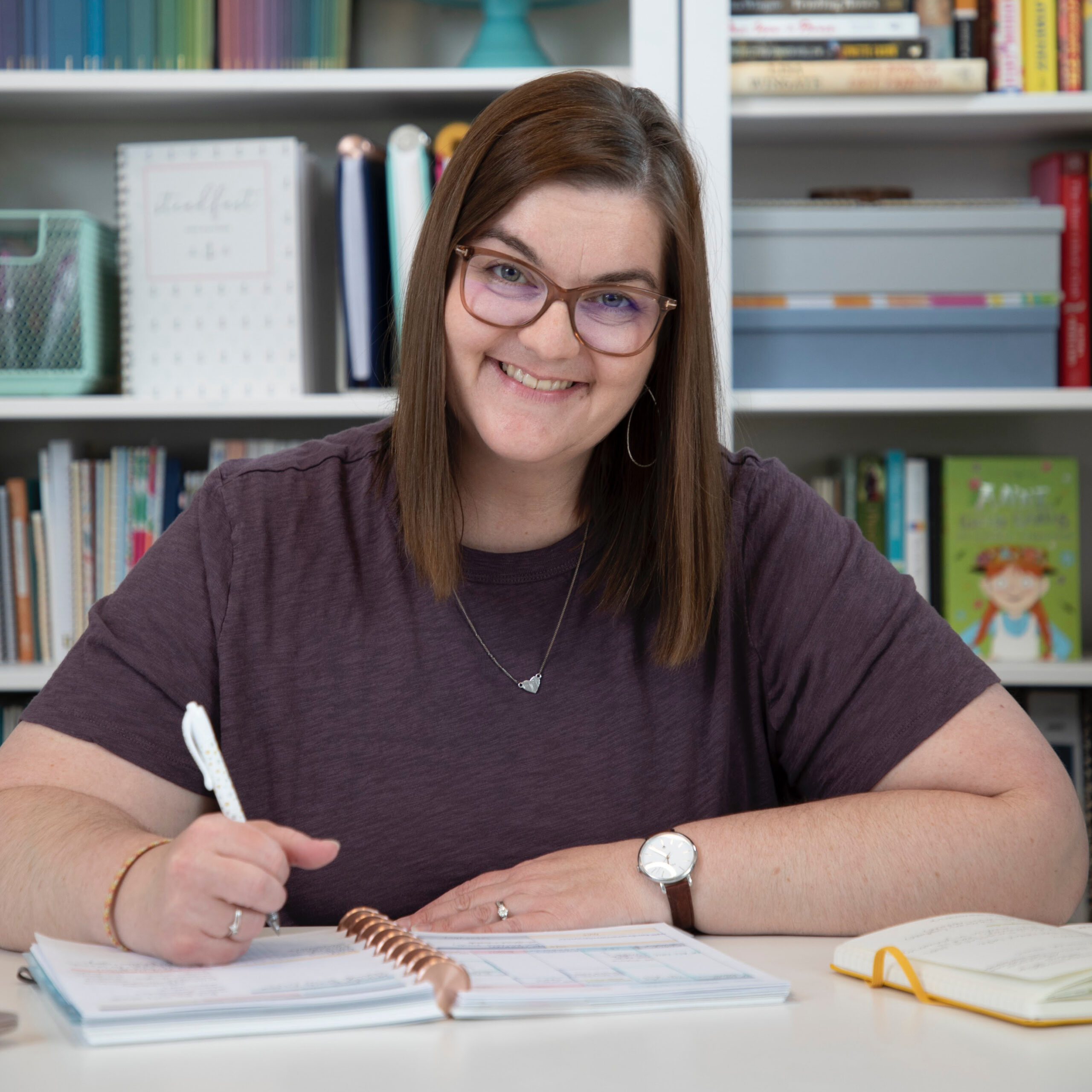 Kayse Pratt serves Christian women as a writer + designer, creating home + life management resources that help those women plan their days around what matters most. She's created the most unique planner on the market, helped over 400 women create custom home management plans, and works with hundreds of women each month inside her membership, teaching them how to plan their days around what matters most. When she's not designing printables or writing essays, you'll find Kayse homeschooling her kids, reading a cheesy novel with a giant cup of tea in hand, or watching an old show from the 90's with her husband, who is her very best friend.