Grape and Shallot Chicken (It's awesome, I promise!)
This last weekend, Jon and I drove for 14 hours in the car. So we had plenty of time to talk.
One of the things we talked about was healthy eating. Which is never my favorite topic of discussion because I always feel like a bit of a failure in this area. But, there's nothing like stepping on the scales at 30 weeks pregnant to help you realize that something's gotta change!
In talking to Jon, I realized I've been waiting… I wanted to jump on board with the Trim Healthy Mama plan, in full force, but I felt like I needed to read the book first. And I don't know about you, but I just haven't had time to read a 600 page book lately. Maybe that's an excuse, but maybe it's just real life right now. Anyhow, I was waiting to really jump into it until I read the whole book. But a couple of the things that I read (all of which I think are great in theory), gave me hesitation as far as how they fit into our family. I was still deciding. And in the deciding, I was eating without really thinking about it. You know, since I was going to start eating right really soon…
Talking with Jon helped me realize that this is not the time to start something brand new, completely revamp the way I cook, and learn 600 pages of a new program. I DO think it's a great way to eat, I just can't commit to it right now.
Still, that doesn't mean that I get to eat without considering the fact that Eggo waffles, cereal, and pasta do not work together to create a day's worth of well-balanced meals.
So, this week I meal planned the heck out of each meal. Breakfast, Lunch, Dinner, and Snacks. All things that I know are healthy, that I don't hate eating, and that I can be successful with.
No program. Just smarter decisions. And less Eggos.
So today, I'm going to share one of my favorite healthy recipes with you! This one comes from my amazing aunt, who ran a very successful catering business for years and who is the very best cook I know. I'd rather go to her house than eat out. And that says a lot.
This is one of those recipes that makes me look like I'm a much better cook than I am. And therefore I love it. Plus, it tastes awesome, and I get a big grin from Jon every time I make it. Win-win-win!
Oh, and it's super easy.
So, without further adieu, here's my favorite chicken recipe of all time…
Grape and Shallot Chicken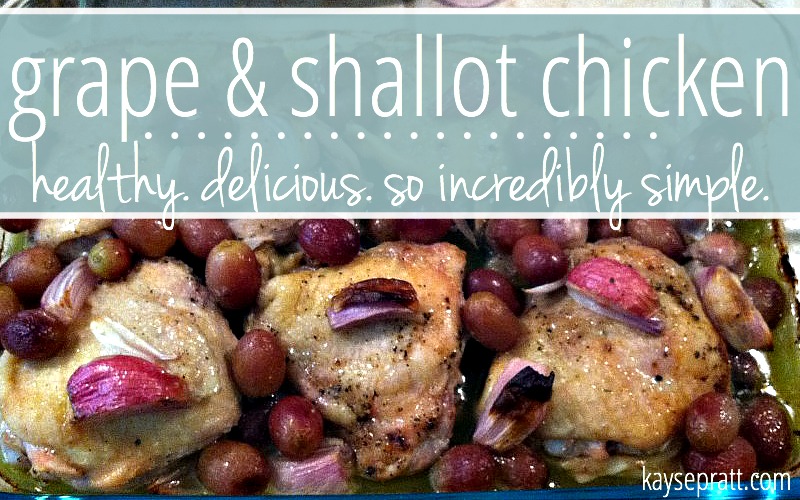 Ingredients:
Chicken Thighs (1-2 per person)
Shallots (1 Shallot for every 2 Thighs)
2 Handfuls of Grapes
1/4 Cup Olive Oil
Italian Seasoning
Salt & Pepper
Directions:
Preheat oven to 400
Place Chicken Thighs in a large bowl
Peel Shallots and cut in half. Add 1/2 shallot for every thigh to bowl.
Throw in a handful of red grapes and a handful of green grapes (Or, if you just have one color, like me, throw in two handfuls of that color.)
Add salt and pepper, plus some Italian seasoning to bowl as well. (This is just to taste, so add as much as you typically like.)
Add 1/4 cup Olive Oil
Mix everything in the bowl together
Toss into glass baking pan. Cook for 45 minutes, stirring about halfway through. Make sure thighs are nice and brown before you take them out of the oven.
Serve with brown rice or quinoa! (Or veggies.)
And thats it! It's SO easy, quick, and yummy. Everything is healthy, and everyone will love it. I promise.
What's your favorite healthy dinner? I'd love to see some links! Bonus points if it's quick and easy!
PIN IT!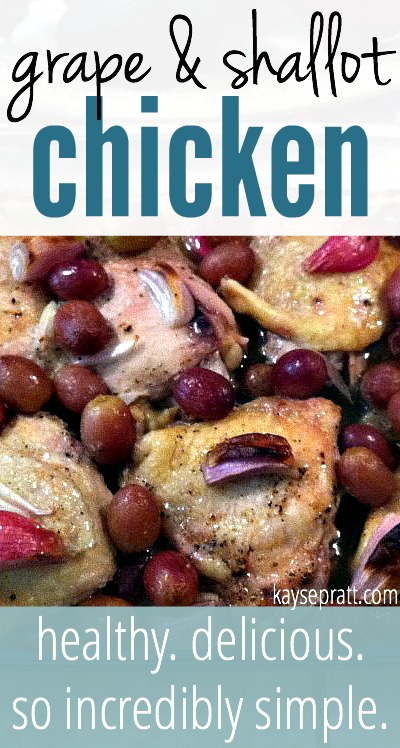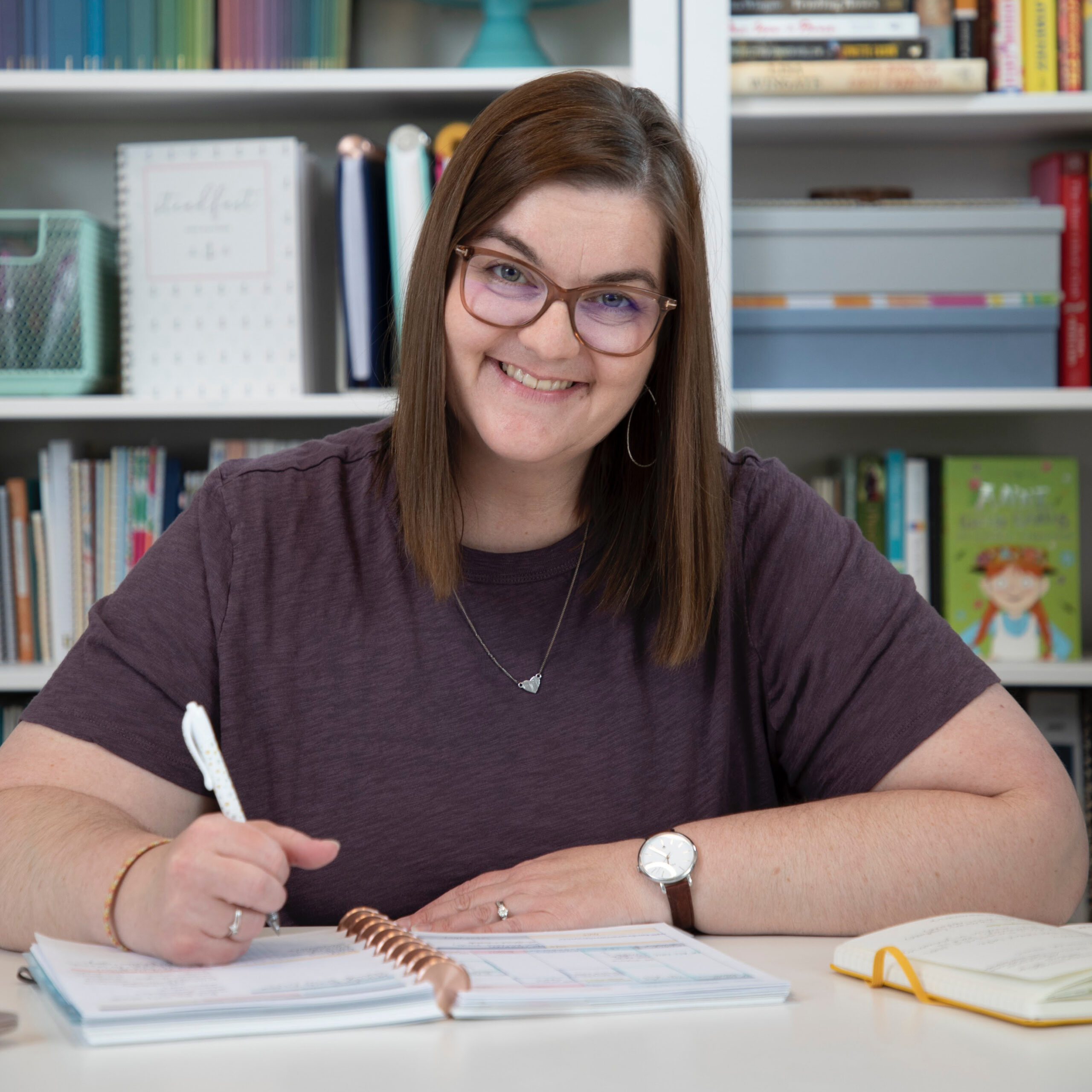 Kayse Pratt serves Christian women as a writer + designer, creating home + life management resources that help those women plan their days around what matters most. She's created the most unique planner on the market, helped over 400 women create custom home management plans, and works with hundreds of women each month inside her membership, teaching them how to plan their days around what matters most. When she's not designing printables or writing essays, you'll find Kayse homeschooling her kids, reading a cheesy novel with a giant cup of tea in hand, or watching an old show from the 90's with her husband, who is her very best friend.