Hi friend! Welcome to today's edition of the Nightly (Good) News!
A little background for our new NGN friends:
If you've been feeling worn down by the news lately, like I have been, you're in the right place. I found that nighttime was when I was feeling especially worried and sad, and after talking to many of you, I realized I wasn't alone.
So, I put together a brief nightly email that gives you something encouraging to read before bed. Instead of getting sucked into the spiral of terrible news, we can all focus on something positive and sleep a little better. You can click here to get these delivered to your inbox each night! I'll also post them here on the blog the next morning.
Each letter will include a Bible verse and a few thoughts on it, plus something that's helpful, happy, beautiful, or fun. Delivered to your inbox each weeknight!

"For God so loved the world, that he gave his only Son, that whoever believes in him should not perish but have eternal life. For God did not send his Son into the world to condemn the world, but in order that the world might be saved through him."
– John 3:16-17
This week, Emily's schoolwork included a bit of work on this memory verse. I have loved hearing her practice it, preaching the gospel throughout our home.
Reminding her mom of the truth, without even knowing it.
I think most of us are probably familiar with verse 16. It's arguable one of the most famous verses in Scripture. But that verse 17 – that's one that we don't often remember to say. But, really, verse 16 isn't complete without 17.
In the first verse, we learn that God loved the world, and sent His own son to die so that we could have eternal life. The incredible sacrifice of that gift – I can't fathom it.
But verse 17 drives it home. God makes it incredibly clear that He didn't send Jesus to condemn us, but to save us! God desires our salvation, our repentance, our reconciled relationship with Him.
This is the God we serve. This is the God who is still reigning over us, even while the world feels like it's coming apart at the seams. He doesn't desire that any should perish, but that we would have eternal life!
And this saving work? He's already done it. Through Jesus alone, we have righteousness and faith – all we need for eternal life with Him.
Friend, if you have faith in Christ, the coronavirus and its disastrous effects cannot take your eternal life from you.
And if you don't yet know Christ, you still can. Start here – with John 3:16-17, understanding that your sin has kept you apart from God, but Jesus covers you with His righteousness through His death and resurrection. He died to take the punishment for your sins, and He rose so we would know He has power even over death. Because of Him, you can stand blameless before God, with Him for eternity.
Your salvation is based on NOTHING you've done, and EVERYTHING He has done. It is a gift – a free one that He gives you out of His immense love. Repent and place your trust in Him. He has already secured your place in eternity – will he not walk with you through your days, even now?
(He will. He promises.)
Lord, thank you for sending your son to save us from our sins, for eternal life with you. Thank you that the blood of Jesus covers me, so that I can stand blameless before God – not because of my own goodness, but because of Christ's perfection, and His sacrifice for me. Walk with us, even now, and remind us that our salvation is secure in You, because of Jesus. Let this knowledge carry us through each day, and bring us closer to you.
---
A little something helpful…
I know that a lot of stores are low on meat right now – and completely out of chicken. At least that's the case at all the stores around us. And delivery services don't have any delivery times available!
I have been incredibly thankful for our Butcher Box delivery during this time. It's something we've been using for a few months now, and we really LOVE it. It's grass-fed, organic meat, and it's delivered right to your door in the best packaging I've ever seen (and I've tried a lot of these services) – the dry ice and thick insulation keeps the meat completely frozen.
We got our 5th box today, and we continue to order. My husband is extremely picky (snobby?) when it comes to meat (and coffee), and he thinks everything we've gotten from them is delicious. I am not that picky, but I agree on the delicious verdict.
Since we love it so much, I thought I'd share it with you as my helpful hint for tonight's email!
If you want to try a box for yourself, I have a link that will get you $30 off your first box!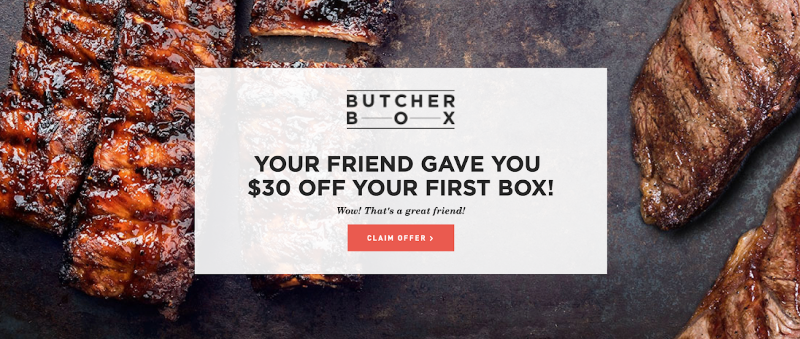 Just click here and place your first order. You'll save $30, and I'll get a small credit on my account (that I will use on our next box – so thanks!!).
Butcher Box IS a subscription service, but you can set your boxes for anywhere from 2-8 weeks apart, or pause for an indefinite amount of time, or cancel altogether after the first box. It's super easy to do all of that inside your account – I've paused ours multiple times, and canceled once (and then signed up again).
During a time where going to the grocery store suddenly feels nerve-wracking (anyone else?), I was incredibly thankful for our Butcher Box showing up on our doorstep this morning – packed full of perfectly frozen meat. In fact, Jon's grilling some of our new chicken thighs tonight!
Here's that link again if you want to try it out and save $30 on your first box: http://fbuy.me/oVNnQ

P.S. If you want to find ALL of our Nightly Good News posts, you can find those here: https://anchored-women.com/category/heart/nightly-good-news/
P.P.S. These Nightly Good News emails are coming out every weeknight. Since tonight is Friday, I'll see you again on Monday night, friends! Remember – don't get stuck in the news spiral before bed this weekend – crack your Bible open instead! A few favorites that were recommended to me this week are Psalm 46 and Isaiah 41:10, if you need a place to start!
Kayse is a wife, mom, and founder of the Anchored Women community. She writes to help women fight busy, find rest, and build a life that's anchored in Christ. Kayse is also the creator of the S.O.S. Planner, the Anchored Life Kit, and other practical resources that equip women to manage their homes and families in confidence. You can find her writing and her resources at anchored-women.com!