Hi friend! Welcome to today's edition of the Nightly (Good) News!
A little background for our new NGN friends:
If you've been feeling worn down by the news lately, like I have been, you're in the right place. I found that nighttime was when I was feeling especially worried and sad, and after talking to many of you, I realized I wasn't alone.
So, I put together a brief nightly email that gives you something encouraging to read before bed. Instead of getting sucked into the spiral of terrible news, we can all focus on something positive and sleep a little better. You can click here to get these delivered to your inbox each night! I'll also post them here on the blog the next morning.
Each letter will include a Bible verse and a few thoughts on it, plus something that's helpful, happy, beautiful, or fun. Delivered to your inbox each weeknight!

""Therefore I tell you, do not be anxious about your life, what you will eat or what you will drink, nor about your body, what you will put on. Is not life more than food, and the body more than clothing?
Look at the birds of the air: they neither sow nor reap nor gather into barns, and yet your heavenly Father feeds them. Are you not of more value than they? And which of you by being anxious can add a single hour to his span of life? And why are you anxious about clothing?
Consider the lilies of the field, how they grow: they neither toil nor spin, yet I tell you, even Solomon in all his glory was not arrayed like one of these. But if God so clothes the grass of the field, which today is alive and tomorrow is thrown into the oven, will he not much more clothe you, O you of little faith?
Therefore do not be anxious, saying, 'What shall we eat?' or 'What shall we drink?' or 'What shall we wear?' For the Gentiles seek after all these things, and your heavenly Father knows that you need them all. But seek first the kingdom of God and his righteousness, and all these things will be added to you.
"Therefore do not be anxious about tomorrow, for tomorrow will be anxious for itself. Sufficient for the day is its own trouble."
– Matthew 6:25-34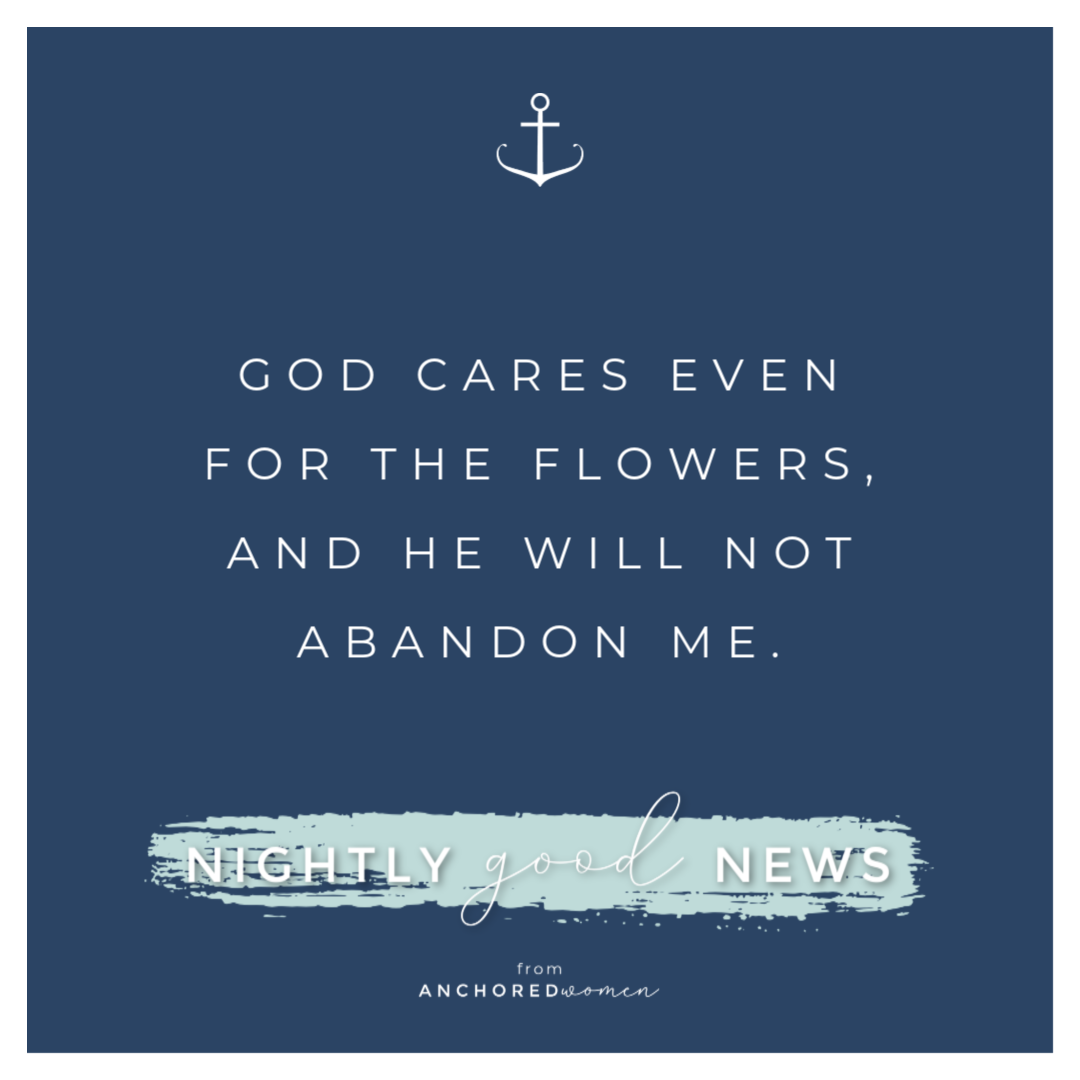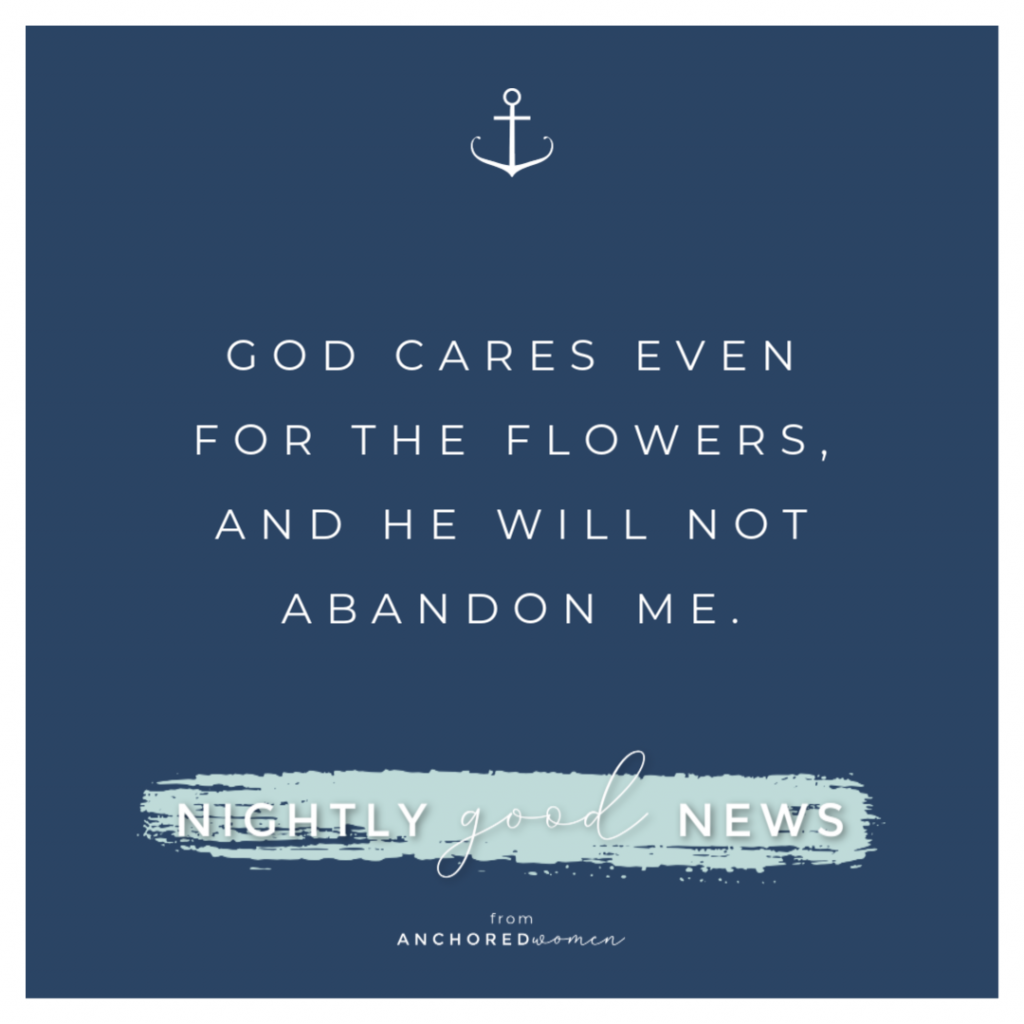 I have a sweatshirt that says "Consider the wildflowers" on it. It's too big, and doesn't fit at all, but I wear it when I'm worried. It reminds me that God cares even for the tiny flowers, and He will not abandon me.
The other day, I heard someone say that they took a walk outside and realized that nature does not seem affected at all by what's plaguing our world right now. The trees aren't worried, the grass isn't hiding – everything is blooming and new life is springing forth. Nature depends completely on God for it's survival, for it's growth.
What if WE stopped hiding, too?
Don't get me wrong – I'm all about staying at home right now, and I truly pray that social distancing works. I'm not talking about that. I'm talking about how I feel like I'm cowering inside my own heart. Looking at the numbers and waiting for this virus to take down someone I love, or even me. I worry about leaving my kids without a mom, or about losing someone else I can't imagine my life without. I'm hiding in fear, waiting for something that's not a reality in my own life right now.
More than that, I feel like my fear is full of doubt that God cares for us. But He does! Scripture is so clear about this. We cannot read these verses and continue to hold that fear.
No matter what the future holds, He will provide. For us, for our loved ones, even through times of physical and financial suffering. He cares for the birds, and the flowers – and the Bible is clear that we are of so much more value to the Lord than those. Won't He continue to care for us?
He will. And so, I can stop cowering. (I am constantly needing to remind myself of this, but it is the truth, nonetheless.) I can stop looking at the numbers and just enjoy the healthy people right in front of me TODAY, refusing to worry about a tomorrow that I can't control. I can continue to pray for others, not in fear, but in hope – because God's ways are higher than mine, but I know His heart is for the redemption of His people. I can look at what God is doing around the world, instead of what evil is taking place.
I can take a deep breath because, as my husband says, "God's got us, no matter what happens."
We're in times of trial right now, so we need to remind ourselves of the truth more than we usually do. That's okay. Keep running back to Scripture, where you'll find GOD and His incredible compassion for you.
Lord, help us to fight the fear of these days with your Word. Thank you that you always provide, and that you are faithful even when we doubt. Thank you that our salvation does not depend on us, but on YOUR saving work in our lives. We believe, Lord. Help our unbelief.

---
A little something beautiful…
Please listen to this before bed tonight. It's beautiful and soothing and it might have made me cry. I love seeing how people are finding new ways to come together right now. And also? This is just one of my favorite songs ever.
I hope this email has been helpful and encouraging, friends! If there's anything you'd specifically like to see in these emails, please reply and let me know.
In this together,
Kayse
Kayse is a wife, mom, and founder of the Anchored Women community. She writes to help women fight busy, find rest, and build a life that's anchored in Christ. Kayse is also the creator of the S.O.S. Planner, the Anchored Life Kit, and other practical resources that equip women to manage their homes and families in confidence. You can find her writing and her resources at anchored-women.com!