God is still in control // Nightly (Good) News!
Hi friend! Welcome to today's edition of the Nightly (Good) News!
A little background for our new NGN friends:
If you've been feeling worn down by the news lately, like I have been, you're in the right place. I found that nighttime was when I was feeling especially worried and sad, and after talking to many of you, I realized I wasn't alone.
So, I put together a brief nightly email that gives you something encouraging to read before bed. Instead of getting sucked into the spiral of terrible news, we can all focus on something positive and sleep a little better. You can click here to get these delivered to your inbox each night! I'll also post them here on the blog the next morning.
Each letter will include a Bible verse and a few thoughts on it, plus something that's helpful, happy, beautiful, or fun. Delivered to your inbox each weeknight!

"The Lord is my strength and my song,
He has become my salvation.
This is my God, and I will praise Him,
My father's God, and I will exalt Him,
The Lord is a warrior.
The Lord is His name."
– Exodus 15:23
To be honest, I've been full of far more worry than praise lately. With everything that's going on in the world, PLUS how much our lives have changed in just a few short weeks, well, it's safe to say I have not been my best self.
I've tried a lot of things to reign in my anxiety. Schedules. Productivity. Even binge-watching TV. But everything is, at best, a distraction.
What I really need is to remember who God is. A warrior. Our Lord. My strength. My salvation. Even my song – my joy! And He is still all of these things right now, in the midst of everything hard. He is all of these things right here with us.
I'm working on this. Maybe you are, too. Let's remember, together, that God is still in control, and He is more than capable.
Jesus, help me to remember who you are and what you've already done for us, instead of worrying about what might happen tomorrow. Help me live for you TODAY, and trust the future to your very capable hands. I never had control over it anyway.

---
A little something helpful…
This week, I started planning my days a little differently. I'm dividing the day up into blocks of time, and creating small to-do lists for each block. So, for example, I will create a small list of things to complete by 10am, a list of things to complete by 2pm, etc.
In addition, I'm identifying my 3 priorities of the day, and writing out something I'm looking forward to for that night (family game night, a movie, etc.). This has been really helpful in a new season where my regular planning strategies aren't working as well!
If you'd like to try planning your day in time-blocked task lists, I created a pretty, simple printable for all of us! It looks like this: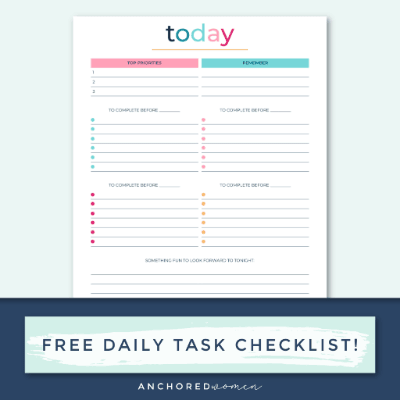 CLICK HERE TO DOWNLOAD YOUR FREE DAILY TASK CHECKLIST INSIDE OUR AT-HOME PRINTABLE PACK!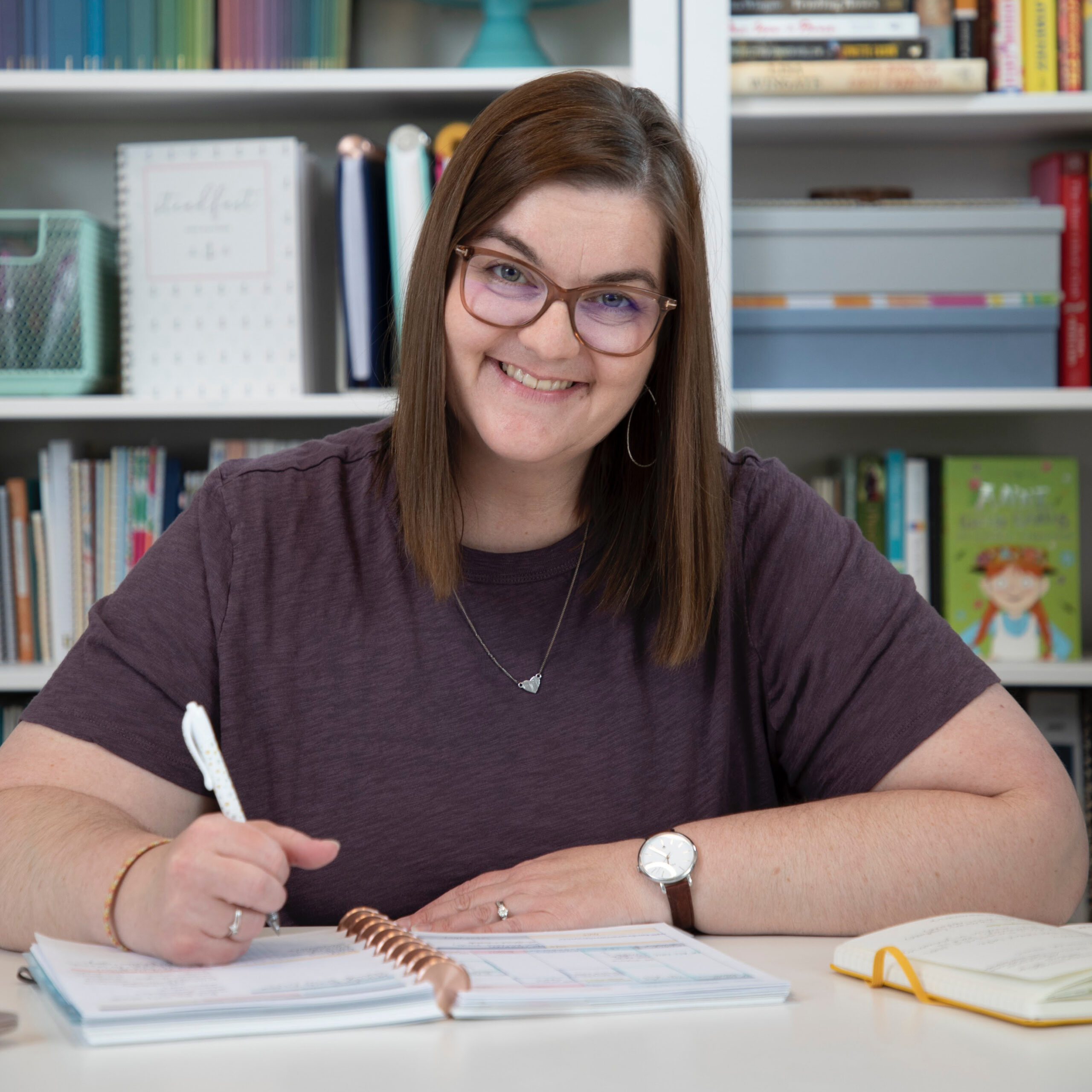 Kayse Pratt serves Christian women as a writer + designer, creating home + life management resources that help those women plan their days around what matters most. She's created the most unique planner on the market, helped over 400 women create custom home management plans, and works with hundreds of women each month inside her membership, teaching them how to plan their days around what matters most. When she's not designing printables or writing essays, you'll find Kayse homeschooling her kids, reading a cheesy novel with a giant cup of tea in hand, or watching an old show from the 90's with her husband, who is her very best friend.