Hi friend! Welcome to today's edition of the Nightly (Good) News!
A little background for our new NGN friends:
If you've been feeling worn down by the news lately, like I have been, you're in the right place. I found that nighttime was when I was feeling especially worried and sad, and after talking to many of you, I realized I wasn't alone.
So, I put together a brief nightly email that gives you something encouraging to read before bed. Instead of getting sucked into the spiral of terrible news, we can all focus on something positive and sleep a little better. You can click here to get these delivered to your inbox each night! I'll also post them here on the blog the next morning.
Each letter will include a Bible verse and a few thoughts on it, plus something that's helpful, happy, beautiful, or fun. Delivered to your inbox each weeknight!

"Let the morning bring me word of your unfailing love,
for I have put my trust in you.
Show me the way I should go,
for to you I entrust my life."
– Psalm 143:8
Our lives are not at the mercy of the Coronavirus. Our lives are entrusted to God.
Maybe that's just basic knowledge, but it helps me to remember that. To remember that God's love is unfailing, and no matter what's going on in the world right now, He is still actively caring for us each day. Actively providing for us.
Does that mean that we will be untouched by this thing, or escape the pain and suffering that might come (either by getting sick ourselves, or by watching someone we love suffer)? No. God never promised us an easy, painless life.
But what He HAS promised us is even better. Unfailing love in every circumstance. Trustworthiness when we are fearful. Faithfulness as we walk through these times. Eternity with Him. We can set our fears at His feet, knowing that we are secure in Him.
My pastor shared some thoughts last week, and they have been really encouraging to me. I'll share them below.
"I am 100% certain of this, God is bigger than this virus, churches canceling gatherings, and people panicking.
Jesus is still Lord. Jesus is still our savior. Jesus still loves you. Jesus has already died on the cross and Jesus has already risen from the dead. No quarantine can take that away. Even though we are approaching Easter, I find myself harkening (please see the pun) back to Christmas. Jesus is Immanuel – God with us.
The Lord bless you and keep you,
The Lord make His face shine on to you.
The Lord look upon you with his favor and give you peace."
Jesus is still Lord. And we are still His. Let's remember that by opening His Word each morning and trusting in Him and His unfailing love.
Lord, thank you for giving us your Word, a way for us to know you and your heart for us. Thank you for your love that's unfailing, and for being someone we can trust without fear. Fill us with your peace when we're scared, and help us share your love with others tomorrow – even just the people in our own home.

A little something bright…
Amanda sent me the link to this post this morning, and I thought it was such a bright spot in the darkness of this time. I think you might be encouraged by it too, and reminded that our focus can be on eternity, instead of just what's happening right now. Click here to read, or just read my screenshot below.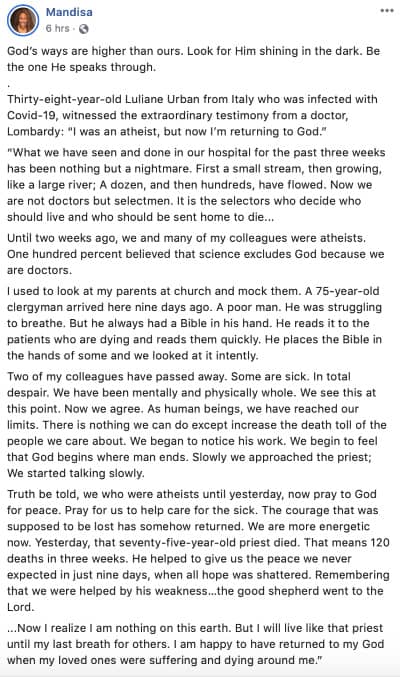 Kayse is a wife, mom, and founder of the Anchored Women community. She writes to help women fight busy, find rest, and build a life that's anchored in Christ. Kayse is also the creator of the S.O.S. Planner, the Anchored Life Kit, and other practical resources that equip women to manage their homes and families in confidence. You can find her writing and her resources at anchored-women.com!