How I Use My Simplified Planner to Control ALL THE CRAZY!
UPDATED FOR 2017-2018 : Want to cut right to the chase and learn which planning system I'm using now? Scroll to the bottom or click here to find out right now!
---
I have long been on a search for the perfect planner. A good planner is worth it's weight in gold (or maybe more), in my opinion, because it seriously makes a difference in the way our days go. And the way our days go make a difference in how our life goes. So, clearly, everyone needs a planner!
My planner obsession is no secret. At the beginning of the year, I even gathered a bunch of today's most popular planners, and posted a review of each of them. (And that's my most visited post to date!)
I chose my favorite out of the ones I reviewed, and decided to try it out for a while. (I am known for switching out planners a few weeks in.) And guess what? I'm still using it, almost 9 months later.
I absolutely adore Emily Ley's Simplified Planner. Using it daily has brought a structure and rhythm to our days at home that wasn't there before. Over the last few months I've fine-tuned how I use the planner each day, and today I'm going to share it with you!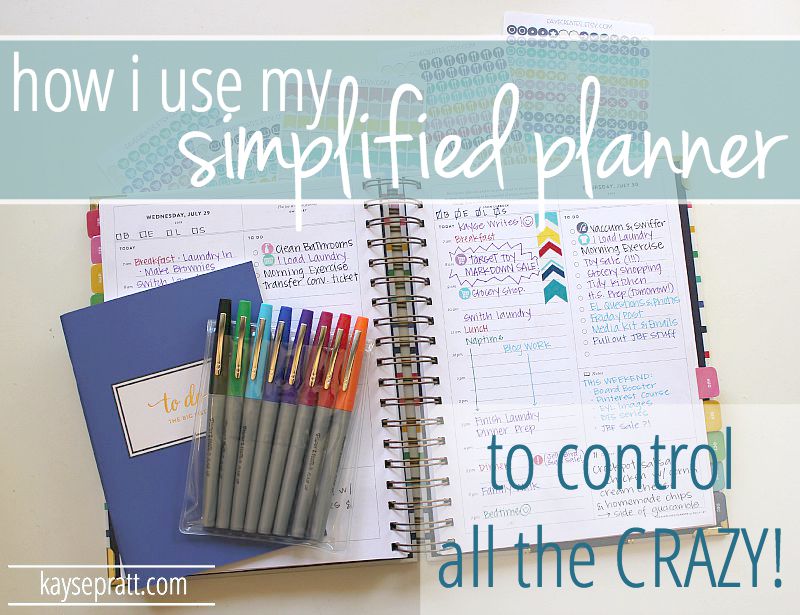 The Key: A Daily Plan
First, you need to know that this planner is for DAILY planning. Each page is one full day. As someone who struggles with distractions and staying on task, I love this!!! Having my full day written out in front of me helps everything to go more smoothly. I know what I'm supposed to be doing when, and if I get off track I can just pop over to my planner and pick back up again.
I get emails all the time from readers who ask how I'm so organized, and I tell them all the same thing – I'm not. I would love to be, but I'm not! I've just found tools and resources that help me stay organized in a way that works for me and my family. And this planner is one of them. (A huge one!!)
Start With Structure
I use this planner to write out our daily schedule every day. That means that I'm writing "Breakfast" at 7am each day of the week. But that's okay with me, because I need the reminder (not really for breakfast, but other stuff) each day. Writing in the basics each day gives me the bare bones structure I need so that I can fill the rest in with tasks. If I simply write out a to-do list, nothing gets done. I need to plan WHEN I'm going to do it.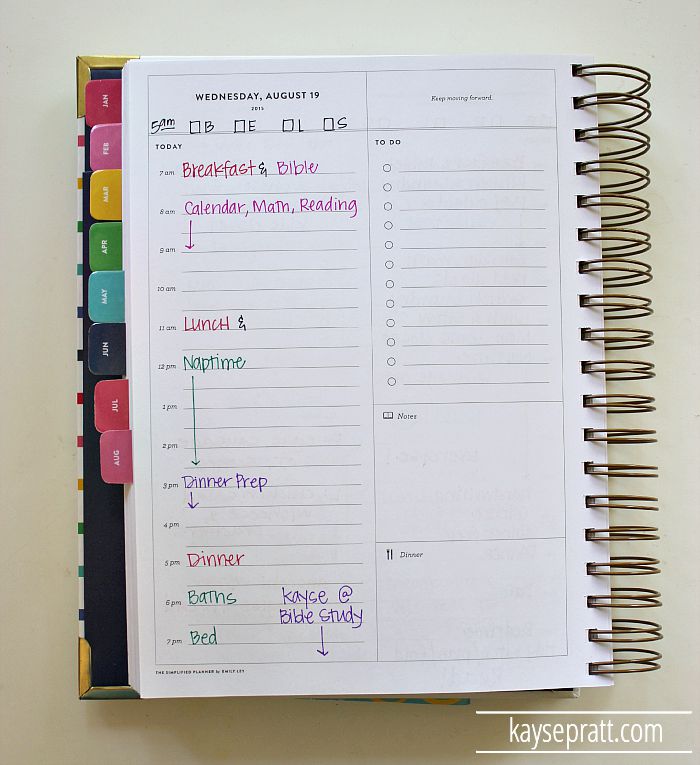 Here are the basics that I include each day:
5am – Quiet Time (& Laundry In)
7am – Breakfast & Bible
8am – Start Homeschool
11am – Lunch
12pm – Naptime
3pm – Dinner Prep
5pm – Dinner
6pm – Bathtime
7pm – Bedtime for Kids
7:30 – Tidy House/Plan/Fold Laundry
8pm – Bedtime for Us
I also include 4 checkboxes at the top of my day, which denote my morning routine. B is for Bible, E is for Exercise, L is for Laundry, & S is for Shower. I try to get all of these done before breakfast!
Color Code It!
I use a special color for each category of tasks that I have to include in my planner. First, it's fun and makes it so pretty (little hands especially like colored pens.) 🙂 Second, it helps me recognize at a glance what I need to get done. (And these are the pens I use!)
Here's how I color code:
Purple: Home Management
Red: Meals
Pink: Homeschool
Green: Kids
Dark Blue: Family (everyone, or at least me & the kids)
Orange: Jon
Light Blue: Blog Work
Black: Things I *Should* Do
Fill It In
After my basic structure is in, I fill in the rest of my day with the things we need to do. Certain things take priority, and those go on first. They also go at the top of the To-Do list portion of my planner page, where I can check them off.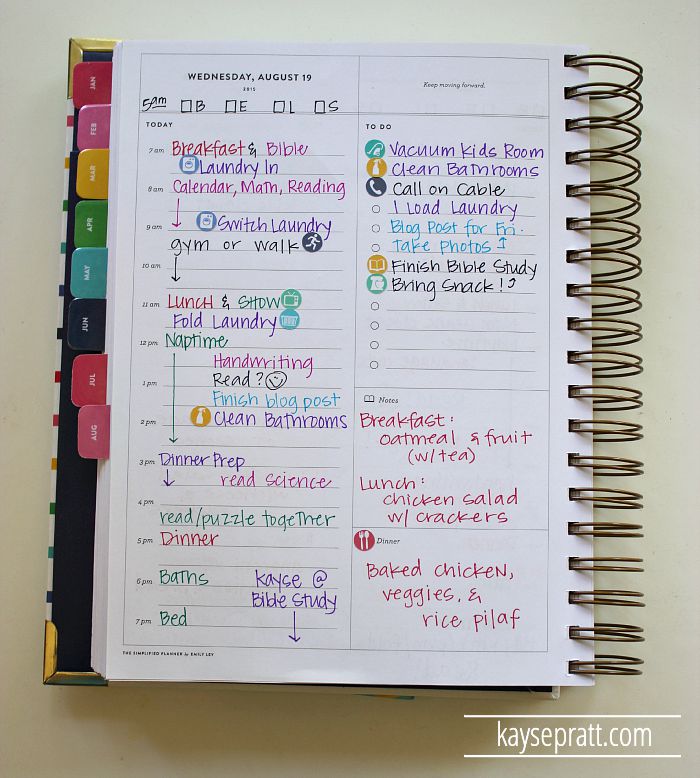 Then, my day is all ready to go! I know what's on the schedule, I've got a little wiggle room, and I can attack my day feeling like I'm already ahead of the game. And I like that feeling!
Meals
I'll be talking a lot more about meal planning tomorrow, and I use a separate planner for that (!), but I do write in my meals on my Simplified Planner too. I'm trying to be more intentional about eating better, and planning each meal in advance helps me to do that. I do this in the "Dinner" section, and use stickers to label each meal and snacks.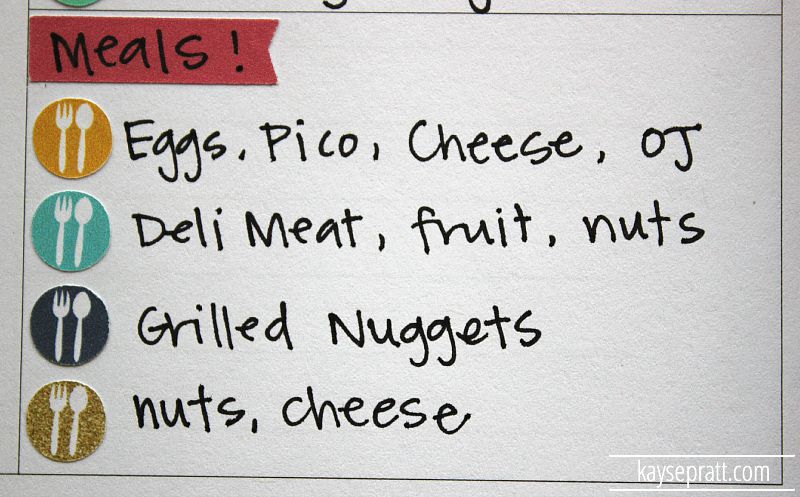 (Clearly, and not surprisingly, we were going to Chick Fil A for dinner this night.)
And when I don't have time to use stickers for everything, I just use the Notes section for Breakfast and Lunch, and the Dinner section for dinner (like you can see a few pictures above).
Accessories
I used to just write in my planner in a plain pen or pencil each day, and there's nothing wrong with that. But recently I was introduced to STICKERS, and WASHI, and when I have the time to include those things, I do, cause they are fun!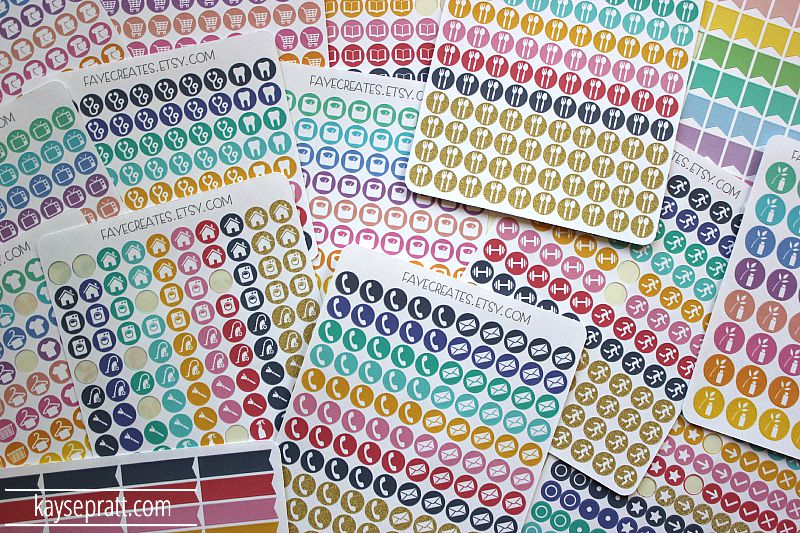 Here are my favorites:
These Ultra-Fine Tip Papermate Flair Pens. I love them so much. For everything. And they don't bleed through my planner paper.
Every sticker by Faye at @FayeCreates. She's got an etsy shop with stickers for everything. And I may have ordered everything. Or close to it.
Emily Ley's To-Do Notebook. I keep this handy in the front of my Simplified Planner and use it as a Master Project List of everything that needs to be done in my home. Then, I pull items off of it as I'm able to get to them.
(I just get washi at Michaels when they have a coupon. I'm not super washi-cool yet.)
It's simple, but simple works for me. I've tried more detailed planners, or weekly planners, and they just didn't fit. The Simplified Planner is it for me! I need to look at one day at a time, and just take it as it comes in bite-sized pieces. (Plus, I've got my week-at-a-glance board up on my fridge, for when I need that view.)
And that's how I do it! Just a head's up, Emily releases her 2016 Daily Planner on September 9th! Write it down, friends, they go fast!!
A Little From Emily…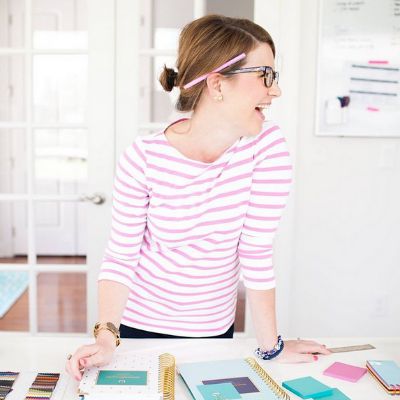 I got to chat a little over email with Emily, the creator of the Simplified Planner, and she is just the sweetest, you guys. (You can follow her on instagram for amazing photos and twin baby goodness, too!) I'm so impressed by HER and who SHE is, even more than I love her products! I just adore her heart for women, and her incredible creativity, and I wanted her to be able to share a bit of herself with you! So, here's a bit from Emily…
How did you get started creating this business?

Shortly after the most transformational day of my life – the day I became a mama – I found myself pacing circles around my house cradling my newborn baby boy in one arm, holding my phone between my cheek and my shoulder trying to take client calls and soothe a tired baby at the same time. My steps were heavy after another sleepless night but my heart was heavier.
As a creative, driven and passionate woman, I wanted to do it all. Surely I could have a made-from-scratch dinner on the table at six while running my company with one hand and rocking my angel baby with the other ALL in six inch heels with perfectly curled hair – right? I mean… wasn't everyone else doing it? Perfection was what I chased and frustration, disappointment and heartache was what it got me.
It was that day that I tearfully spilled my heart to a friend and decided to hold myself to a standard of grace not perfection. As my new-mama heart began to feel more and more confident in our new normal I realized that joy is truly found in the journey – not necessarily at the destination. And that if I worried so much about "getting it right" and "making it perfect," I'd miss out on the best moments of life – the moments of pure, imperfect bliss found in the white space of our days. For years I'd packed my schedule and overdrawn my to-do list. Now that my heart had been completely stolen by all that is good in the world, I knew that I had to make a change by simplifying my days and refocusing my efforts. From that point forward, I devoted my creative energies towards tools that empower and encourage women like myself to do just that.

What's your mission, and why do you do what you do?

My mission is to help other busy mamas fill their days with more of the good stuff. I always ask myself, "Will I regret NOT doing this when I'm 80…" and chances are, if it involves my kiddos, I will. I use my Simplified Planner to wrangle our family's busy schedule and carve intentional time for the things that really matter – blueberry picking, trips to the beach, pizza parties on the floor (a Ley Family favorite). I know, first-hand that the battle for our happiness begins on the pages of our calendars (a quote from my favorite book, Love Does).

What do you love to do when you're not creating beautiful products for us?

I love to read. I've always been a bit of a bookworm. I love being outside – chasing Brady around in the Florida sunshine. I love traveling home to Pensacola to visit my family. I love good wine, strong coffee and anything involving the water.

What's been the most surprising thing about motherhood, for you?

One of the hardest things I've had to learn to become comfortable with is that we NEVER totally have this whole motherhood thing mastered. There's no finish line where I can say "I DID IT! I worked hard at it and now I've got it all figured out." My husband and I are constantly changing our approach, our theories and our routines to work best for our growing little ones. It's not easy, that's for sure. But its so worth it.
See? Don't you love her too? So be sure to catch her on instagram, and also check out the goodies in her shop. You'll love it all. 🙂
Do you use a planner to tame your days? What do you use and how does it work for you?

What systems do you have set up in your home? Do you think this strategy would help calm your chaos?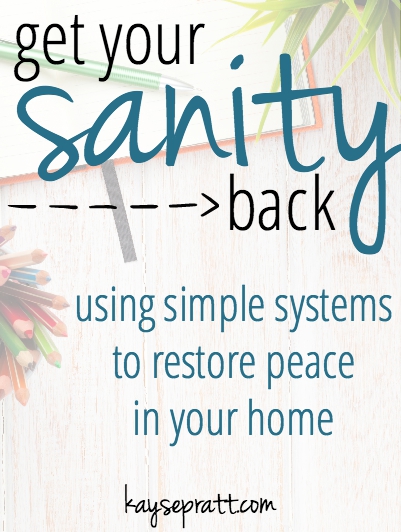 My Personal Planning System for This Year
(Updated for 2017-2018) :: I've been using the same system for the last year and a half, and I don't see myself ever using anything else. I'm in love!
See, for years, I've shared with you The Ultimate Planner Reviews, while answering questions and helping people choose their perfect planner.
And yet, I'd still been on the hunt for mine.
Don't get me wrong, I had found planners & systems I really loved…for a time. But I never found a planner that worked for me in every season of my life.
I wanted everything in one place – one central reference guide to organize my chaotic life.
I wanted specific aspects of this dream planner, like monthly, weekly, AND daily views. Like meal planning worksheets and shopping lists that were already categorized. Like ways to track progress on my goals every single day. Like a ton of notes pages so I could keep my master lists right there in my planner. Every planner I found had one or two of these qualities, but never ALL of them. They always sacrificed something.
And I was tired of sacrificing functionality for a planner that was just pretty.
What I needed was a planner that could organize both my home life AND work life, and help me stay on top of both my daily responsibilities AND our long-term goals.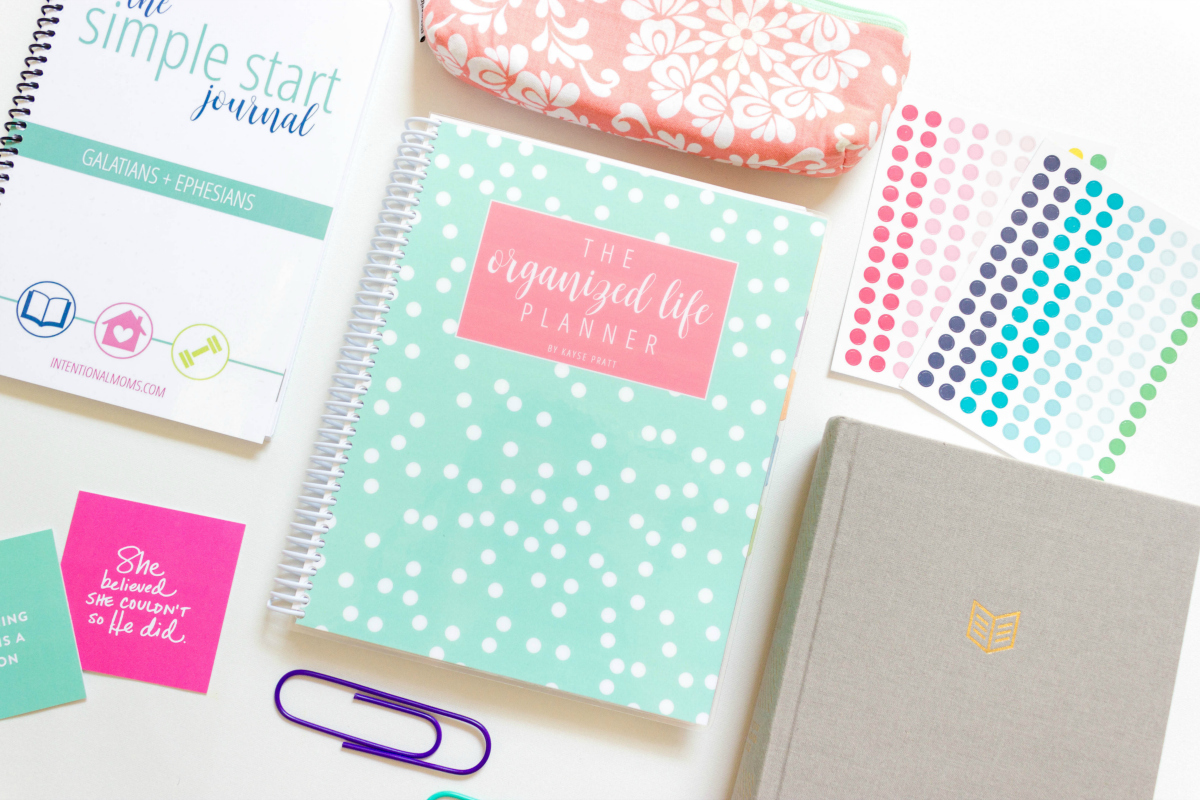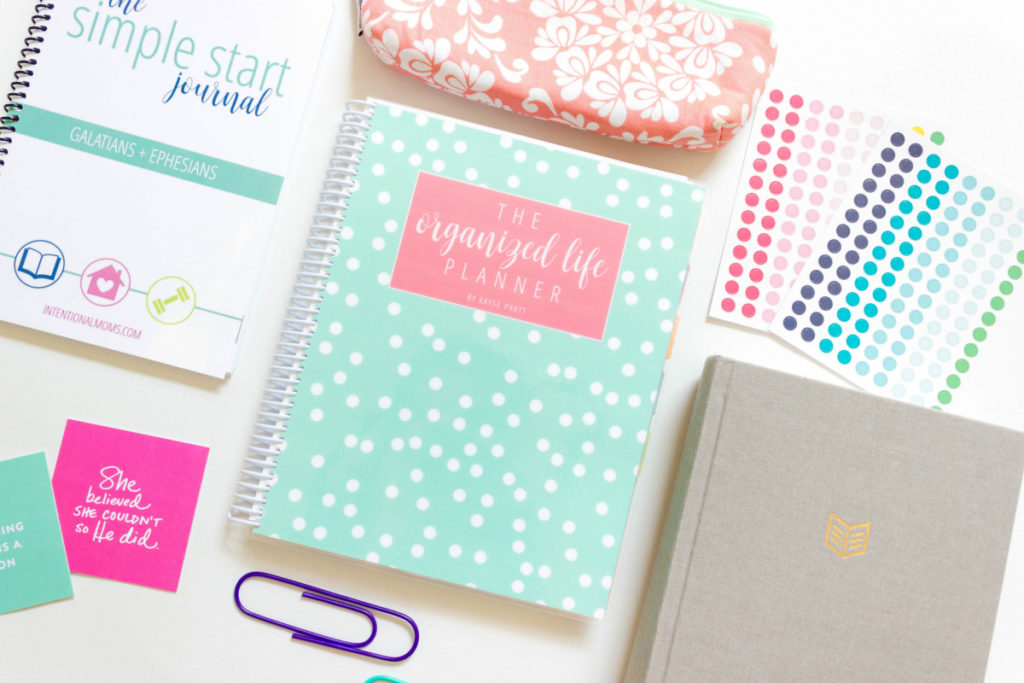 And so, The Organized Life Planner was born. And it has changed my life in the very best way. My hope is that it changes yours too, and becomes a tool that you can use to truly organize and simplify your life – getting everything down on paper so that you can actually clear your head, and make time for the things that matter most.
Ready to take a closer look? Check it out!
The Organized Life Planner Includes: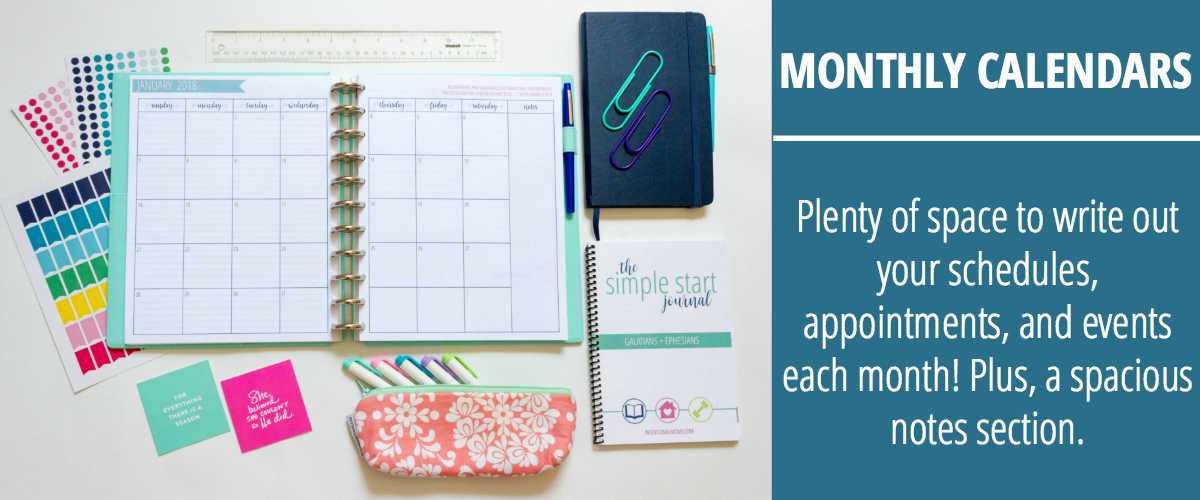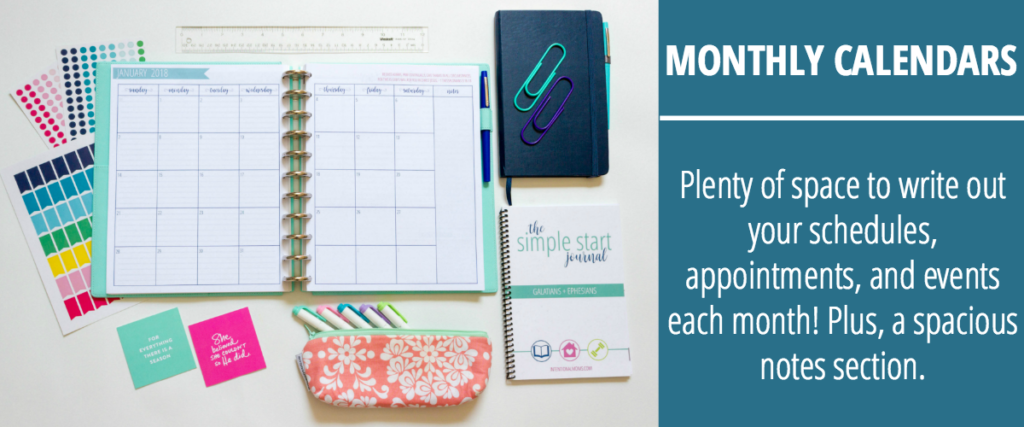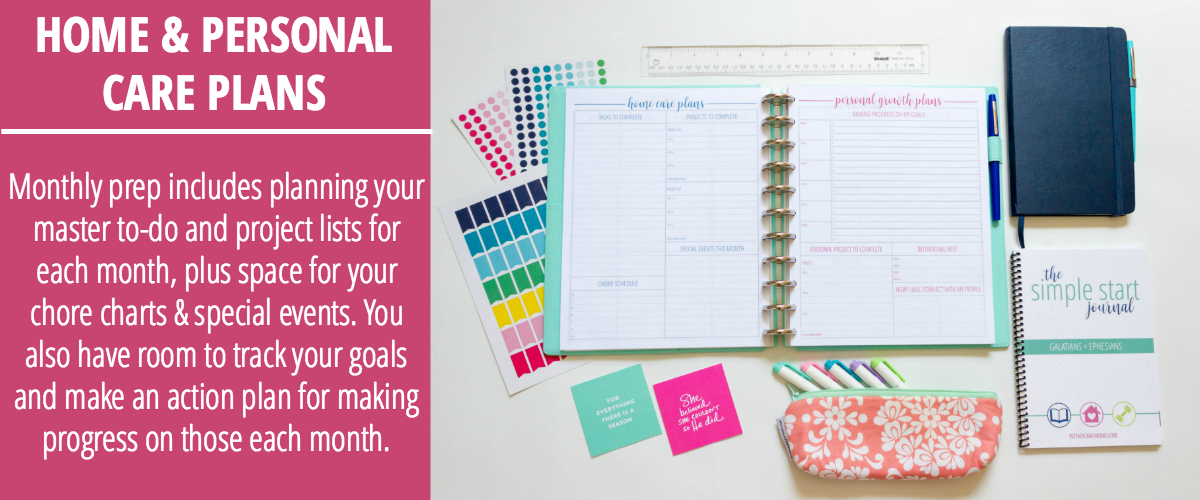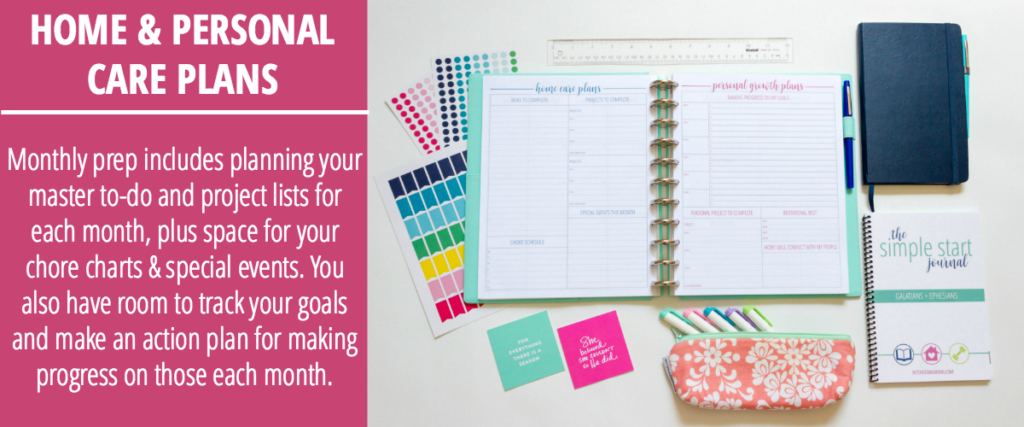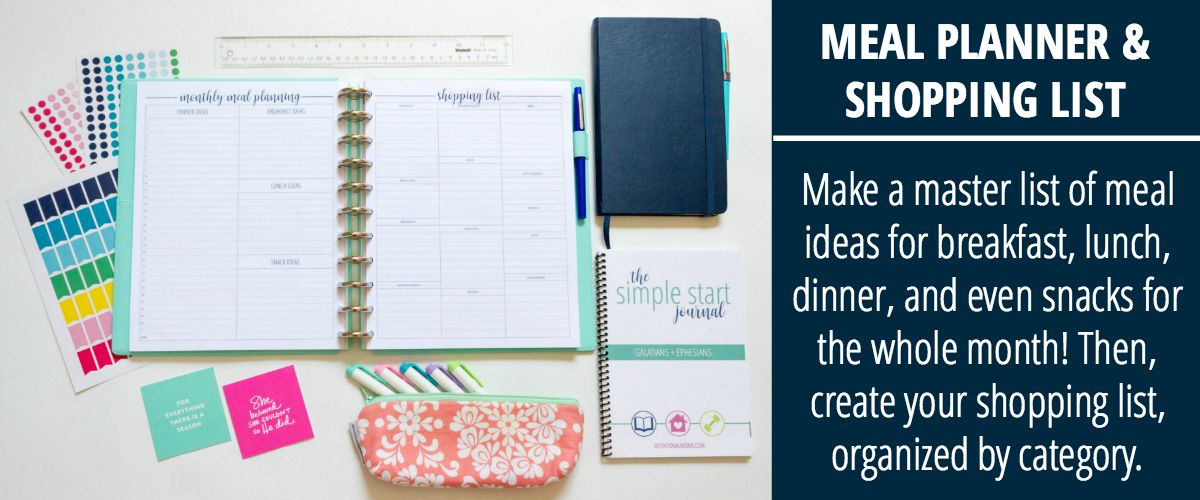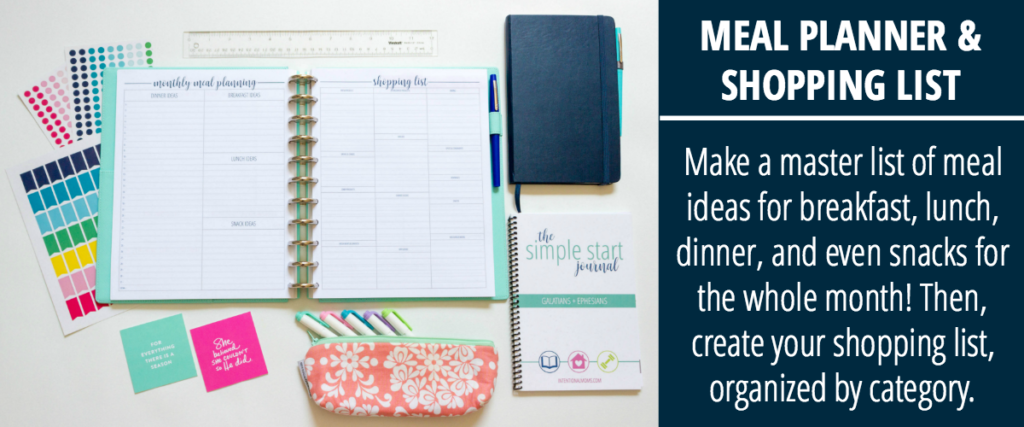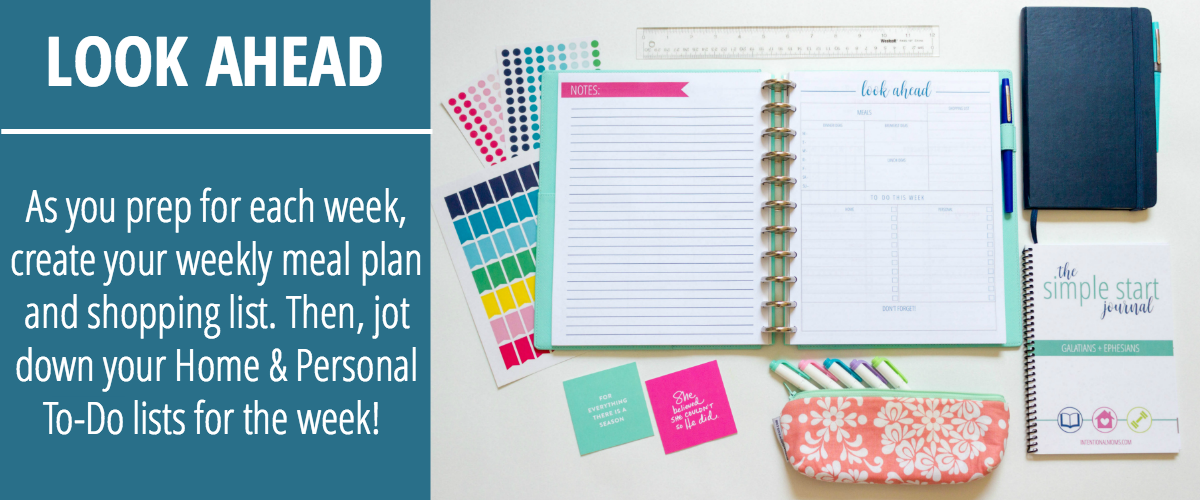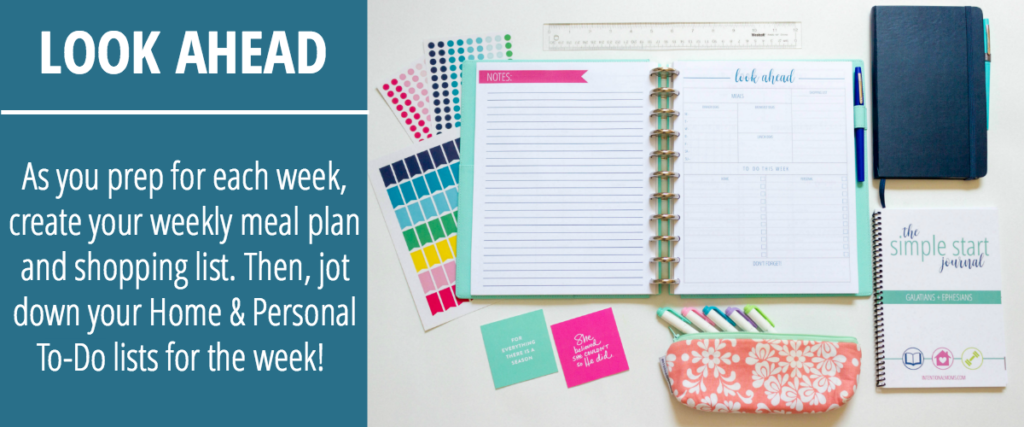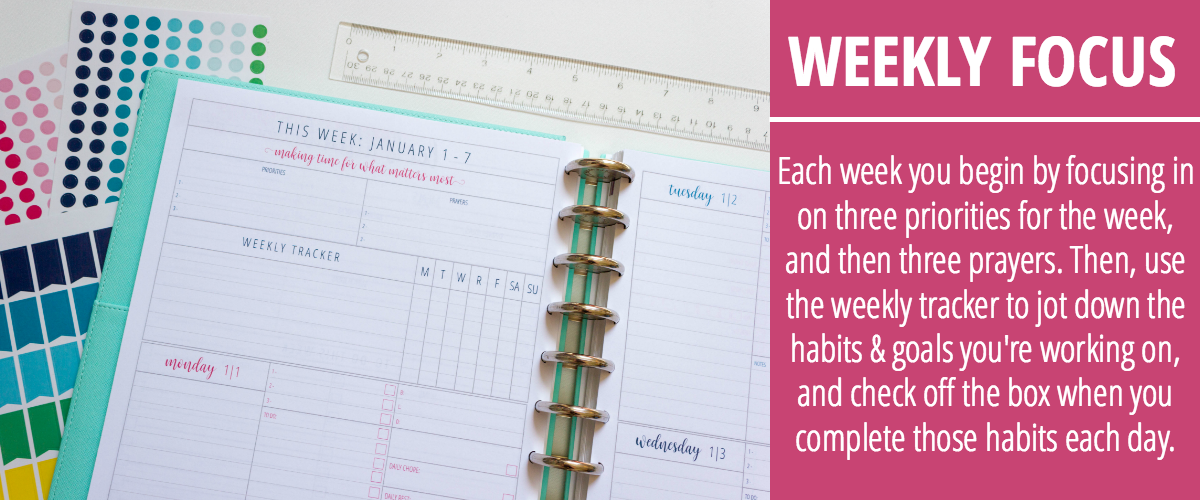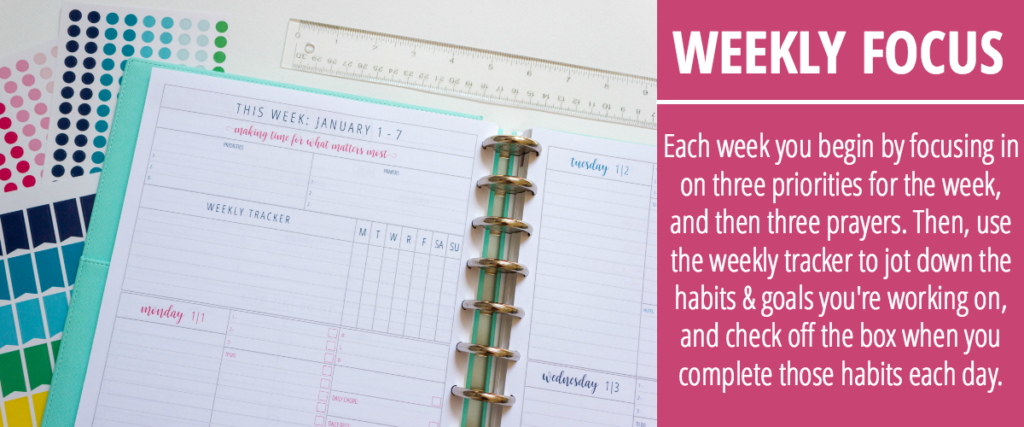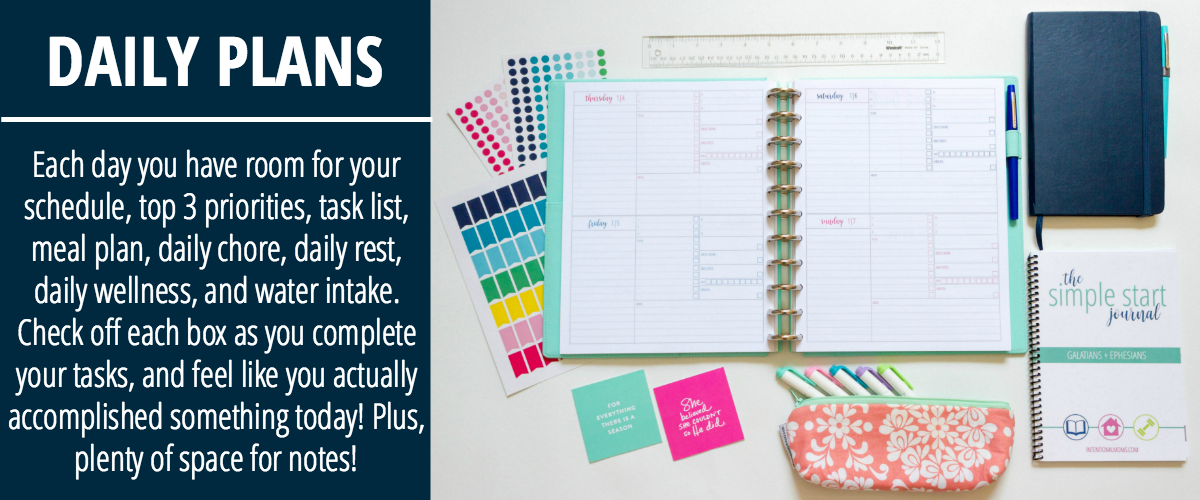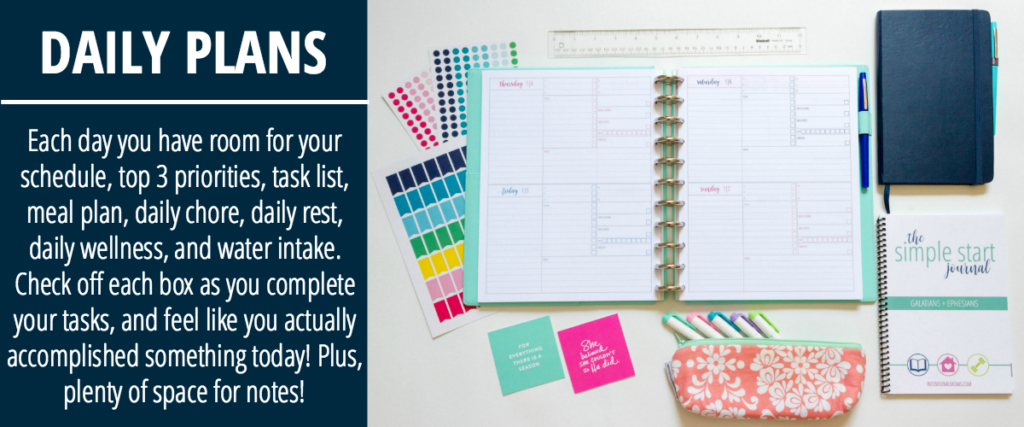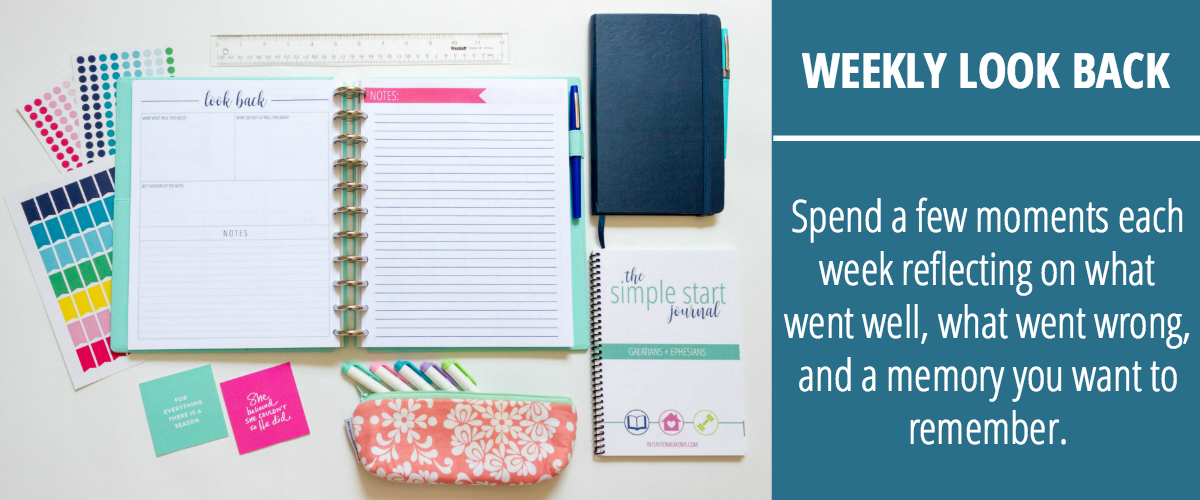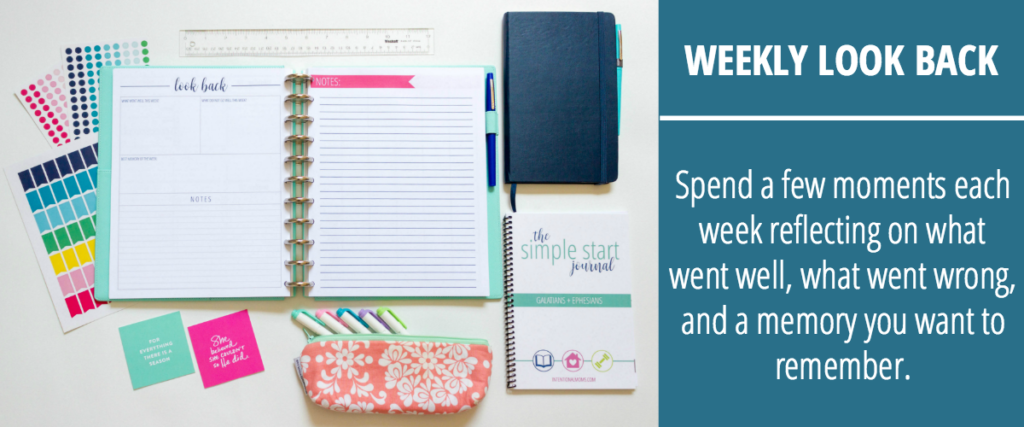 And the best part? It comes in two versions – a pre-printed version that comes shipped straight to your home, OR a print-at-home version that you can customize with our add-on planner packs!
Ready to find out if The Organized Life Planner is the planner you've been waiting for? CLICK HERE or below to get all the details on our 2018 editions!
Need a little help getting organized?
Join us for this 4-part mini course on organizing every aspect of your life, including tons of free resources AND immediate access to our printable Organization Kit!
You'll also receive our weekly newsletter, providing you with encouragement and resources to help you make time for what matters most.
*By subscribing, you're agreeing to our privacy policy.
Kayse is a wife, mom, and founder of the Anchored Women community. She writes to help women fight busy, find rest, and build a life that's anchored in Christ. Kayse is also the creator of the S.O.S. Planner, the Anchored Life Kit, and other practical resources that equip women to manage their homes and families in confidence. You can find her writing and her resources at anchored-women.com!