It's no secret that I love to meal plan! I've used a ton of different programs in the past. Plan to Eat, eMeals, $5 Dinners, and more. I've had a lot of luck with freezer cooking…and also times when freezer cooking totally flopped, and we had to order pizza.
Over the last few months, I've finally found the one meal planning tool that I absolutely cannot live without. The EatWell Planner from Inkwell Press is my favorite. I love it, it's so ME, and it makes meal planning so very much easier.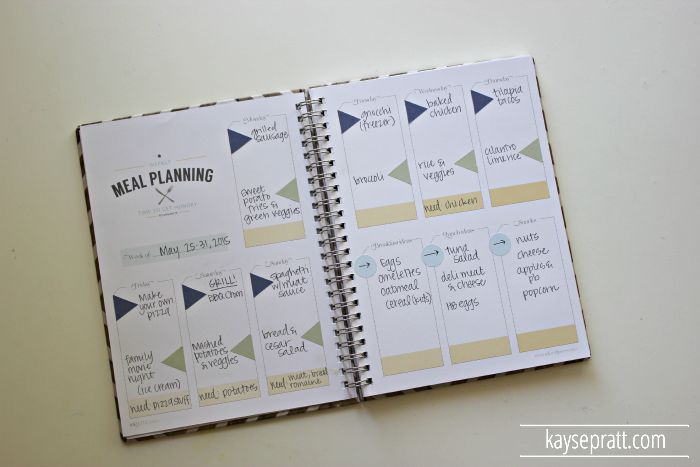 It's Paper! & Pretty!
As much as I try to get into online programs and apps, I just still always default to writing things out by hand. I need to feel like I'm getting things out of my head and onto something tangible. Online programs and apps don't feel tangible to me. So, I appreciate that the Eat Well meal planner is an actual notebook that I can hold in my two hands.
A regular old notebook is fine, but the Eat Well Planner is beautiful!!!! I love looking at it, which means I use it even more. I know this might be silly, but you know what? A girl's gotta do what a girl's gotta do. If a pretty planner means a more organized home and less take-out meals, I think that's worth it!
How I Meal Plan
I meal plan one week at a time. I love the Eat Well planner because I can plan out all of my dinners and there are still spaces for breakfasts, lunches, and snacks too! Before I get ready to meal plan, I pull out our Family Favorites Recipe Binder and pull a few tried and true favorites each week!
Each day of the week, I write out our main dish and side dishes. I use the InkWell Press stickers to dress it up a little, and I add as many details as I need. This way, I've got everything covered, and I know exactly what I'm serving. In the little colored section at the bottom of each meal, I write the things I know I'm going to need from the grocery store.
Then, I write out lists for breakfast, lunch, and snack options. I like to have lists instead of an exact plan for these meals, because sometimes we like to mix things up. I don't always feel like having what I planned, and having a list of other healthy choices to choose from is super helpful!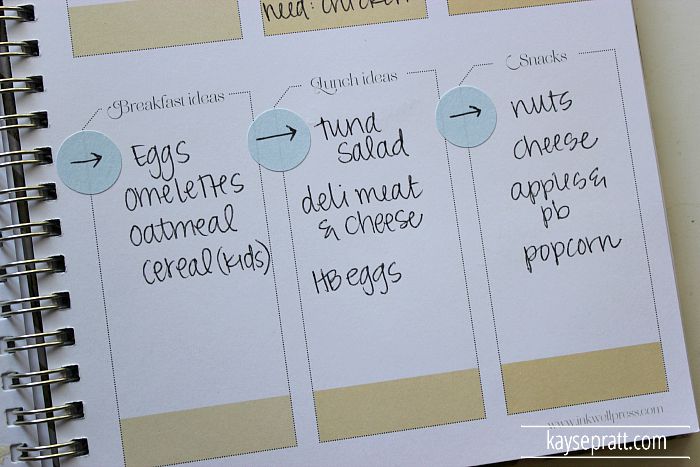 After I've got everything written down, I turn the page to THE BEST IDEA EVER. After each week of meal plans, there's a grocery list! Honestly, this is my favorite thing about this meal planner. I turn the page and fill out my grocery list right there, using the notes I already took on the bottom of each day's meal plan! The shopping list is divided into all of the areas of the grocery store, so I slip the planner in my purse and grocery shopping is so much more simple. I can get in and out quickly, which is a big deal with two kids who are over the whole shopping cart thing.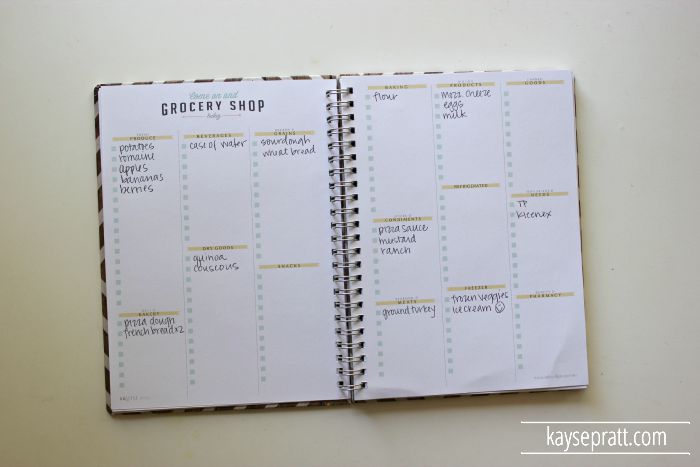 A Typical Meal Plan:
A typical week in our family looks pretty simple. Honestly, I've tried more elaborate programs and meal plans and ideas, but SIMPLE WORKS FOR US. So I'm sticking with it.
Mondays: Something kid friendly, like this delicious (but not heart healthy) Bacon Mac & Cheese
Tuesdays: Taco Tuesday or some sort of Mexican dish – These Cheesy Zucchini Enchiladas are also a favorite!
Wednesdays: Baked Chicken & Veggies. This Grape & Shallot Chicken is a winner in everyone's book!
Thursdays: Something New. We've loved this Cheddar & Cracker Chicken before, and Jon's choice is always this Italian Cheese-Stuffed Meatloaf.
Fridays: Make-Your-Own-Pizza, or something else we can eat on the floor. We try to do Family Nights on Fridays, with a favorite movie or game at the center.
Saturdays: Something simple, like this Easy Homemade Pasta Bake, followed up by a yummy dessert. This Chocolate Caramel Cake is TO DIE FOR.
Sundays: We either do a simple spaghetti or breakfast for dinner. I love breakfast any time of the day, so this is always a fun one!
It's might not seem like anything fancy, but we've finally found a pretty stable meal planning routine that keeps us eating at home instead of heading to Chick Fil A or Chipotle on a regular basis, and that's the whole point right?
The Eat Well Planner is honestly my very favorite tool for all of my meal planning needs. Inkwell Press, the amazing people who put out the Eat Well Planner is pretty incredible all the way around. It's run by Tonya Dalton and her hubby John (and I think it's pretty awesome that they get to work together every day!), and she's super organized with great ideas for keeping our lives all streamlined. Plus, she creates videos to go with each of her products to show us all how we can use them. Those videos alone are priceless!!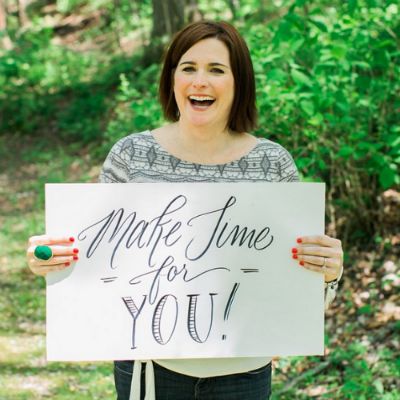 I asked Tonya if she'd share a little of her heart with us, and she gladly agreed! Here's a little from Tonya:
How did you get started creating this business?

I started my first business back in 2009 – it started as a side business while I raised my kids, but it kept growing. Before I knew it, I was running a business full time and eventually was able to have my husband leave his corporate job to come join me at my company. We loved working together, but we found that we were just not passionate about what we were creating. I was doing a lot of business consulting with fellow women business owners and I have always been big on organization… so the idea for inkWELL Press was born.

What's your mission, and why do you do what you do?

The mission behind inkWELL Press is to empower women through organization. I think too many times we are so hard on ourselves… we have a hard time finding the good in all that we do each day. We tend to forget and then feel badly or feel like we did nothing at all. I find that using a planner helps me to feel organized so I know the direction my day will go. Just simple things, like knowing what I'm making for dinner, helps alleviates a great stress. And when I'm not stressed, I'm a much better wife, mother and friend.Using a planner also empowers me when I look at my list at the end of the day and can see all that I accomplished. In today's hectic world it's easy to forget all the good we do each day… having a written list of my accomplishments makes me feel much better at the end of the day. I want everyone to have that same feeling of accomplishment. Everything we create – each planner or accessory is designed with this mission in mind.

What do you love to do when you're not being amazing and creating all of these goodies for us?

Why thank you – I truly love designing and creating. It's like an escape for me, so I feel blessed to love doing anything with my family. I work all day with my husband, but it works for me. I love that we literally sit across a desk from one another every day. Outside of work, I love spending time with my family… regardless of the activity. We live in Asheville, so we do a lot of things outdoors since there are so many things to do and see here in the mountains of North Carolina. I enjoy having time to soak in these days with my kids while they are still young.

What's been the most surprising thing about motherhood, for you?

One of the hardest things to me about motherhood is that it's always changing. I was an elementary teacher for several years before I became a mother, so I felt pretty confident that I knew what motherhood would be like – I was wrong! I feel like every time I think I've got things figured out, something else changes. I love watching them grow, but I think you constantly have to be on your toes because you never seem to know what's coming around the corner! I love that, but there are times that it can be frustrating. Having a pre-teen, every day is filled with new emotions and ideas! No matter what they are going through, no matter how hard each stage may be, you love them so very much. That's really the biggest surprise, I think… how much your heart opens up and all the love that you have for your children – even on days that are tough. At the end of the day, the love you have for you children can overwhelm you at times – I don't think anyone is ever prepared for that.
Isn't she great?! I love supporting moms who are pursuing their dreams while providing us with awesome resources. Be sure to check out Inkwell Press! You'll love it! (And if you use any of the links in this post, you'll get $10 off your first order!)
And guess what? Tonya's giving away a meal planner to TWO of you!! Simply enter below to win! (Click here to come on over to the blog if you're reading this in your email!)

What do you use to meal plan?
I hope you've enjoyed our week of getting organized! It's been so fun to share what we do here at home. Nothing is perfect, but hopefully it's given you some ideas that will make your own home lives a little more simple! In case you missed the other posts, here they are…
Planning Your Days
Meal Planning Made Easy (that's this post!)
Thanks for visiting this week! I'd love to hear any organization ideas that you all have too!
What systems do you have set up in your home? Do you think this strategy would help calm your chaos?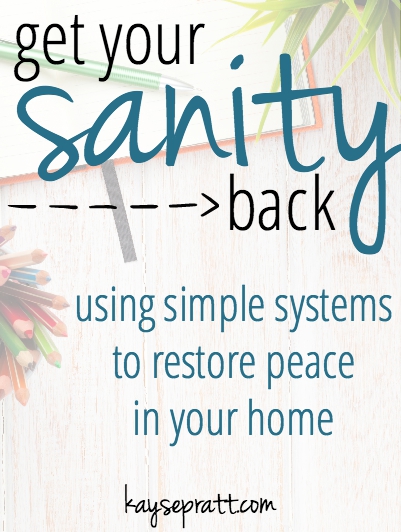 Need a little help getting organized?
Join us for this 4-part mini course on organizing every aspect of your life, including tons of free resources AND immediate access to our printable Organization Kit!
You'll also receive our weekly newsletter, providing you with encouragement and resources to help you make time for what matters most.
*By subscribing, you're agreeing to our privacy policy.
Kayse is a wife, mom, and founder of the Anchored Women community. She writes to help women fight busy, find rest, and build a life that's anchored in Christ. Kayse is also the creator of the S.O.S. Planner, the Anchored Life Kit, and other practical resources that equip women to manage their homes and families in confidence. You can find her writing and her resources at anchored-women.com!