Stop the Madness & Start Your Day In Peace! (A Peek Inside Our Morning Routine)
So, I've got a kid who gets up at 6:30 on the dot every.single.morning. (And that's only because her clock turns green at 6:30, so she's allowed to get up. Otherwise she'd be waking me up at 5:30 every day.) Fun stuff. My energetic girl is most definitely a morning person.
I am a morning person too; I crave the quiet peace of the early morning hours. But, since Emmy is such an early riser, that means I have to be an earliER riser!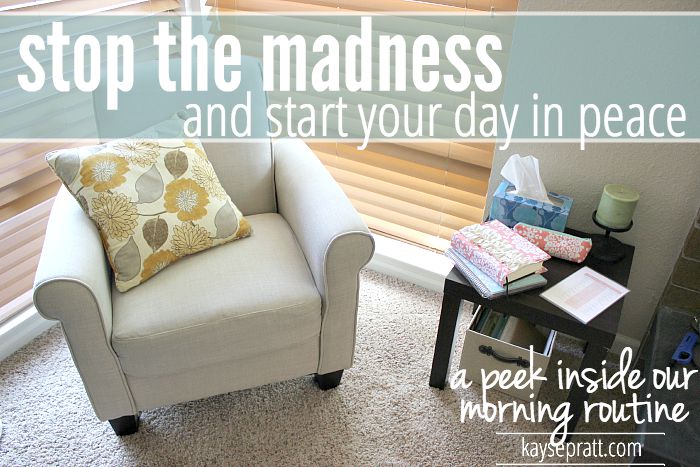 Whether you're an early riser or not, I think the idea of waking up BEFORE your kiddos and not TO your kiddos is pretty important. At least it is in my own life. If I'm up before the kids and have a little time to myself, I'm a much happier mommy all day. If I wake up to a tiny person staring at me from 2 inches away, I am not so happy.
Keeping my mornings sacred is a HUGE part of keeping our home a calm and peaceful. (If momma ain't happy, ain't nobody happy. <– This is a real thing!!) I desperately need that time each day to get in the Word, journal, and write down my plan for the day. I value this time so much that a few months ago, I took a course on how to Make Over Your Mornings, from Crystal Paine. She's always got such good advice, and I value the way she stays focused and organized. (I learned a lot from her in this course, and highly recommend it!)
A Peek Into My Morning Routine:
First, like Crystal says in her course, a good morning routine really starts the night before, with an appropriate bedtime. I'm a girl who needs a lot of sleep, so I try to be in bed by 9 each night.
My alarm clock is set for 5am each morning, and I try my very best to get up then, and do three things:
Drink a big glass of water.
Make myself a cup of tea.
Get settled into my quiet time chair.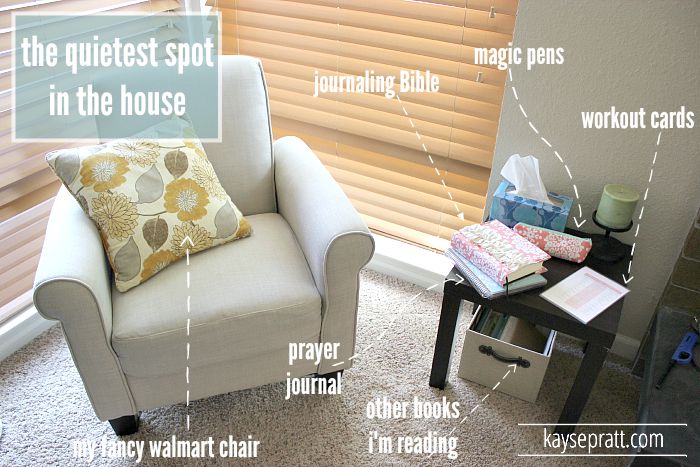 About two years ago I ordered this chair from Walmart that I fell in love with. I'd always wanted a special spot in the house where I could do my quiet time, and this chair was going to be it! I've put it in the corner of our home, by a window so I can watch the sun rise, and that's where I read my Bible each morning. Honestly, having a special spot is such a help for me. I know what I do in that chair, so I'm in the right frame of mind each day to open my Bible once I get there!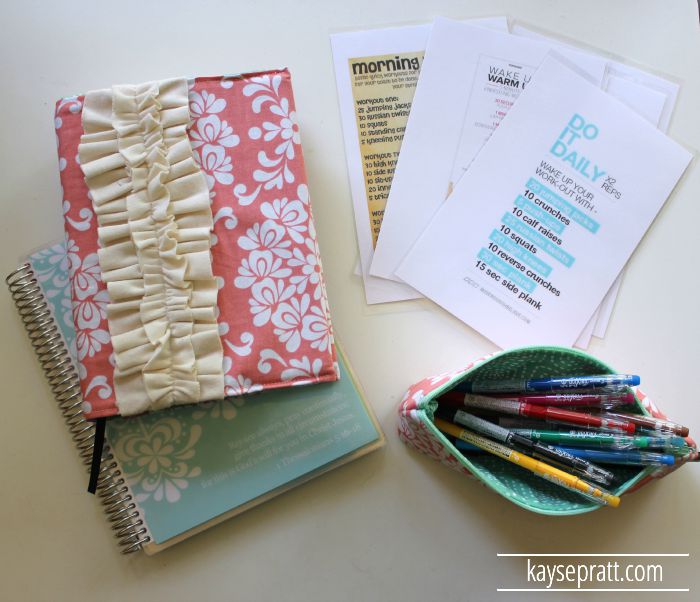 What I Use For Bible Study:
Right now I'm in a Bible Study at church that requires homework, but I don't do that work for my quiet times each day. Instead, I stick with a regular reading!
I follow along with the She Reads Truth app, and find the readings on my phone. I used to get their study packs, but I really didn't like having all of my journaling notes so separate – one for each study. (Plus they are a little pricey for me.) Instead, I invested in a Journaling Bible, and I LOVE IT.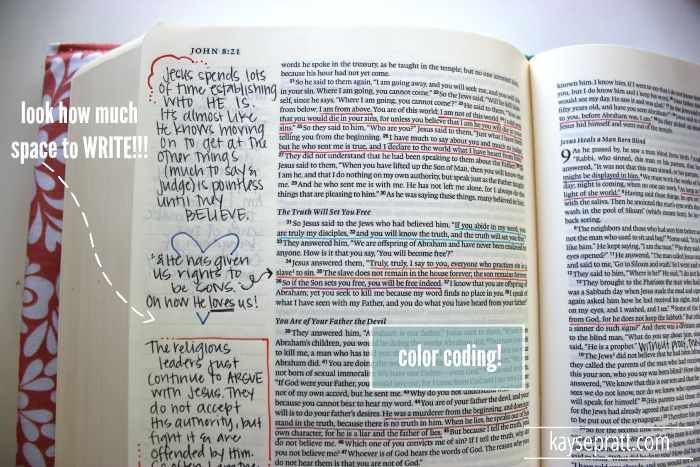 I use this Journaling Bible each day to read that day's Scripture. I take notes right in my Bible, since there's plenty of space, and that way I have all of my notes in one place – right in the Bible that I'm taking notes on! My hope is that one day, it will be full of the things God has taught me, and a beautiful legacy to pass on to my kids.
---
Want some help creating your own morning routine? Join us for a FREE mini course on designing a morning routine that actually works for you.
Create a simple morning routine that actually works.
Learn how to
focus on the things that matter most
each morning
, so that you can roll with the punches throughout the rest of your crazy day.
Join us for this free email course that will help you design a simple morning routine that actually works!
You'll be guided through creating your own morning routine, and given resources to help you make your most important things happen each day.
---
 My Favorite Resources:
My Color Coding System:
A few of you asked for more on how I color code my notes in the Bible, so I thought I'd share my little system!
Purple: Truths about God
Red: Truths about Christ
Blue: Truths about me
Pink: Promises
Orange: Sins
Green: Commands
Brown: Satan & his devices
Light Blue: Put into practice
Yellow (highlighter): Favorite verses.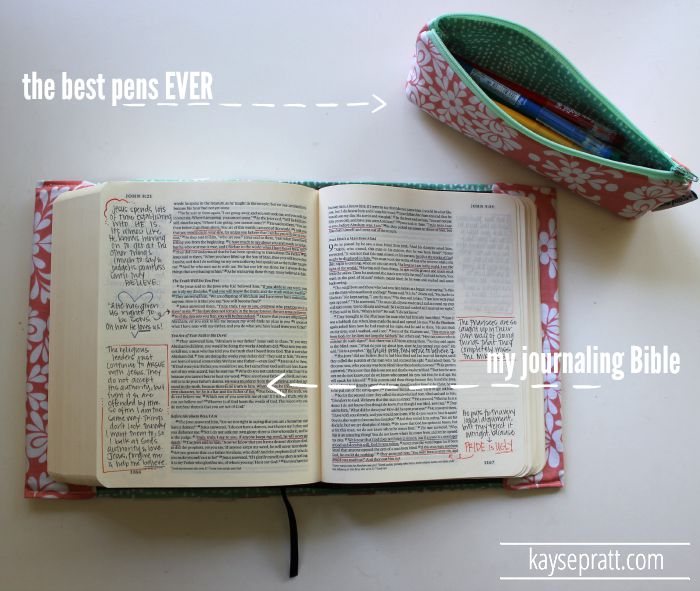 After I do my reading in the Bible, I read the devotion from SRT on my phone app. I so appreciate how their devotions are based in Scripture, not opinion. They really focus on God and what He's done, rather than focusing on ourselves. I look for both of those things in a good study, and She Reads Truth never disappoints! In fact, they just started a website and app for men too, so my husband and I are reading through the same things each day, which is AWESOME. (Here are a few of my other favorite devotionals!)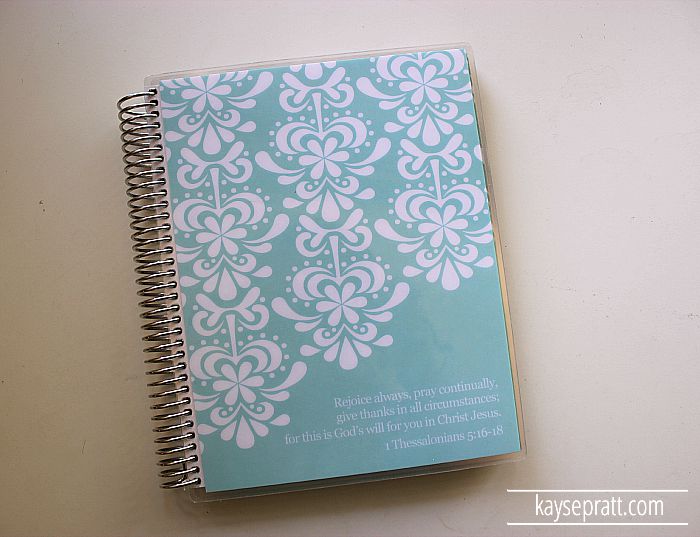 My Prayer Journal:
A prayer journal is something I've just added in within the last year. I read a few posts on how to create a prayer journal, and set up a basic five-star notebook for all of my prayer stuff.
But, I found that with regular notebooks, I'd accidentally throw them in my bag when I went somewhere that required note taking, or where I'd need to brainstorm. And then, there I am, taking notes on essential oils on one page and the stranger sitting next to me can read all my private prayers on the next page. Um, not a great plan.
So, when Erin Condren came out with her Deluxe Notebooks with customizable dividers, I grabbed one (and 6 dividers!) and customized it as a prayer journal! Here's what it's got: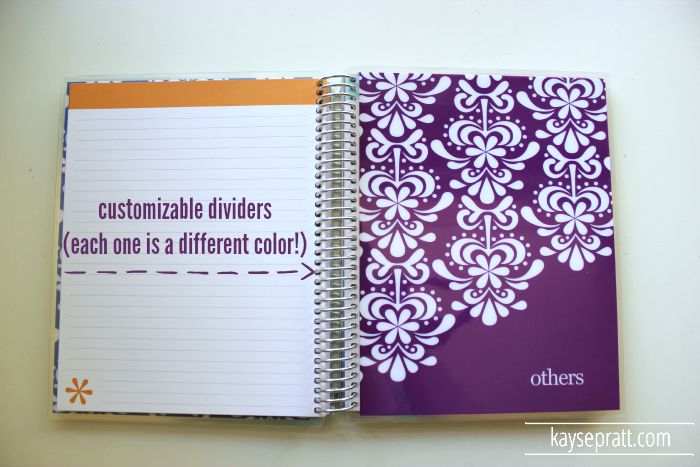 Section 1: Prayers – This is where I write out my prayers each day. Just whatever is on my heart, or jumbled up in my head. It gives me such peace to bring it all to the Lord. This is the largest section, by far.
Section 2: Praises – I keep my running list of things I'm grateful for in this section. Practicing gratitude is something I could always be better at. (And something I need a constant reminder about!)
Section 3: Confessions – This is where I am intentional about repenting. That's a super personal thing, obviously, but I'll tell you that before I made this a practice, my pride ruled and I rarely found things that needed confessing. (Can we say arrogant?!) I think I heard Beth Moore once say that she asked God each day to reveal to her any areas where she needed to repent, and I've started doing the same. It's humbling and freeing, all at the same time.
Section 4: Others – I have each page in this section labeled by person! It includes all the people in our family and who are closest to me, that I pray for regularly. I've also got a few blank pages in the back section for other people who pop up with prayer needs.
Section 5: Verses – This is where I write verses that stick out to me, or that I want to work on memorizing.
Section 6: Notes – This is where I jot down any quotes from the devotional or book I'm reading each day. This is probably my least-filled section, but it's got some good quotes in there!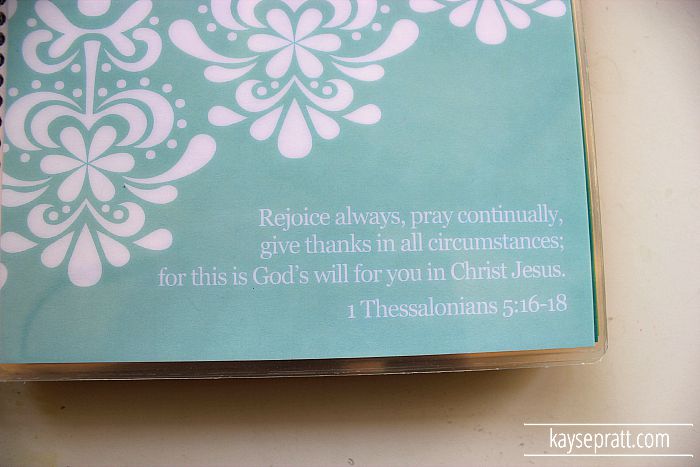 Having this organized prayer journal has really helped me be so much more intentional about my prayer time! I really love it, and will definitely be ordering another when this one is filled.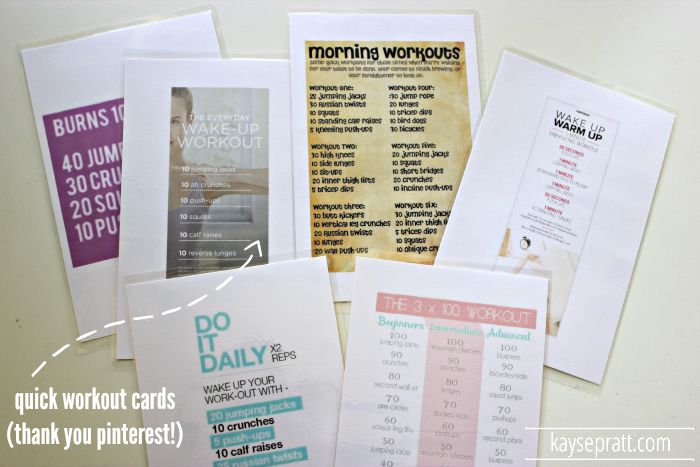 Morning Extras: 
I do try to also throw in a load of laundry, and do a quick 10-15 minute workout in the mornings, before I shower. I've printed out a few workouts and laminated them as cards that I keep by my quiet time chair. (You can see some of the workouts I've printed off here.) When I'm done with my quiet time, I choose a card and do a quick workout on the ground. On my way to the shower, I throw in a load of laundry to get started while I get ready for the day!
This is an ideal morning. It doesn't always happen this way, but as I practice and make it a priority, it's becoming more and more common. (It also helps IMMENSELY that I have two kids who both sleep through the night. Amen and amen.) And when it all goes well, I really am ready to start the day with a great attitude, and a mind focused on what really matters.
Getting a morning routine into place can seriously help calm the chaos in your home. Having that time without ALL THE NOISE from the kids gives you a chance to actually hear your own thoughts and read/pray uninterrupted.
UNINTERRUPTED.
Can you imagine? That's worth waking up for, my friends!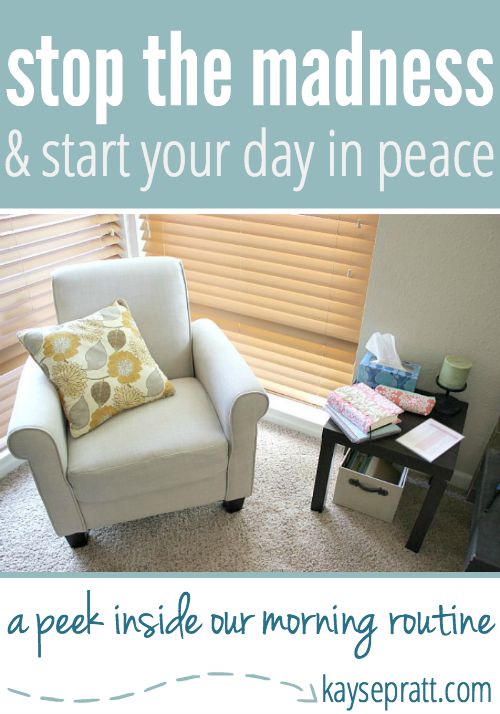 Do you have a regular morning routine in your home? What do you do when you wake up?
Create a simple morning routine that actually works.
Learn how to focus on the things that matter most each morning, so that you can roll with the punches throughout the rest of your crazy day.
Join us for this free email course that will help you design a simple morning routine that actually works! You'll be guided through creating your own morning routine, and given resources to help you make your most important things happen each day.
You'll also receive our weekly newsletter, providing you with encouragement and resources to help you make time for what matters most.
*By subscribing, you're agreeing to our privacy policy.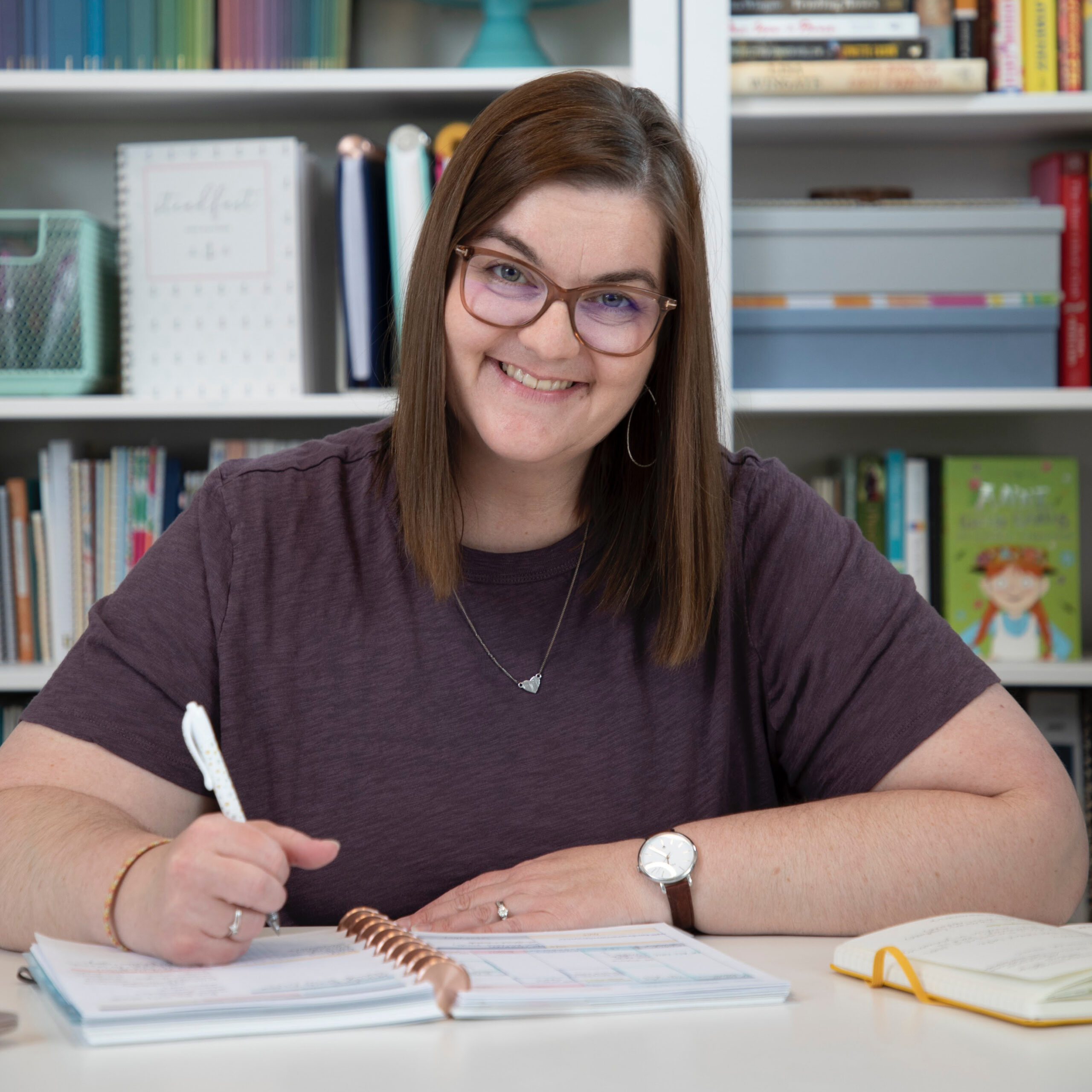 Kayse Pratt serves Christian women as a writer + designer, creating home + life management resources that help those women plan their days around what matters most. She's created the most unique planner on the market, helped over 400 women create custom home management plans, and works with hundreds of women each month inside her membership, teaching them how to plan their days around what matters most. When she's not designing printables or writing essays, you'll find Kayse homeschooling her kids, reading a cheesy novel with a giant cup of tea in hand, or watching an old show from the 90's with her husband, who is her very best friend.