What planning looks like in a busy season
The last couple of months have been super packed – so much so that my normal planner layout (our Weekly Productivity Layout) just was not working for me. I needed more space, and room for lists. So. Many. Lists.
So, I switched up my planner to fit my season (the entire reason why I created the S.O.S. Planner in the first place), and went back to a structured sort of bullet journaling. Dated monthly calendars, and then big, beautiful, open pages for brain dumping to my heart's delight.
I seriously love this flexible way of planning in our time-crunched season, so I thought I'd share it with you today!
1. Dated Monthly Calendars
Listen, I would likely bullet journal full time except that I do not enjoy drawing out calendars and layouts. Not one bit. Give me pretty, colorful, dated calendars please! So that's the section at the front of my planner right now – monthly spreads for the whole year (followed by our monthly prep, of course – we still need to plan those meals and home projects!).
I start each month with the monthly plan – everything goes on here, color coded by person. I don't use different markers, just this black pen, and these highlighters (which are my favorite of all time!).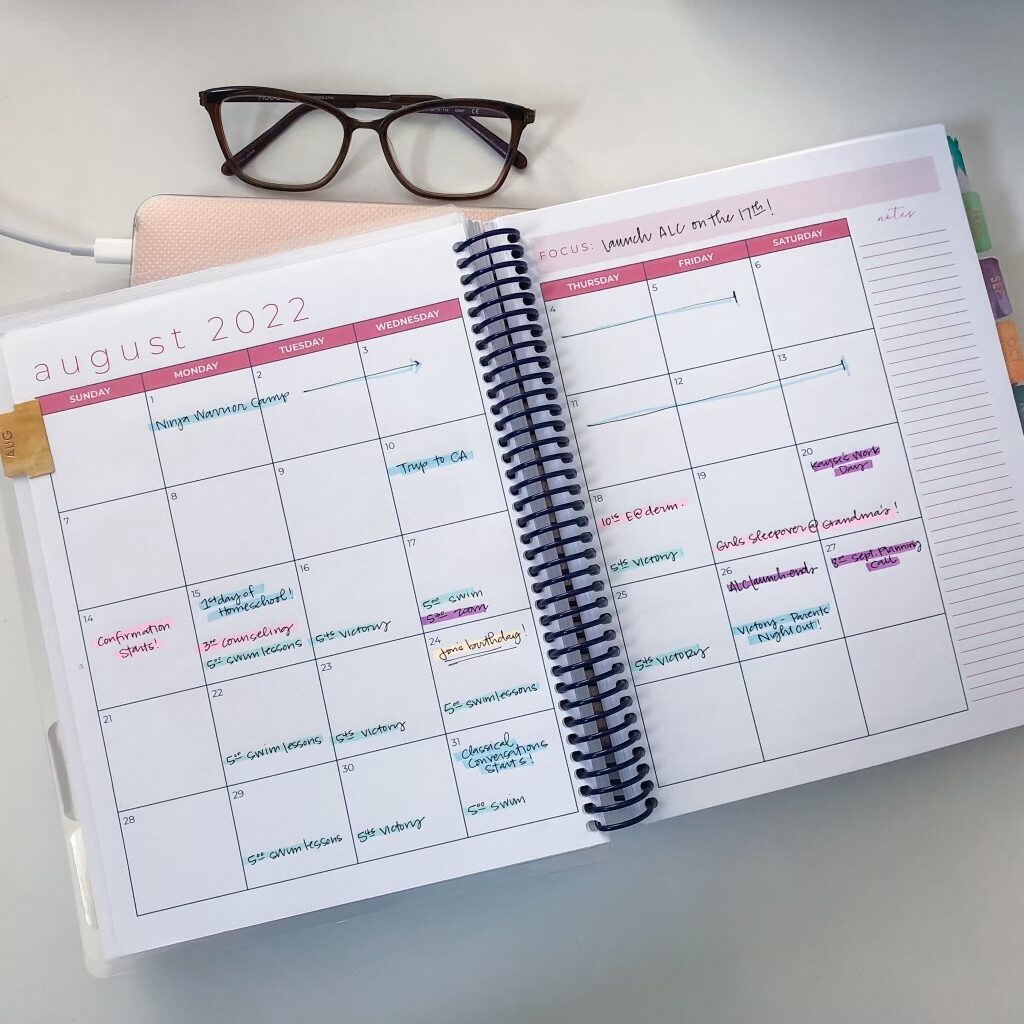 2. Weekly Commitments
Then, each week I write out our schedule for the week on one side of the page, and on the other I write three things:
A list of work tasks
A list of home tasks
Our meals for the week!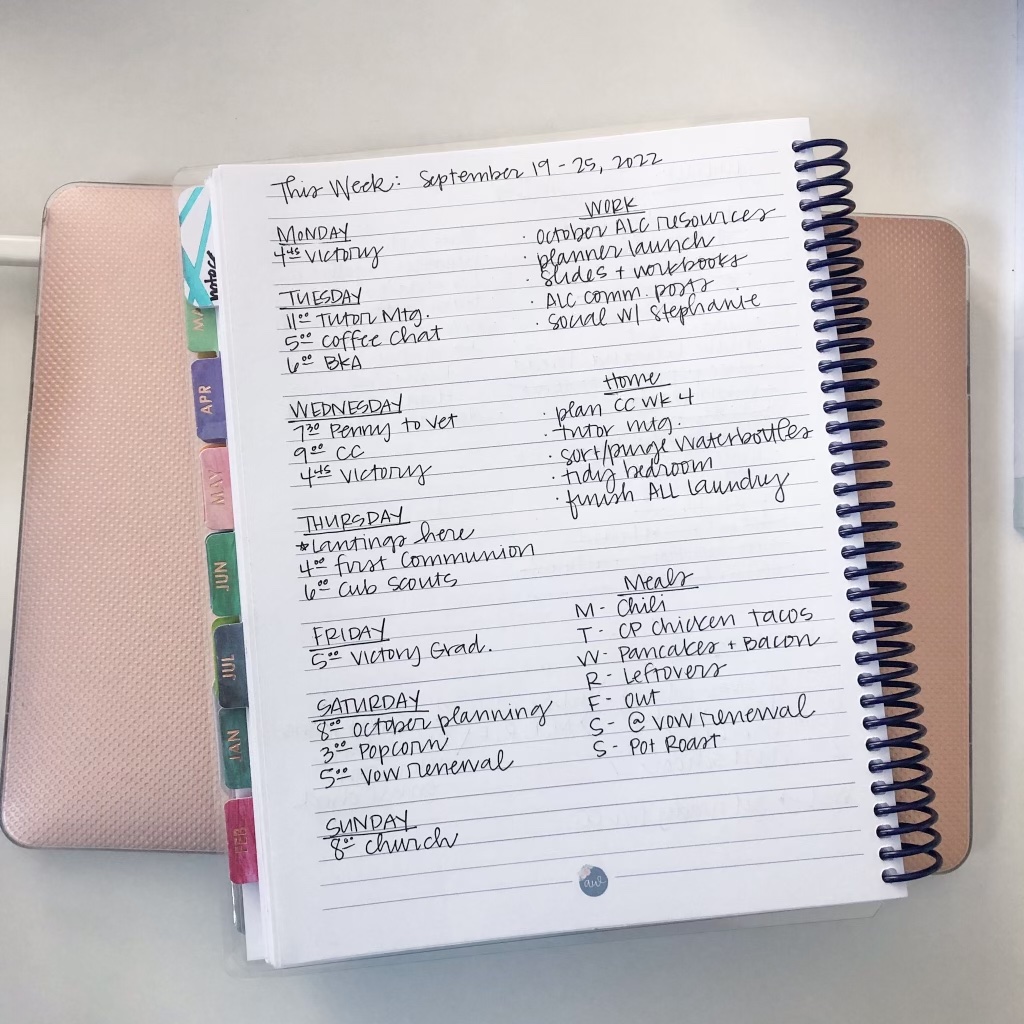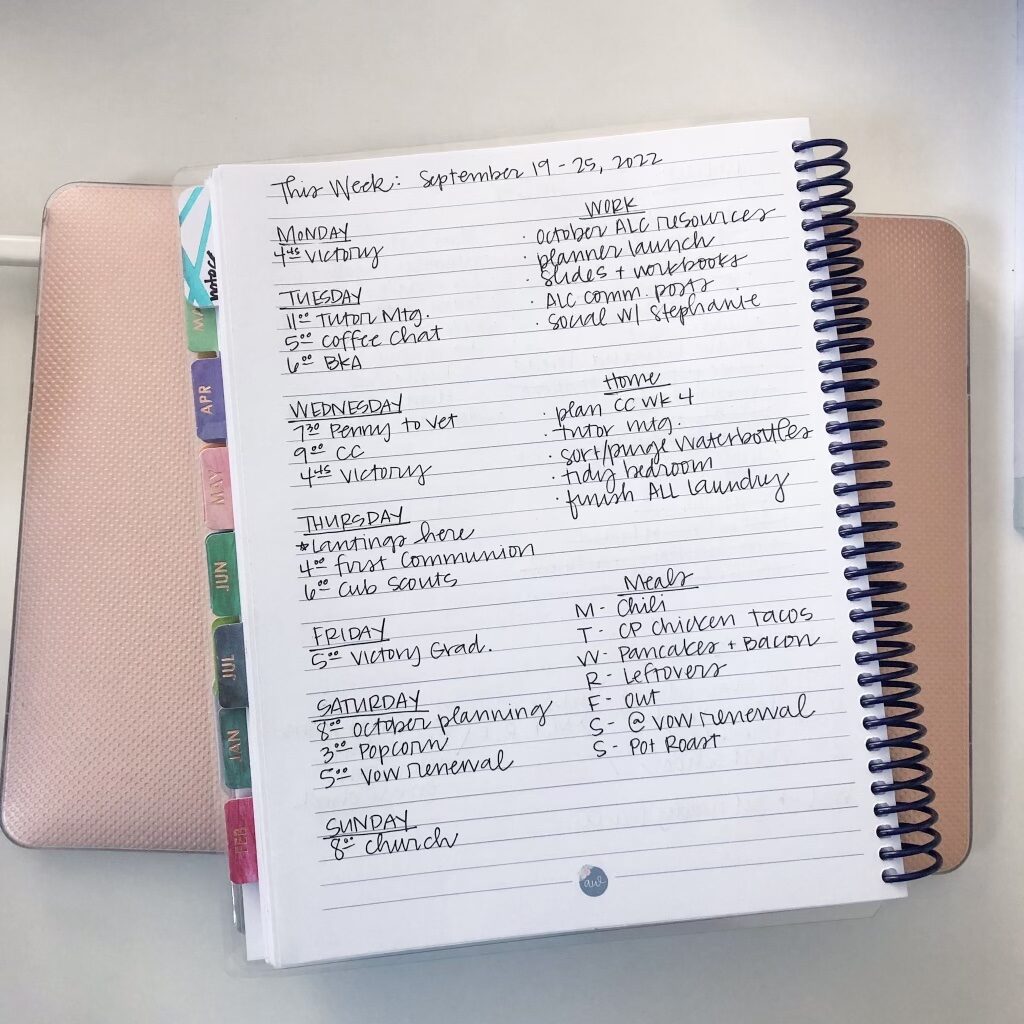 3. Daily Lists
Then when it comes to daily planning, each morning, I consult that weekly plan and write out a few more lists for that specific day – still divided into home and work. I time block my schedule, so keeping my lists in two categories helps me know what to focus on when I'm in that time block.
I'll write out our dinner plan for the night, reminders I might need, and even use that empty space to explain pre-algebra to our sweet homeschooling friends. 🙂
I cross things out completely when I accomplish them, so that the remaining things stand out for me to move to the next day!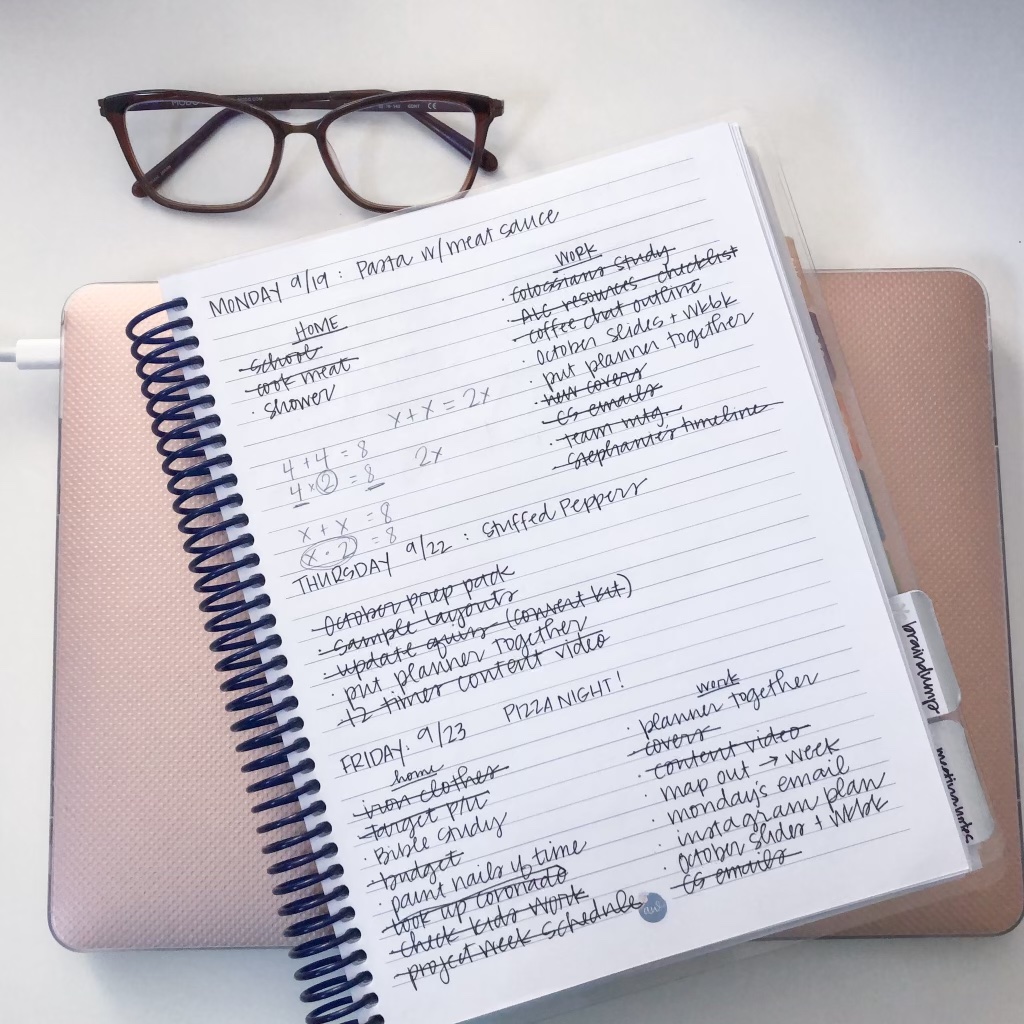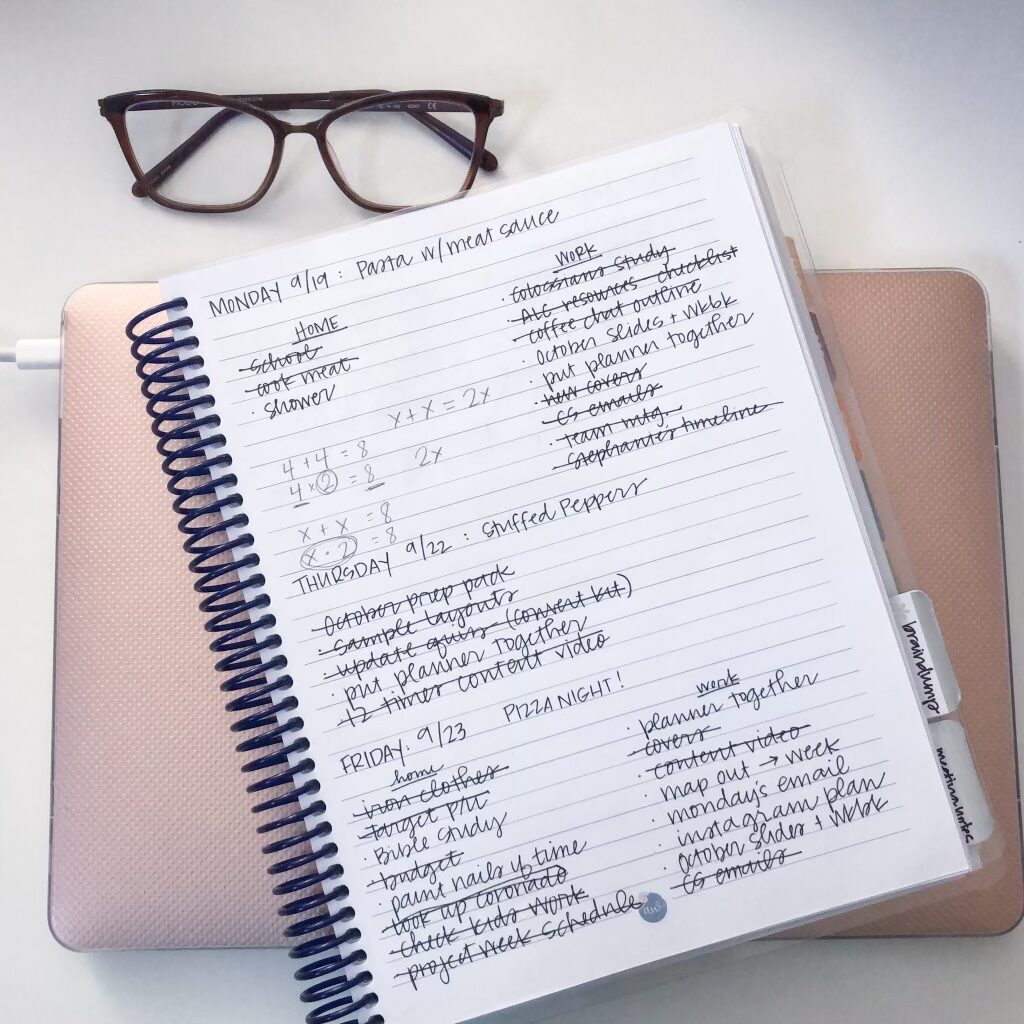 I love this super-relaxed bullet journaling method right now, because it really gives me the freedom to plan exactly how I need to plan on crazy days – and then skip planning on days when I don't need the extra support. I almost never write out a plan for our homeschool co-op days, because we're out and about all day long!
I know that as our season slows down a bit, I'll long for a more structured weekly layout again – and then I'll be able to pull out our newest Weekly Split Layout (that's the one I'm going to try next!) and pop it into my disc bound planner!
That's worth noting – I spiral bound this bullet journal planner, so I can't really switch the layouts out here. But my main planner is still a disc-bound notebook, so when I'm ready to move back to that, I'll just swap out the weekly layouts and be ready to go!
Here's what I really want to encourage you with: Planning doesn't have to look a certain way. What's MOST important is that you're able to get your brain on paper in a way that makes sense to YOU. That way, you can actually work the plan, and make progress on both your tasks and your goals! (I'll be talking a lot more about getting your brain on paper next week!)
I'd love to hear from you – how are you planning these days?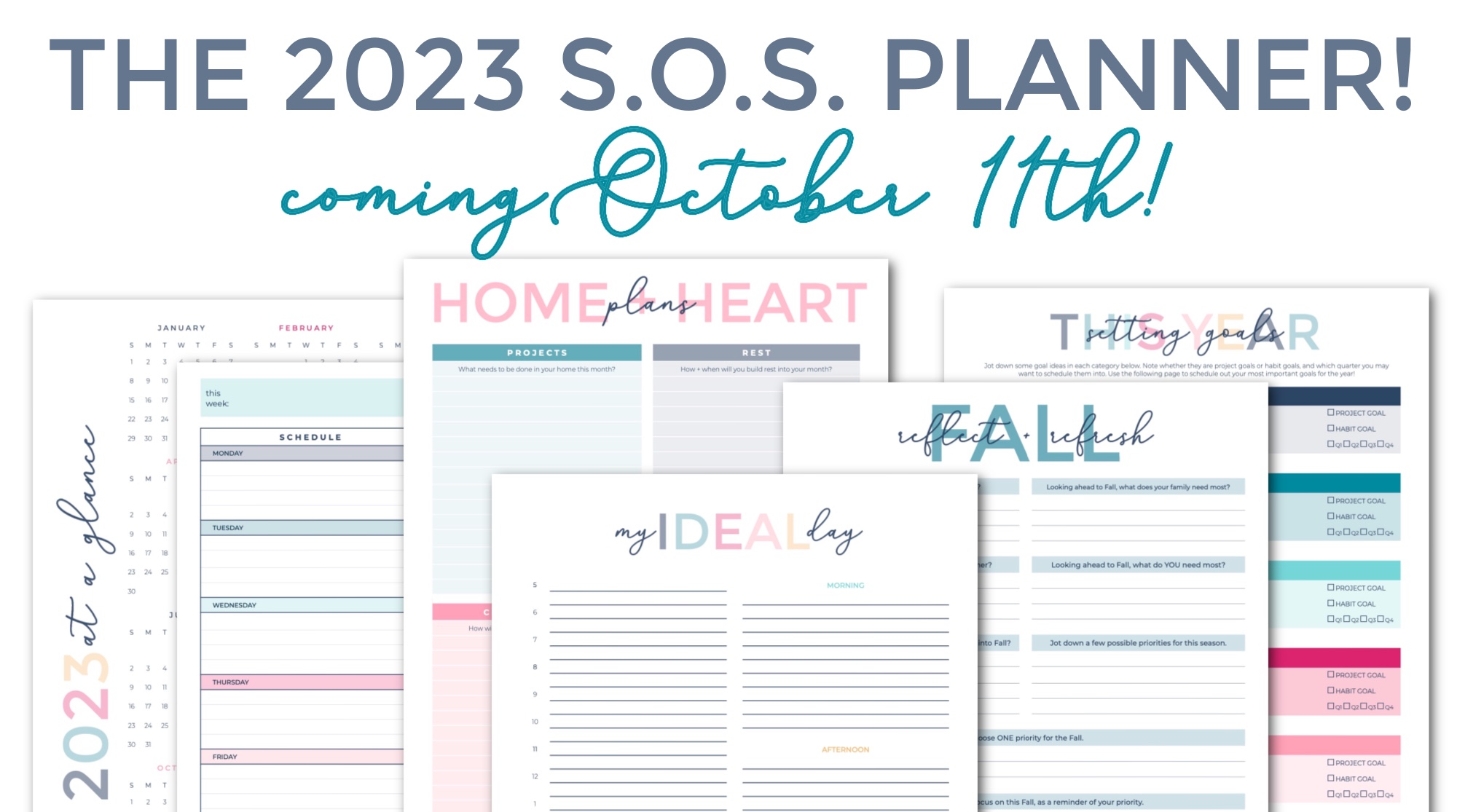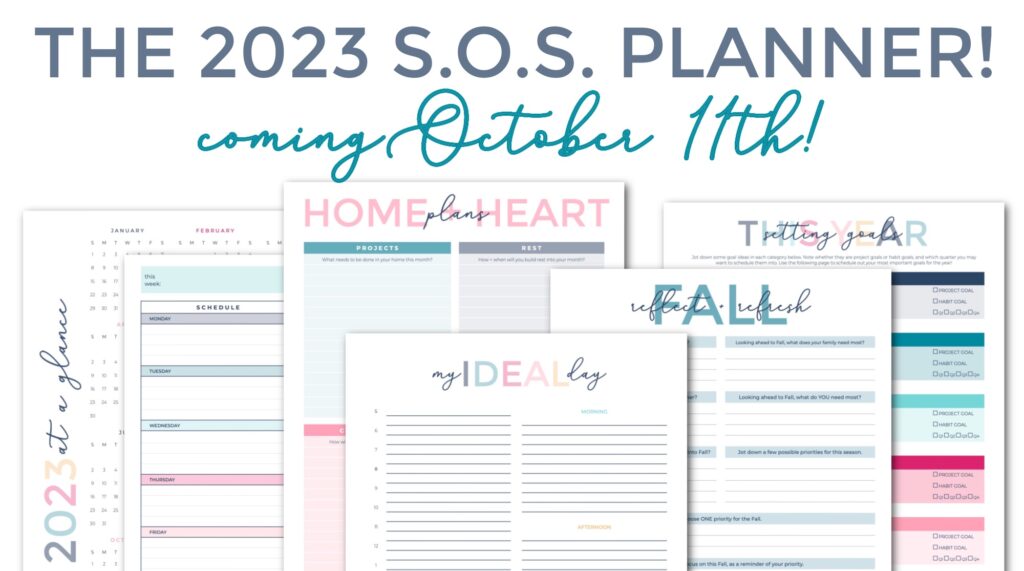 Mark those calendars! Our 2023 S.O.S. Planners launch on October 11th with a fresh design that's full of color! Each one comes with 13 different layouts, so that YOU can switch it up when your season changes, too!
Kayse is a wife, mom, and founder of the Anchored Women community. She writes to help women fight busy, find rest, and build a life that's anchored in Christ. Kayse is also the creator of the S.O.S. Planner, the Anchored Life Kit, and other practical resources that equip women to manage their homes and families in confidence. You can find her writing and her resources at anchored-women.com!