How the S.O.S. Planner Works: Let's Break It Down!
Let's start here: This is not the average planner, with only one repeating layout that boxes you in all year long.
We all know by now that life does not look the same from one month to the next – or even from one WEEK to the next, sometimes! If the last few years have taught us anything, it's that, right?
So, instead of trying to make our ever-changing lives fit into our planner, we change the planner to to fit our lives.
With 13 different layouts, and 2 color styles, the S.O.S. Planner is uniquely designed to change when you need it to!
Let's break down EXACTLY how it works!:


Start with prep work that will carry you through your entire year.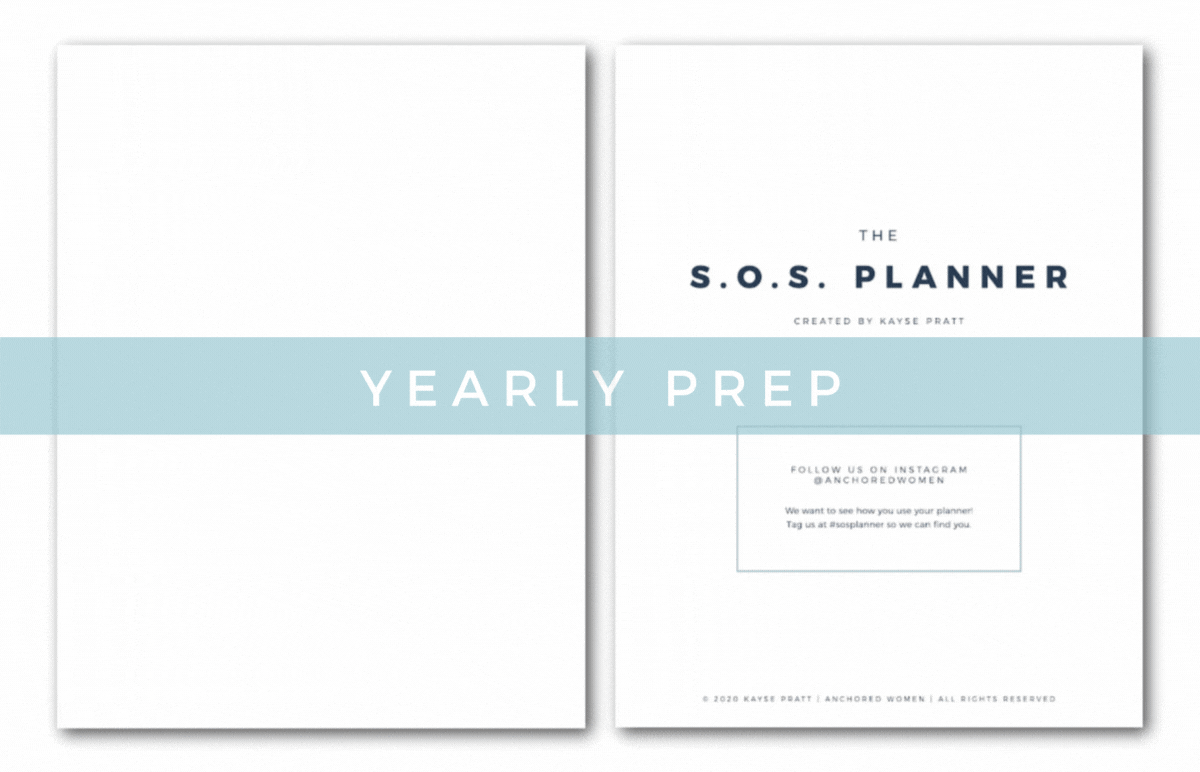 Most planners give you weekly and daily layouts and expect you just to jump right into detailed planning. But honestly, the MOST important part of the planning process is the prep work!
BEFORE we start planning our days and weeks, we need to stop and reflect on the past – first figuring out what's been going well, and what needs to change. We also need to assess what our families need (and what WE need!) so that we can find a focus that fits for the season ahead.
Only after that can we start planning, with a little more focus on what's important, and a lot more clarity for what we can handle in the coming months.
Our Yearly, Quarterly, and Monthly Prep pages will:
Guide you through our reflect + refresh process, where we look at what's been going well, what's been challenging, and what needs to change moving forward.
Help you set goals that align with your priorities, and break them down into manageable action steps that you can actually accomplish!
Include goal tracking worksheets to support you at each phase of the planning process – all year long!
---

Choose the layout that works for you! (By the way, you get ALL of them, so you can change it up anytime!)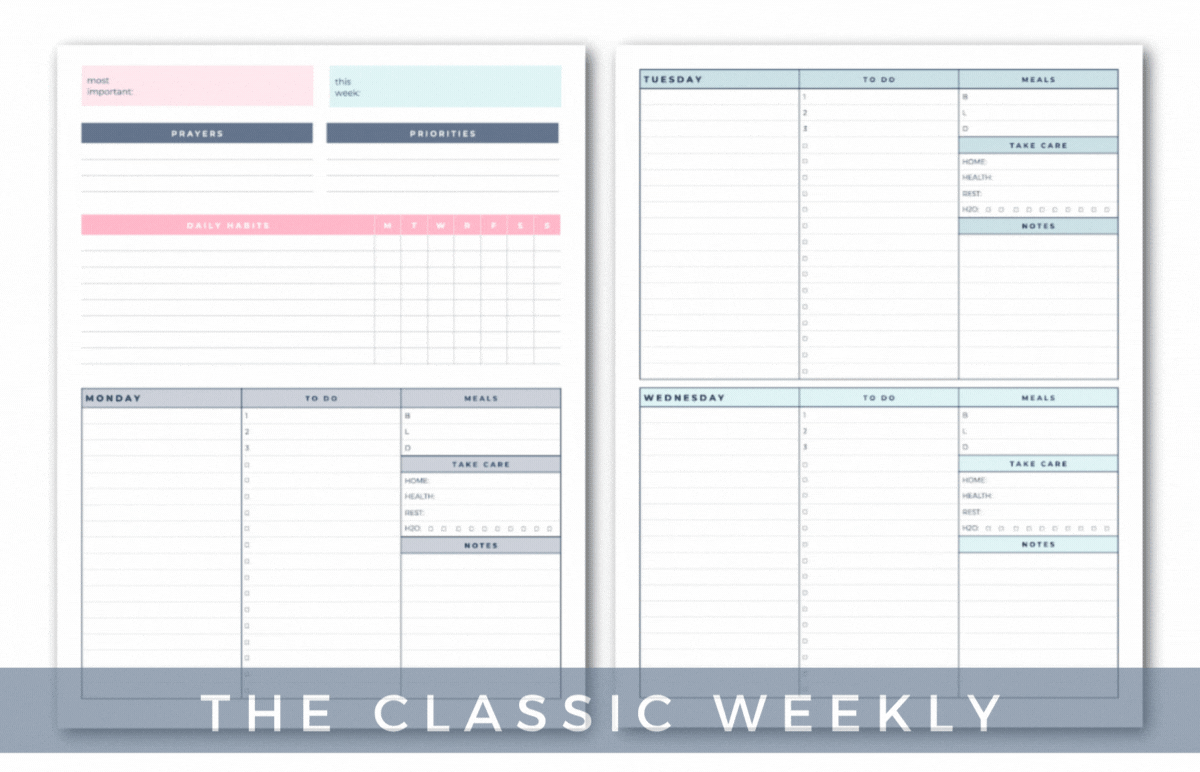 Nobody's life fits into the same kind of boxes week after week, year after year.
Embrace the ability to mix it up! As your season changes, your planner layout (and planning style!) can change too. This is why we include 13 layouts in our planner, so you can customize your planner to fit your planning needs, and then switch it up whenever you need a fresh start.
Our 13 different layouts include:
Weekly layouts for those who want to see their whole week at once.
Daily layouts for those who need a little more space to detail their days.
Bullet Journaling layouts for those who enjoy more flexible planning space, with a loose structure.
Our signature "Look Ahead" and "Look Back" pages, building reflection and forward planning right into your week!
But maybe most importantly, our wide variety of layout options (which are ALL included!) give you the freedom to change your layout up whenever you feel like it!
No more ditching the planner you just bought two months ago – just print a different layout and watch your planner transform into something new!
---


Customize your planner with additional pages!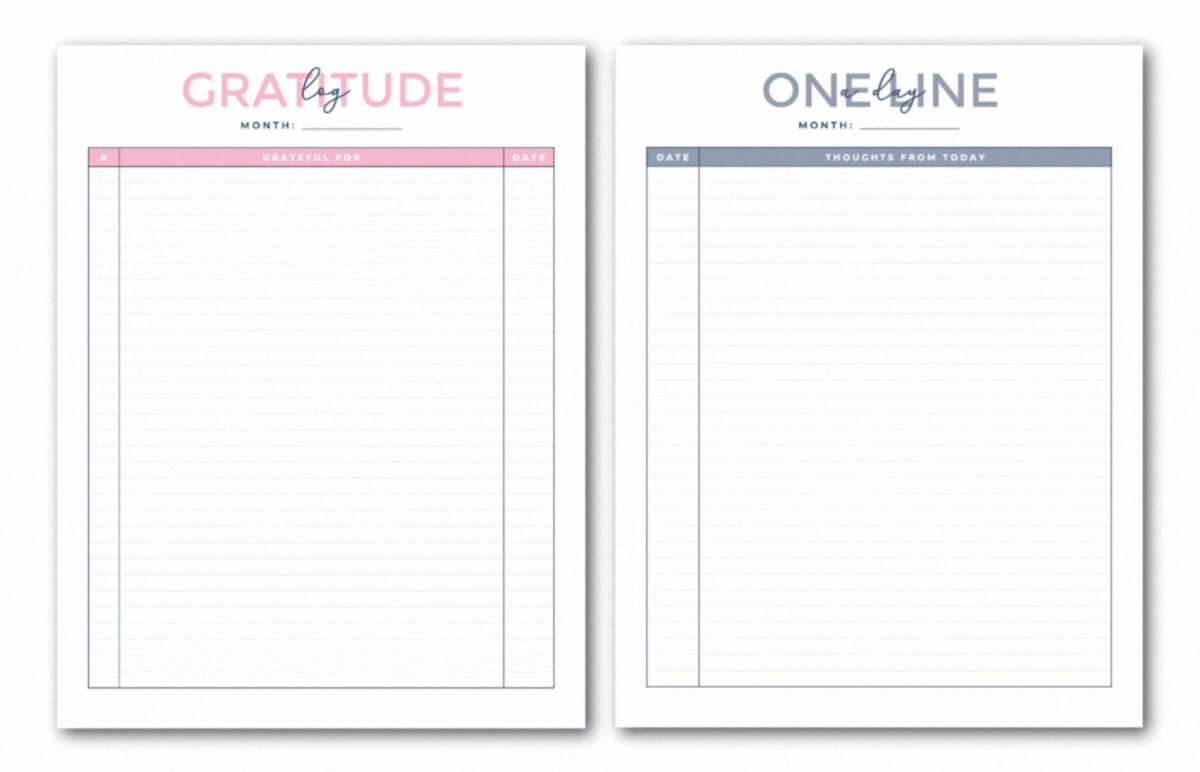 Here's where it gets FUN!! All those lists you keep on post-it notes and scraps of paper? Let's find a home for those in one central place – your planner.
We've got lists in all shapes and forms, ready for you to slip into the back of your planner, so you never again forget that book your friend recommended to you!
You can make your planner work for YOU by choosing what additional pages you add into it! Each planner comes with extras, including:
Gratitude Logs
One Line A Day Records
TBR (To Be Read) List
Book I've Read List
Shows to Watch
Movies to See
Favorite Meals List
Restaurants to Visit List
Home Projects List
Other Projects List
Daily Habit Tracker
Monthly Habit Tracker
Planning Next Year 2-Page Spread
Tons of notes pages!
(And if that isn't enough, you'll also have the option of adding on our printable vault – a massive vault of over 100, color-coordinated printables that can customize your planner even more!)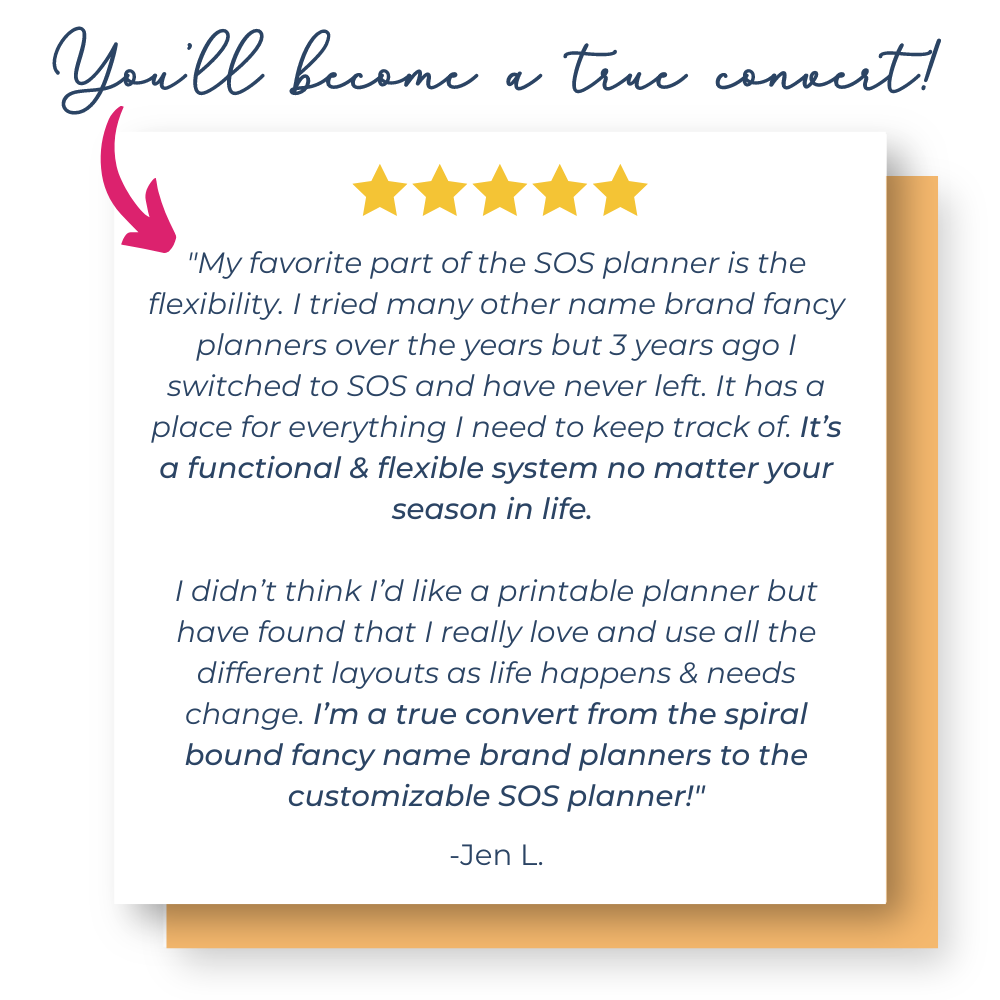 It's truly the most customizable planner you'll ever meet – and I can't wait to get it into your hands!
Click here to shop our 2023 S.O.S. Planners, available NOW!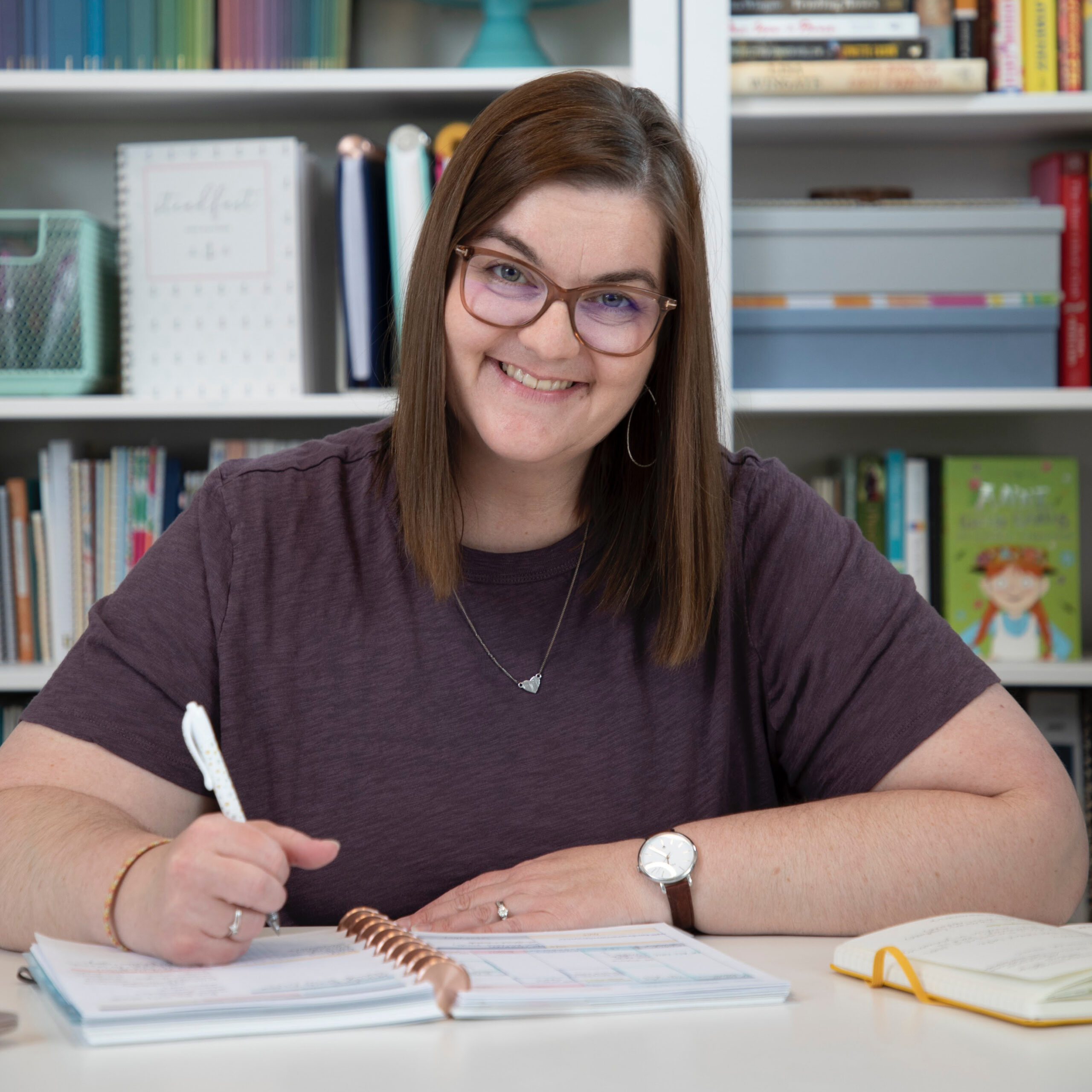 Kayse Pratt serves Christian women as a writer + designer, creating home + life management resources that help those women plan their days around what matters most. She's created the most unique planner on the market, helped over 400 women create custom home management plans, and works with hundreds of women each month inside her membership, teaching them how to plan their days around what matters most. When she's not designing printables or writing essays, you'll find Kayse homeschooling her kids, reading a cheesy novel with a giant cup of tea in hand, or watching an old show from the 90's with her husband, who is her very best friend.