Why I'm Not Choosing One Word for 2015
Oh, I don't mean to be a party pooper.
I love the idea, really I do. I've chosen a word for the last two years. It seemed more doable for me than resolutions.
But it wasn't.
In fact, it ended up a whole lot like resolutions – forgotten and discarded a couple of months in.
For the record, I think that has a lot less to do with the idea of choosing one word for the year, and a lot more to do with my lack of self-discipline. But in any case, it didn't "work" for me.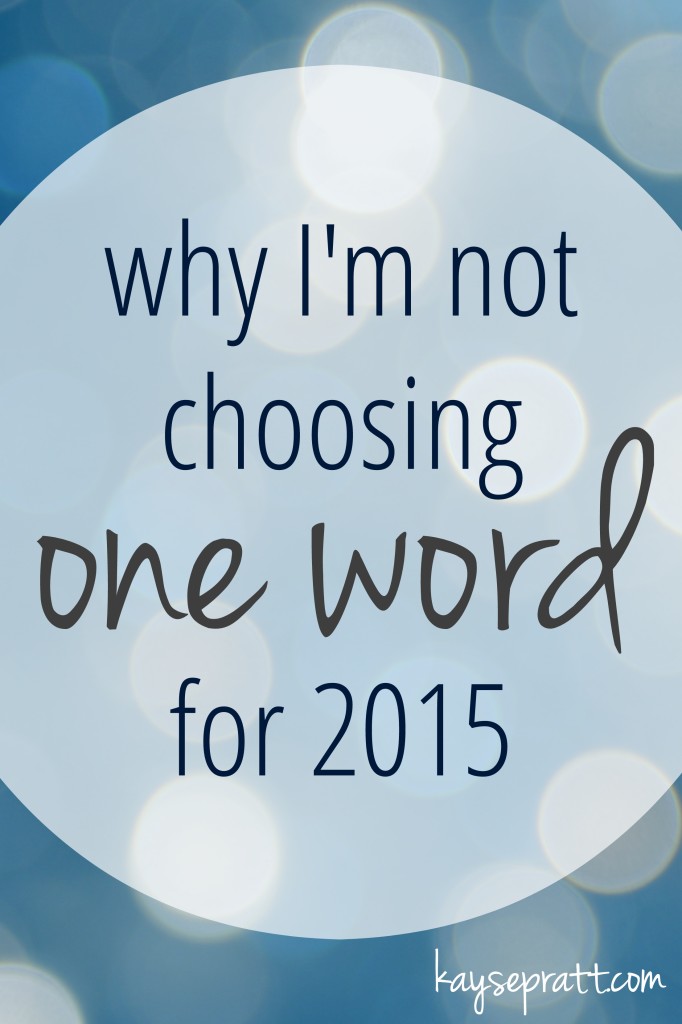 It's no secret that the last year has been a rough one for us. Recovering from the blood clot took up the majority of the year, and adjusting to a new normal with two kids has been…a challenge. We've discovered that our strong-willed child is maybe on the extreme end of that spectrum, and struggled with the juggling of discipline, love, and positive attention. We have missed our families and friends, and often felt fairly isolated in a place that is starting to feel like home yet also like it may never be home. It's been a year of realizing just how much healing is needed, in lots of different areas, and taking one step forward and sometimes two steps back.
And this last week? Three out of four of us have been pretty sick. Emmy and I have a cold that's as strong-willed as she is, and coughs to match. I thought maybe Nathan had escaped, but he's come down with the cold too. And do you know what a one-year-old boy does when he has a runny nose? He smears it all up into his eyes and hair before his mom can grab the Boogie Wipes (I seriously love those things – don't you?!). So, of course, he has pink eye in both eyes too. It's seriously the saddest thing ever.
I'm tired, you guys. 2014 wore me out. I'm excited to be done with it, and start a brand new year tomorrow. And I do have hopes and goals for the new year, don't get me wrong. But I think that, for me, choosing a word for the year has been a lot like trying to choose the thing that would finally get my life on track, and then ending up disappointed when all hell breaks loose, again.
I came across this verse last week, and it's stuck with me:
Why spend money on what is not bread, and your labor on what does not satisfy?

Listen, listen to me, and eat what is good, and you will delight in the richest of fare.

Isaiah 55:2
I do this. I spend my money on what is not bread, and my labor on what does not satisfy. I choose a word, thinking that might change my life. I choose the french fries instead of the fruit. I spend my actual money in the Target dollar spot on a zillion things I don't need. I hang onto anger and bitterness when forgiveness is called for. I turn on the TV when the day gets hard and I just don't want to deal with it anymore. I try to plan, plan, plan, and leave no margin for error, or surprises, or rest.
Instead of one word this year, I'm going to try to let this verse soak into my mind, into my heart. Those things I pursue? They don't fill me. I know what does, and I want more of that. I want to listen to the Lord. I want to "eat what is good", simplify, and focus on the important things.
It feels a lot like grace, really. This choosing to not do the same thing I've always done.
The truth is, I'm tired of focusing on how hard things have been. And I'm realizing that keeping my eyes on my circumstances is both holding me back from the healing I want, AND something I can change, with Christ's help. I want to start looking to Him, listening to HIM before I look at the hard things. Filling my heart and my mind with things that are good instead of spending time and energy and money and calories on things that don't satisfy.
So I spent some time looking at the areas where I often choose false comfort over the things God has for me, and came up with 4 personal goals for the year (using Lara Casey's PowerSheets, which I really love).
I want to ROOT TRUTH DEEP IN MY HEART, by filling my mind with the truth of God's Word. I'll be reading along with She Reads Truth, and using my Journaling Bible. Simple, but meaningful. This is the focus for the year.
I want to ESTABLISH SIMPLE ROUTINES in our home to create consistency & peace. I'll be starting with my morning routine, and hosting a challenge for anyone else who wants to participate! (Sign up here if that's you!)
I want to GET HEALTHY, by incorporating meal planning, exercise, and food tracking on a daily basis. I'll be starting with a cleanse in January, and starting up the Couch To 5k program again, with the plan to run a 5k with Jon at the end of March. (eek.)
I want to SIMPLIFY MY HOME to being peace, cut the clutter, and help contribute to our financial goals. I'll be cleaning out the office, purging toys (the kids') and books (mine), and selling whatever I can. Garage sale, anyone?
They are more detailed than that, with a plan for each month, which is why I'm loving the PowerSheets, but the POINT is, I'm filtering everything through the lens of Isaiah 55:2 – listen to the Lord, and eat what is good. I love that this verse is a question I can ask myself, as well as a reminder to focus on what (and Who) is important.
I'm looking forward to it. I feel hopeful! Simplifying the big areas, focusing on what matters, and creating some margin in my home & my heart.
In the end, the year's gonna go how God wants it to, no matter if I (or you) choose a word or a theme or a focus. 🙂 And I'm learning how good that really is. He's working, He loves us, and He's given us the gift of another year. Let's start the year with grateful hearts for the blank slate in front of us, and trust Him to guide us through.
And P.S. Tomorrow we start our year-long journey through In This House, We Will Giggle: Making Virtues, Love, and Laughter a Daily Part of Your Family Life
!! I can't wait to read this book with you, and learn how to incorporate more love & laughter into our mothering. I'll be posting once a month here, and then throughout the month on Facebook! Make sure you're subscribed by email & that you join our Facebook community so that you don't miss out! And if you haven't gotten your copy of the book yet, you can do that here! (Hint: You can access the kindle version immediately, if you are anxious to start reading!)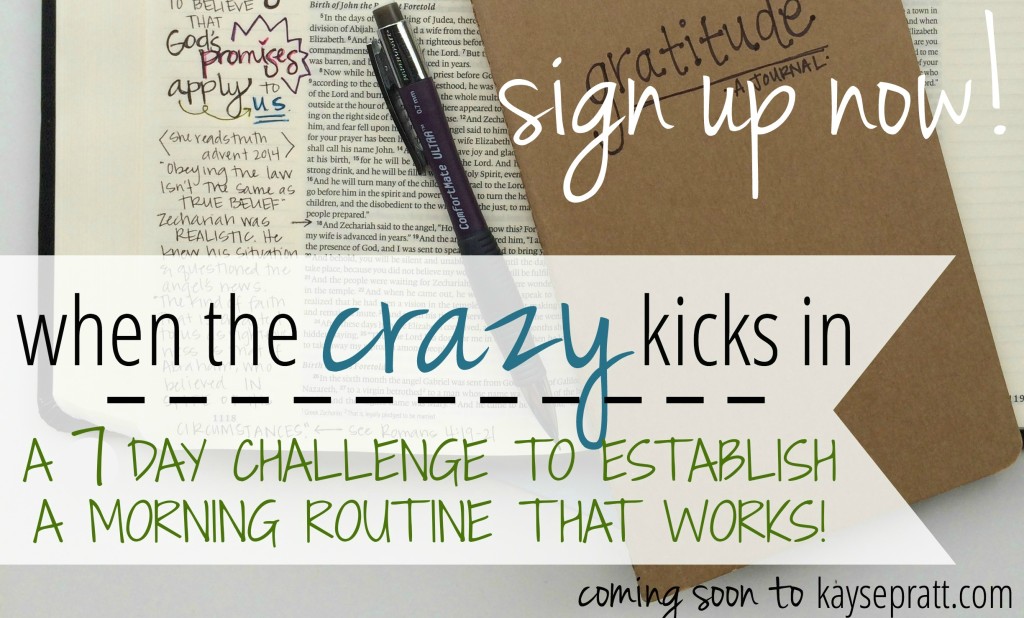 Did you choose a word or a focus for 2015? I'd love to hear it!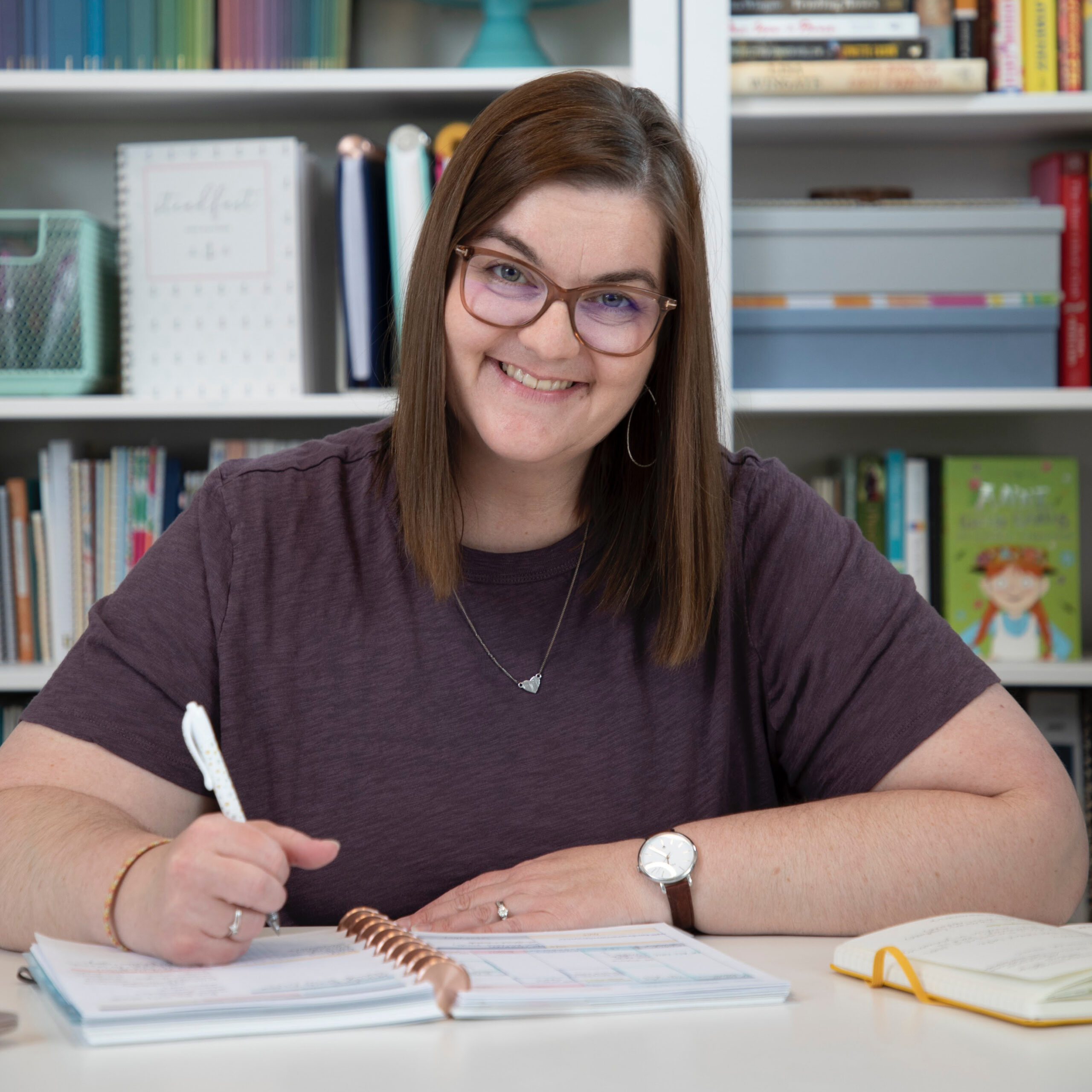 Kayse Pratt serves Christian women as a writer + designer, creating home + life management resources that help those women plan their days around what matters most. She's created the most unique planner on the market, helped over 400 women create custom home management plans, and works with hundreds of women each month inside her membership, teaching them how to plan their days around what matters most. When she's not designing printables or writing essays, you'll find Kayse homeschooling her kids, reading a cheesy novel with a giant cup of tea in hand, or watching an old show from the 90's with her husband, who is her very best friend.