About that mental load (and what we exhausted moms can do about it)
Months ago, Jon and I were driving home from church, and we started talking about household chores, and how we could manage best with the both of us working. I was pretty overwhelmed at the time, and I asked if he could take one thing off my plate, just one – laundry or dishes or bath time – whatever he wanted.
I went on to explain why I was asking.
"I feel like I'm drowning under the weight of managing our home and family right now. Is there any way you could take over one whole task? It would help me so much if I could have my hands in one less thing. Right now I manage all the tasks, and even when I ask for help, even when you do help, I'm still the one in charge of it. My brain is so full, I can't think straight anymore. I need less to manage right now."
He offered to help with the laundry, and though our system hasn't been perfected, it's been helpful to have something off my plate.
I meant what I'd said. I felt like I was drowning under the weight of managing our home and family. I'd always wanted to be a wife and a mom, but I never realized how much it would require of me.
I'm guessing you understand what I'm talking about.
This, my friends, is what we call the Mental Load.
What is the Mental Load?
The mental load is that never-ending to-do list you've got running through your head. It's the voice that says "Remember that, and don't forget that, and what was that thing you were supposed to do…better write it down!"
It's the stream of thoughts that keeps us up at night, and the one that exhausts us before we get out of bed each morning.
It's part of our job as the moms. We are the managers. We take pride and joy in serving our families, in caring for their needs, in running our households.
But slowly, surely, the list grows and our tasks grow and maybe the size of our home grows, and we add kids and pets and work to the mix and all of a sudden, that mental load we used to be so proud of carrying is now more than we can bear, and can someone else help us carry it for just a second, please?
The mental load is exhausting us.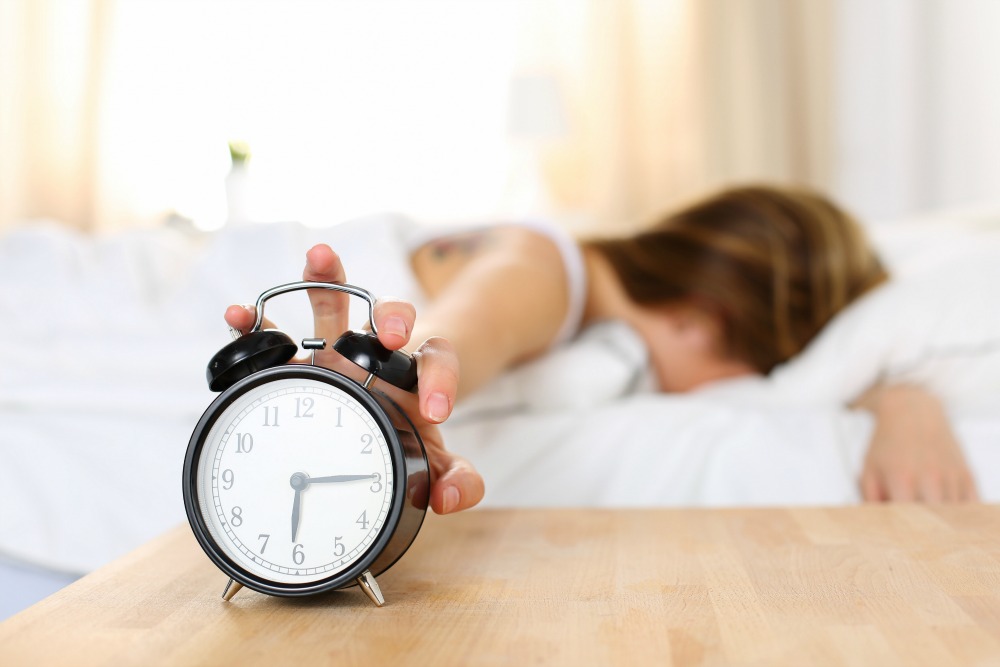 When the Mental Load gets to be too heavy…
That's where I was with the laundry situation. It wasn't the laundry, it was everything. Everything I was trying to carry on my own just felt like way too much.
I was done.
Being the manager of our home, our family, and my business had taken up every second of my time, for a very long time. There wasn't any space left for rest, for self-care, or for any sort of fun at all.
This is not a healthy place to be. In fact, for me, being the manager led straight to burnout.
That's when I realized I was doing it wrong.
I realized I wasn't managing at all.
See, managers don't do everything – they delegate.
They oversee. Managers ensure the necessary tasks are getting done, but they don't necessarily have their hands in every single one.
I was doing it wrong.
I was the manager, but I wasn't acting like one. Instead, I was taking on ALL the jobs and ALL the responsibility, and ALL the THINGS.
And it just about killed me.
This was not the way I was meant to live – constantly stressed, frantic, and thoroughly exhausted.
I don't think it's the way you were meant to live either.
See, I firmly believe that motherhood can be full of joy on a daily basis. That we don't have to feel like we are drowning in tasks – but that we can actually get the important things done AND still have time for rest, self-care, and family time.
I firmly believe that life just doesn't have to be this hard for us, mommas. I believe we are SUPPOSED to find joy in our time as moms.
And so, I began brainstorming and praying about what I could really do to make my life easier.
The fact was, I still needed to manage the things I was managing. I still needed to run my home, raise my children, plan and cook healthy dinners, run my business, etc. That's the season of life I'm in, and my responsibilities were not going to magically go away.
I also realized that while yes, I do need my husband to help me out a little more, I also didn't want to add a ton to the strain he was already experiencing. He works hard to provide for our family (as do I), and he also needed to be able to relax some at home (as did I!). I didn't want us to be spending all of our family time doing chores. I wanted us to enjoy each other and make memories and have a little fun every now and then!
What I needed was a better way to complete the things that had to be done. I needed a set of tools that allowed me to do the important things without stealing all of my time and leaving me absolutely exhausted.
And THAT is exactly what I've created for us.
Introducing, The Intentional Moms Toolkit.
Think about all of those recurring tasks you have to manage every month – meal planning and house cleaning and taking care of your family and yourself.
Now, what if you had someone to pre-plan & organize all of those tasks for you?
What if there was one cohesive resource out there that covered EVERY area you've been trying to manage, so you didn't even have to think about it? So that all you have to do is grab the plan, check off a few boxes, and finally feel like you're actually doing an pretty good job managing your life?
Well, friends, NOW THERE IS!!!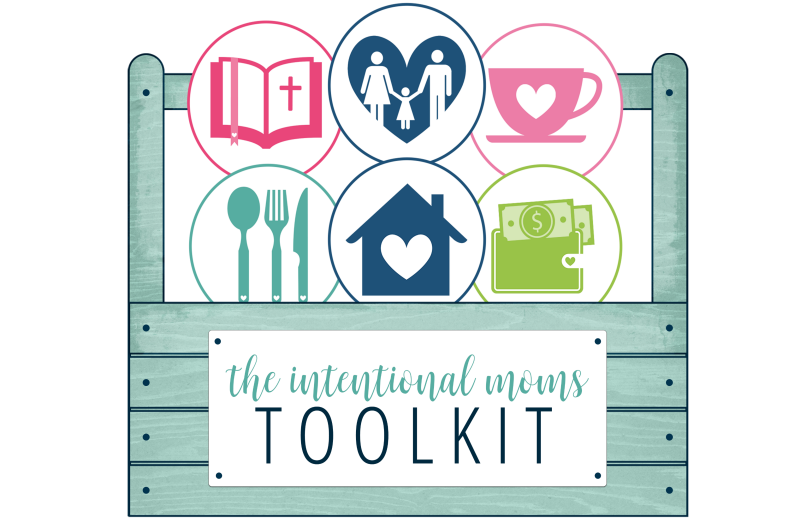 The Intentional Moms Monthly Toolkit is a digital monthly subscription kit designed to make your mom-life a million times easier.
All those things you know you should be doing?
Well, the Intentional Moms Monthly Toolkit will either do them FOR YOU, or give you a simple, actionable way to actually get those things done.
Every single month, you will be provided with:
A meal-plan and customizable shopping list – a detailed list of meals in a variety of categories (crock pot meals, freezer meals, quick & easy meals, and classic favorites) along with an editable shopping list.
A Scripture study plan – an outlined Scripture study plan for you to follow each month, along with a printable companion journal, memory cards, & a lockscreen.
A family connection guide – unique monthly ideas for connecting with your family and friends.
A home care checklist – a simple monthly checklist to help you determine which home tasks you really need to keep up with on a regular basis, plus seasonal tasks that change on a monthly basis.
Budgeting worksheets – to help you get your finances organized, and then keep them on track.
Self-care strategies – simple, doable strategies you'll love, to help you care for your heart, mind, and body.
A monthly focus area – intentional monthly themes for you to use as a springboard for personal growth each month, along with a live monthly chat addressing that focus area. (The Scripture study corresponds to this theme as well.)
A community of like-minded women – a place online where we can come together to encourage one another, share tips for intentional living, and discuss our monthly focus area.
And more!
What does this have to do with the mental load?
The Toolkit is uniquely designed to make your life easier, to give you back your time, and to help you prioritize the things that actually matter.
With the Toolkit in your pocket, you'll have:
MORE TIME :: All the tedious work is already done for you, so all you have to do is work the plan! (And it's totally flexible for every family)
LESS DECISION FATIGUE :: You know that feeling when you're so overwhelmed, you don't know where to start… so you just don't start at all? No more, friends. The Toolkit gives you actionable steps to get things done. You'll know exactly what to do next, every day!
MORE FREEDOM :: With so much of the planning already done for you, you're able to make choices you haven't been able to make before. Want to read a book? Go for it. Want to play with your kids? Do it. Feel like relaxing with a glass of wine and your favorite show on Netflix? Go right ahead.
LESS GUILT :: Instead of feeling pulled in a million directions, and like you're always behind on something, you'll have the confidence of knowing the important things are already taken care of. So you can live without guilt, because you've delegated the urgent things and now you get to do the important things!
Let's be clear about something – this toolkit is NOT just one more thing for you to do.
The LAST THING you need is one more thing to do.
The Intentional Moms Monthly Toolkit is a simpler, more streamlined way to accomplish the things you already want to do with greater intention and in less time.
It gives you back your life, frees up your time, and reminds you that yes, momma, you CAN do the things that matter.
And here's the best part: It's available NOW.
How to get your Intentional Moms Toolkit:
Get all the details HERE: https://intentionalmoms.teachable.com/p/intentional-moms-toolkit
Choose your pricing plan:

Choose a recurring monthly payment ::  $10.00* per month. You'll be charged each month for the Toolkit you receive.
Choose a recurring annual payment :: $110* per year (one month free!). This is the best deal, because you get one month free! You'll be charged annually, for the entire year at a time.

Subscribe and get access immediately!
Being the manager doesn't mean you have to do all the things. Not anymore. Here's a better way to manage – with skill AND sanity.
*Special pricing ends at 11:59 p.m. on Friday, November 17th. Be sure to grab your toolkit before then!
What Toolkit Members are already saying…
This toolkit is worth every penny paid. It takes all the things in my brain that needs to get done, clearly lines them out, and gets my focus where it needs to be! No more wheel-spinning. Everything is so streamlined now, that planning the next week and looking to the next day are SIMPLE. I love it!" – Linsey A.

"I love how the toolkit simplifies all the things I want to do anyway – clear Bible study, doable ideas for connecting with others, easy ideas for caring for myself, and menu and home care thinking done for me. I can't wait to implement each month's resources because they truly help my live the life I want to live." – Sarah T.

"What a great resource! It is my "one stop shop" when it comes to taking care of my family. As moms we juggle so many hats, and this toolkit helps take some of the biggest, most time-consuming tasks off my hands; like meal planning and a cleaning check list. Can't beat the amount of useful information for the price – no more going to multiple websites and wasting precious time. Thanks for helping me add more hours to the day!" – Laura B.
Are you ready to add more hours to YOUR day?
CLICK HERE to get your Toolkit today!
Need a little help getting organized?
Join us for this 4-part mini course on organizing every aspect of your life, including tons of free resources AND immediate access to our printable Organization Kit!
You'll also receive our weekly newsletter, providing you with encouragement and resources to help you make time for what matters most.
*By subscribing, you're agreeing to our privacy policy.
Kayse is a wife, mom, and founder of the Anchored Women community. She writes to help women fight busy, find rest, and build a life that's anchored in Christ. Kayse is also the creator of the S.O.S. Planner, the Anchored Life Kit, and other practical resources that equip women to manage their homes and families in confidence. You can find her writing and her resources at anchored-women.com!