On Laundry & Life (& how to avoid being overwhelmed by both)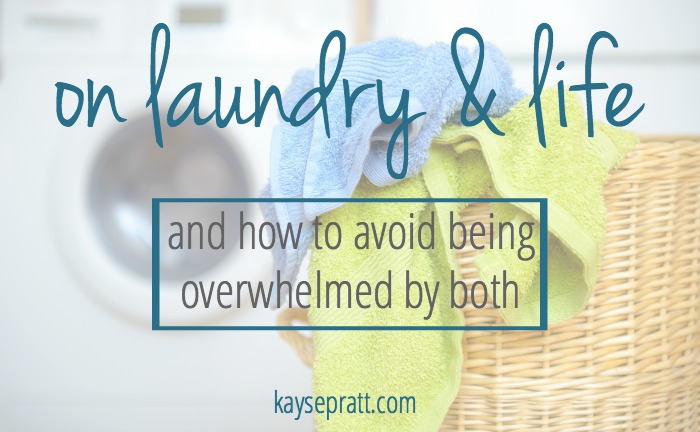 In our master bathroom, there's a large pile of dirty clothes on the floor, just waiting to be washed. It's really not where they are supposed to wait, but the floor is sometimes more convenient than sorting.
In our bedroom, we've got 4 laundry bags that hang on a rack, perfect for sorting. Except half the time, the bags are missing, so the dirty laundry is hung haphazardly over the rack where the bag should be. This doesn't work for long so we end up with, you guessed it, more dirty laundry on the floor.
At the foot of our bed, there's a large pile of clean laundry that just keeps growing. I mean to fold it, but life gets distracting. So, at night, when we're exhausted, we push it to the end of the bed. It's clean, at least.
In my daughter's room, there's usually a basket of dirty laundry that's overflowing. Except that right now, the basket has been turned over and dumped out because I was scrambling to find her ballet leotard 30 minutes before we had to leave for dance class, and, of course, I'd forgotten to wash it.
In my son's room, there's no basket, so he ends up with a laundry pile on the floor as well.
My washer and dryer are both currently full. The dryer with clothes that are clean and waiting to be folded, the washer with clothes that were clean about 48 hours ago, and now need to be washed again.
You guys. I stink at laundry.
There's so much of it, always, and it never, ever ends.
When laundry overwhelms me, I've gotta get organized and just buckle down and get it done, right? Sort, wash, dry, fold, put away. One load at a time.
I threw the pile of laundry from the bathroom floor into the washer this morning, and it occurred to me that I've got life piles that look a whole lot like my laundry piles.
Between being a wife and a mom and a daughter and a sister and a friend and a writer and a homemaker and a business owner, I've got a lot of life piles. I'm spread so thin & stretched so many different ways that it's hard to know which pile to attack first, much less working up the energy to get started!
But getting unstuck from the life overwhelm is the same as working through my laundry piles. Start at the beginning. Get organized. Get focused.
For me, the first step in conquering the life piles is stepping away and meeting with Jesus. His word helps me sort through all of the mess in my head and figure out what I'm actually supposed to be focusing on in this season!
I've been working through the life overwhelm for a couple of months now, and I'm finally feeling like I'm free to enjoy my life, instead of being run by my schedule and my to-do lists. God's been changing my heart as He helps me organize my mess of a mind, and He's been faithful to help me keep my eyes on Him, and let Him lead our days.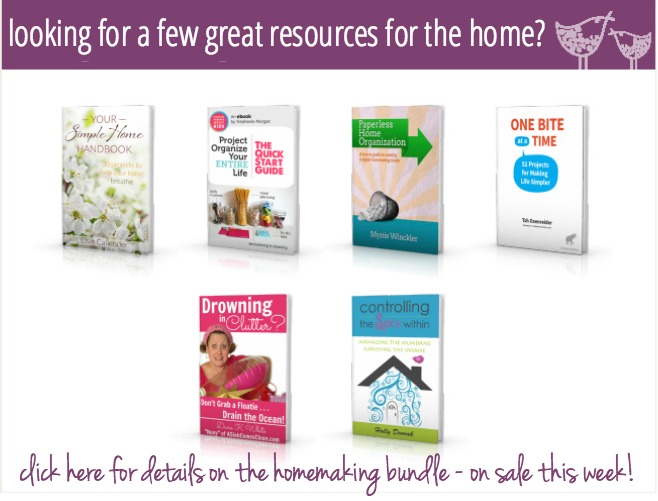 One tool that's really helped me get started with some systems that will make our home life easier, is the Ultimate Homemaking Bundle. It's chock full of practical resources that you can implement immediately! Here are a few of my favorites…
Control The Spin Within :: What I am loving about this eBook is that it breaks homemaking down into three essential areas, and gives you a practical way to attack each one. For stuff I'm not good at (ahem…cleaning), I need a process laid out for me. This book does just that, and I love it!
Project Organize Your Entire Life :: Speaking of processes that are totally laid out for you, this book helps you take your home and LIFE from frazzled to functional. And it comes with printables for every area, from home to personal life. And we all know how much I love printables!
No Cook Freezer Meals :: Freezer meals are my love language, you guys. A few hours of work for a week's worth of dinners? Yes, please! This cookbook includes instructions, expert tips, and no cook freezer recipes as well as a grocery list for every recipe inside, nutritional info, printable freezer meals labels, and printable freezer inventory sheet. Score!
The Paperless Home :: Paper piles run a close second to laundry as my mortal enemy. I'm diving into this book and trying to implement the tips it gives. It's AMAZING. I can't wait for out home to be paperless!
You can get all of these books, and even more resources this week ONLY, in the Ultimate Homemaking Bundle! Click here or below to read more about all it includes!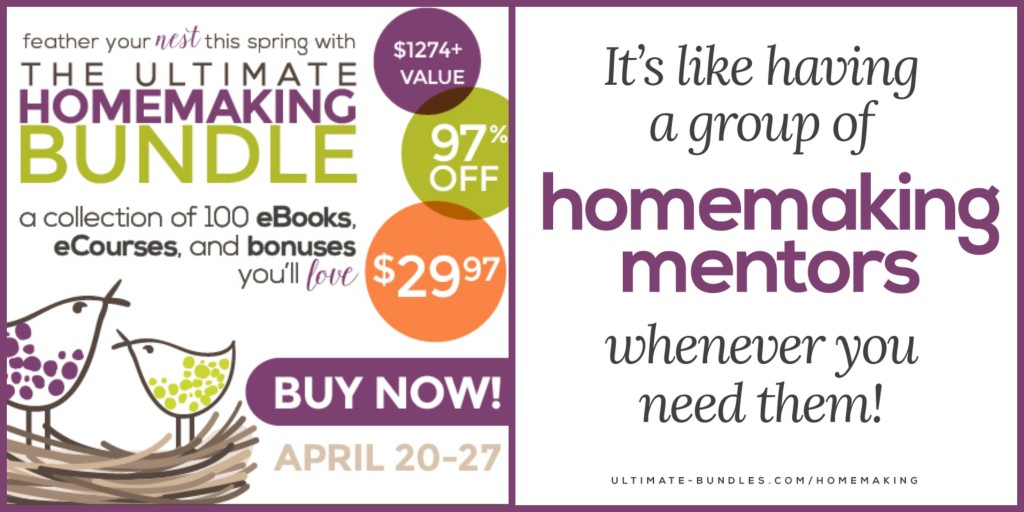 Let's say goodbye to the overwhelm – in our life and our laundry.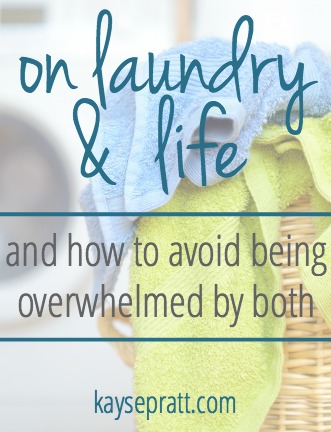 Disclosure: I have included affiliate links in this post. Thank you for supporting my site!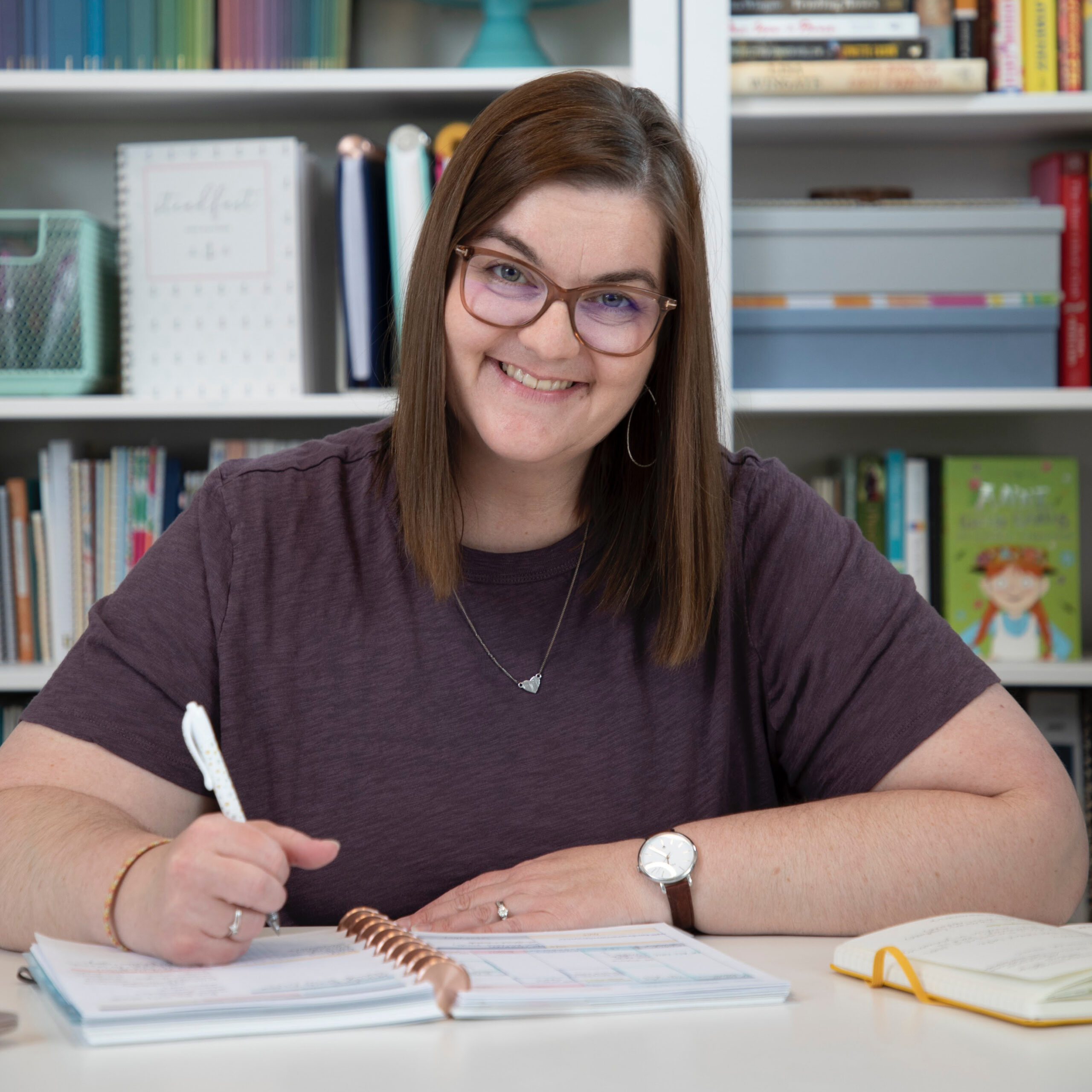 Kayse Pratt serves Christian women as a writer + designer, creating home + life management resources that help those women plan their days around what matters most. She's created the most unique planner on the market, helped over 400 women create custom home management plans, and works with hundreds of women each month inside her membership, teaching them how to plan their days around what matters most. When she's not designing printables or writing essays, you'll find Kayse homeschooling her kids, reading a cheesy novel with a giant cup of tea in hand, or watching an old show from the 90's with her husband, who is her very best friend.