For When Your Husband Goes Camping (And leaves you with the kids all weekend long…)
So last weekend, Jon went camping with the guys from church on a Men's Retreat. I was excited for him to go, have fun, and get some down time. But at the same time, I was a little nervous about him leaving.
The weekends are really the only time we have together, since Jon works past the kids' bedtimes most days during the week. And that means that the weekends are the only time that I have some backup. Or a break! With him leaving on Friday afternoon and not getting back until late Sunday, that meant that I essentially was looking at 12 days straight of just me and the kids.
On a normal weekend, that would have been manageable. I love my kids, though it's no secret they can drive me crazy. But I'm in this season where I'm really learning to lean into motherhood and embrace this role.
It's a new season of letting things go, and I'm loving it a whole lot more than I thought I would.
But this particular weekend, I had a LOT of work on my plate. That bundle sale that I told you about yesterday? Well, it takes a lot of work behind the scenes beforehand. Writing posts and making graphics and updating website stuff… it all takes time. A lot of time. And I wanted to do it well.
I was catching up with a friend over the phone last week, and knowing that this bundle prep week was approaching, she asked how she could pray for me. And I found myself telling her this…
"I so badly want to be productive. I want to do things that matter and finish projects and feel accomplished. But my kids just need me to be present. And I know I'm called to my family before anything else in this season. Pray that I'd value presence over productivity."
Presence over productivity.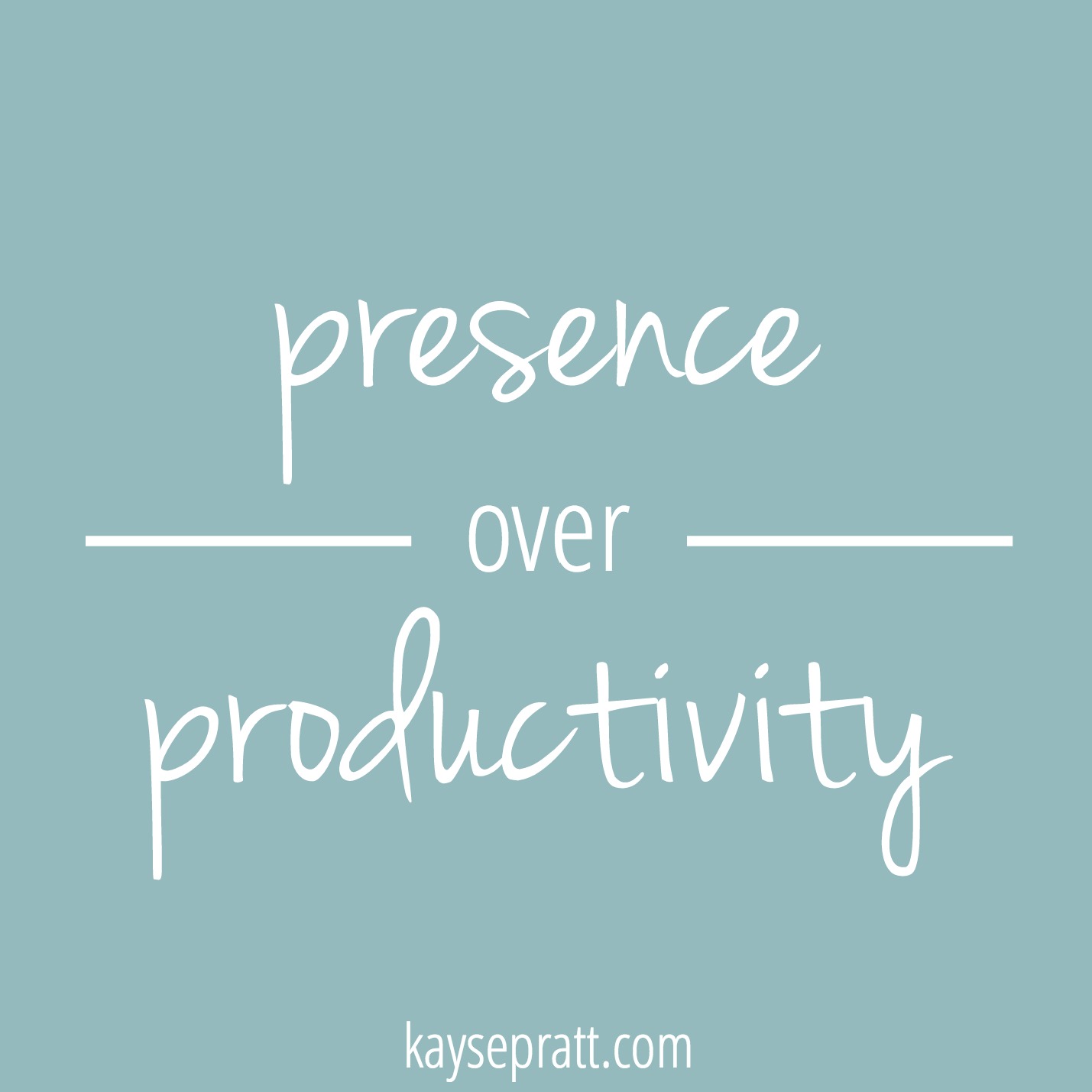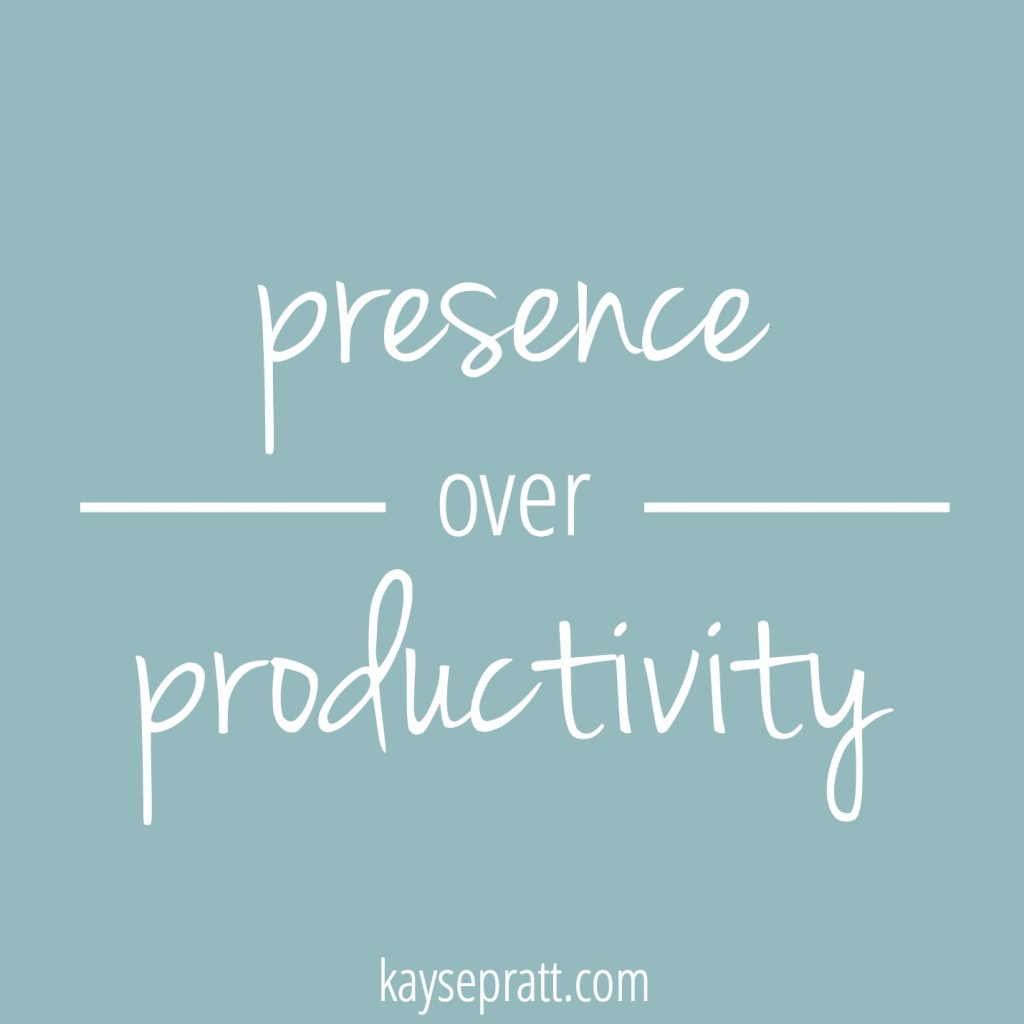 For me, presence over productivity means that, in this season, I need to remember that my husband and my kids need a kind and loving mom more than I need another blog post written. Right now, that means putting some of my dreams & passions on the back burner. (And that's okay!)
And so, last weekend, I had a choice to make. Stick my kids in front of the TV for 2 days straight so I could get some work done, or value time with them more than a finished project.
I'll be totally honest and tell you that my priorities changed by the hour. I didn't do it perfectly. But remembering that I really do value presence over productivity helped me to put down my work and play legos for a few minutes. It motivated me to get the kids set up with a toy or a craft that they could do independently, and keep talking to them while I did the tasks that didn't require my full attention. It allowed me to structure my days in a way that my focused work was saved for the times they were asleep or resting. It was a totally different frame of mind for me, and it was good. Not perfect, but good.
I tend to be an all or nothing sort of person. But I'm slowly learning that an all or nothing attitude means that someone, somewhere is getting my "nothing". And I can't let that someone be my husband or my kids. Ever.
I don't actually think achieving balance is possible, but I'm learning how to stop before I jump into anything, and identify where I really need to focus in that moment, that day, or that season. I'm learning that nothing is forever, and my focus might shift in the next week, or even in the next minute! And that's okay.
But if my heart is to be present, rather than productive, I'm generally okay. Things fall into place easier because I don't have to be putting out the fires that pop up out of my neglect. The important stuff is still important.
And, so, my work time this last weekend didn't exactly go as I'd hoped. But my bigger hope is that, no matter what's on my plate, my family knows that they come first.
When my husband came home on Sunday, he came home to a happy wife and kids, instead of a frazzled wife and grumpy kids. The house might not be clean, but hey, we did our best. The kids were alive and about half of my work got done. And, more importantly, all of our relationships are intact!
Presence over productivity. People before projects. A heart that listens to the Lord's call in this season instead of forging ahead with it's own plan.
How does the need for Presence Over Productivity reveal itself in your life?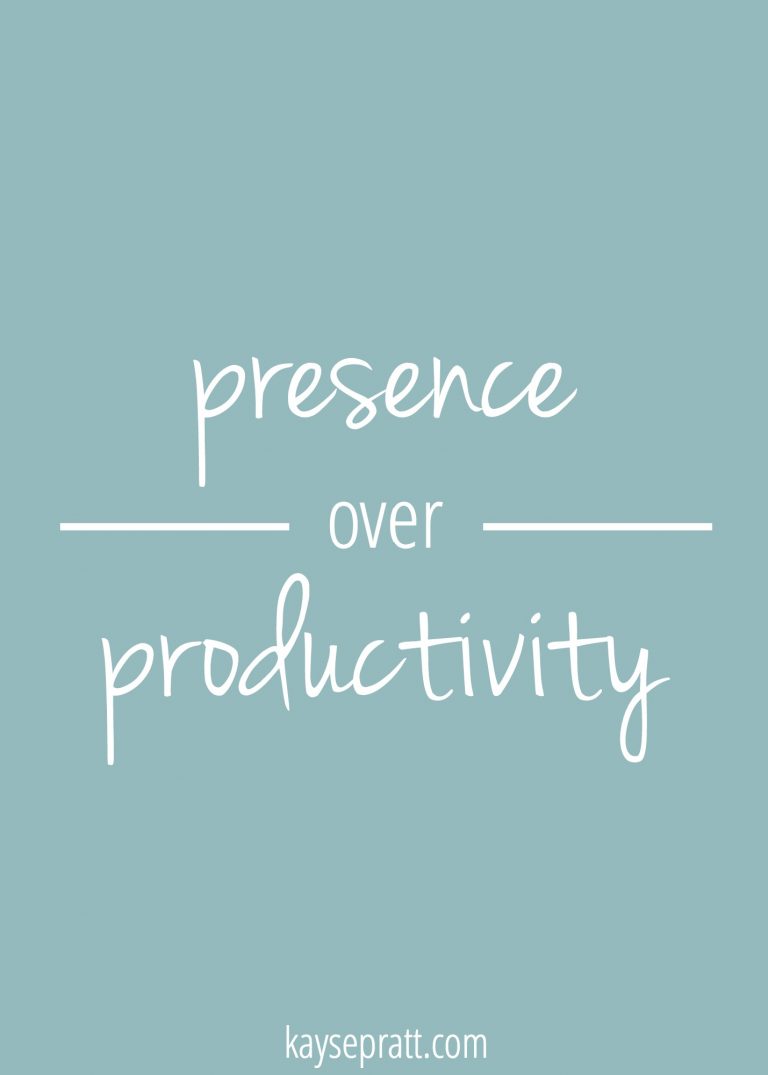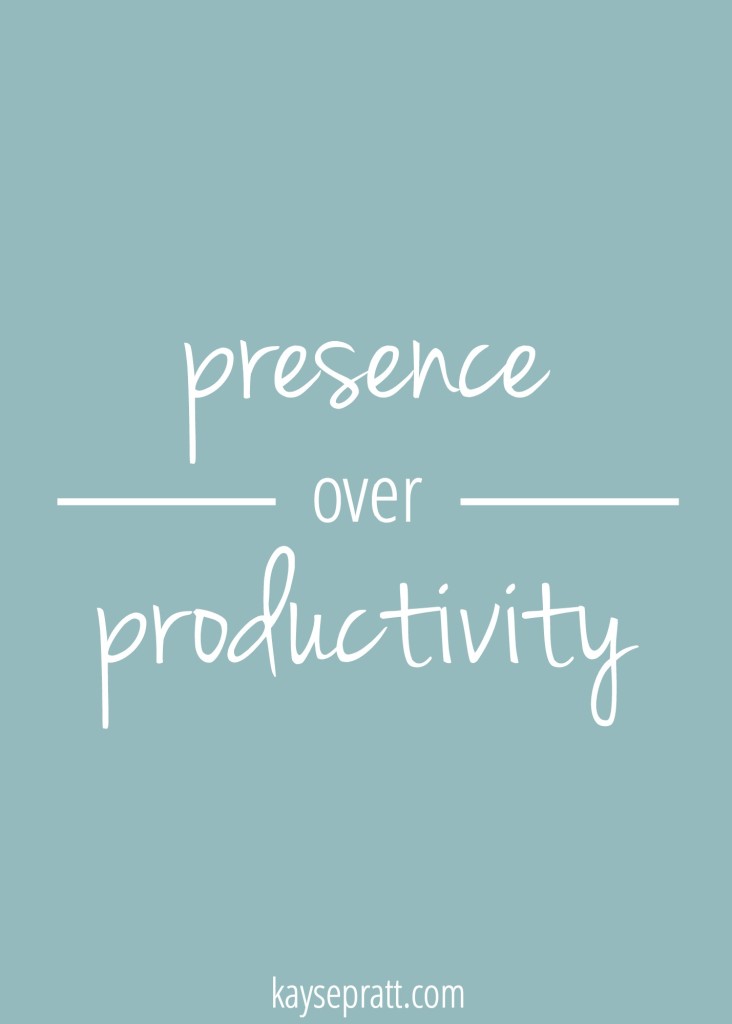 Need a reminder in your home or on your phone? Click here or on the image above for a printable version of this phrase that you can download & print, or save as the wallpaper on your phone!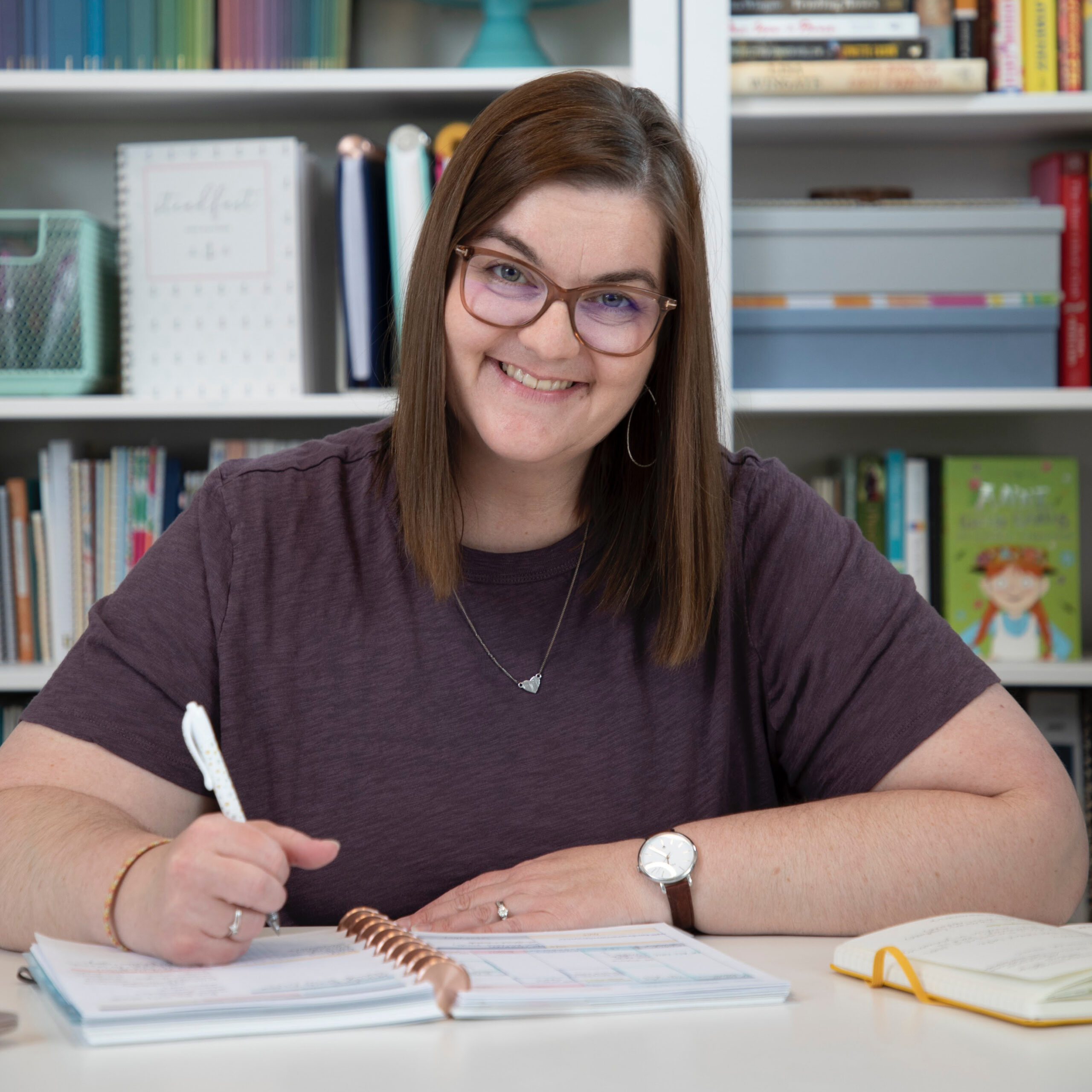 Kayse Pratt serves Christian women as a writer + designer, creating home + life management resources that help those women plan their days around what matters most. She's created the most unique planner on the market, helped over 400 women create custom home management plans, and works with hundreds of women each month inside her membership, teaching them how to plan their days around what matters most. When she's not designing printables or writing essays, you'll find Kayse homeschooling her kids, reading a cheesy novel with a giant cup of tea in hand, or watching an old show from the 90's with her husband, who is her very best friend.