10 Unique & Meaningful Mother's Day Gift Ideas
With Mother's Day right around the corner, I thought I'd share a few of my favorite gift ideas. For Mother's Day, we want something meaningful, don't we? So, I've collected 10 of my favorite unique & meaningful items to share with you.
(This might be a good post to pass on to the hubby!)
(But you should read it too, because at the end, there are TWO giveaways for you!)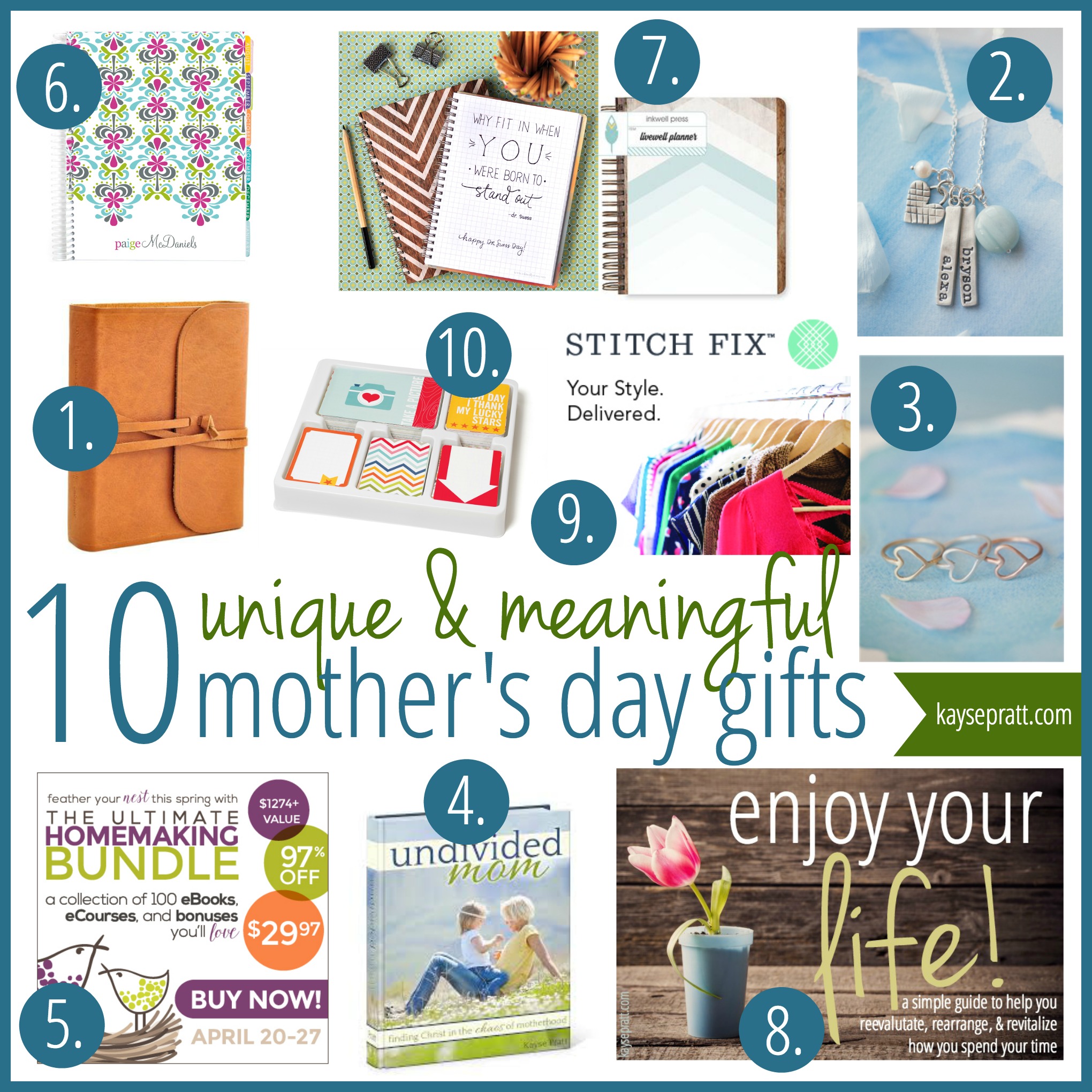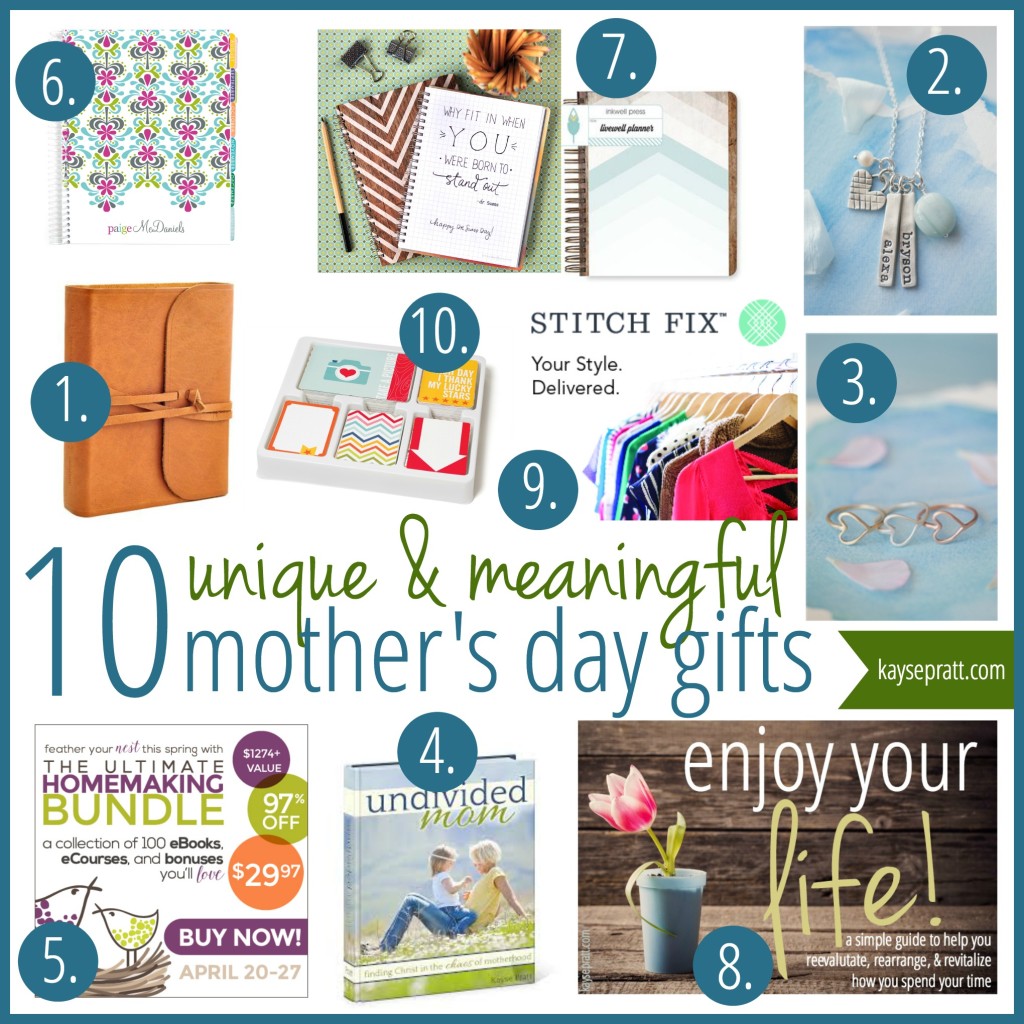 1. Journaling Bible | 2. Lisa Leonard Necklace | 3. Lisa Leonard Stacking Rings | 4. Undivided Mom | 5. Homemaking Bundle | 6. Erin Condren Life Planner or Personalized Notebook | 7. Inkwell Press Collection | 8. Enjoy Your Life Course | 9. Stitch Fix | 10.  Project Life
1. Journaling Bible :: For the mom who loves the Word. I'm in love with my Journaling Bible. I'm a words girl, and the giant margins with plenty of space to take notes is WONDERFUL. I've also gotten one for each of my kids, so I can have plenty of space to write them notes and highlight verses specific to each of them. I don't have a Bible that I love more than this one! (And I have a lot of Bibles…)
2. Lisa Leonard Necklace :: For the mom who's proud of being a mom. So, you know, all of us. Lisa Leonard has so many beautiful options for family necklaces – from a single charm with multiple names, to teeny charms with initials, to birthstones! And everything is top quality and so beautiful. This is the one I'm drooling over right now. Isn't it pretty?
3. Lisa Leonard Stacking Rings :: For the mom who has a simple style. I love these rings because they are simple, but beautiful! They are such a delicate, feminine accessory that they can even dress up the yoga pants!
4. Undivided Mom :: A 14 day devotional for the mom who needs Jesus to keep her from losing her ever-loving mind. It's got heartfelt devotions intermingled with funny mom stories, and I think you'll love the honesty. Available here or on Amazon!
5. Homemaking Bundle :: For the mom who loves a good deal. This is a no-brainer, because it's like getting a bazillion gifts in one. The bonuses alone are amazing gifts for Mother's Day! Like a beautiful scarf of your choice from Deborah & Co.? Or a gorgeous print that you can frame for your home? And a subscription to She Plans Dinner, so you don't even have to think about dinner plans for 90 days? PLUS, books on marriage, motherhood, homemaking, and more? All for under $30? Um, yes please. Husbands, you best get a jump on this one.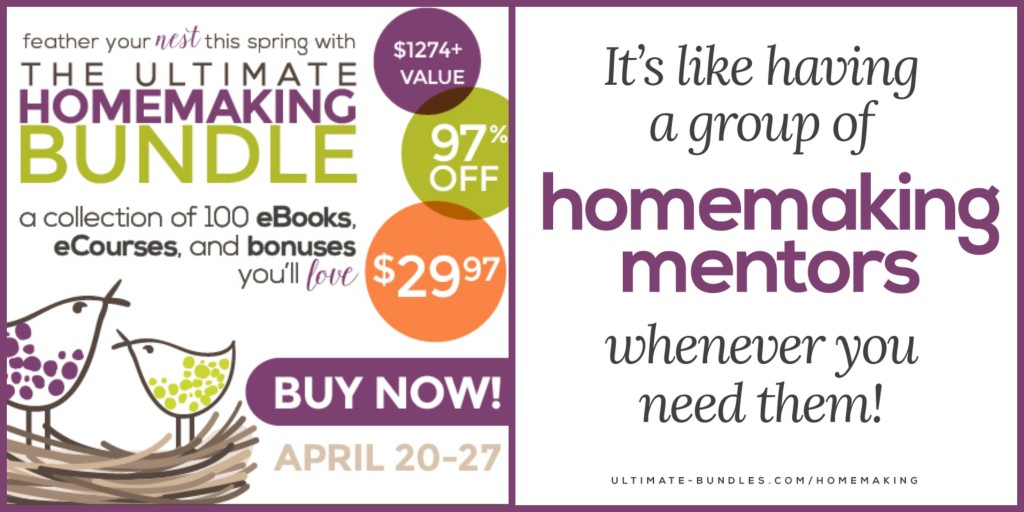 6. Erin Condren Life Planner or Personalized Notebook :: For the mom who loves to plan! These beautiful planners and notebooks can be totally customized, which I loooooooove. You can even put your own pictures on them! The planners are great for schedules, meal planning, fitness tracking, and more! The notebooks are awesome for family journaling, business tracking, note-taking, and whatever else you do with notebooks!
7. Inkwell Press Collection :: For the mom who loves notebooks. Oh, I'm in love with these lately! Inkwell Press is a relatively new company but every single product they've launched has just knocked it out of the park. My latest favorites are the journal & the fitness planner. I may or may not have ordered both last week. Believe me – every mom will LOVE these!
8. Enjoy Your Life Course :: For the mom who is overwhelmed and just needs some help getting her life back on track. Or the woman whose schedule is so full and planned that she's forgotten what it's like to have any margin in her life. For anyone who needs to remember that life is meant to be lived abundantly – this is for you! And it's totally free with your purchase of #4 above. So basically just one more gift, FOR FREE.
9. Stitch Fix :: For the mom who has forgotten what it's like to shop for grown up clothes. I don't know about you, but my closet is pretty full of t-shirts and yoga pants these days. Stitch Fix reminds me that I'm more than a mom! You get a personalized shopper who puts together a box according to your exact preferences and measurements. I love pretty much everything that they send me, and having the box delivered to my house means I don't have to battle the awful dressing room mirrors at Target. Yay! Plus, I have grown-up clothes for the times I actually get to go on a date with my husband. Or, you know, church.
10.  Project Life :: For the mom who prioritizes memory keeping. Project Life is scrapbooking made easy. Print your photos, write a few memories on the adorable PL cards, and slip everything into sleeves that fit into an album. It's a seriously easy way to keep your memories, and keep them beautifully! My favorite core kits right now are the seafoam kit & the inspire kit, and I love the baby boy and baby girl kits for baby books!
---
What's a good Mother's Day post without a fun giveaway?!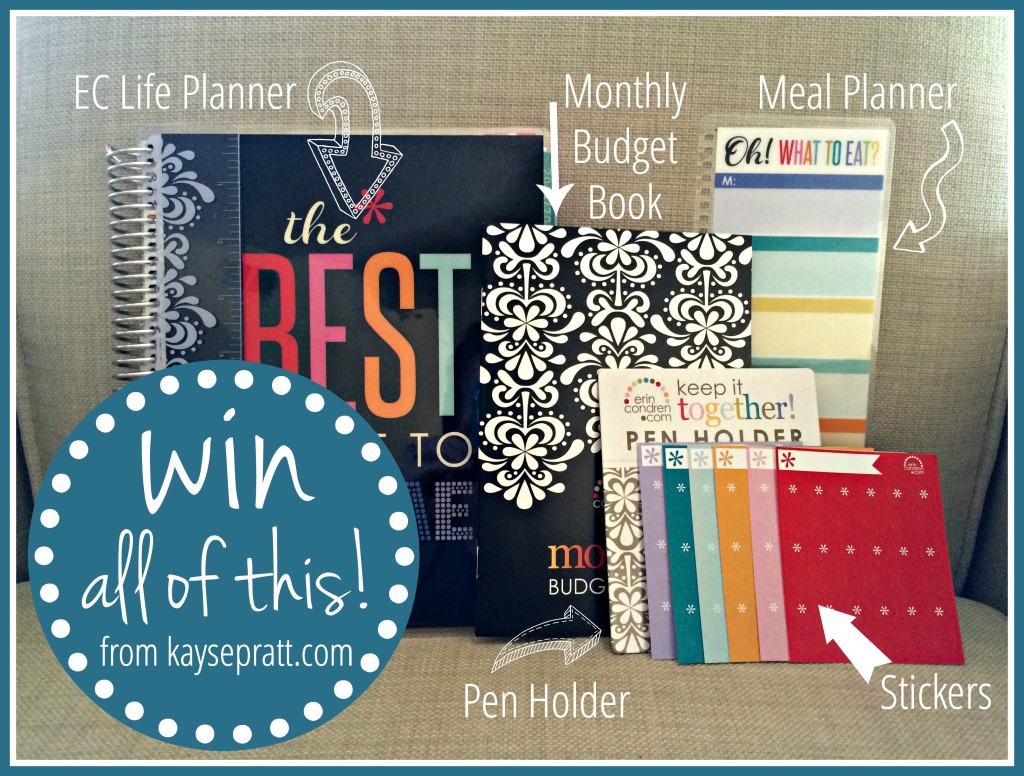 Enter below to win this super fun gift pack from Erin Condren! (If you're reading this in your email, click here to come on over to the blog and enter to win!)
a Rafflecopter giveaway
Plus, Win One of 2 Inkwell Press Gift Cards!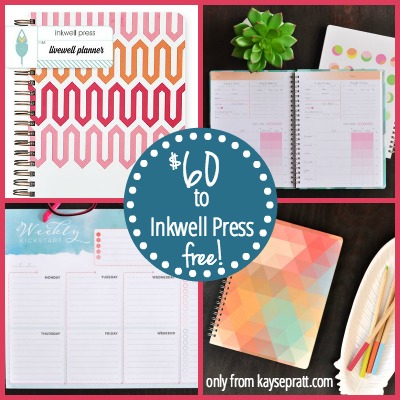 Be one of the first TWO people to purchase the Ultimate Homemaking Bundle TODAY, April 23rd, and win a $60 gift card to Inkwell Press! That's enough to cover anything you want from their beautiful collection! Click here or on the button below to purchase, and then MAKE SURE you go here to fill out the form to claim your gift card! The first two to do both of those things will win!
Kayse is a wife, mom, and founder of the Anchored Women community. She writes to help women fight busy, find rest, and build a life that's anchored in Christ. Kayse is also the creator of the S.O.S. Planner, the Anchored Life Kit, and other practical resources that equip women to manage their homes and families in confidence. You can find her writing and her resources at anchored-women.com!