Our Daily Routine + How It's Working
A few months back, I realized our daily routine was pretty…nonexistent. I was drowning in to-do lists, the kids weren't really sure what we were doing each day, and everyone just felt a little…floopy.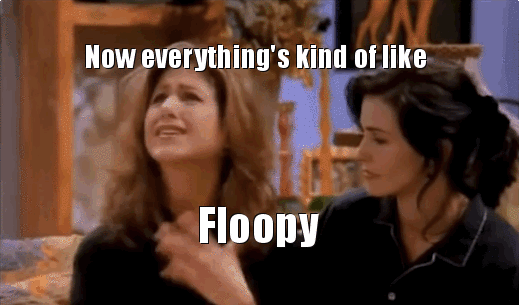 We needed to get a daily routine in place – I knew it, and even the kids knew it! We had too many things going on to manage our day without a little structure.
I started looking at my Daily Routine like a well-organized closet. To organize that closet, I'd take everything out, sort it into categories, and put things back on the shelf that makes the most sense. Each shelf would hold a particular category of items, and – most importantly? – everything would have its own place.
That's EXACTLY how I approached our Daily Routine, except with our TIME instead of our STUFF!
The 3 Main Parts of Our Day: Morning, Afternoon, and Evening.
The easiest way for me to organize our day was to divide it into blocks of time. I tried to keep this super simple, using three blocks for Morning, Afternoon, and Evening. Each block of time got its own focus, and that focus would dictate the tasks that went into that block.
Here's our current daily routine:
Morning Focus // Schoolwork
Chores
Breakfast
Table Time
Break
Independent Work
Afternoon Focus // Work + Rest
Lunch
Clean + Tidy Time
Kids: Quiet Time
Mom: Work Time
Dinner Prep
Evening Focus // Family Time
Dinner
Family Time
Downstairs Tidy
Baths + Bed

I want to point out that I do not have times assigned to ANY of these things! In our home, the Daily Routine is a rhythm, not a schedule. For the most part, our meals serve as the transition point – we shift to our afternoon block with lunch, and our evening time with dinner.
When we divide our days into blocks of time, we give ourselves the gift of focus.
When it's time for schoolwork, I do not check my phone, reply to work emails, or purposely brainstorm business strategy. It's not the time for that – it's time for me to focus on my kids and our homeschool activities. And I truly don't have to even think about work during that time, because I know I'll have time to work later – when it's scheduled during the afternoon.
It works the same way when it is my work time – I don't have to worry about homeschool during that time, because I'm not currently in that block of time.
The routine is decided ahead of time, so I don't have to continue making decisions about how to spend my time (or my focus) all throughout the day.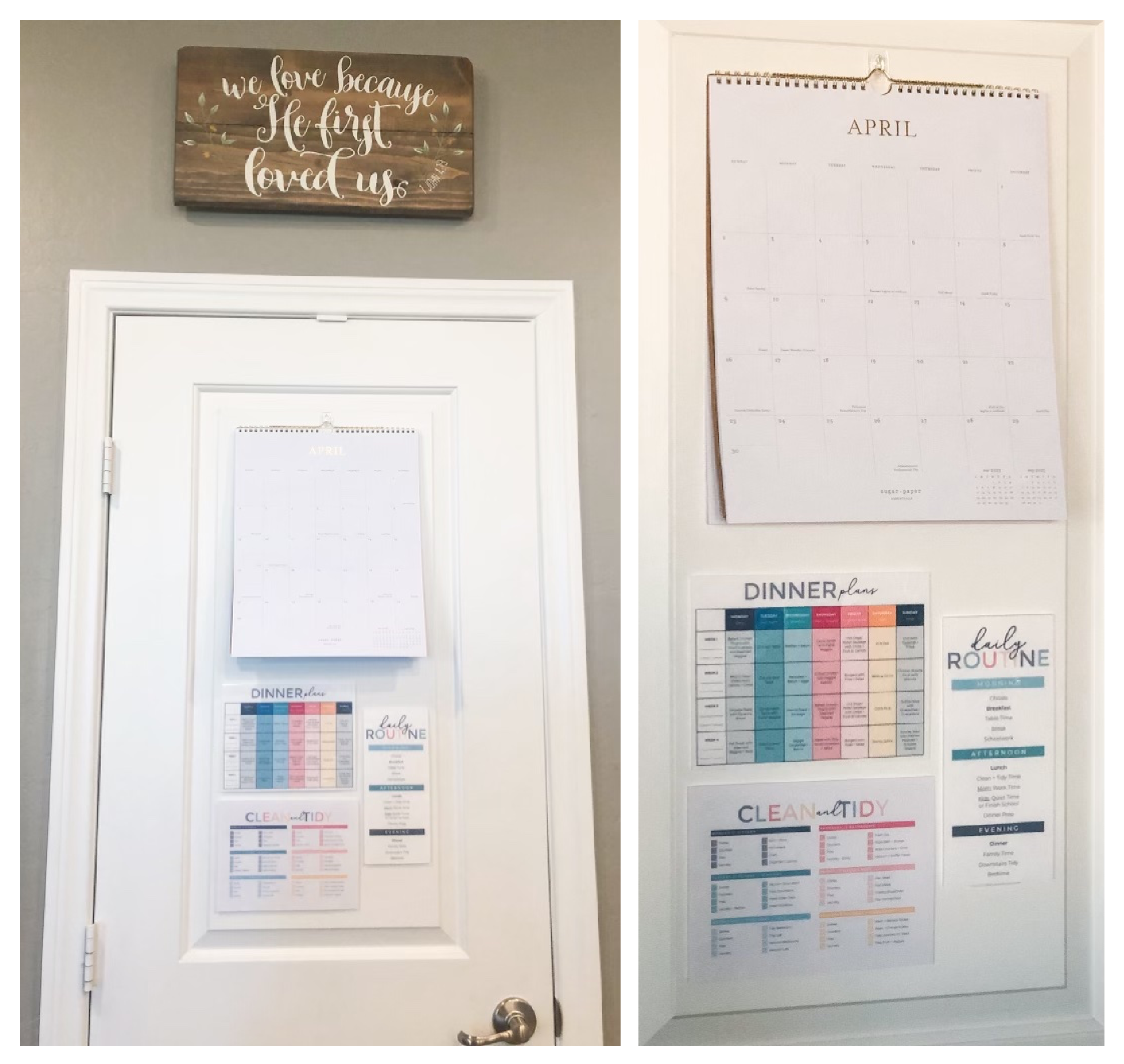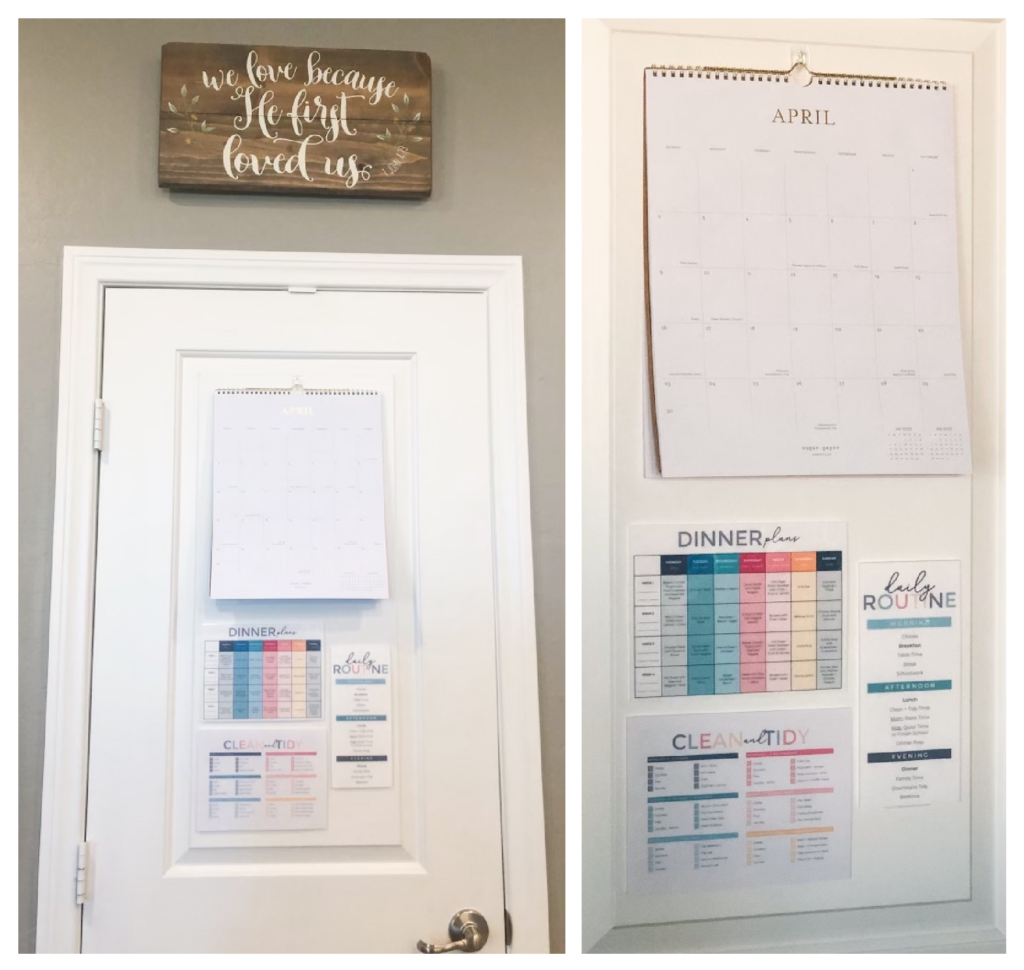 How it's Going:
You guys – this new Daily Routine has been revolutionary for us! I have created many-a-routine before, but this is the first time I really focused on everything having a place throughout the day.
This simple routine has also served my kids SO WELL. Kids need structure and stability, and when they know what is coming, they are more prepared to handle it with confidence and peace.
And you know what? The same principle applies to me! When I have no idea what we're doing next, I'm naturally more stressed and concerned with ALL THE THINGS. The Daily Routine has taken so much decision-making off my plate, which frees up my mental space for all the other things I'd LIKE to focus on!
Here's what I've learned through this – for ALL of us: When we know what the routine is, and what to expect, we can focus freely on what's right in front of us, instead of worrying about everything else.
The Daily Routine lives on our command center (which is super fancy – on our pantry door!), so we can all see it throughout the day. It keeps us on track, and gives us a space to check in on where we're at all day long!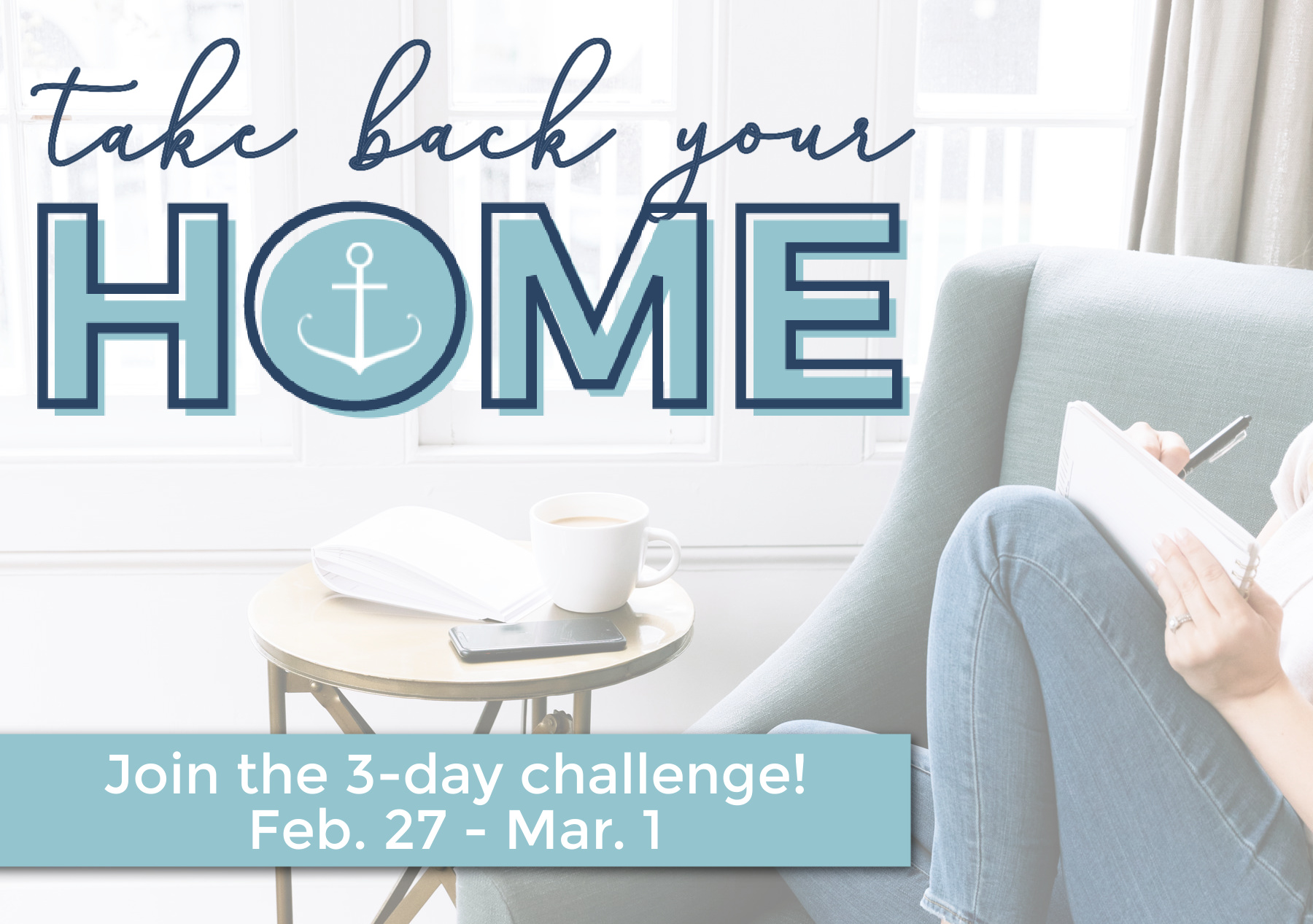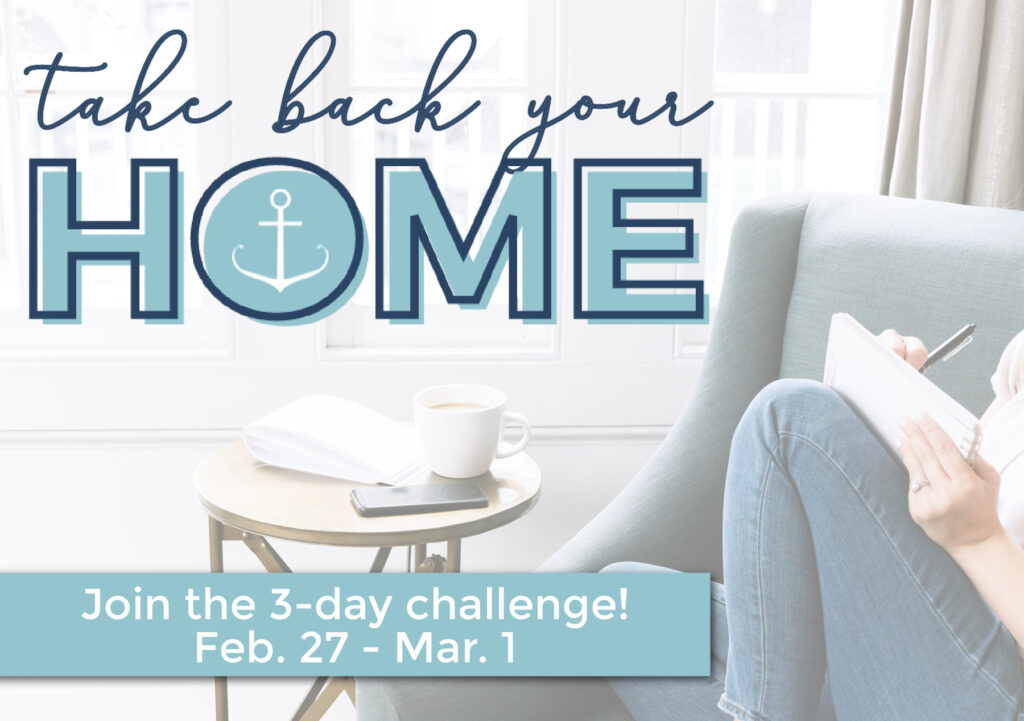 You're Invited…
If you know that your own daily routine (and maybe even more!) needs a bit of a revamp, I'd love to invite you to join me for a FREE 3-Day Challenge happening February 27th-March 1st!
We're calling it the Take Back Your Home Challenge, and we'll spend three days together, diving into:
What our homes COULD be, and why they even matter in the first place.
Our role in our homes – especially figuring out what's ours to do, and what we can delegate to others.
What a peaceful plan to manage our homes with ease might look like, one that makes sure every task has a place!
Each morning you'll get an email with a video, and each EVENING I'll host a LIVE chat, where you'll get the opportunity to chat with me + other challengers! We'll use that time to tackle your questions, work through any issues, and help you make some serious progress in your home management!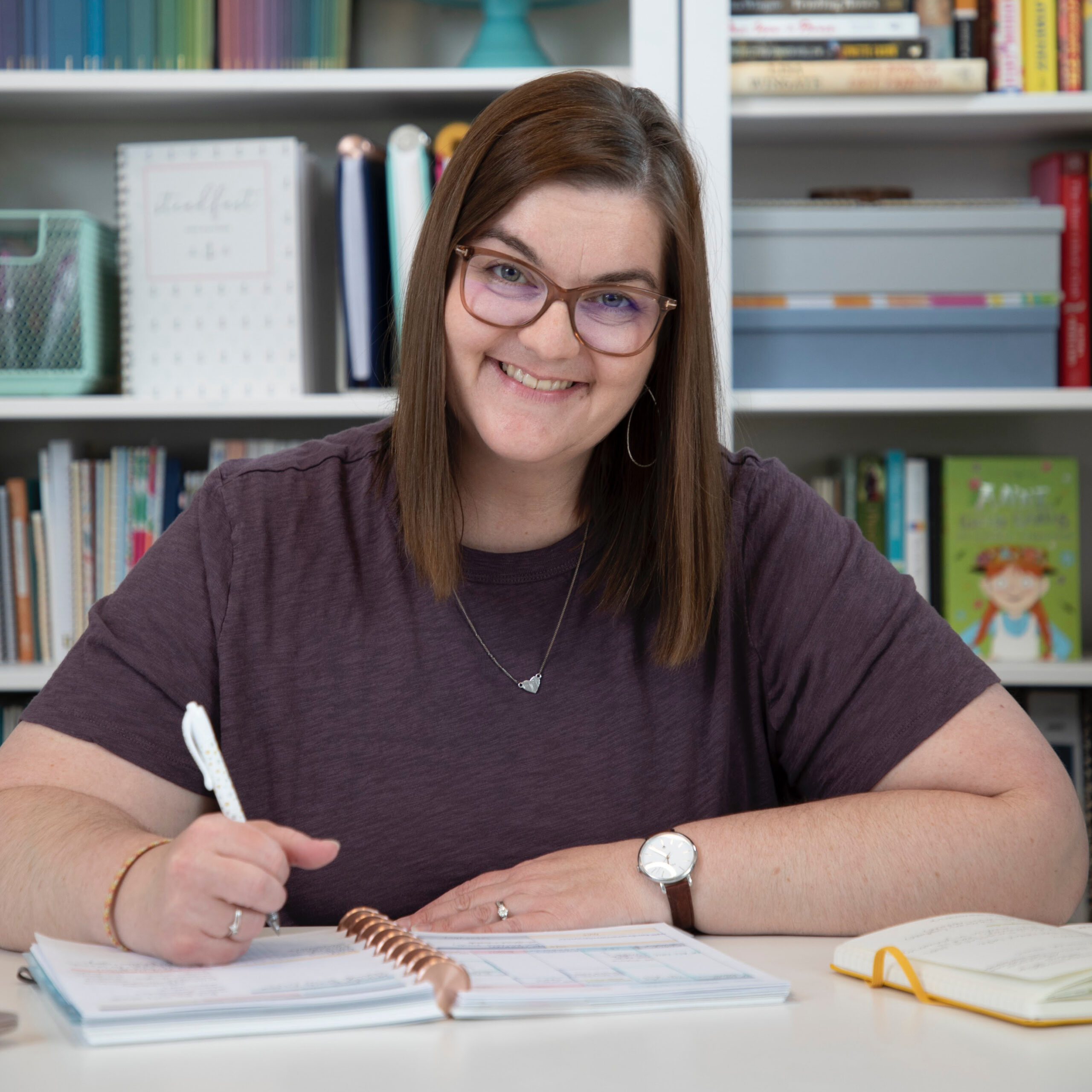 Kayse Pratt serves Christian women as a writer + designer, creating home + life management resources that help those women plan their days around what matters most. She's created the most unique planner on the market, helped over 400 women create custom home management plans, and works with hundreds of women each month inside her membership, teaching them how to plan their days around what matters most. When she's not designing printables or writing essays, you'll find Kayse homeschooling her kids, reading a cheesy novel with a giant cup of tea in hand, or watching an old show from the 90's with her husband, who is her very best friend.