The last two weeks have been hard on our marriage.
Two people on different pages, not for any specific reason but just because life got in the way.
Life has been hard on our marriage.
And Monday night, in one of those at-your-wits-end arguments, we threw in the towel.
Not at each other. Not at our marriage.  But at the way we'd been doing it.
It just wasn't working. We'd been looking out for ourselves and not considering the other. And after a couple of weeks of that, you start to become overtaken by bitterness and anger and frustration at the way the other person keeps failing. You try to fight for yourself and it feels like beating your head against a brick wall.
You don't get anywhere.
We weren't getting anywhere.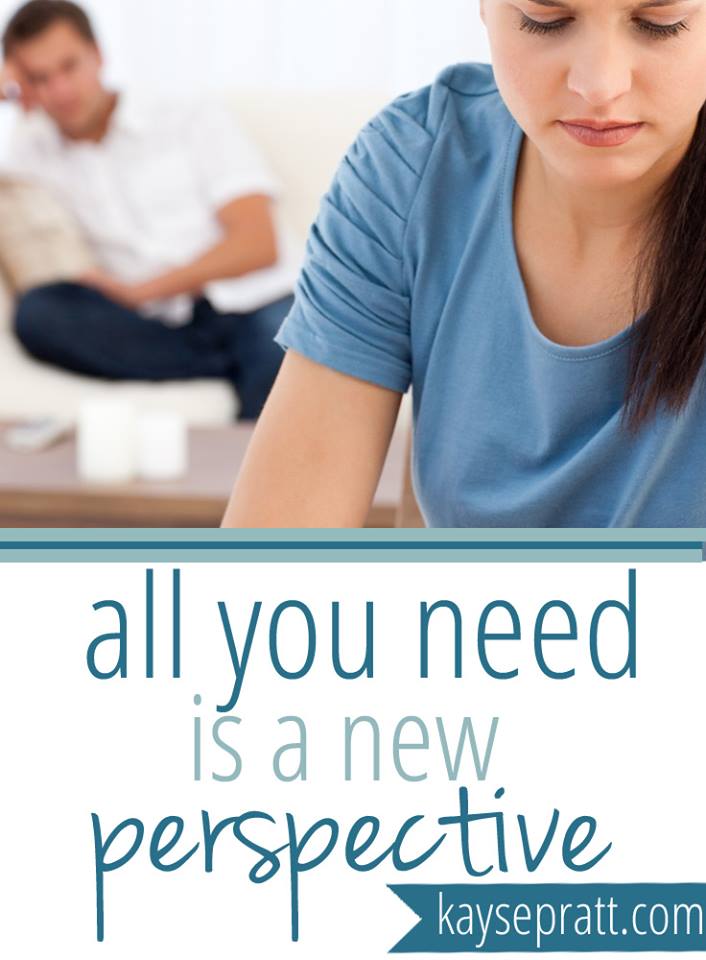 So, right there, in the kitchen, we made a decision. We changed our perspective.
Sometimes, that's all that's left to do.
Maybe it sounds simple. Maybe that's because it is. But we decided to try and outlove each other. For one week.
No judgments. No criticism. Just loving and encouraging the other person. For one week. And then if there were issues, we could talk about them at the week's end.
But somehow, in the last few days of really trying to love one another, all judgements aside, the issues seem to have vanished. And we are smiling again.
Funny. Perspective can make all the difference. Do you need to change yours?
*I'm linking up with Lisa-Jo for 5 minute Fridays, 
where we write for 5 minutes flat on the given topic. 
Will you join us?
Kayse is a wife, mom, and founder of the Anchored Women community. She writes to help women fight busy, find rest, and build a life that's anchored in Christ. Kayse is also the creator of the S.O.S. Planner, the Anchored Life Kit, and other practical resources that equip women to manage their homes and families in confidence. You can find her writing and her resources at anchored-women.com!