We commonly refer to these homemade croutons as "Crouton Crack" in our house. You'll understand why soon enough.
I have my Aunt Candi to thank for these beauties. She taught me how to make them a few years ago, after I raved about her own homemade croutons. She's awesome in the kitchen, and she owned her own catering company, so… yeah, these are to-die-for. And you'll certainly never have to send your hubby out for store-bought croutons EVER AGAIN.
Especially after you see how ridiculously easy they are!
Ingredients
French Bread Loaf
Olive Oil
Garlic Salt
Italian Seasoning
Instructions
Dice the bread up into small cubes. Put them in a mixing bowl.
Pour enough olive oil into the bowl to lightly cover the cubes.
Season with garlic salt and Italian seasoning, to taste. Personally, I go a little heavy on the salt. Jon says he doesn't like salt, but he never complains about these babies, and somehow half of the pan is always missing after I get these out of the oven, so… You do the math.
Mix everything up with your hands until the cubes are well covered.
Spread out in a single layer on a cookie sheet covered in aluminum foil.
Bake at 350 for 10 minutes. Toss/flip cubes once at the five minute mark.
Use to top salad OR just eat them for fun. Like I said, CROUTON CRACK.
And there you have it, my friends. No need to ever buy store-bought again. In fact, I'll hunt you down if you do.
Just kidding. But really, these are way better.
PIN IT!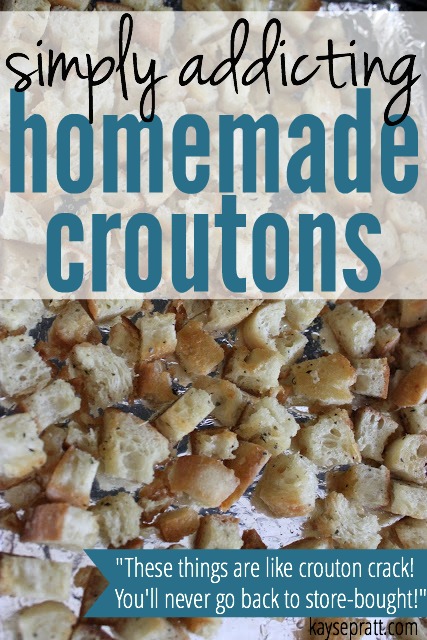 (Don't they look yummy?? THAT'S BECAUSE THEY ARE!!!)
Kayse is a wife, mom, and founder of the Anchored Women community. She writes to help women fight busy, find rest, and build a life that's anchored in Christ. Kayse is also the creator of the S.O.S. Planner, the Anchored Life Kit, and other practical resources that equip women to manage their homes and families in confidence. You can find her writing and her resources at anchored-women.com!