Plan With Me: Peek Inside My Monthly Planning Process!
Today, we're going to dive right into the four crucial steps that you need in order to plan a month with purpose and clarity! I've got both a YouTube Video AND a blog post for you. Read the post below, or watch the video for a little more detail!
Why Monthly Planning?
It's very easy to run headfirst into the next month, on your way out of the last one. You're putting out fires and playing whack-a-mole with all the responsibilities on your list, and you can very easily just let one month bleed into the next.
But I want to encourage you to do things differently. Let's give ourselves the gift of a little time to think about…
How the last month went
How you're doing mentally, emotionally, spiritually
What you need in the month ahead
What your family needs in the month ahead
Because all of these things are absolutely going to affect the next month ahead of us! Planning matters because it gives us that time to reflect on what's just passed, and refresh our perspective (and focus!) for the month ahead.
Alright, let's dive in to the 4 steps of monthly planning!
Step 1: Your Monthly Schedule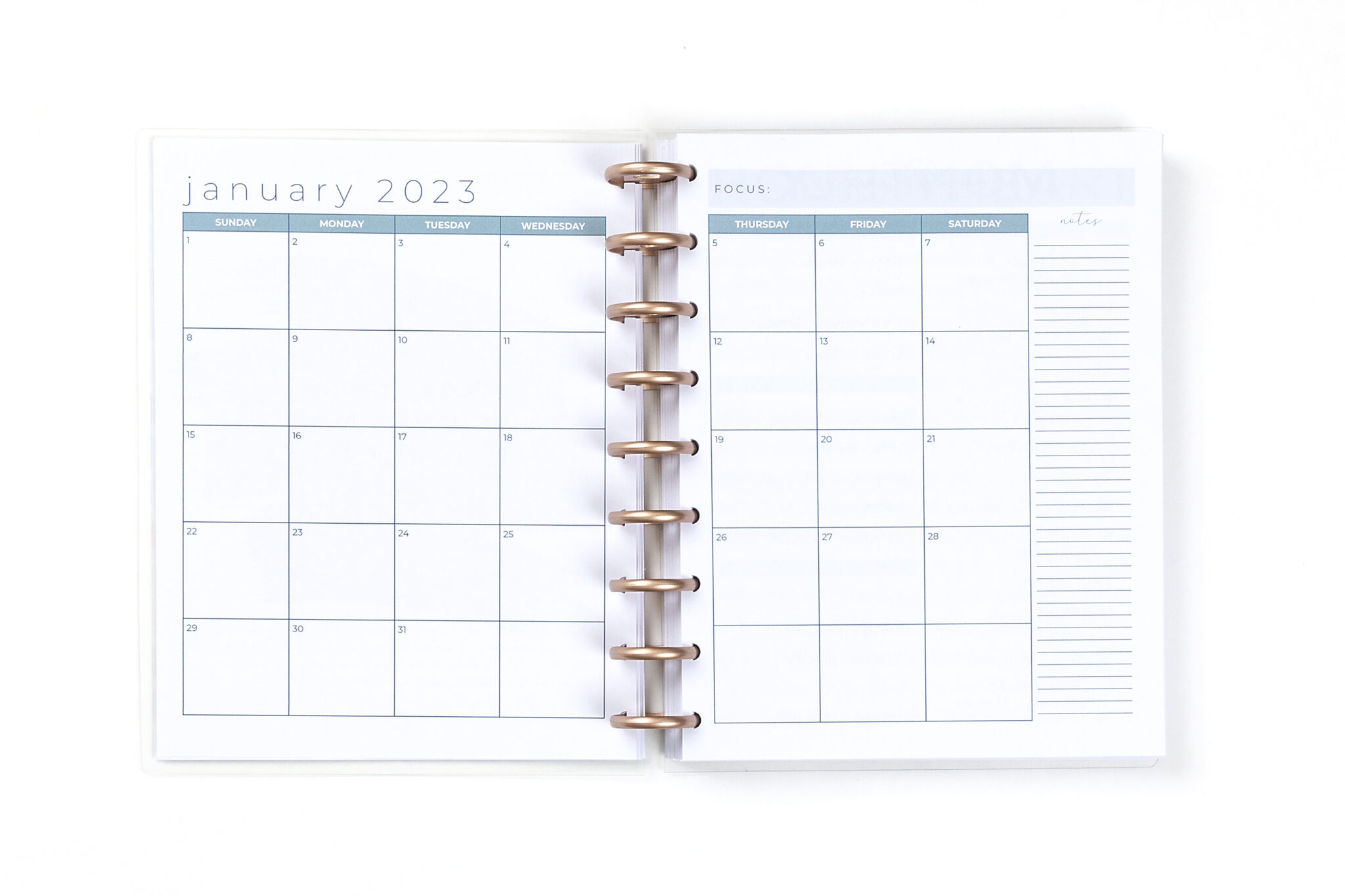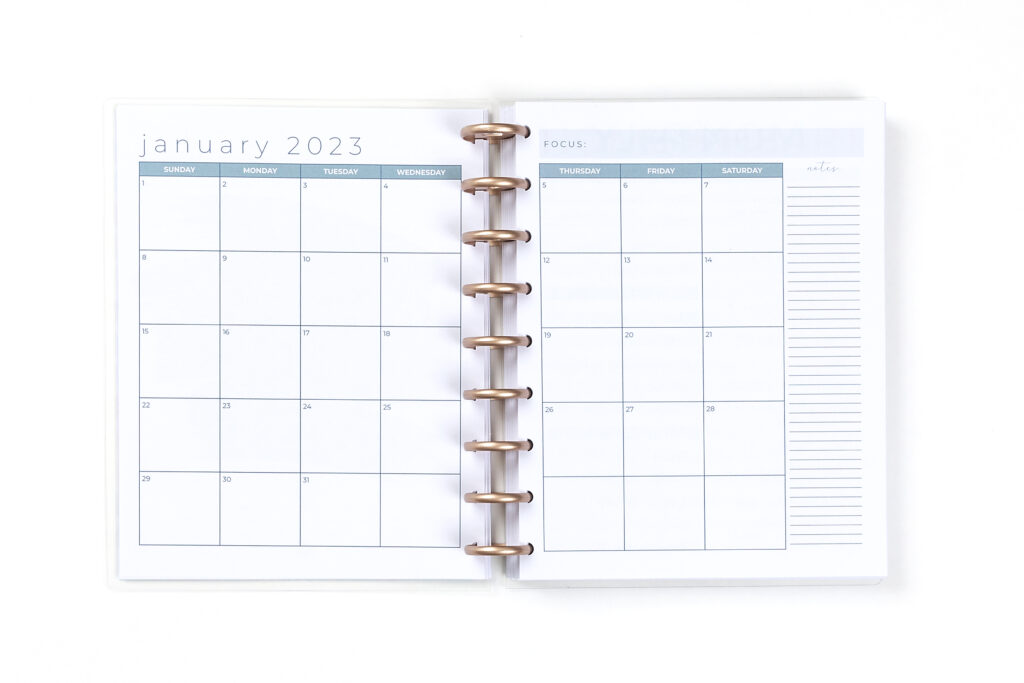 The first thing we want to start with is our monthly schedule. Take some time to write out everything that is going on in the month ahead, your appointments, your events, etc.
Why do we start here? Because once we have our monthly schedule written out, we can easily see where we have margin and where we don't. And margin is absolutely one of those things that we want to protect, going into any month of the year. When we can see this written out in front of us, we can more easily decide what should stay, and what needs to go!
Step 2: Monthly Meal Ideas List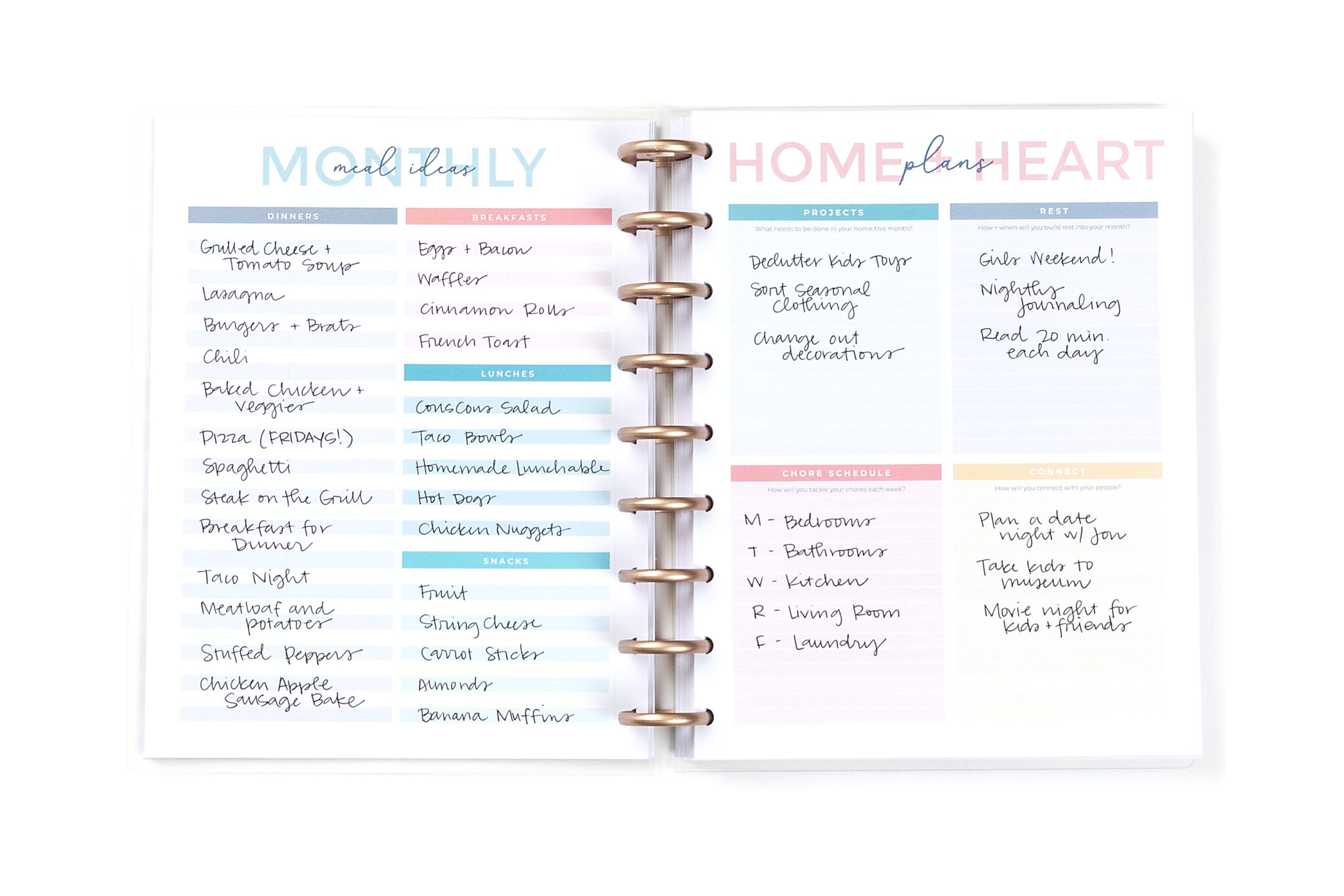 Our next step is going to be writing out a list of meal ideas. I do this once a month and I write out a list of ideas for dinner, breakfast, lunches, and snacks.
Now, this is not a monthly meal plan – this is an ideas list! That's it – a list of meal ideas. You're going to take 10 minutes to write down all your ideas for meals this month – that way, when you get to your weekly planning, it's so much easier to just pull from this master list, instead of searching Pinterest for something inspirational!
Step 3: Home + Heart Plans
This is a step we're all very likely to skip. But this is one of the most important things to think through as you're planning the month ahead! Between our home and our heart, life has the ability to get really overwhelming, really quickly.
So we focus on four areas, two for the home and two for the heart.
Home Plans:
Projects // What are the projects that you need to get done or that you want to get done in your home this month? Write them down.
Chores // I want you to think through your chore schedule for the month. Some people like to focus on one area of their house each week. Some people like to focus on one area of their house each day. It's really up to you. But the point is that when we're sitting down to do this monthly planning, we're thinking it through first. We're making these decisions ahead of time to save our future selves a lot of stress and overwhelm.
Heart:
Rest // You were created to rest. You were not created to be productive all the time. And if you push yourself too hard, if you focus on productivity over anything else, you're going to burn out. So, I really want you to think through how you're going to rest this month.
Connection // We were also made for relationship. So, this is a time for you to stop and think through a few different ways that you are really gonna connect with your kids, with your husband, with your friends each month.
Now, I want you to do something with these Home + Heart Plans – I want you to go put them on your calendar. We all know that if it's not on the calendar, it's probably not gonna happen. Think through how you ARE going to make these things happen, what's realistic for you in this season, and then put them on your monthly calendar or weekly calendar. Write it down. Get it on there!
Step 4: Focus + Goals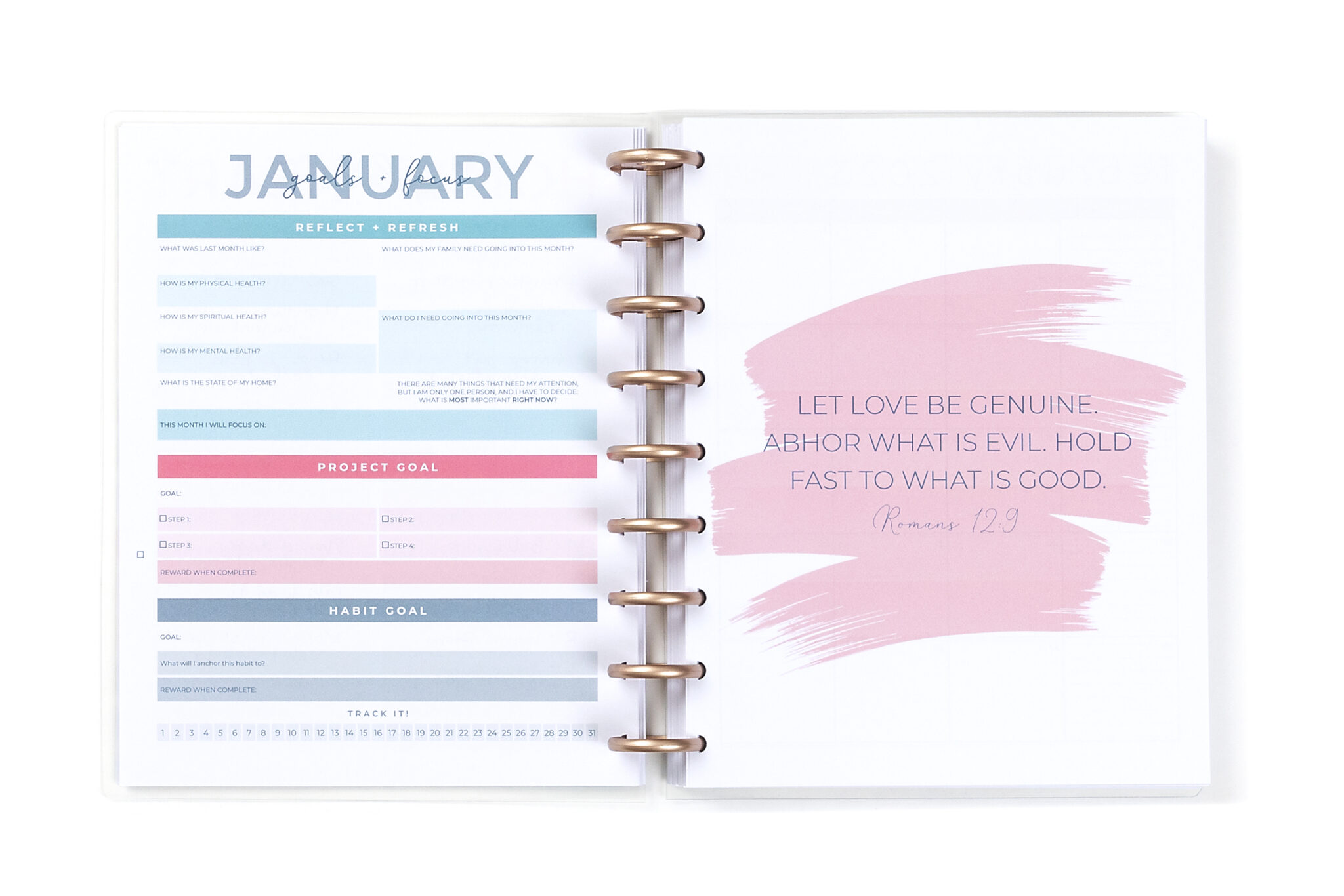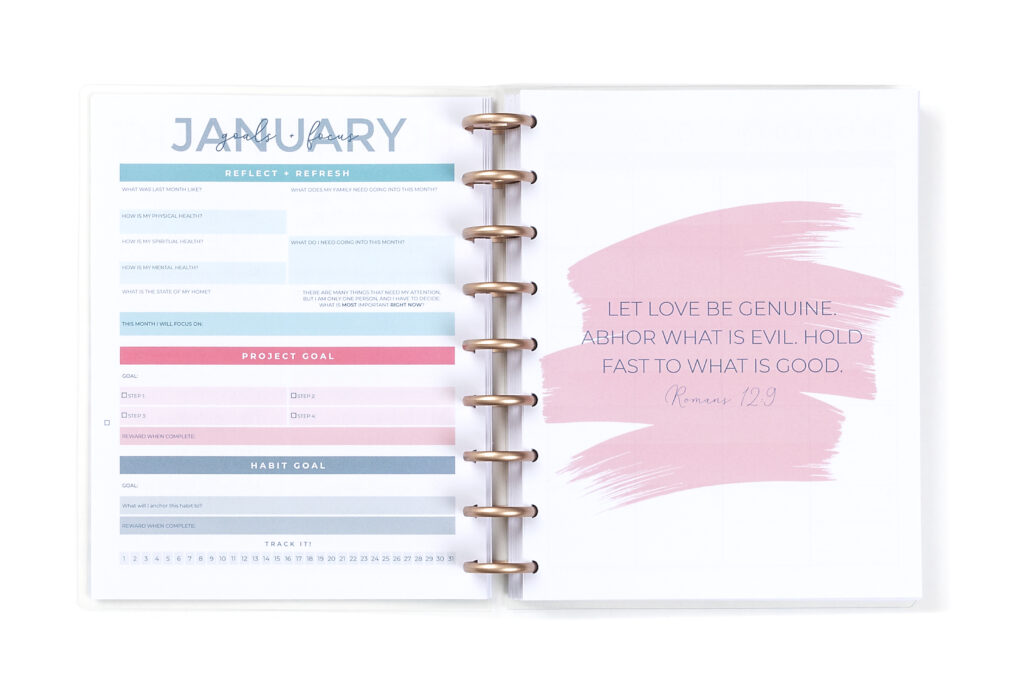 As we find a focus for the month ahead, we want to first reflect on the month the just passed, asking ourselves some important questions:
What was last month like?
How is my physical health?
How is my spiritual health?
How is my mental health?
What is the state of my home?
What does my family need going into this month?
What do I need going into this month?
All of these things REALLY MATTER when it comes to planning out the month ahead – they affect everything! If you just came from a really busy month, you likely need to incorporate some more rest time. Maybe you came from a month that was really slow, so now you feel energized and ready to start a new project or serve others in a different way!
Once we have answers to those questions, we can narrow in on our focus for the month, and then set our goals!
---
And that's our monthly planning process! I hope this has been a helpful breakdown of exactly how you can plan your month, too!
If you're still looking for a planner of your own for the year ahead, our 2023 S.O.S. Planners are now available! And the best part? This monthly planning process is written right into your monthly prep each month! Click here to shop our new planners.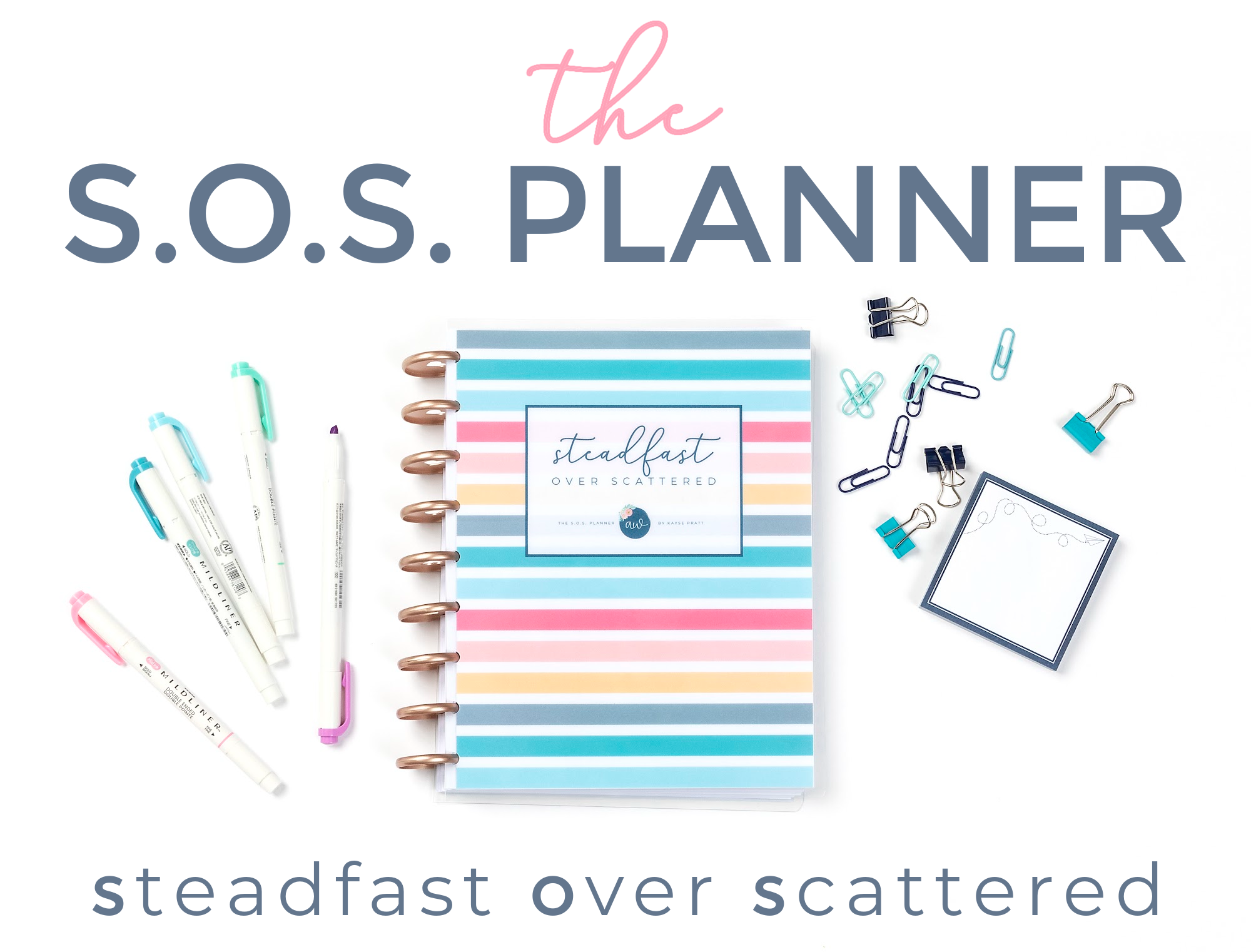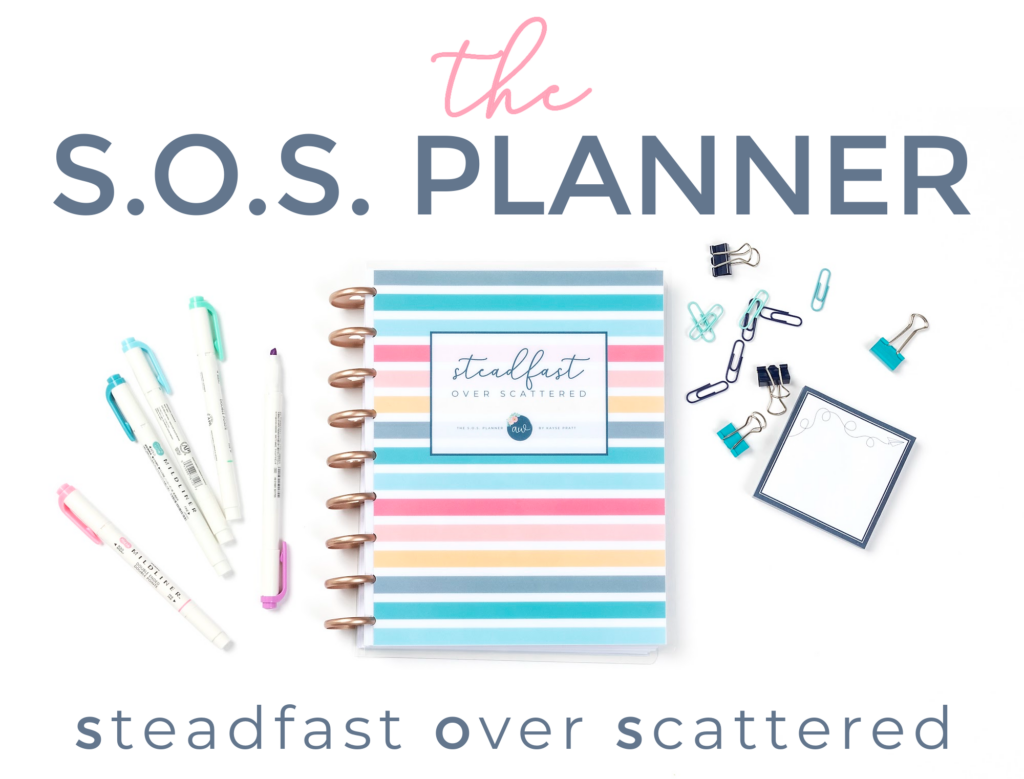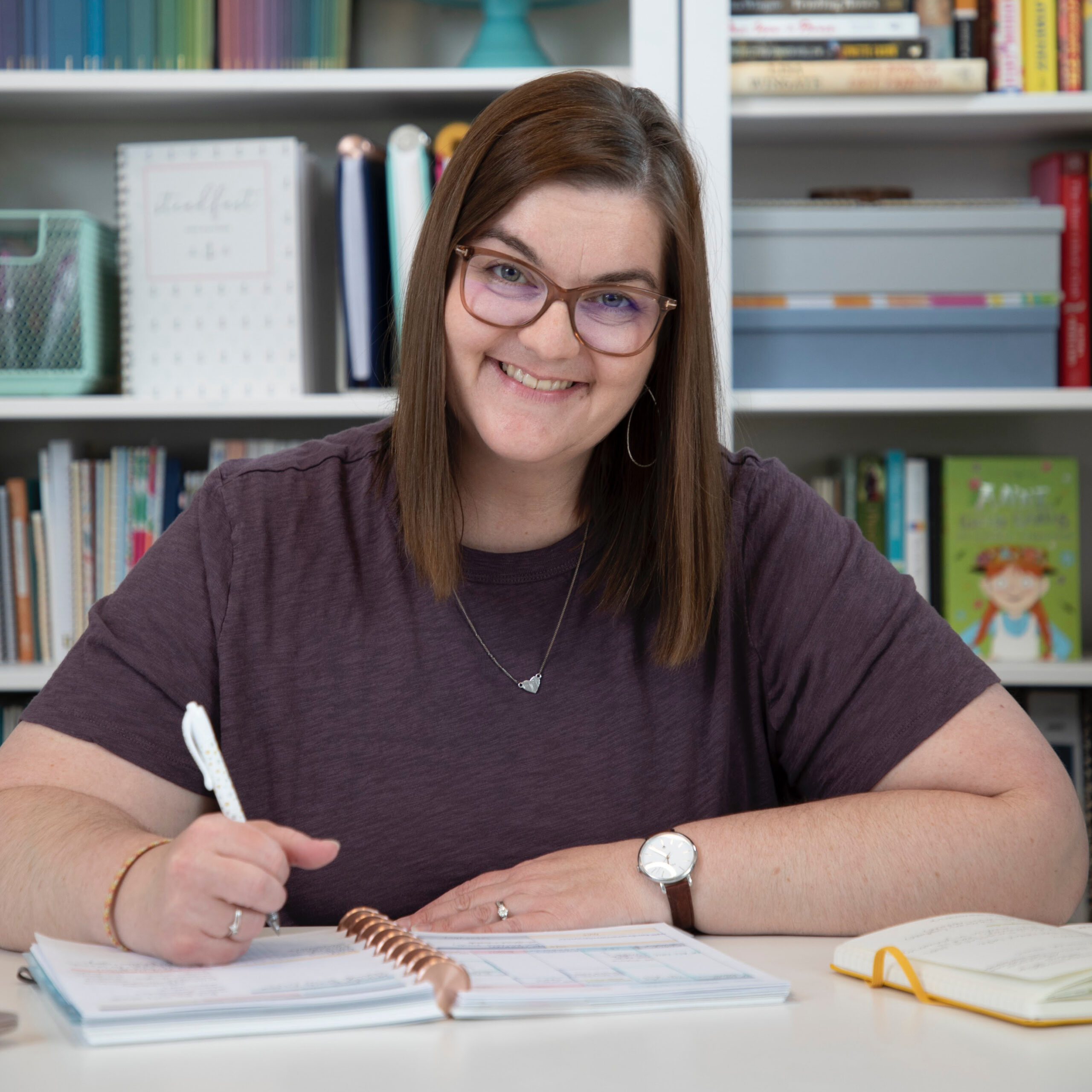 Kayse Pratt serves Christian women as a writer + designer, creating home + life management resources that help those women plan their days around what matters most. She's created the most unique planner on the market, helped over 400 women create custom home management plans, and works with hundreds of women each month inside her membership, teaching them how to plan their days around what matters most. When she's not designing printables or writing essays, you'll find Kayse homeschooling her kids, reading a cheesy novel with a giant cup of tea in hand, or watching an old show from the 90's with her husband, who is her very best friend.