SIMPLE SOLUTIONS // Meal Planning!
Hi friends!
Well, I planned to do live videos for this week's series, but Sunday night I started getting sick, and this morning (Monday), I woke up with a very sore throat and no voice.
Which kind of makes video impossible.
Instead, I'll be turning all the helpful tips I was planning to share in the videos into a blog post each day for you! And hopefully, by the end of the week, my voice will come back and we can get back to the live party!
So today, we're going to kick off this celebration week with a ton of practical meal planning help for you!! And don't worry – we'll still be doing a giveaway!!
Why are we celebrating? Because this morning we opened up the doors to The Anchored Life Kit!!
The ALK is our monthly membership that helps you manage your home and family in confidence, while freeing up your time to spend with your people. We only open it a few times a year, and right now is one of those times! Doors are only open through Saturday, so if you haven't already, come on over here & check it out!
Every day this week, we'll be talking about ONE simple solution that will help you manage your home and family well. Today's topic? Meal Planning!! Today's giveaway? An Anchored Women Meal Planner! Get the details on entering below!
Alright, let's talk meal planning!
4 ways to simplify your meal planning each week!
Tip 1: Plan by the MONTH 
Yep. I said it. Instead of planning your meals by the week, plan them by the MONTH.
But I don't want you to assign meals to each day. What I want you to do is simply create a list of meal ideas that you'd like to make for the month. That's it! One master list of meals you might want to make for the month. Include some family favorites, some seasonal meals (like soup in the Fall!), and some new meals you might want to try!
When you plan meal ideas by the month, you make your weekly meal planning so much more simple. Instead of searching all of your cookbooks and Pinterest for things you want to make that week, all you need to do it pull out your monthly meal ideas list, and go!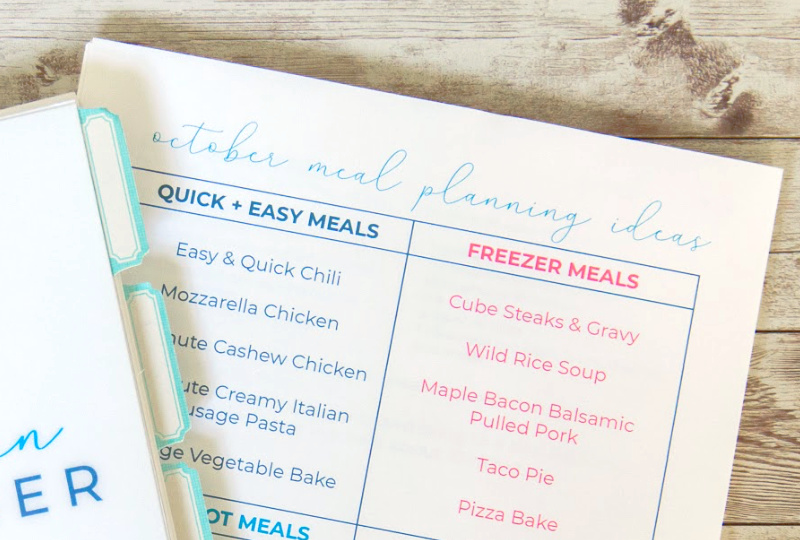 Tip 2: Create THEME DAYS
I don't mean elaborate theme days, I'm talking about giving yourself a framework to make meal planning easier. This kind of theme days system means that you know exactly what kind of meals you're going to cook on certain days.
For example, you might have a night where you always use the crock pot (that's Wednesdays for us, because we don't get home until dinner time!), nights where you always need a quick and easy meal, and nights where you always get pizza. Maybe you know that the only nights you have to create new recipes are Tuesdays and Saturdays, so new recipes are scheduled for those days only! The idea is to give yourself a framework so that you can pull the appropriate meals from your ideas list as you go to plan your week.
Here's our current Theme Day schedule:
Monday: Baked chicken
Tuesday: Tacos or Taco Bowls or Enchiladas
Wednesday: Crock Pot
Thursday: Instant Pot (something new!)
Friday: Pizza Night
Saturday: Bigger Family Meal
Sunday: Snacky Dinner (charcuterie board)
So, when I go to meal plan each week, I can pull appropriate ideas from my ideas list & plan in 5 minutes flat!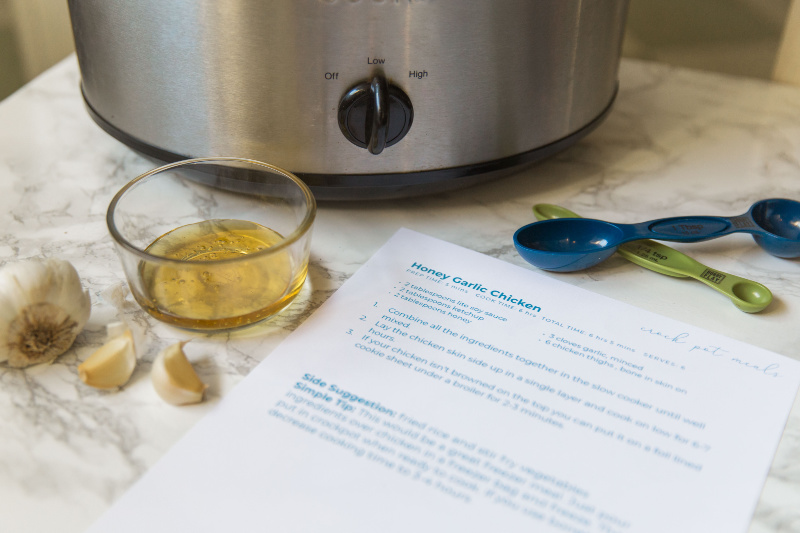 Tip 3: Simplify your options
Listen, I understand getting lost in the black hole of recipes that is Pinterest. But the truth is, spending all of your time looking up new recipes and ideas can be incredibly time consuming – time that you might have wanted to spend in other ways!
So one of the best things I've done is to simplify our meal planning options. First, I plan 4 family favorites and 2 new recipes each week. And those new recipes I pull either from one of my two favorite cookbooks, or the meal plan ideas we include in our Anchored Life Kit.
With the Anchored Life Kit, you get a whole month's worth of meal plans in 4 main categories – Quick & Easy Meals, Crock Pot Meals, Instant Pot Meals, & Freezer Meals. We put this list of meals together for you, paying close attention to the season and the ingredients (so you don't have to buy a bunch of different things!). Every month, you get a new meal plan, complete with a list of meal ideas AND recipes for each of them!
Simplifying where I find recipes has saved SO MUCH TIME. And that's exactly what we've designed the ALK to do!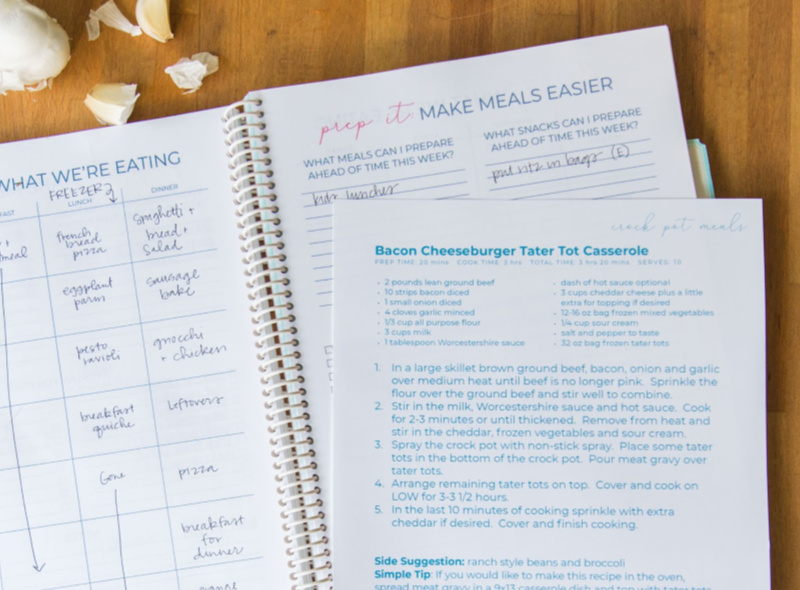 Tip 4: Have FUN!! 
It's so easy to get into a dinner rut, right? But dinner CAN be a lot of fun, especially when you pay attention to the crazy "days" of the month!
That's why, in the Anchored Life Kit, we also include a simple Family Fun Nights resource – giving you a handful of fun ideas that apply to the month, like "National Pancake Day" or ideas for Valentines dinner at home! You can totally look up all of these ideas yourself, but in the ALK we do it for you!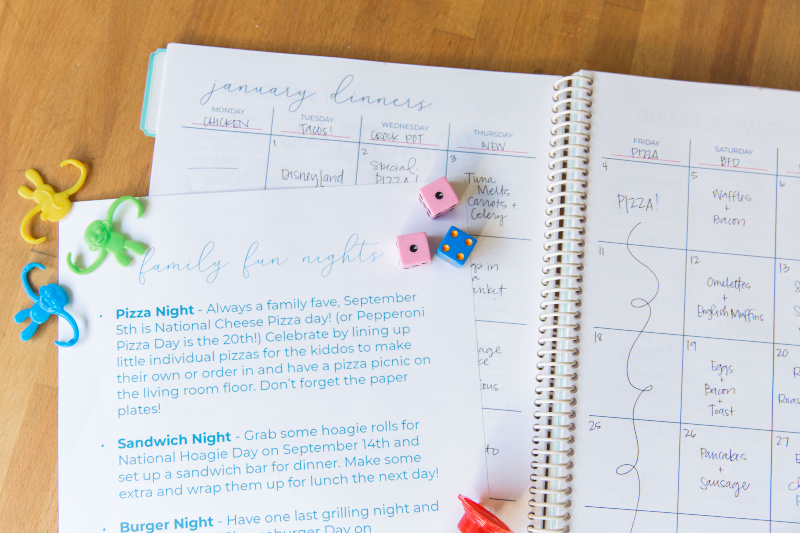 If you want even more help with your meal planning, you'll LOVE the Anchored Life Kit!! It's our monthly membership that equips you with everything no need to manage your home and family effectively, so you can free up your time & actually spend it with those people you love. Make sure to check it out this week, because our doors are only open through Saturday!
As a member of the Anchored Life Kit, you receive:
Healthy, simple meal ideas with unique new recipes each month that your whole family will love.
Our highly-acclaimed Home Care Checklist, to help you seriously simplify cleaning your entire house in way less time.
Our Decluttering Guide, focusing on just one area of your house each month for you to purge, declutter, and organize.
A monthly Routine Guide & Masterclass where we go deeper into a specific routine that will to help you live intentionally & free up even more time.
A Bible study plan with 3 levels of study for you to choose from, giving you a very simple way to get into the Word each day.
Seasonal idea lists for managing your finances, connecting with your family, and caring for yourself – all relevant for that specific time of the year.
An incredible, active community of women just like you who provide encouragement, support, and ideas to help you continue managing your home & family in confidence!
And you get all of this in printable AND digital form, so you can either print off your resources, or access & use them on any mobile device!
Pretty great, right?! Our membership is the one thing we offer here at Anchored Women that I am the MOST proud of, and most passionate about getting into your hands – because I know exactly how much it can change your day-to-day life by freeing up your actual time and your mental energy.
Plus when you join as a member THIS WEEK, you also get over $65 in bonuses!!!
P.S. Don't forget to enter to win the giveaway below!! One lucky winner will receive our Anchored Women Meal Planner – the perfect way to plan and organize your meals, all year long!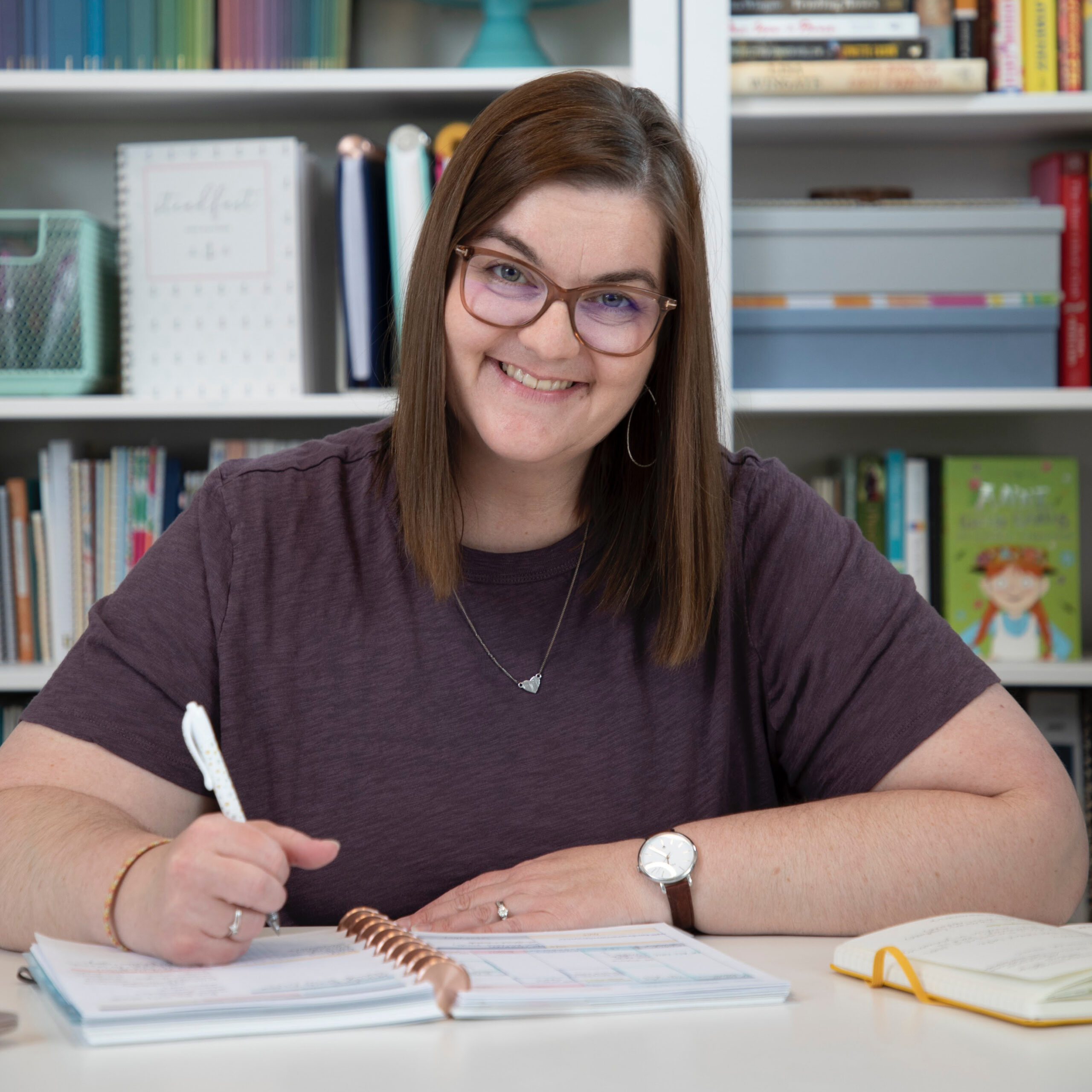 Kayse Pratt serves Christian women as a writer + designer, creating home + life management resources that help those women plan their days around what matters most. She's created the most unique planner on the market, helped over 400 women create custom home management plans, and works with hundreds of women each month inside her membership, teaching them how to plan their days around what matters most. When she's not designing printables or writing essays, you'll find Kayse homeschooling her kids, reading a cheesy novel with a giant cup of tea in hand, or watching an old show from the 90's with her husband, who is her very best friend.