February Book Review // Anchored Women Book Club
Well friends, we're two months in to  The Anchored Women Book Club! Below you'll find my reviews of February's book, You + Me Forever, and the February chapter of our year-long read, The Life Giving Home. I'd love for you to chime in with your own thoughts in the comments below!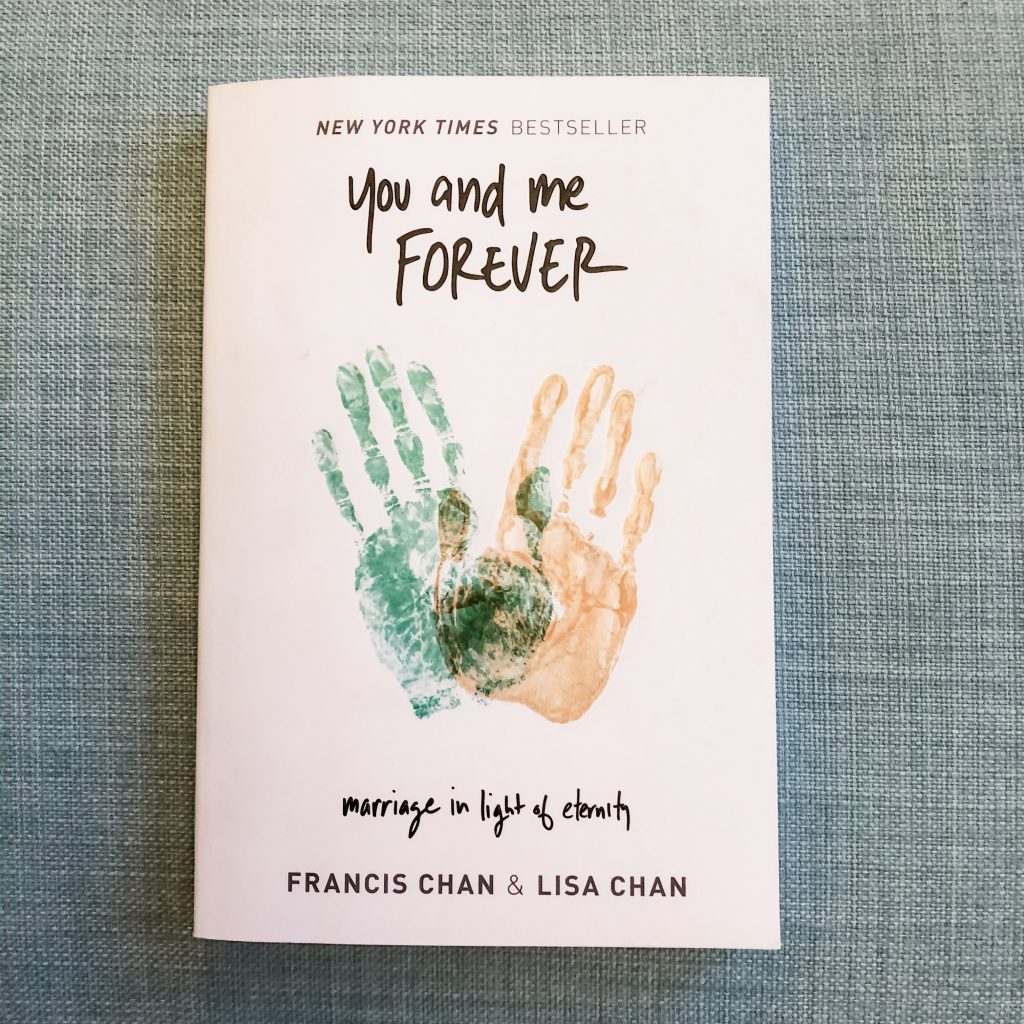 AW Rating: ⭐️⭐️⭐️
I'll be honest, I have mixed emotions about this book.
First, let's talk about the good things:
This is not your ordinary how-to marriage book. The focus is primarily on our lives in Christ, and only then about how that translates into our relationships. This made the book really stand out from other marriage books.
I was really challenged to think of life (not just marriage!) in light of eternity. Remembering that this life is not all there is, that we are both created and SAVED for Heaven, is a humbling perspective. It makes us think about everything differently, and live differently – knowing what is really the most important. I appreciated this greatly.
I also appreciated how Francis and Lisa always came through as a team – each of them writing part of every chapter.
It was very clear (and a good reminder) that our focus should be on being completely satisfied in Christ, rather than expecting our spouses to meet our every need.
Now, for my concerns:
Honestly, I hesitate to say this because I want to use the right words. I really do think that the intent of this book was spot on, but the translation of that intent often felt very works-focused. By that, I mean that I think it's very easy to walk away from this book feeling like you're not a "good enough" Christian. While I appreciated many of the Chans' ideas, the underlying tone felt like we better be DOING ALL THE RIGHT THINGS or maybe we won't actually get to "walk through the narrow gate". I fully understand and support the idea that we should not be stagnant Christians, resting in our salvation and ignoring our sin or God's commands. We should be growing, learning more about Him, and sharing His love and His gospel with others! Of course! But I also firmly believe that our salvation – the way we do walk through that narrow gate – does not depend one iota on what we do, but on what God has done for us.
I felt that the God-given role of husband/father was really diminished by the way they spoke about their mission – as though the mission outside of their family was more important to God. I discussed this with Jon in depth, and we both agreed that God calls both husbands and wives to first make disciples in the home, if a home with children is what God has given them. I see no benefit in overlooking the mission field right in front of us – the family God has given us – in exchange for something "bigger". I've said this for years – I think our biggest mission field starts right here at home, with the people God has clearly placed within our influence, and commanded us to train up in Him.
At one point, Lisa says something about being afraid that when she gets to heaven, God might chastise her for holding her husband back from the mission God had for Francis (referring to how she approached their marriage before Francis changed her mind about it, is what she implied). I do not see any biblical basis for this possibility! At no point does God tell us that we are going to answer for someone else's impact on judgement day. We are clearly told that all that will matter is if we knew Jesus or not. Does Jesus's blood cover you? Do you trust in His redeeming grace? That's ENOUGH. (I had to listen to this part 3 times to make sure I wasn't misunderstanding her.)
This is not a book that I would recommend for anyone who is seriously struggling in their marriage, based on all the points above. I think it would be extremely difficult to sift through the idea of "you should be doing more" (which I clearly felt through this book) to take the good points away (look to Christ for fulfillment, not your husband/wife). I think it would be very easy to read this book and somehow come to the conclusion that you could save your marriage if you work hard enough, rather than expecting your spouse to meet you halfway, and also lean on the Lord for redemption – something only He can do.
In conclusion, I gleaned some really quality takeaways, and a better perspective through this book, but also had to leave a lot of the works-based motivation at the door. I don't know that this is a book I'd read again.
What did you think? Be sure to share your thoughts in the comments below!
---
FROM AMAZON:
Marriage is great, but it's not forever. It's until death do us part. Then come eternal rewards or regrets depending on how we spent our lives.
In his latest book, Francis Chan joins together with his wife Lisa to address the question many couples wonder at the altar: "How do I have a healthy marriage?" Setting aside typical topics on marriage, Francis and Lisa dive into Scripture to understand what it means to have a relationship that satisfies the deepest parts of our souls.
In the same way Crazy Love changed the way we saw our personal relationship with God, You and Me Forever: Marriage in Light of Eternity will radically shift the way we see one of the most important relationships in our life.
Jesus was right. We have it all backwards. The way to have a great marriage is by not focusing on marriage.  Whether you are single, dating or married, You and Me Forever will help you discover the adventure that you were made for and learn how to thrive in it.
---

AW Rating: ⭐️⭐️⭐️⭐️⭐️
Now this book, I love!! Sally Clarkson and her daughter, Sarah, provide gospel-centered, practical help for us and our homes. This month's chapter was no different!
What stuck out to me the most was the idea of not just teaching our kids manners, but teaching them to HONOR one another. Doesn't that just take it to a whole other level? I think my kids will see the lasting importance of honor so much more than mere politeness. I was also really challenged by the ideas she shared for what she called "building memories of love" – celebrating small occasions & making intentional time to spend with your kids.
This book is encouraging me in ways that help me put hands and feet to what I want our daily home life to look like. And I'm grateful for that!
What did you take away from this month's chapter? Be sure to share your thoughts in the comments below!
---
FROM AMAZON:
How to make home your family's favorite place to be . . . all year long.
Does your home sometimes feel like just a place to eat, sleep, and change clothes on the way to the next activity? Do you long for "home" to mean more than a place where you stash your stuff? Wouldn't you love it to become a haven of warmth, rest, and joy . . . the one place where you and your family can't wait to be?
There is good news waiting for you in the pages of The Lifegiving Home. Every day of your family's life can be as special and important to you as it already is to God. In this unique book designed to help your family enjoy and celebrate every month of the year together, you'll discover the secrets of a life-giving home from a mother who created one and her daughter who was raised in it: popular authors Sally and Sarah Clarkson. Together they offer a rich treasure of wise advice, spiritual principles, and practical suggestions. You'll embark on a new path to creating special memories for your children; establishing home-building and God-centered traditions; and cultivating an environment in which your family will flourish.
Order THE LIFE GIVING HOME here.
---
Want to join our book club? Here's how!
We've chosen one book for each month, which we will all read and then share about at the end of the month!
Sign up for the AW Book Club here. I'll send you one email with a reminder about what book we're reading at the beginning of the month!
Check out the book list & buy the books you want to read ahead of time! (As always, I'm so grateful when you use the affiliate links above!)
Join The Anchored Women Community on Facebook so we can chat throughout the month about what we're reading!
As you read the books each month, share photos of yourself reading, or quotes that you're loving, and use the hashtag #anchoredwomenread so we can find each other!
Pop over to the blog at the end of the month to catch my review of the book and chime in with your thoughts and opinions in the comments! (I'll send you an email with this link when it's live at the end of each month!)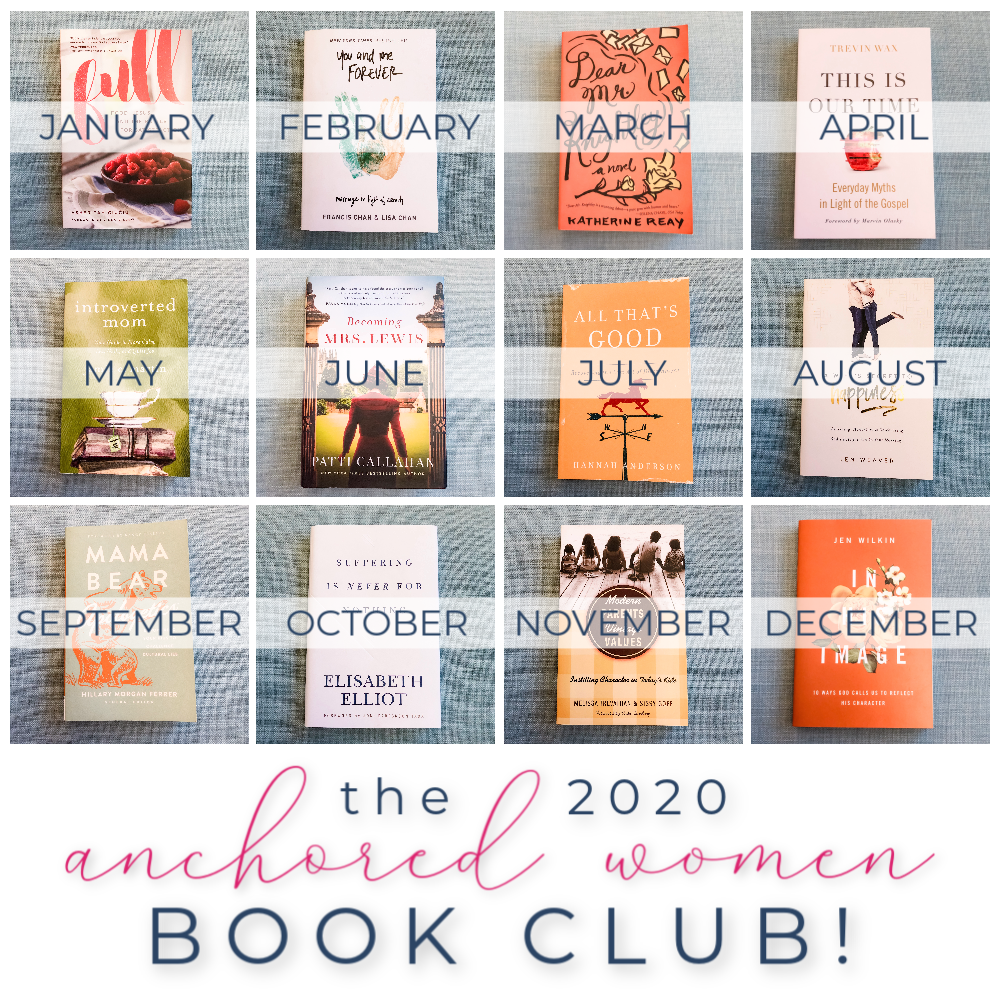 You can join in for the whole year, or just one or two books that look good to you. It's totally up to you! Make sure you still sign up for the monthly emails so you don't miss what we're reading each month!
I can't wait to read these books with you this year! Make sure you sign up for the book club, and then join us over in the Facebook Group!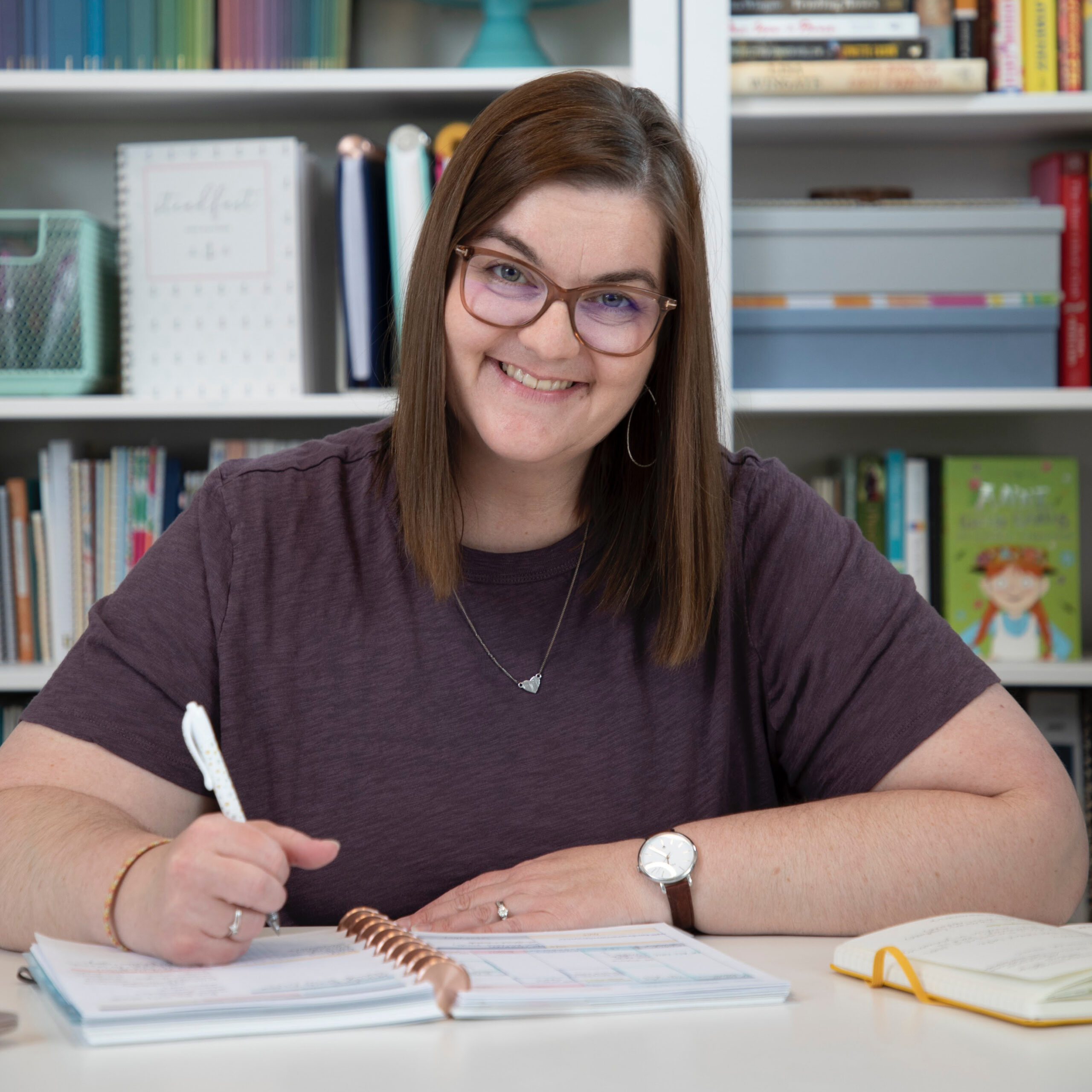 Kayse Pratt serves Christian women as a writer + designer, creating home + life management resources that help those women plan their days around what matters most. She's created the most unique planner on the market, helped over 400 women create custom home management plans, and works with hundreds of women each month inside her membership, teaching them how to plan their days around what matters most. When she's not designing printables or writing essays, you'll find Kayse homeschooling her kids, reading a cheesy novel with a giant cup of tea in hand, or watching an old show from the 90's with her husband, who is her very best friend.