The best devotional books for couples
Before I got married, I had an idea of what our life together would look like. Especially our faith life. We'd pray together and read the Bible together and basically be perfect in every way. Everything would fall into place!
That's how marriage works, right?
Well, that's not how OUR marriage works. While Jon and I are both working hard to grow in our faith, I've been surprised over the years at how difficult it can be to do this together.
One thing we've found to help us is a good devotional that we can do TOGETHER. During the school year especially, we have very different schedules, and it can be hard to even find time to connect and read through anything substantial together.
A good devotional is a great option for those busy seasons – it's often short, to the point, and directs you back to Scripture or prompts a good discussion. All good things!
So if you're looking for a way to grow in faith with your husband, we highly recommend these devotionals.
Great Devotionals To Read As A Couple
Devotions for a Sacred Marriage, by Gary Thomas: We got this devotional as a newly married couple, and we've read through it a few times. It's a great devotional specifically for married couples, and is great for diving into those issues that might be hard to bring up otherwise. We both love this one.
Night Light, by James Dobson: Full disclosure, we haven't read this one yet, but we just ordered it because it looks great. We tend to appreciate marriage and family insight from Dobson, so we're looking forward to reading this one!
New Morning Mercies, by Paul David Tripp: While this isn't exactly a couple's devotional, it's gender neutral and a great resource to read together. And obviously I can't stop talking about it! This is maybe my favorite devotional ever, because it's steeped in Scripture and points us back to the gospel every. single. day.
She Reads Truth + He Reads Truth: If you're looking to go a little deeper, we highly recommend the family studies from She Reads Truth + He Reads Truth. They create Bible studies for men and women that track together – the same reading every day. They even offer studies for kids that go right along with the mom + dad studies! We're actually going through the Matthew study right now in our membership group! We'd love for you to join us here!
I know that most of us want the perfect picture of a marriage grounded in faith – the Bible reading, the deep discussions, and the prayer together. But life isn't perfect, and we have to start SOMEWHERE. I love these great, simple resources to help us take baby steps toward the places we want to go in our marriages!
If you're looking for a few more great resources for your marriage, the Marriage Builder Toolkit is chock full of tools for you!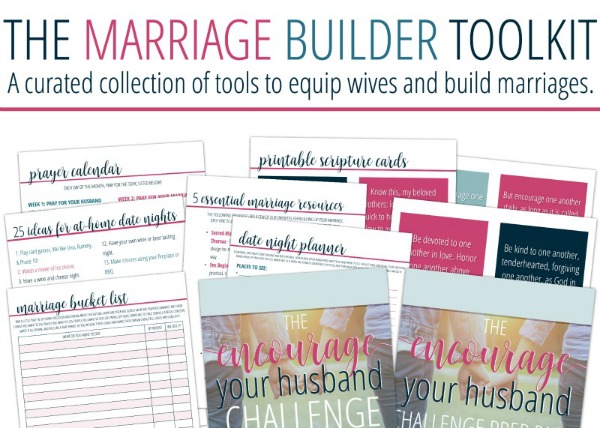 WHAT'S INCLUDED IN THE MARRIAGE BUILDER TOOLKIT:
A topical prayer calendar to help you pray for your marriage each month
A date night planner to help you plan fun future date nights
A marriage bucket list to help you dream & plan together with your husband
25 easy ideas for at-home date nights
5 essential marriage resources – our absolute favorites
8 encouraging marriage messages for the hard days
Printable Scripture cards to inspire your marriage
A 2-week challenge designed to encourage your husband and build your marriage
Worth The Fight – A short eBook to encourage your heart and strengthen your marriage. Based on lessons learned in a high maintenance marriage, this eBook is full of resources to help you navigate your own marriage. With wisdom, humor, and printable Scripture cards, Kayse writes to remind you that your marriage isworth the fight.
Kayse is a wife, mom, and founder of the Anchored Women community. She writes to help women fight busy, find rest, and build a life that's anchored in Christ. Kayse is also the creator of the S.O.S. Planner, the Anchored Life Kit, and other practical resources that equip women to manage their homes and families in confidence. You can find her writing and her resources at anchored-women.com!