What Every Mom Really Needs
I was talking with a friend on the phone the other day about how hard motherhood is, and we laughed in that "it's kinda funny but really it's not" sort of way.
We used to be teachers together, and we considered ourselves kind of awesome when it came to kids. So, naturally, we both quietly assumed we'd rock motherhood altogether.
You understand why we were laughing on the phone, right?
Oh man. Motherhood is nothing like I thought it would be. It's beautiful and amazing but it's also super hard and exhausting and impossible.
I feel like, a lot of the time, people categorize motherhood as one or the other. Either it's beautiful and amazing all of the time, or it's always super hard and exhausting and impossible. We either find moms bragging about how easy it is and how perfect their kids are, or we find moms constantly complaining about their kids and their husbands and their lives.
Don't hate me, but I'm going to venture to say that both of those views are extreme. Wrong, even. Can't we all recognize that motherhood falls somewhere right in the middle of amazing and impossible? Right smack dab in between exhausting and important?
I think we can.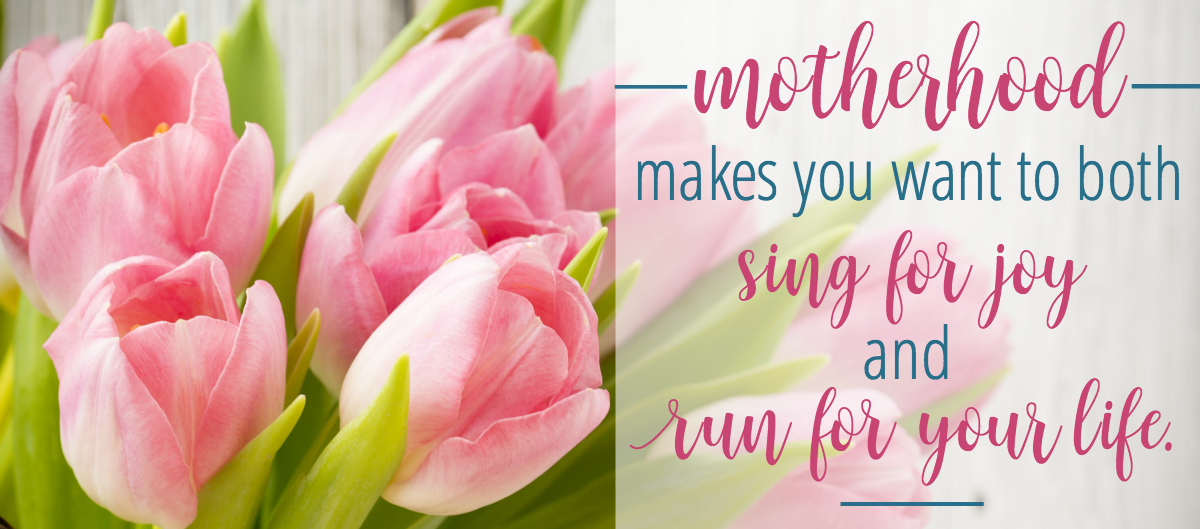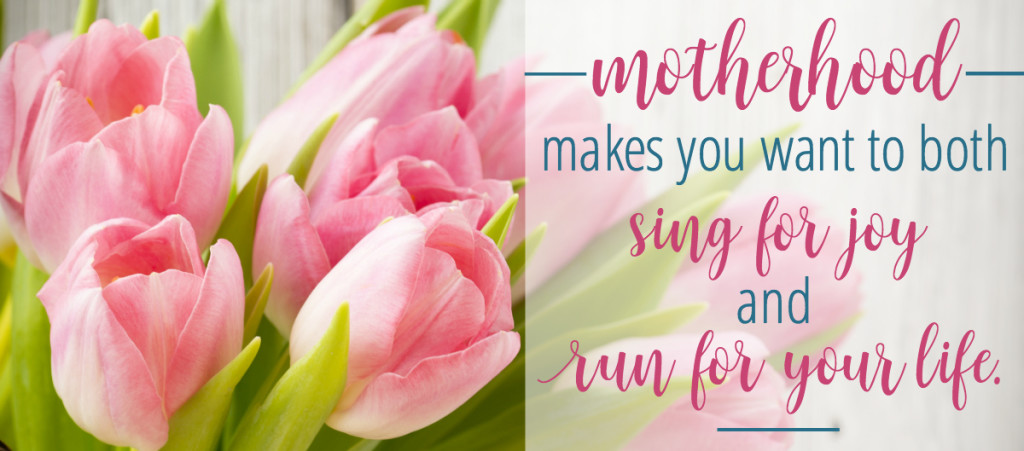 Moms, we do ourselves a disservice when we only talk about motherhood from one direction. I think, instead, we need to be really, brutally honest about all of the parts of it – the parts we love and the parts we struggle with.
Me? I'm a worn & weary mom. And the last thing I need is someone telling me how "perfect" they've got it, or even how awful it is to be a mom. No, thanks.
What I need is some honest encouragement, right where I am. Something that reminds me that even on the hard days, this work of motherhood is important and good and something worth doing well. Something that fills me with truth and spurs me on to be a better mom for my kids.
I need a little hope, every day.
I thought maybe you might need some too. And so, friends, I wrote us a book.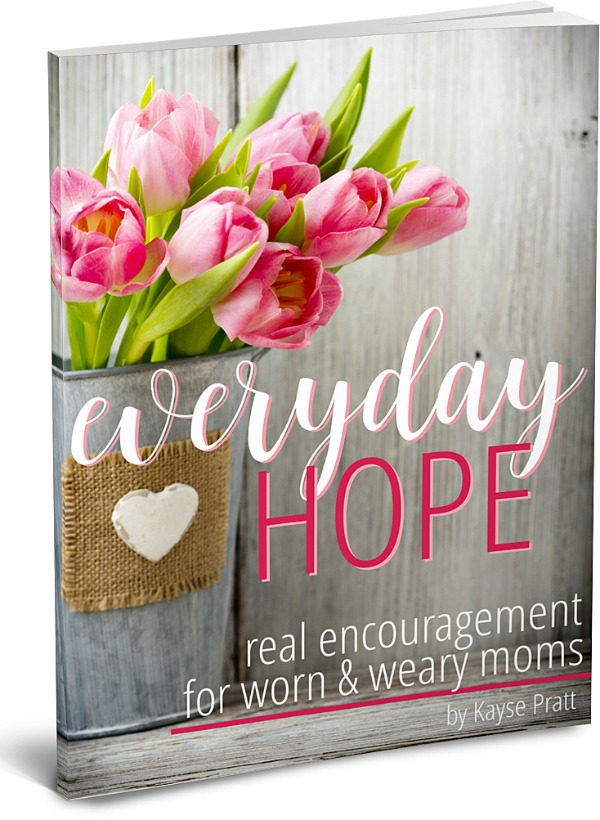 Everyday Hope is a compilation of essays for moms, on both the joys and the struggles of motherhood. It talks about the whole of it, not just one side or the other. And Scripture is woven into every part, because I just don't think there's anything more important for us mommas than Scripture. It's our lifeline.
"But I don't have time to read…"
I get it. We mommas are BUSY. But I wrote this book with us in mind, so…
Each chapter stands alone, so you don't even have to read it in order. (Woot!)
Every chapter covers a topic like comparison, entitlement, loneliness, discipline, worth, and more.
Each chapter is short enough to read in the pick up line, or in the waiting room at the doctor's office, or in those five minutes when you try to escape to the bathroom by yourself.
And just to make it a little more fun, I've thrown in a few of my favorite bonuses!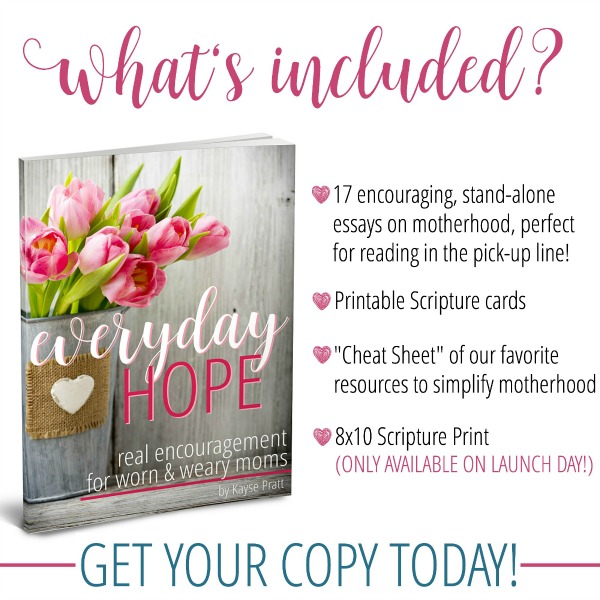 You can pop over to my shop and grab a copy right this second. It's an eBook, which means you'll have instant access – no waiting for shipping or anything like that. And that includes access to all of the bonuses, too – the Scripture cards and the Mommy Resource List, and more!
If you decide to order the book today, I'd love to give you an extra bonus, too! Everyone who orders today will receive this 8×10 digital print of Proverbs 15:1!


I truly hope you'll find this book to be just the encouragement you need today (and tomorrow)! I know what it's like to be worn & weary – I'm there right now. But God is faithful to meet us right where we are, and I pray that the stories & Scripture in this book will meet you right where you are, too.
So grab your copy today, and when you sneak off to the bathroom for a sanity break, you'll have something a little more encouraging to read than your Facebook feed!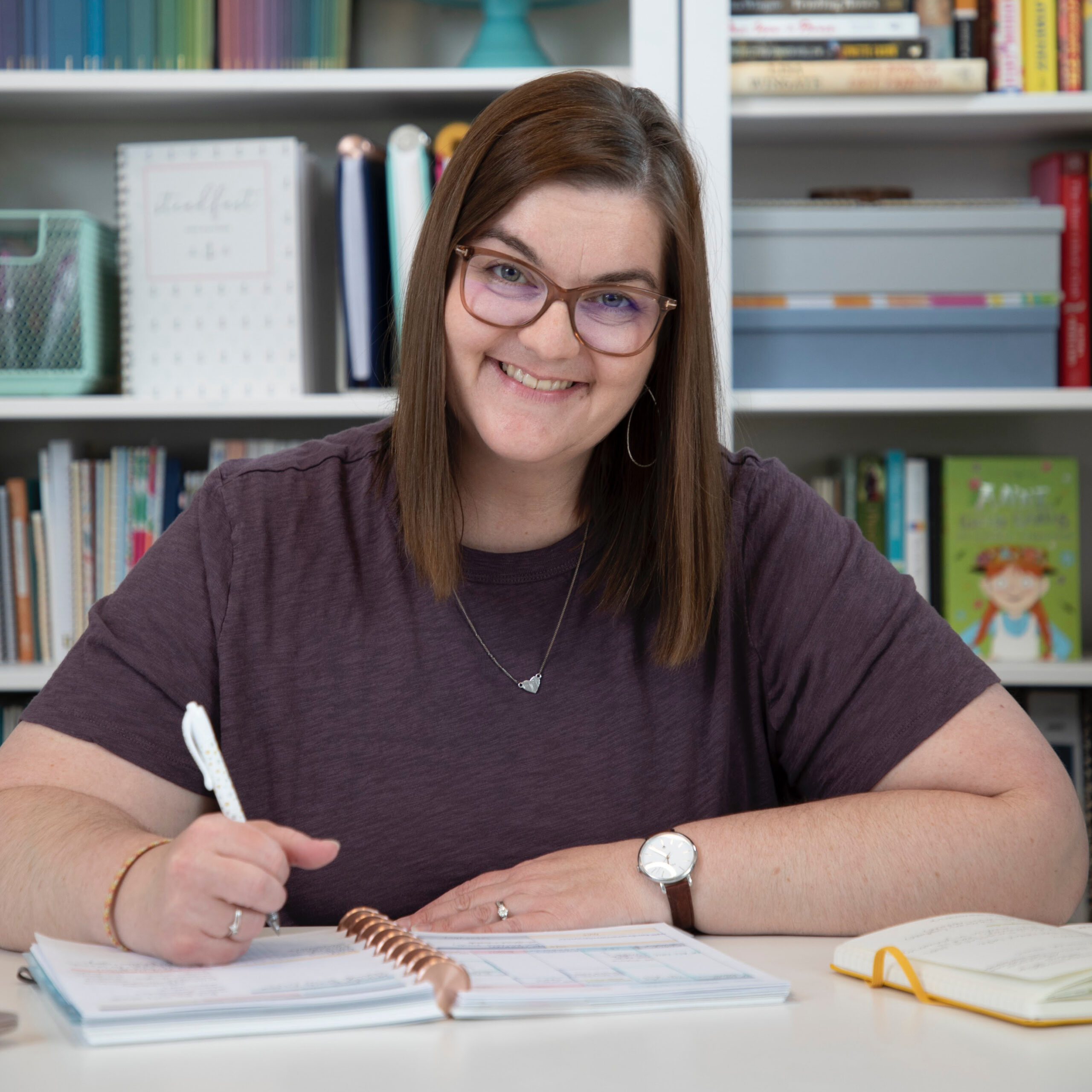 Kayse Pratt serves Christian women as a writer + designer, creating home + life management resources that help those women plan their days around what matters most. She's created the most unique planner on the market, helped over 400 women create custom home management plans, and works with hundreds of women each month inside her membership, teaching them how to plan their days around what matters most. When she's not designing printables or writing essays, you'll find Kayse homeschooling her kids, reading a cheesy novel with a giant cup of tea in hand, or watching an old show from the 90's with her husband, who is her very best friend.