Hi friends!! Welcome to our week-long series on Making What Matters HAPPEN!!
If you missed the intro post, you can read that here!
---
Let's talk for a minute about how my life has been a disaster in the last few weeks, shall we? Especially my house. OH, MY HOUSE.
Here's the deal. Things seemed to be running smoothly in October and November. Things were organized. Routines were all set (and working!). We were into the school year a bit, and I felt like I was finally getting a grasp on life with two kids. But then Thanksgiving hit and I had 8 extra people in our house for a few days, and all of my routines and plans went right out the window!
Since our family left, it's taken me a bit longer than I anticipated to get back to a happy, put-together home. In fact, if you peek into my bedroom today, you'll see a LOT of piles of laundry still on the bed. I can't even remember which ones are clean and which ones still need to be washed, so I'll probably just have to wash them all again. Sigh.
I feel a little like the laundry myself. All tangled up and not sure where to start. The messes are everywhere.
Every now and then, I find myself in this place where I just have to reset. When I'm swimming in everything that needs to be done, I have to actually walk away from everything and get out a pen and paper and physically write down the things that are actually IMPORTANT. I pray about where my focus should be, write out EVERYTHING that's on my plate and come up with a new plan with which to move forward.
(This is the entire reason I wrote the Stop Settling For Overwhelmed Course. Because I know what it's like to feel completely overwhelmed by life, and need a process to help you move forward.)
With the new year right around the corner, I'm in that place again. Needing to step back, look at the big picture, and figure out what the important things are, so I can make a plan to focus on those (and let the rest go).
Finding a focus for your season of life is the first step to any sort of plan – it's so vitally important. We absolutely, positively HAVE to figure out what matters to us, and why. Otherwise we end up floundering all over the place with no direction, no momentum, and no sense of purpose. This is so true for me when I think about my work, my home, my family – everything!
So before we talk about getting ready for the new year, let's sit down together for a minute and think about what season we're in, and what's really important.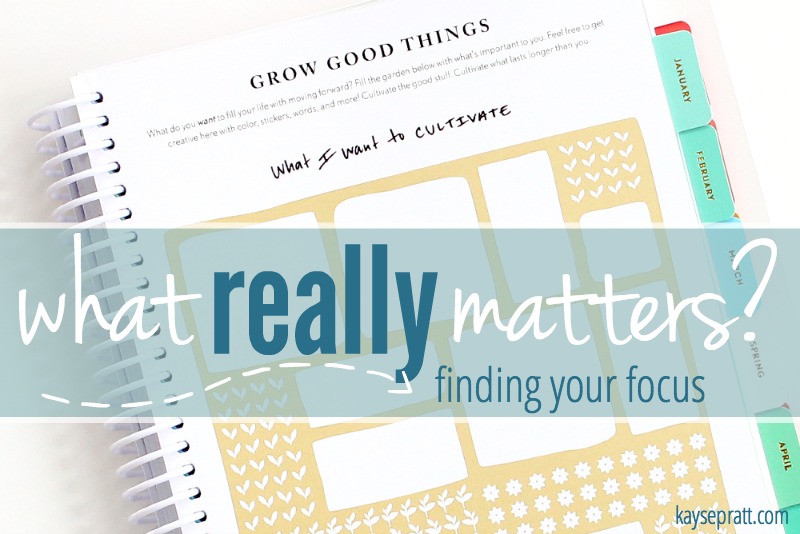 Maybe you're a new momma, up to your elbows in diapers and spit-up, and wondering where all the sleep ran off to. Maybe you're a momma of toddlers and preschoolers, sleeping a bit more but run ragged all day while you try to keep your kiddos from killing themselves. (WHY do they want to jump off of everything?!?!) Maybe you've got teenagers, and you're staying up late in hopes of catching them for a real conversation before they head to bed. Maybe you're an empty nester, or a single woman, and you're trying to figure out what your passions and gifts are.
Everyone is at a different place in life. And that's why your particular season matters – because it's not going to be the same as anyone else's. So let's think about what season you're in, and what really matters – both in the long run, and right now.
Over the last few weeks, I've really been diving into this. What matters in the long run, and how can I make sure that those things are my priority in the coming year? And not just in word, but in deed too? I've been working through my PowerSheets (worksheets from my sweet and brilliant friend Lara Casey – they are a really simple way to get down to the nitty gritty of life and narrow your focus) to try and hone in on my focus for this season as well as actually nailing down the practical things I want to make happen next year. They have proven SO helpful, especially in this season of feeling like I'm just drowning in my lists! (More on PowerSheets in Wednesday's post!)
Here's what I've found. Right now, I'm in that toddler/preschooler season. I am BUSY. Mostly with breaking up fights between my kids, but still. Free time is a pipe dream unless I pay someone to give it to me. So although I have big dreams and goals, I'm in a season of taking baby steps and slowly building on what I've already got, instead of leaping into something brand new. And that's okay!
Right now, the things that matter most are these:
Meeting with the Lord in my quiet time each morning, and praying throughout the day.
Being present with my children, not distracted by the phone or computer.
Supporting and encouraging my husband daily.
Homeschooling Emily.
Eating well and exercising.
Writing consistently and encouraging women through words.
These are the things I really need to make happen right now. Everything else goes off the list.
In this season, my focus is this: Pray First & Love Well.
Prayer comes first because I am prone to jumping into things without consulting anyone. This year, I want to be sure to step into any "yes" slowly, prayerfully, and sure of God's leading. I also want to try to pray before I yell, lose my patience, or roll my eyes at my kids. Just saying.
And loving well is a huge part of all those things above that really matter. My quiet times remind me that I am loved well, and give me the right perspective of who God is and how I am to live each day. Being present with my kids and husband is one really powerful way to love them well. Paying attention to Emily's schooling and making that a priority is a way to connect with her, something she really craves each day. Eating well and exercising is the way to honor the body that God has given me, and make sure I'm healthy for my family. And writing is a way I try to love others well, hopefully pointing them to Christ.
So today, I encourage you to think about why finding a focus might be a really helpful tool for whatever season you're in. Narrow down what really matters. What do you really want, for your family, for your home, for yourself this year? Why are those things important? (If you're having trouble with this, or just want a little guidance, I can't recommend Lara Casey's PowerSheets highly enough!
A Word From Lara…

How do you recommend finding your focus for the season that you're in? Is there a process you go through to do this? A filter you use? 

Yes! I first have to stop. When there is so much to do and so little time, and you are trying to keep your head above water, and some things aren't getting done well, what do you do? Do the opposite of what you think you should do. Instead of pushing and striving to do it ALL, hush the hustle. Especially if it feels impossible. Maybe—just maybe—it all doesn't need to get done. Maybe there is another way forward. That is where it all begins for me: stopping. Being still. You have to know where you are first to know how to leap to what's next. Then, I look at the big picture. Where do I want to be when I'm 80 and how can I live like that today? Stopping to be still and look at the big picture helps me to have focus and clarity about how to use my time well today. The PowerSheets walk me through every step of this process to help me intentionally uncover meaningful goals and find my focus.

---

 A little about Lara… 

Lara is the publisher and editor-in-chief of Southern Weddings magazine, where they encourage couples to plan a meaningful beginning to married life. Lara is also the founder of the Making Things Happen movement, a nationally-acclaimed workshop that has been sold out for the last seven years and has toured over 40 cities. She frequently speaks on goal-setting, faith, mission-centered business, and how to make what matters happen. Her first book, Make it Happen: Surrender Your Fear, Take the Leap, Live on Purpose, recently released nationwide through Thomas Nelson publishers. Lara loves to garden, explore local farms, and she wishes her neighborhood would let her have chickens. She lives in Chapel Hill, North Carolina, with her husband, Ari, and their bubbly daughter, Grace, and new little redhead, Joshua. They are also in the process of adopting!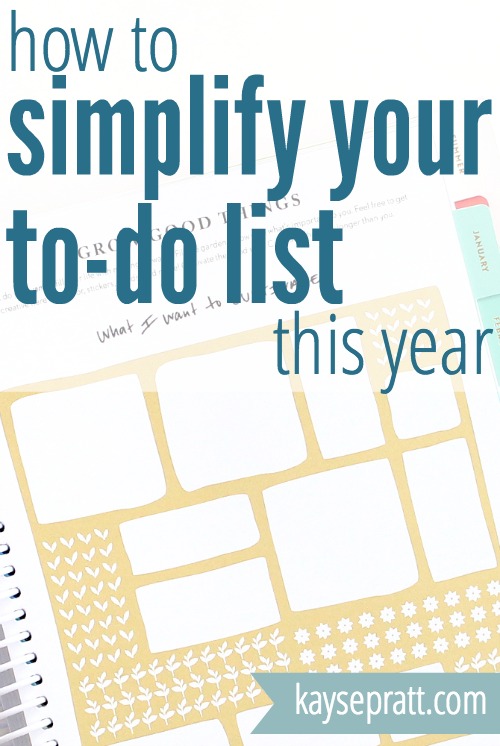 What is your focus for this season? Share in the comments below!
Kayse is a wife, mom, and founder of the Anchored Women community. She writes to help women fight busy, find rest, and build a life that's anchored in Christ. Kayse is also the creator of the S.O.S. Planner, the Anchored Life Kit, and other practical resources that equip women to manage their homes and families in confidence. You can find her writing and her resources at anchored-women.com!