4 books on marriage (that won't make you feel bad about yourself)
When we were packing up the bookshelves in our bedroom, I had to mark one box a little differently.
In big, black Sharpie, I wrote, "ONLY for Kayse & Jon to open!"
Most of our marriage books are pretty tame, but let's just say I don't want my 7-year-old helping mommy put away her books and start asking, "What's sex, and why is it in the kitchen, mom?"
Right?
So that box got an extra label. ?
But while I was packing it, I found a few of our very favorite books on marriage, and I wanted to share those with you today. February can be a month where we try to focus on our marriages, and if you're in a place where you'd like some extra reading material, these have been our favorites!
Here's the thing about marriage books though – some of them can make you feel really bad about yourself. Maybe they assume things that aren't true, or they present an idealized version of marriage. Those books are no good for me and my difficult marriage, thankyouverymuch.
So these are Kayse & Jon approved – great books on marriage that WON'T make you feel bad about yourself!
4 books on marriage that won't make you feel bad about yourself!
Sacred Marriage, by Gary Thomas – This book is one of our favorites. (It comes as a devotional, too!) Thomas challenges us to consider whether marriage was intended to make us holy or happy. This is such a good read – one we come back to over and over again.
Sex Begins In The Kitchen, by Kevin Leman – This is one of the first books we ever read as a married couple, and it's still one of our favorites! Awesome, practical advice for the more intimate side of things – plus, its hilarious.
9 Thoughts That Can Change Your Marriage, by Sheila Wray Gregoire – I love basically everything Sheila writes, and this book is so very good, especially for those of us who are maybe a few years into a marriage that's never been all that easy!
Worth The Fight – This one is my own. It's a short, encouraging compilation of stories and lessons from our own high maintenance marriage, plus a few bonuses at the end. (Also included in the Marriage Builder Bundle.)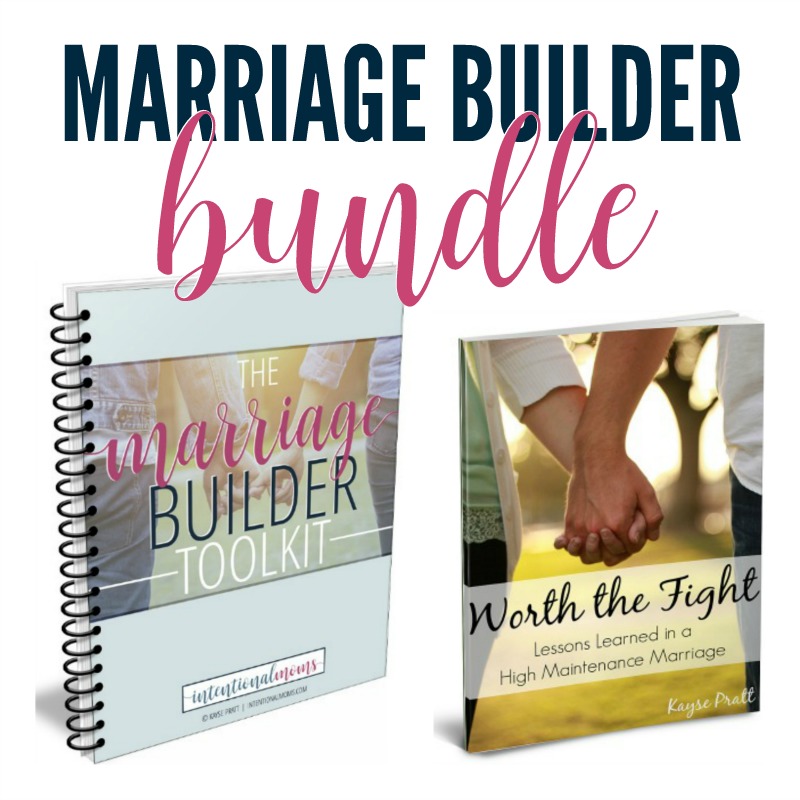 Your turn! What are your favorite encouraging + honest books on marriage?
2 weeks to a new marriage!
Encourage your husband & build up your marriage, from the inside out. Fill out your info & join this 2 week challenge to revitalize your marriage. It starts right now!
You'll also receive our weekly newsletter, providing you with encouragement and resources to help you make time for what matters most.
*By subscribing, you're agreeing to our privacy policy.
Kayse is a wife, mom, and founder of the Anchored Women community. She writes to help women fight busy, find rest, and build a life that's anchored in Christ. Kayse is also the creator of the S.O.S. Planner, the Anchored Life Kit, and other practical resources that equip women to manage their homes and families in confidence. You can find her writing and her resources at anchored-women.com!