4 simple steps to studying the Bible
Bible study is arguably one of the most important parts of our day. And yet, I think we can all say that when life gets crazy, Bible study is often one of the first things to go.
I know this is true in my own life. When overwhelm hits, and my list feels way too long, I'm quick to skip Bible study and instead start working down the list of tasks that just HAVE to get done that day. Anyone else?
I think sometime we do this because while Bible study feels important, it also feels complicated. And we want to "do it right". You know – a quiet place, a cup of tea, maybe a candle burning, Bible and journal out in front of us and all the time in the world. And if we can't do it right, well, we're going to wait until we can.
Except that time never comes. Because life DOES get crazy.
So today I want to talk about how to keep your Bible study SIMPLE and not at all intimidating. We're going to talk about 3 ways you can start the habit of reading the Bible every day in a way that's actually doable, even when the craziness hits.
How to study the Bible in a simple, approachable way:
1. Choose a simple reading plan.
There's nothing more overwhelming than sitting down with all 66 books of the Bible and NO PLAN IN SIGHT. Where do you start? When do you end? What are you even supposed to be doing? Friends, this is not a helpful way to read.
Instead, consider using a simple reading plan. I use the reading plan we include in our membership each month, which takes you through a book of the Bible in bite-sized steps, and gives you the option for additional reading each day if you want to go deeper. And also? You get the weekends off, which makes it real easy to "catch up" if you need to.
I also have used (and loved) plans from She Reads Truth, the YouVersion Bible app, and even just the reading plan inside the back cover of my Bible! There are a lot of options out there, but the point is – pick just one and stick with it from beginning to end. (3-4 weeks is a great amount of time to start with!) (Here are a few of my favorite studies & Bibles.)
Giving yourself a structure so you know exactly what you're doing each day is really helpful, and eliminates the decision fatigue of opening your Bible, closing your eyes, and landing your finger on a verse.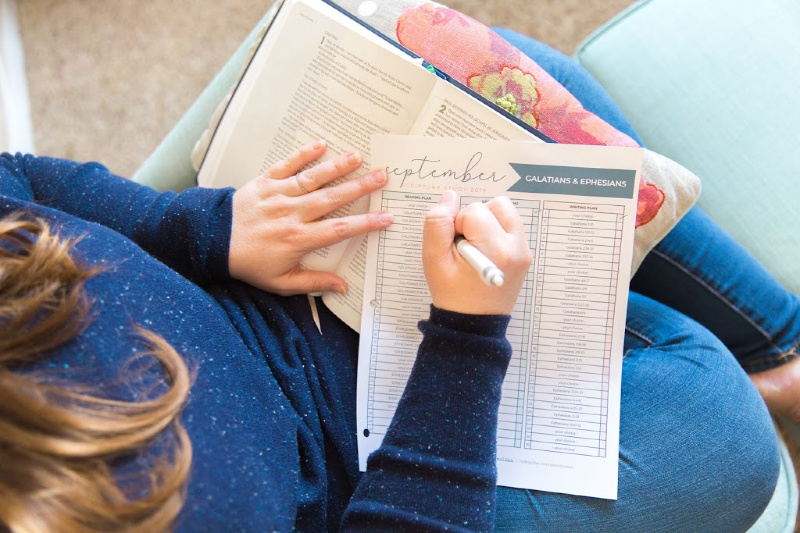 2. Don't be afraid to go slow.
Even with the reading plans I use, I often work much more slowly than their allotted time. This used to be really discouraging to me until I realized that the goal is NOT checking off the boxes on my plan, but spending time in God's Word and learning more about Him! When I keep this as my purpose, the speed at which I work through a plan no longer matters.
Some days, you'll have more time and you might want to keep reading, even when your assigned verses are done! And some days, you'll just be able to read one verse before a little one interrupts you and derails your plans for a quiet morning. All of that is OKAY. Again, the point is not to get a certain amount done every day, but to open your mind to God's Word, learning more about who He is and who He has made us to be.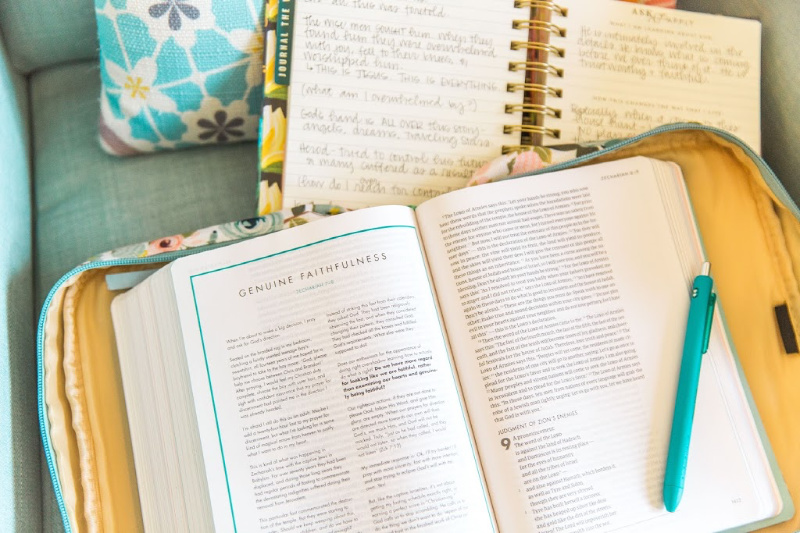 3. Use a simple studying system.
I like to read my Bible with 6 pens next to me – 1 ballpoint pen, and 5 highlighters. I take notes as I go and have a simple color-coding system that I use when I study. This helps me soak in what the Bible is actually saying, and not just skim over it.
Right now, I'm teaching Emily to study the Bible the same way, and our process looks a little bit like this:
Read all the way through the passage once
Go through the passage again, one section at a time, highlighters in hand, highlighting what we see (according to our system – see photo below)
Observe what you've highlighted and studied. Make notes regarding what you've learned in the margin (or you can do this in a journal – I like these ones.)
It's as simple as that! We are not making it complicated – we're keeping it simple so that it affects both our minds AND our hearts.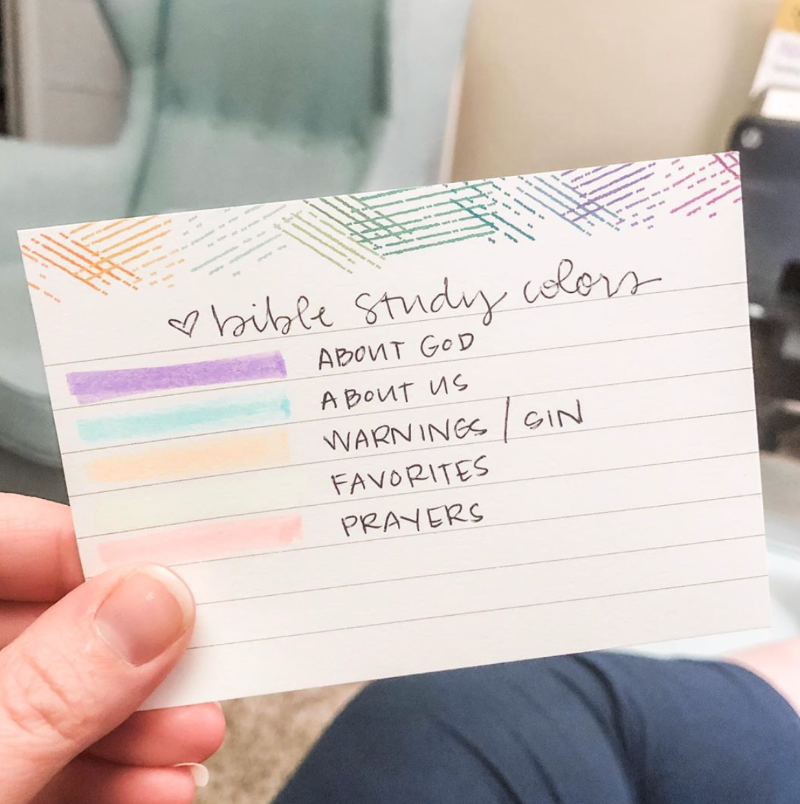 4. Ask yourself 2 important questions.
As we finish our study each morning, I ask two important questions:
What did this passage teach us about who God is?
In light of what we learned about God, how are we supposed to live?
These questions are simple, but really keep our focus in the right place. We are remembering that the Bible is GOD'S story, not ours, and meant to teach us primarily about who He is and what He's done for us. Then, and only then, can we talk about what we might be called to as a response to Him, and what His directions for us might be.
You can write your answers to these questions in the margin of your Bible, in your notebook, or even discuss them with a friend!
---
That's it! 4 simple steps to studying the Bible in a way that's inviting, not intimidating. I'd love to hear if you have any tips in this area too! Share your thoughts below!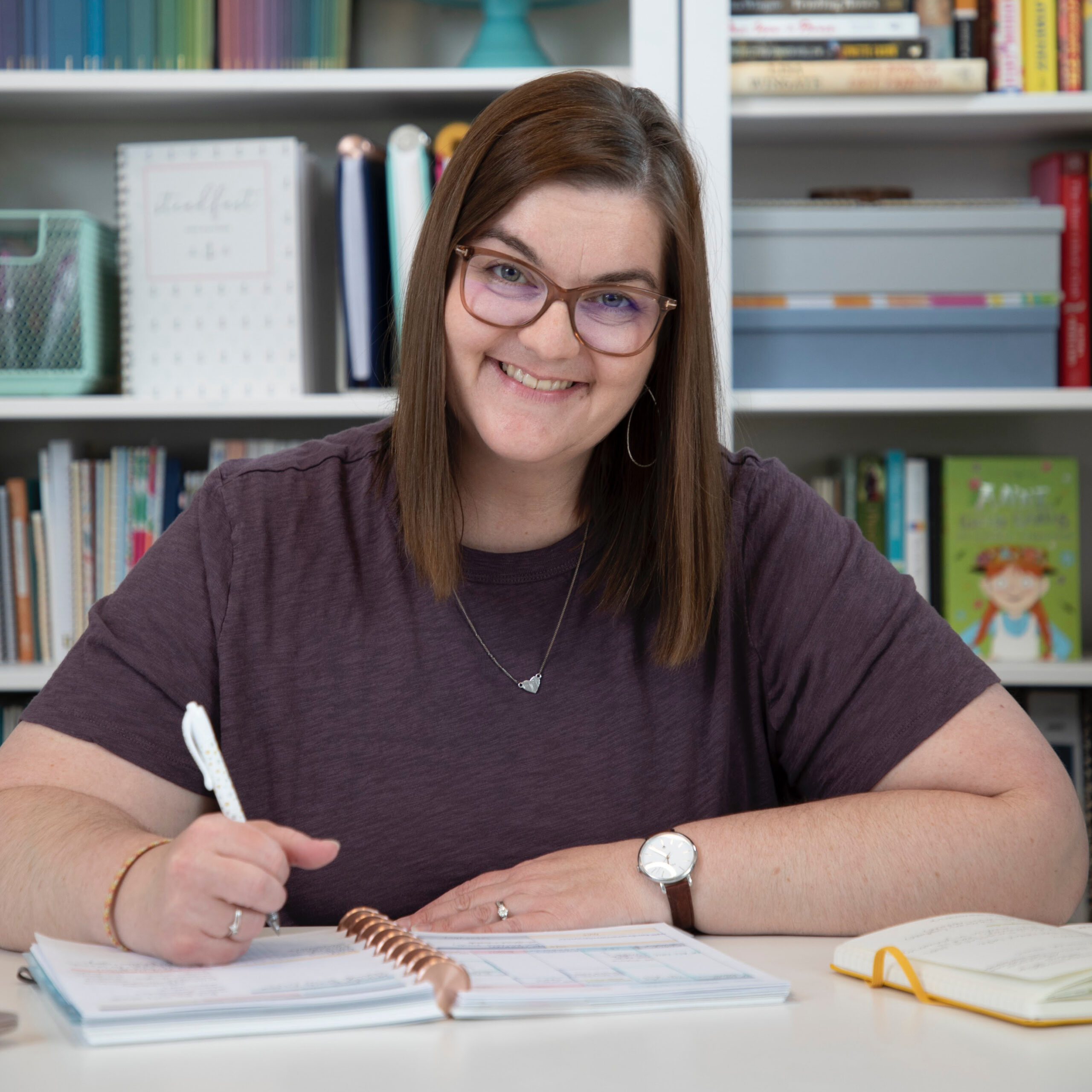 Kayse Pratt serves Christian women as a writer + designer, creating home + life management resources that help those women plan their days around what matters most. She's created the most unique planner on the market, helped over 400 women create custom home management plans, and works with hundreds of women each month inside her membership, teaching them how to plan their days around what matters most. When she's not designing printables or writing essays, you'll find Kayse homeschooling her kids, reading a cheesy novel with a giant cup of tea in hand, or watching an old show from the 90's with her husband, who is her very best friend.