A simple approach to Bible Study
Over my lifetime as a Christian, I have tried many, MANY different types of Bible studies.
I've bought studies with videos.
I've joined Bible study groups.
I've written Scripture and journaled.
Really, if there's a type of Bible study out there, I have probably done it.
But in the last few years, I've found myself craving a simple way to just be in Scripture – not in a complicated way, but in a simple way that allows me to just open my Bible and begin.
Because if there's one thing I've learned over the years, it's this:
Simple is always better. The power of Scripture is in the WORD, not the type of study.
So, in case you're looking for a simple way to get into the Bible too, today I want to share the system I've used that's consistently worked well for me.
It's super complicated. It requires:
A Bible
A pen
5 Highlighters
…and that's it!
I've been following a simply Bible reading plan where I read just one chapter a day, working my way through a book of the Bible. (More on this next week!)
I like to read with 6 pens next to me – 1 ballpoint pen, and 5 highlighters. I take notes as I go and have a simple color-coding system that I use when I study. This helps me soak in what the Bible is actually saying, and not just skim over it.
For the highlighting system, I use:
Purple for passages ABOUT GOD // Verses that describe who He is, what He's done, and really anything having to do with the Trinity.
Blue for passages ABOUT US // Verses that give instruction or examples, or promises that God has given to us.
Orange for passages ABOUT SIN // This includes the sin of the people in the Bible, and also warnings about sin that apply to life today as well.
Pink for PRAYERS // I use pink to highlight any prayers seen throughout Scripture, as well as verses that I use to pray on my own.
Yellow for FAVORITES // These are my favorite verses, the ones hidden deep in my heart that I've collected over a lifetime of faith.
I keep this card in my Bible as reference, although by now I know what each color is for!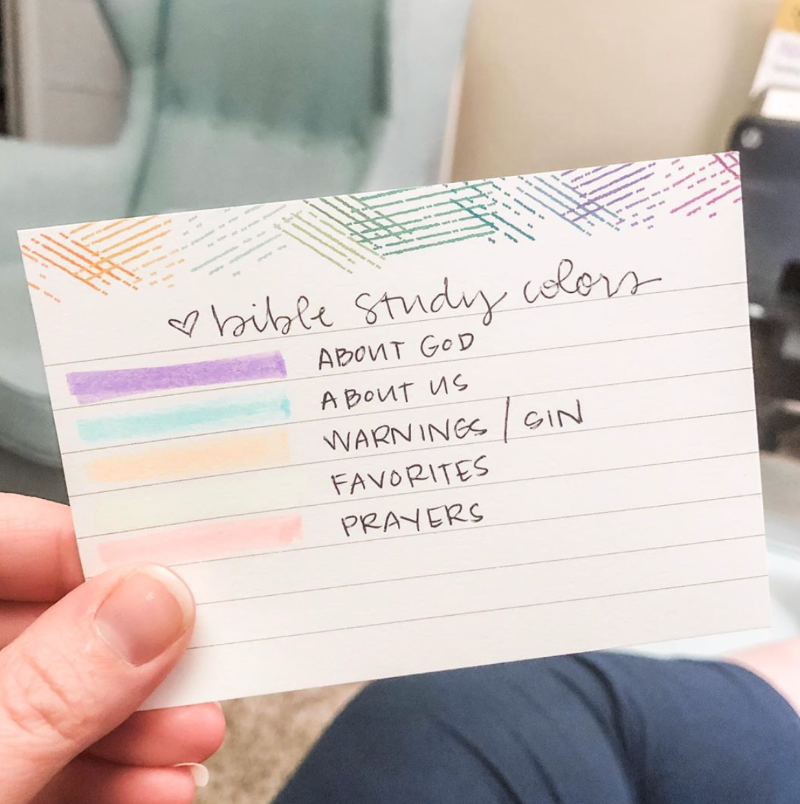 The actual reading process looks a little bit like this:
Read all the way through the passage once
Go through the passage again, one section at a time, highlighters in hand, highlighting what we see (according to my system – see photo above!)
Observe what I've highlighted and studied. Make notes regarding what I've learned in the margin (or you can do this in a journal).
As I finish my study each morning, I ask two important questions:
What did this passage teach me about who God is?
In light of what I learned about God, how am I supposed to live?
These questions are simple, but really keep our focus in the right place. We are remembering that the Bible is GOD'S story, not ours, and meant to teach us primarily about who He is and what He's done for us. Then, and only then, can we talk about what we might be called to as a response to Him, and what His directions for us might be.
And that's it! Simple – not complicated – so that it sinks into both my mind AND my heart.
I hope that gives you a great place to start this week! Next week, I'll dive into what I study, and how fast I move through each passage.
I'd love to hear from you! Do you use highlighters and/or take notes in your Bibles? Share in the comments below!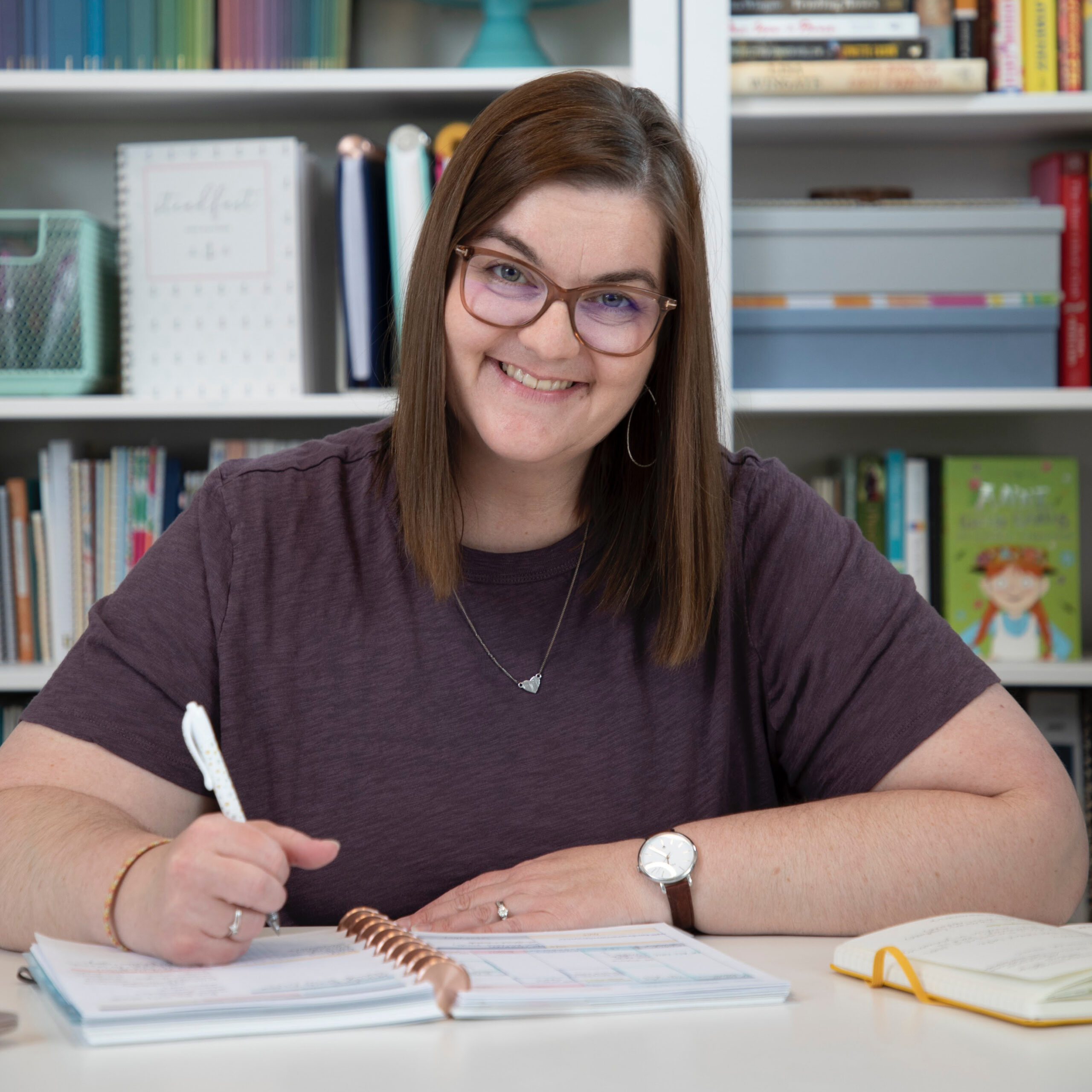 Kayse Pratt serves Christian women as a writer + designer, creating home + life management resources that help those women plan their days around what matters most. She's created the most unique planner on the market, helped over 400 women create custom home management plans, and works with hundreds of women each month inside her membership, teaching them how to plan their days around what matters most. When she's not designing printables or writing essays, you'll find Kayse homeschooling her kids, reading a cheesy novel with a giant cup of tea in hand, or watching an old show from the 90's with her husband, who is her very best friend.