Back to School Week: How to organize all the school papers!
This blog post is part of a week-long series on getting our families and homes ready for the Back To School Season! You can start at the beginning by clicking here.
---
Today we're going to create a simple system for dealing with our biggest nemesis: PAPER CLUTTER. All the paper that we welcome into our houses can feel super overwhelming, unless we know exactly what we're going to do with it! 
We all know the struggle – Monday folders come home and we have so. much. paper to deal with.
Not to mention all the art work. And the "art work". ? And if your kids are anything like mine, they are determined to save every little thing!
This doesn't fly in my house, because I find paper clutter to be the WORST kind of clutter – it's small, but piles up quickly, and in order to clean it, you literally have to go through every single thing.
Friends, we do NOT have time for that!
Instead, I've developed a system for incoming papers that makes sense, keeps the clutter away, and gives us the freedom to only touch papers TWICE. (Touching them only once would be ideal, but twice is more realistic for us!)
Here's the system we use – I hope it helps you, too!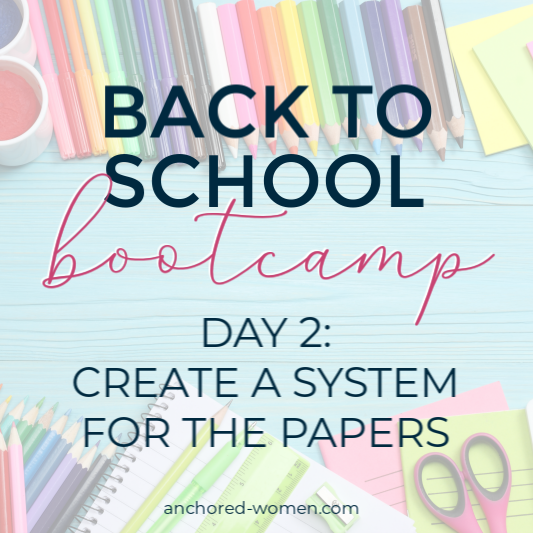 Setting up Paper Central:
There should be ONE LOCATION in your main living area for incoming papers – this means schoolwork, forms, mail, etc. EVERYTHING.
In our house, this looks like a rolling cart with a file box on top. I have the following sections inside the file box:

To File – these are the things we KNOW we are going to keep (mostly from the mail), and is destined for our filing system upstairs in our office.
To Shred – these are the papers with our personal information on them that aren't relevant to our lives right now. Jon takes these to work to shred in their giant shredding machine. ??
To Save – this file is for the kids work that I want to keep. Rather than filed away in our filing system, these papers go in each child's 3-ring-binder that I keep upstairs for any significant or memorable schoolwork.

I also include 2 clipboards at the back of that box – one for each child. Ongoing paperwork (registration forms, permission slips, etc.) that either the kids or I need to finish go on this clipboard.

How to handle Monday Folders:
The Newsletter – This immediately comes out of the folder and goes up on the fridge! I then take 5 seconds to look at it, put any important dates into the calendar on my phone, and make any necessary notes in my planner. Plus, as soon as I pin it up there, I toss the one from the week before.
Homework – We have received two types of homework in the past – a packet that must be completed by the end of the week, and single worksheets meant to be done that night and returned the next day. For the daily homework, I have Emily do it as soon as we get home (while eating a snack), and then put it right back in her folder to return to school the next day. If we receive a packet, I clip it on that child's clipboard so they know where it is as we work on a little bit each day.
Registration Forms + Permission Slips – Ideally, these are papers that I fill out as soon as they come in, and then I stick them back in the homework folder to return to school. However, if I need more time to find information or think about whether or not we are going to, say, apply to be a chaperone on a field trip, I keep these forms on the kids' clipboards.
Completed Work – This is the tough one, right? The kids want to keep everything, and I'm happy to throw as much of it away as possible. (Don't hate me. You KNOW you don't need 4 pages of your kindergartener practicing the letter C, okay?) I let them choose ONE page each week to keep in their "To Save" file, and then we go through that about once a month to weed out anything that they realize they don't actually care about.
Things I ALWAYS Keep:
Artwork – I'm not talking about the doodles on the back of the math sheet, but any actual artwork that the kids have spent a lot of time on is worth keeping, in my opinion. I'm working on getting some of these into frames to hang on our stairway, because how fun is that?
Writing – I'm a word girl, and so is my daughter. She writes stories constantly, so we have a lot of her writing, but it's precious to me and I don't throw it away. Especially writing that she's done at school – writing that she's worked on in drafts and perfected – I keep all of this, and I'm not sorry about it.
A sample of handwriting + math from the beginning and end of each year – I love the very obvious visual of how our kids have grown in skill from the beginning to the end of the year!
The Process:
When papers come in, I try to go through it immediately and sort it, either into one of the files in the file box, or into the trash.
About once a month, I take the file box upstairs, sort through each file, and put those papers in their proper place. Ideally, I'd only touch each paper once, but since our filing system (upstairs in my office) is located so far away from where all our paper comes in (downstairs through the front door), this system makes more sense for us. The papers are all within reach for a few weeks, and then sent to their final resting place.
Paper clutter can easily be super time-consuming, unless you have a system in place to handle it! This is how we've set ours up. What do you do in your house? Share in the comments below!
P.S. Ready to eliminate all the paper FOR GOOD? You'll want to check out our free course on setting up a paper-free, digital home management system. It's totally free, and walks you through how to set up your own digital system, step by step! Enroll in the free course here.
Say goodbye to paper clutter!
Grab our free training on Creating a Digital Home Management System using Trello! You'll get all the how-to's, plus a behind the scenes look at my own Trello boards in action.You'll also receive our weekly newsletter, providing you with encouragement and resources to help you make time for what matters most.
*By enrolling, you're agreeing to our privacy policy.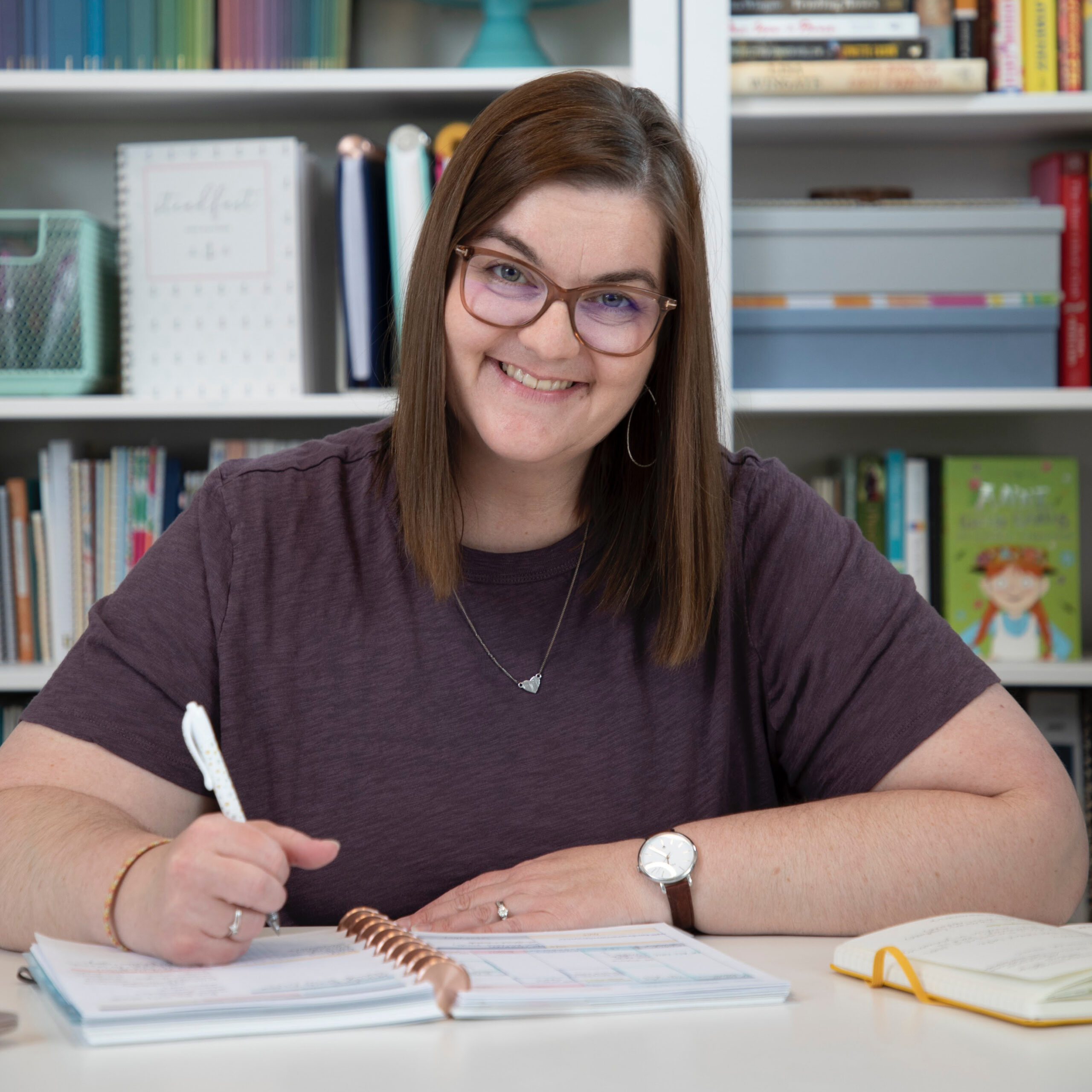 Kayse Pratt serves Christian women as a writer + designer, creating home + life management resources that help those women plan their days around what matters most. She's created the most unique planner on the market, helped over 400 women create custom home management plans, and works with hundreds of women each month inside her membership, teaching them how to plan their days around what matters most. When she's not designing printables or writing essays, you'll find Kayse homeschooling her kids, reading a cheesy novel with a giant cup of tea in hand, or watching an old show from the 90's with her husband, who is her very best friend.