Back to School Week: Creating a command center and calendar system to simplify your school year
This blog post is part of a week-long series on getting our families and homes ready for the Back To School Season! You can start at the beginning by clicking here.
---
Towards the end of the last school year, I spent a Thursday working at home. I'd gotten so much done, I was super proud of myself, and about ready to take a break when I got an alert on my phone.
"2:00pm – End-of-the year party!"
It was currently 1:45. And I was supposed to be at Emily's school, for a party I had completely forgotten about, in 15 minutes.
THANK GOODNESS for that phone alert! Life can be so busy, and school events (especially at the end of the year!) can be so plentiful, that it's super easy to forget important things, like, oh let's see, the giant end of the year party.
The school year comes with a LOT of information – paper clutter, important dates, memory verses, upcoming events, and more. If you want to stay on top of all these things, you'll need a central space to keep all that info.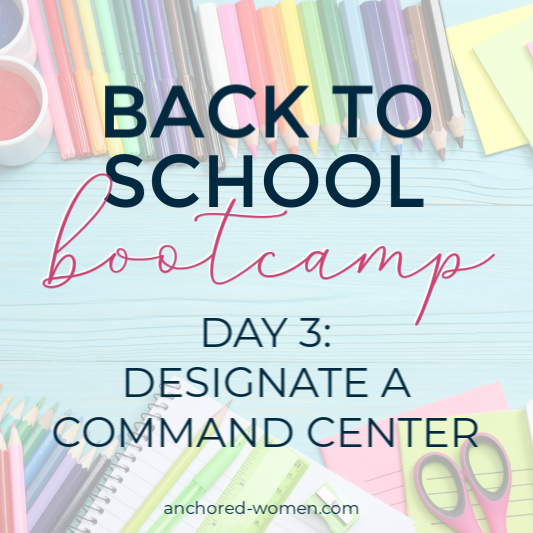 Enter OUR COMMAND CENTER + CALENDAR SYSTEM!
Yesterday we talked all about managing all the papers that come home from school – today we're going to talk about all the dates, events, and reminders.
In the past, I've had some giant command centers, but in our new house I've cut it down to just the essentials – a cork board, a whiteboard, and two calendars.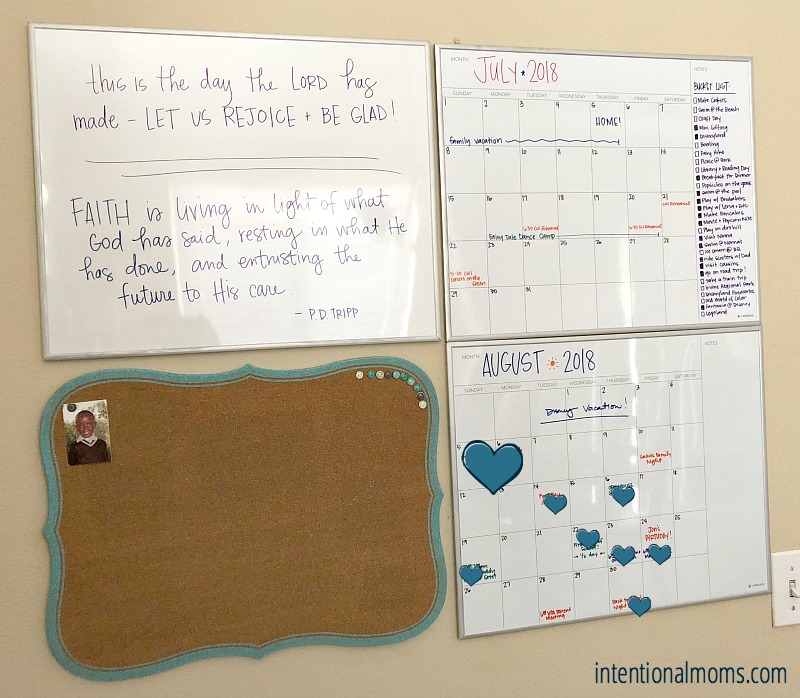 It's simple, so it works!
The Corkboard:
We use the corkboard for a couple of things. First, it serves as a display for the current artwork that comes home each week (ONE PIECE, not all the pieces!). Secondly, it serves as a holding place for the school calendar + various key papers that hold important details for upcoming events. We clear this off once a week (except for the photo of our Compassion child – so we remember to pray for him)!
The Whiteboard:
Whiteboards are great because they are so multi-functional! We usually use the top half of our whiteboard to help Emily memorize her weekly Bible verse, and then we use the bottom half to write encouraging notes or inspiring quotes.
The Calendars:
I love using whiteboard calendars because they are huge and super versatile. I use these wet-erase markers so that little four-year-old fingers can't wipe off all my writing.
We use TWO calendars because I always like to see what's coming up! Only having one month displayed at a time is frustrating when you're at the end of a month, or trying to think into the next month. Having two calendars displayed at once is PERFECT, I've found.
Color Coding is KEY! We have a color for each member of the family, as well as a color for everyone all-together. This makes it easy to see who's doing what with just a quick glance!
Our Calendar System:
No matter what the event, date, or appointment is, it goes into the calendars in our phones FIRST. Jon and I have access to these calendars, and they sync across all our devices. This is truly our master calendar – if it's not on the phones, it's not happening.
For important things (um, like end-of-the-year parties!) I make sure to put in an alert on my phone. Sometimes 1 day before, sometimes 15 minutes before. This has proven extremely helpful for this forgetful momma!
After everything is in our phones, I write it onto the whiteboard calendars so we have a visual as well. No one needs an extra excuse to be on the phone when we're at home spending time together. ?
For my own personal sanity, I also write everything into my planner. This way, my day to day planning is easier because the big events, dates, and appointments are already there.
Between our shared calendars on our phone, and our visual command center (and my planner), I'm able to stay on top of most of the events that come our way during the school year.
Which is, in and of itself, quite the miracle.
How do you manage your family calendar system during the school year?
P.S. If you're still looking for a planner that works FOR YOU, you're going to want to check out the 2019-2020 S.O.S. Planner. It's pretty different than any other planners out there, and it's our favorite! Check out all 4 layouts here.
Say goodbye to paper clutter!
Grab our free training on Creating a Digital Home Management System using Trello! You'll get all the how-to's, plus a behind the scenes look at my own Trello boards in action.You'll also receive our weekly newsletter, providing you with encouragement and resources to help you make time for what matters most.
*By enrolling, you're agreeing to our privacy policy.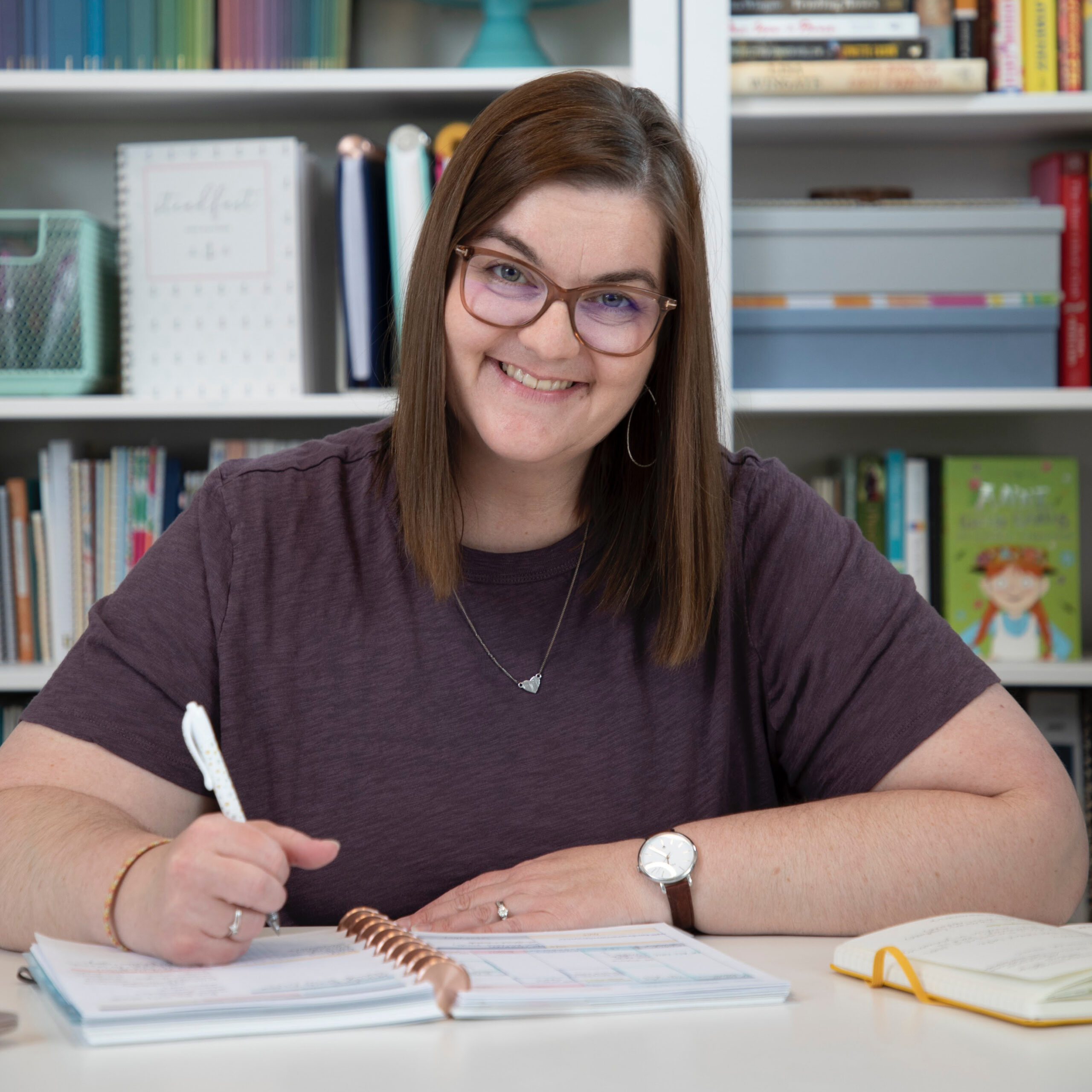 Kayse Pratt serves Christian women as a writer + designer, creating home + life management resources that help those women plan their days around what matters most. She's created the most unique planner on the market, helped over 400 women create custom home management plans, and works with hundreds of women each month inside her membership, teaching them how to plan their days around what matters most. When she's not designing printables or writing essays, you'll find Kayse homeschooling her kids, reading a cheesy novel with a giant cup of tea in hand, or watching an old show from the 90's with her husband, who is her very best friend.