Creating Theme Days to Simplify Your Weekly Meal Planning!
This is one of my favorite meal planning strategies – and one I've used forever. Theme Days!!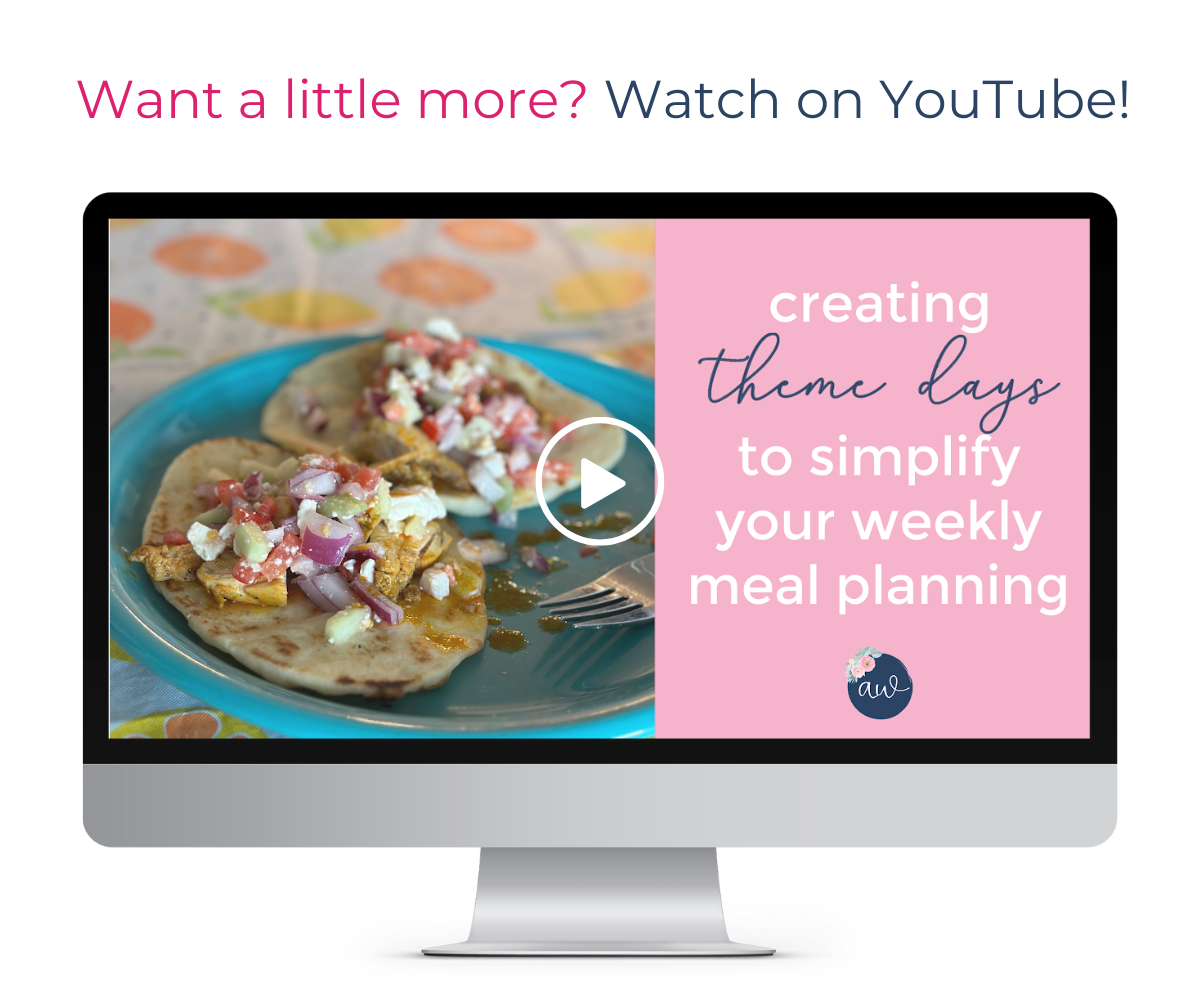 Creating theme days for your meal plan each week makes the planning aspect so much faster. I simply choose a "theme" for each day of the week, and stick to meals within that theme. Then, I just have to pick 4 meals underneath each theme, and I have a full month of meal plans ready to go!!
Here are some of our past themes:
Monday: Chicken + Veggies Night

Options: baked chicken, grape + shallot chicken, BBQ chicken sandwiches, etc. and always roasted veggies

Tuesday: Taco Night

Options: tacos, burritos, burrito bowls, enchiladas, enchilada casserole, nachos

Wednesday: Slow Cooker Night

Options: meatballs, meatball subs, cream cheese salsa chicken, pot roast, soup

Thursday: Breakfast for Dinner

Options: pancakes, waffles, french toast, omelettes, plus always bacon or sausage + fruit

Friday: Pizza Night

Always take-out from the pizza joint down the road, and a family movie. Fridays are non-negotiable!

Saturday: Grill Night

Options: burgers and hot dogs, kabobs, steak, potatoes and/or roasted veggies

Sunday: YOYO (You're On Your Own)

On Sundays, everyone is on their own! We eat leftovers, combine things from the fridge and pantry to Eat Whatcha Got (see last week's post!)! This uses up our leftovers, saves us money, and gives mom a night off from cooking!
And here's a peek at our most recent theme nights. ⬇️ I have this laminated and posted on our command center! (Psst… there's a blank version of this in the Meal Planning Cheat Sheets below!!)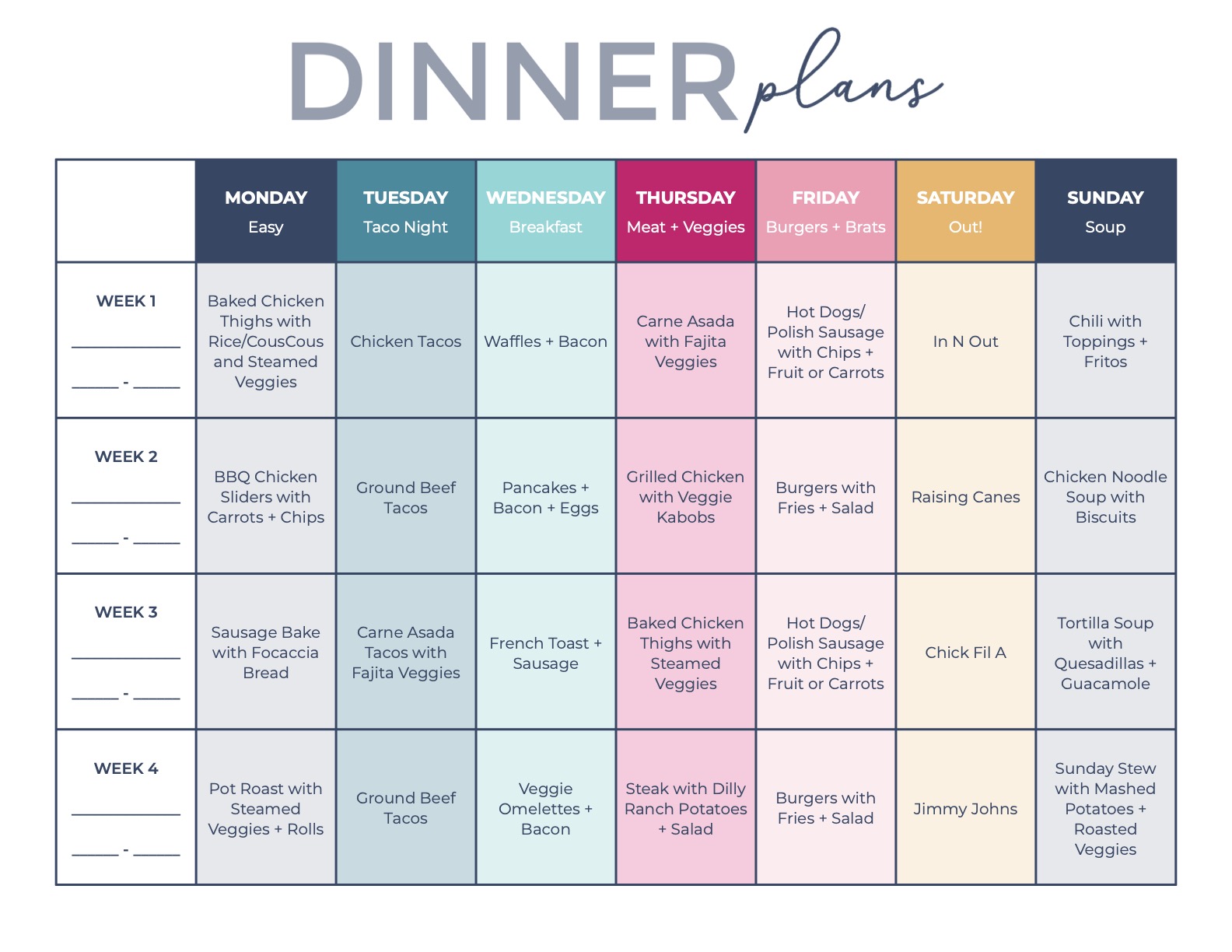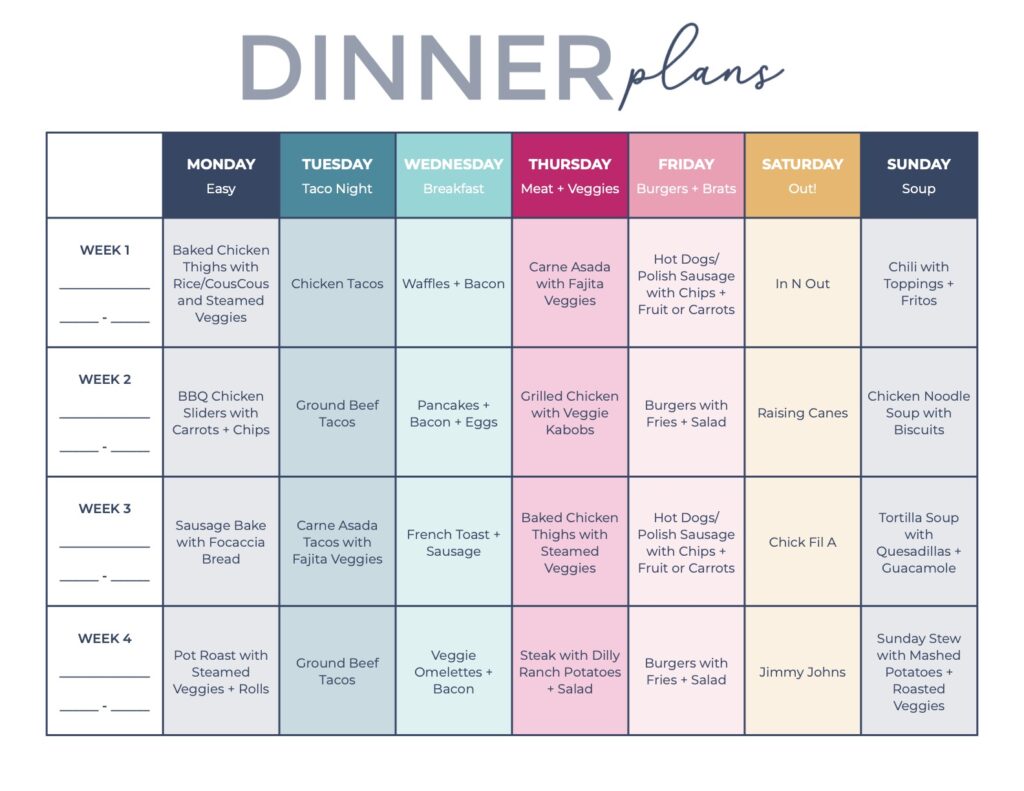 This method saves TIME: By giving every night a theme, it's WAY easier for me to choose meals each week! I know what our family loves within those categories, and I can easily pull from cookbooks or the Anchored Life Club meal plans and grab a new chicken recipe, or taco variety, or slow cooker meal.
This method saves MONEY: When I'm cooking similar things each week, there's a lot I can buy in bulk – pasta, frozen meat, pancake + waffle mix, rice for tacos, etc. If I shop in bulk, I can keep prices down, AND if I know I've got these staples on hand, I'm much less likely to say "Forget it, let's eat out!"
I know meal planning can easily seem like just one more thing we have to do, and it IS a responsibility, but it doesn't have to be a chore. We can use meal planning to get creative, to nourish ourselves and our families, and to remember that food in the pantry and on the table is something we can always, always be grateful for.
Got a question about meal planning? Submit it here and I'll try my best to answer it in next week's Q+A Post!!
Ready to meal plan using Theme Days in your own home?
Grab our FREE Meal Planning Cheat Sheets! They include a Theme Day Calendar where you can choose your themes, fill in your meals, and plan a whole month of meals!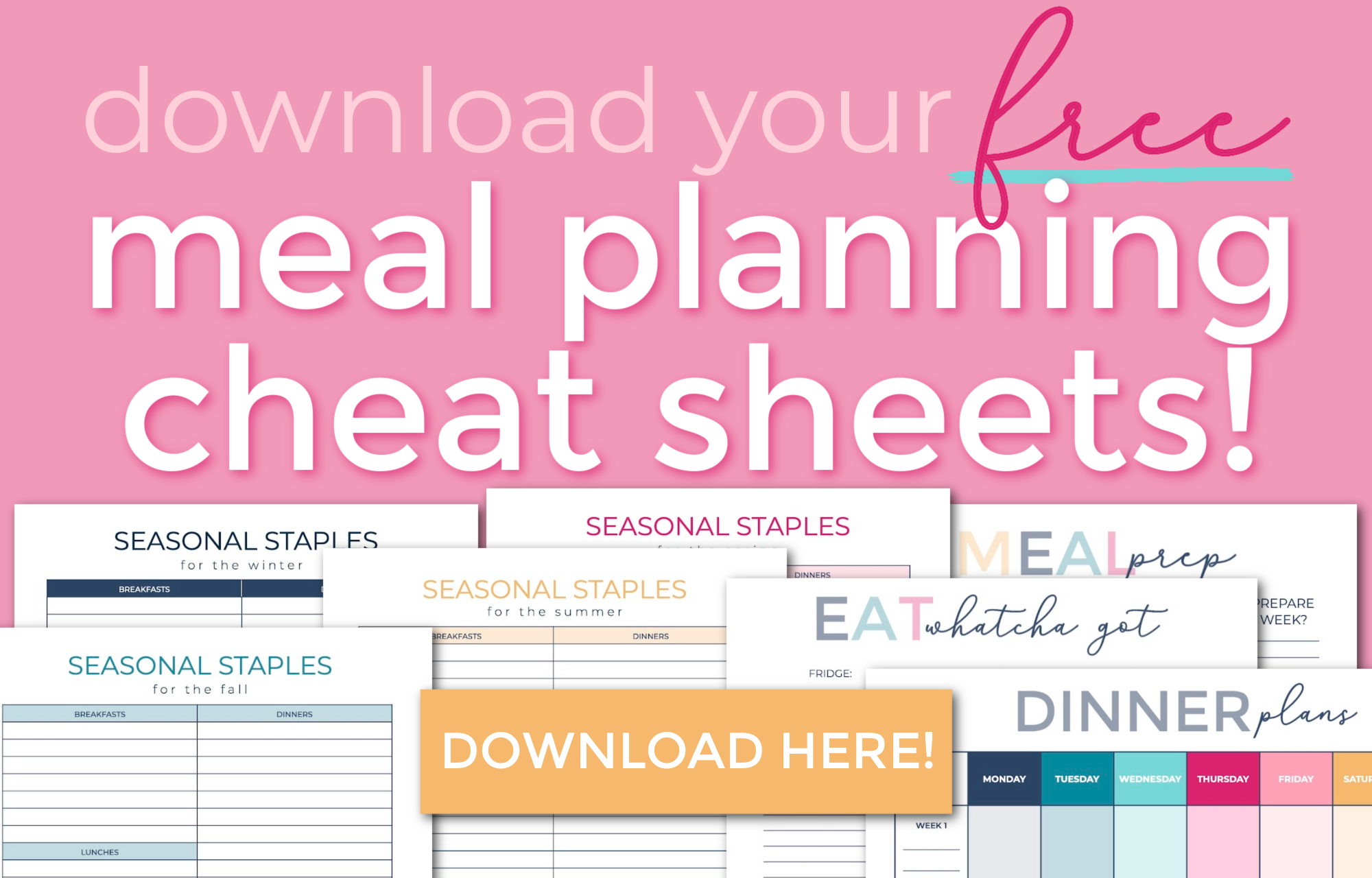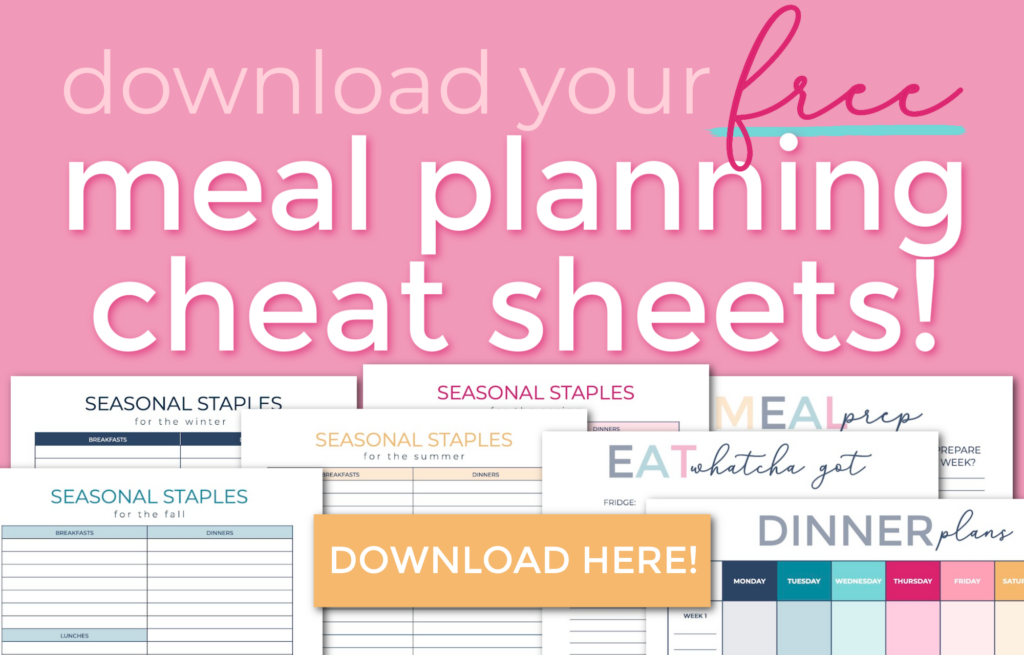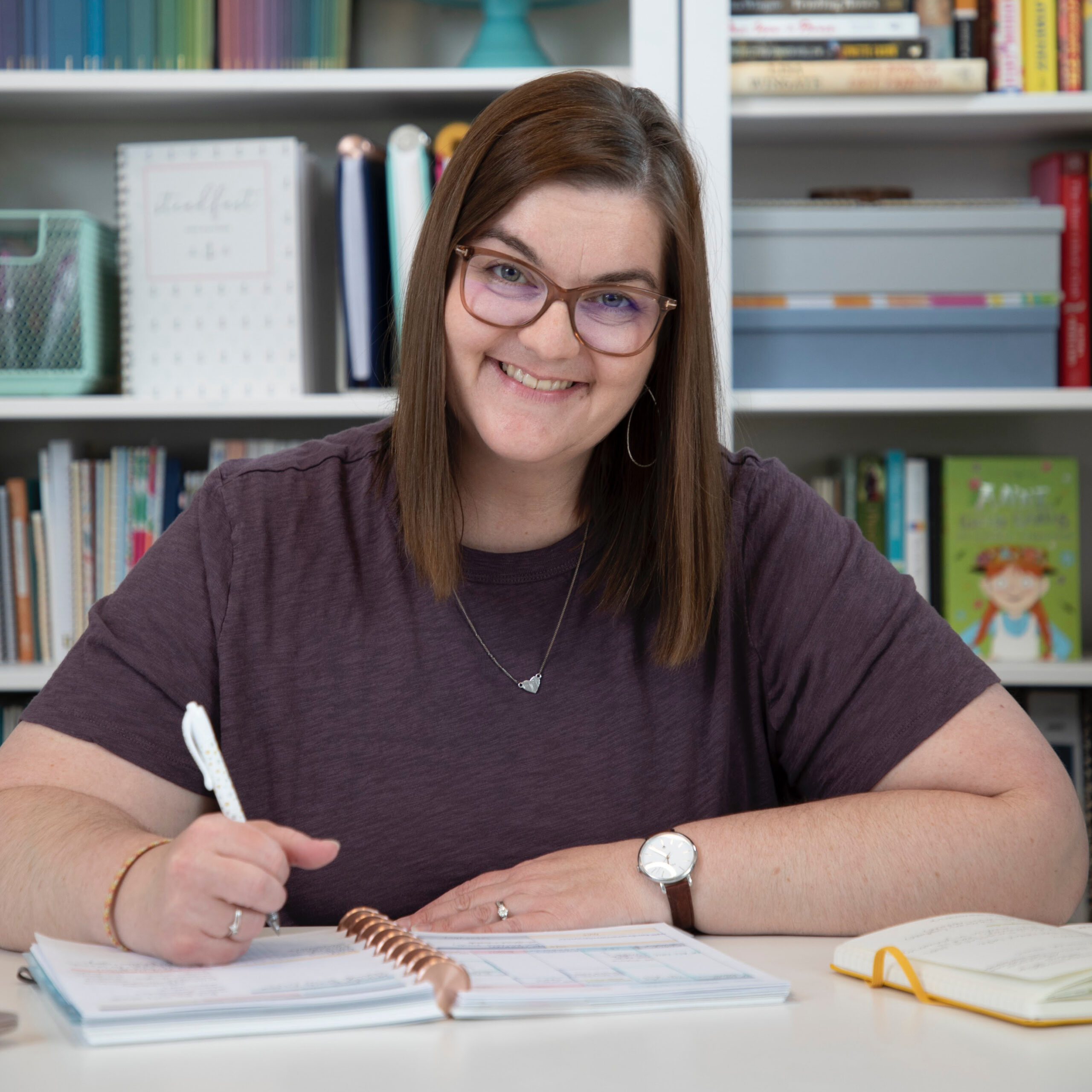 Kayse Pratt serves Christian women as a writer + designer, creating home + life management resources that help those women plan their days around what matters most. She's created the most unique planner on the market, helped over 400 women create custom home management plans, and works with hundreds of women each month inside her membership, teaching them how to plan their days around what matters most. When she's not designing printables or writing essays, you'll find Kayse homeschooling her kids, reading a cheesy novel with a giant cup of tea in hand, or watching an old show from the 90's with her husband, who is her very best friend.