Welcome to February! Let's talk BIBLE STUDY!
Welcome to February!
Here at Anchored Women, we've decided to choose themes for each month in 2021! We're crafting special articles and emails for you to focus on this theme, so that hopefully by the end of the month, you'll feel encouraged and equipped in that area!
This month's theme? Bible Study!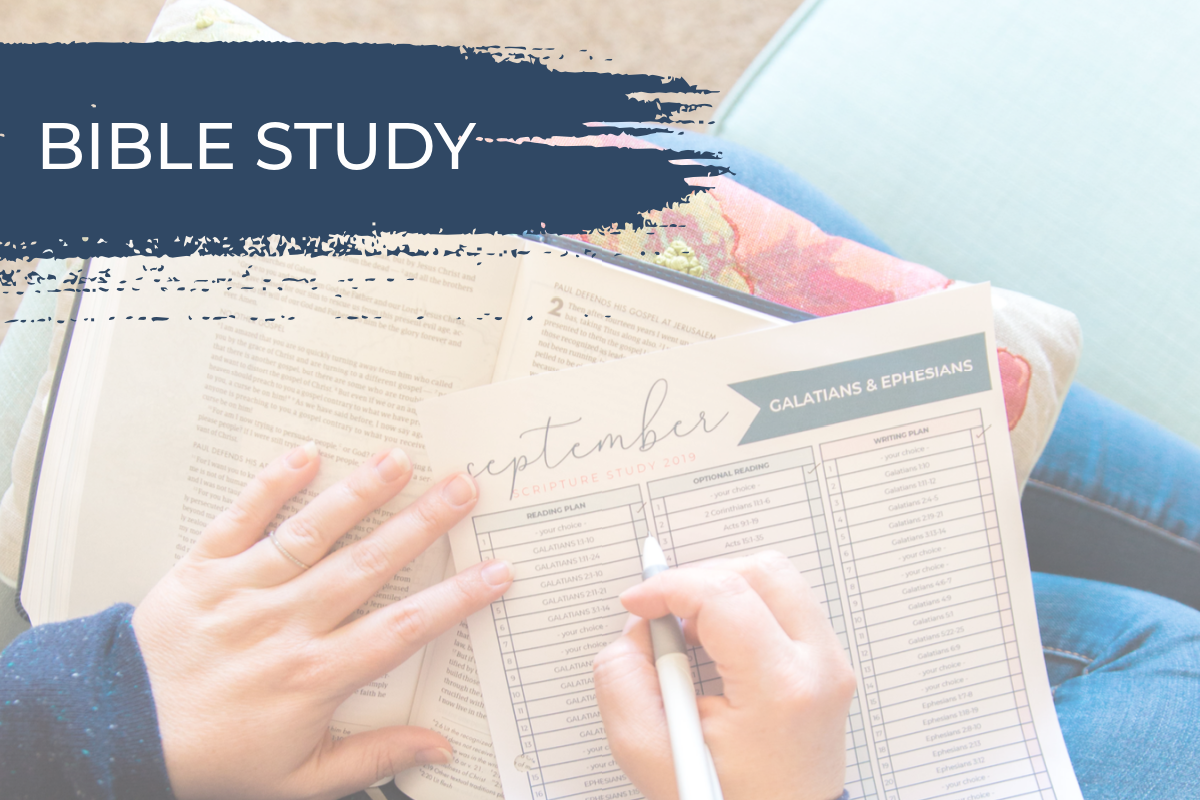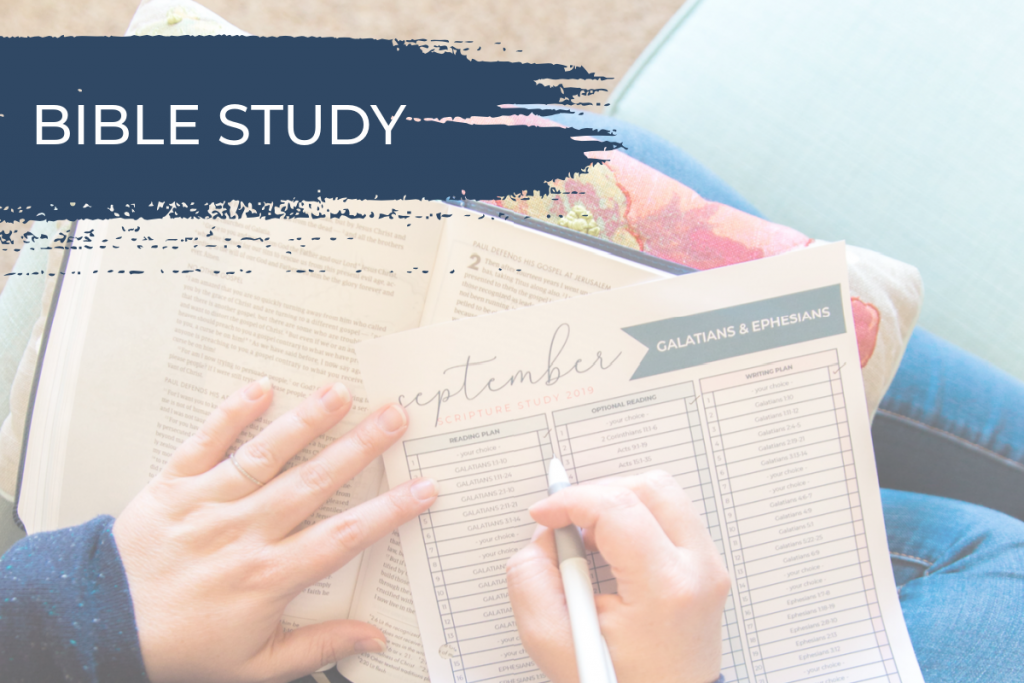 Why Bible Study?
I think a lot of us struggle with Bible study as something we're "supposed" to do, but that we can't ever find the time (and maybe even the motivation) for. I've spent a lot of my own mornings trying to fit my quiet time into someone else's standards of what that time should look like – always failing and then feeling like I just couldn't do it.
But Bible study is really not about what we are "supposed" to do. I like to remind us all that there are no quiet time police, looking over your shoulder to make sure you've lit your candle correctly, picked the right blanket to cover you up in your comfy chair, and checked off all the boxes on your Bible study plan before you start your day.
Instead, Bible study is about ONE THING – learning more about who God is, and who we are in light of that. We study the Bible not to check another box off, but to draw near to the heart of God, so that He can transform our hearts and minds to be more like Him.
I do not read anything about candles or comfy chairs in Scripture. We can let that pressure go.
So this month, I want to talk about REALISTIC Bible Study, and a few really simple ways to get started or dive deeper, if you need some help. We'll talk about how to fit Bible study into your busy mornings, how to work through a book of the Bible slowly, how to use colored pencils or highlighters to help you better understand what God's Word is actually saying, how to grow in your faith with your husband, and even how to begin teaching your kids about the Bible.
We are not about the insta-perfect quiet time pictures here.
Instead, we are about learning who God is and what He has done for us, understanding that the TRUTH of God's Word is absolutely the most important thing we can anchor ourselves to – especially in today's culture and climate.
I'm so excited to walk through this month with you! Let's do this!
---
This month's workshop // Bible Study
This year, to go a little DEEPER on our topics than simple blog posts and emails, we're offering something more detailed: Live Workshops!
I've really been loving the live teaching aspect of our monthly planning sessions inside our membership, and I wanted to be able to offer something similar to our entire community. And so, this year we're starting Anchored Women Academy!
The Academy will offer stand-alone workshops that you can attend. Each one will include teaching on a particular topic, printable (or digital if you prefer) resources for you to take home, and ACTUAL WORK TIME, so that I can help you create a plan of action that you can implement as soon as the workshop is over!
I'm so excited about this!!
Our February Workshop will be focused on Bible Study! We'll cover:
Why Bible study matters now more than ever
Simple strategies to approach the Word, even when you're busy
How to build your confidence in studying Scripture
The absolute importance of discernment + authors + studies I can wholeheartedly recommend
You'll get a workbook to help guide you through this process, and I'll be right there with you, too! I'll teach a bit and then help you troubleshoot any issues your schedule may post to your study plans, and also answer your questions. You'll walk away with a clear focus + serious excitement for studying God's Word, AND strategies for how to make it actually happen.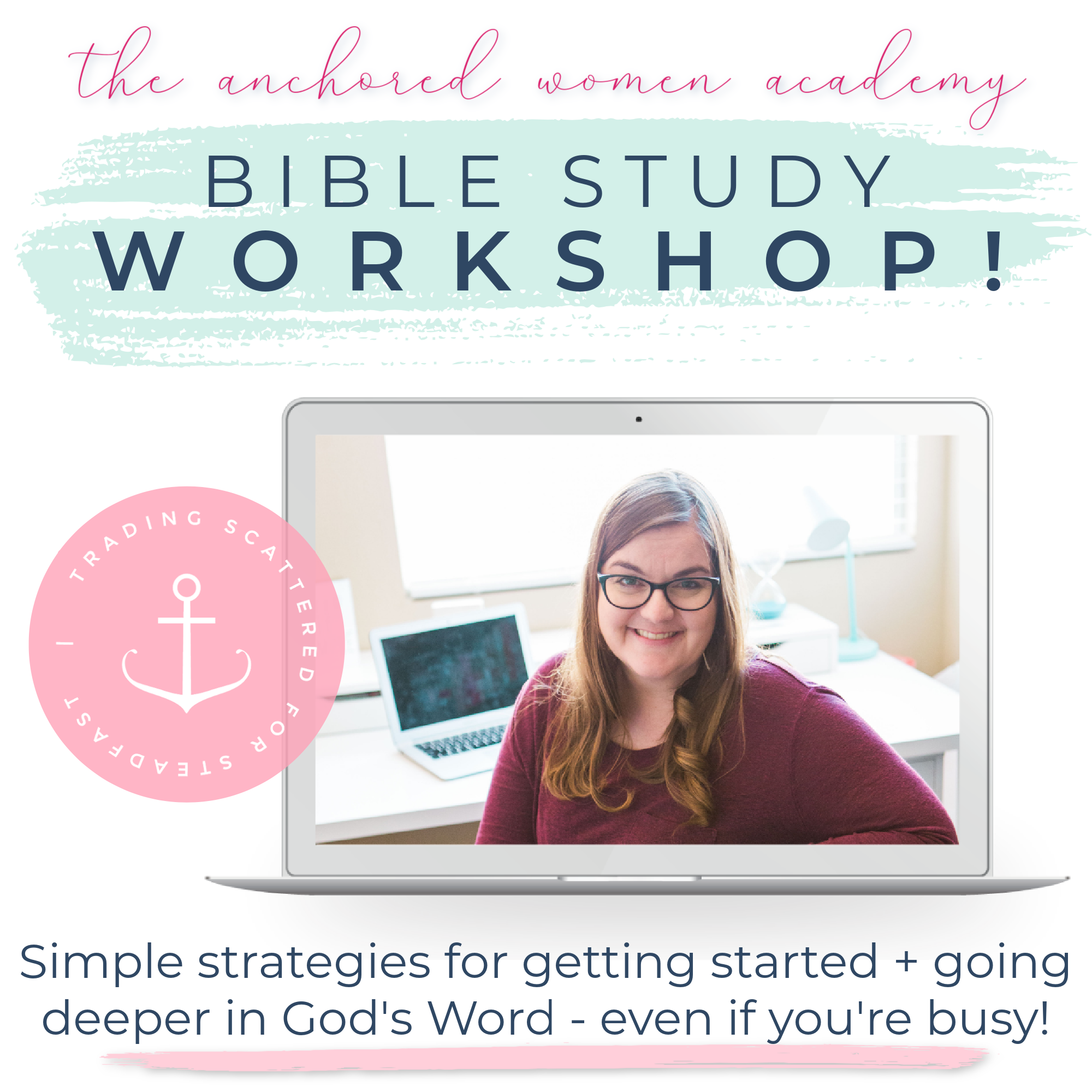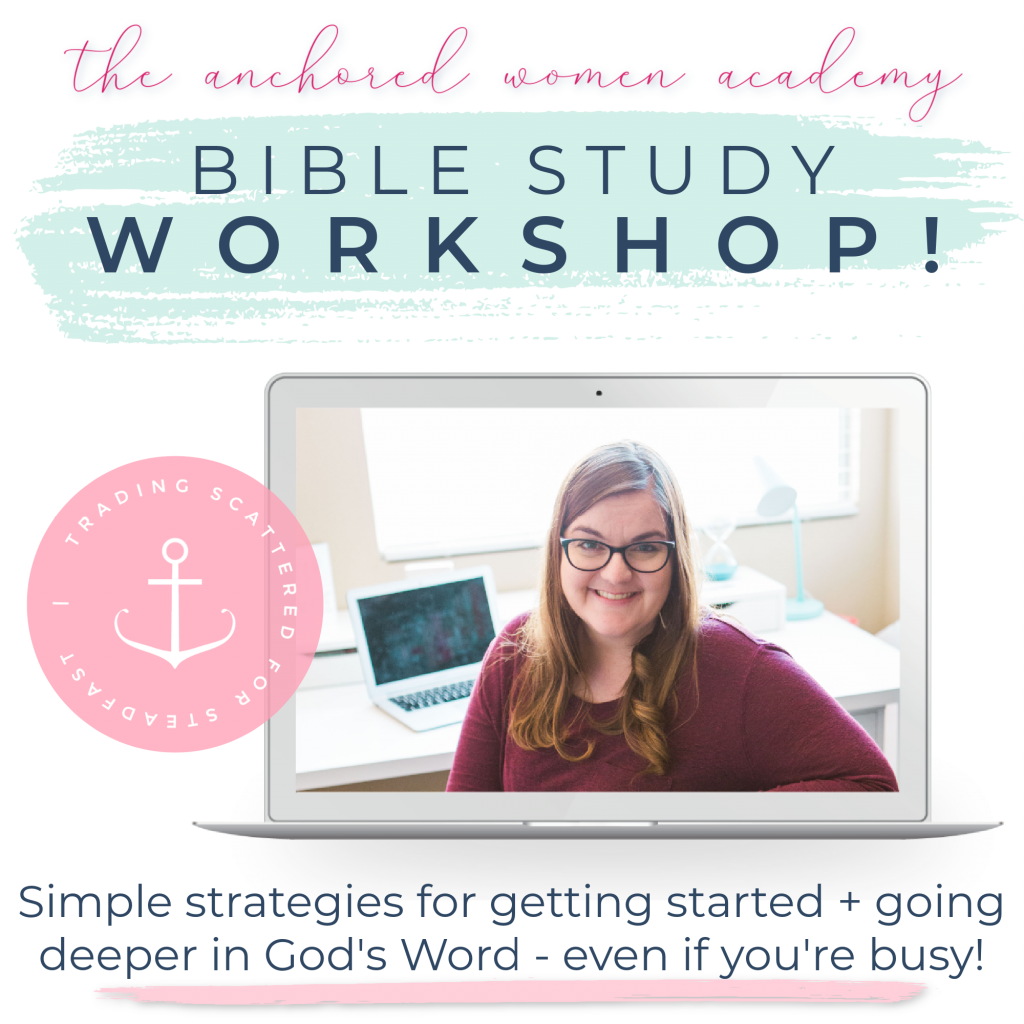 What's the price?
We want to make these workshops SUPER affordable, so that anyone can attend, so we're offering a few different options for payment:
EARLY BIRD SPECIAL – $27 // If you purchase the class BEFORE the Live Workshop, you'll get access to everything, including the replay, for just $27! You'll also get the added bonus of being able to attend live and get your questions answered!
REGULAR PRICE – $49 // If you wait until after the Live Workshop and purchase the replay, the price of the training will regularly be $49! (You still get access to all the same resources, but without the added bonus of the ability to ask questions live.)
BEST DEAL – $7 // If you are a current ANCHORED LIFE KIT MEMBER, the price is just $7! You're already paying $20 a month for the Life Kit, so that $7 just covers the difference of the Early Bird price. Plus, you get all the Life Kit resources, as well! (If you are a current member, do NOT buy your ticket through the link below! Make sure you use the link that is INSIDE your Life Kit! Email us at [email protected] if you have trouble!)
I'm so excited!!! I hope you are too! If you're ready to save your spot for this month's call, get your tickets HERE, and mark your calendars for THIS SATURDAY, FEBRUARY 6TH at 10am Pacific Time!
Click below to buy your ticket to the Bible Study Workshop and save your seat!
---
I'd love to hear any questions you have about Bible Study, as we dive into this month! Just hit "reply" to this email, and let me know what your questions are! I'll address them in another email, blog post, or FB live this month!
YAY!! Welcome to February, friends!
---
ANCHORED TOOLS FOR YOUR MONTH //
If you're looking for some simple Bible Study TOOLS, we've got you covered!!
Check out our Anchored Faith Journal! The Anchored Faith Journal is a central space for you to keep a record of what God is teaching you as you grow in your faith! Printable in two sizes, it's the perfect companion to your Bible Study time!
Check out our Anchored Life Kit! All the home management resources you need for your month, along with an incredible Bible study on the attributes of God! We're walking through the book None Like Him this year, and I've created a daily Scripture reading plan + journal to accompany it. If you want to do your Bible study in community, we'd love to have you join us!
A Prayer Challenge For Moms!
Join us for as we spend the month praying Scripture over our families! Get each day's prayer and Scripture in your inbox, along with a set of printable prayer cards.
You'll also receive our weekly newsletter, providing you with encouragement and resources to help you make time for what matters most.
*By subscribing, you're agreeing to our privacy policy.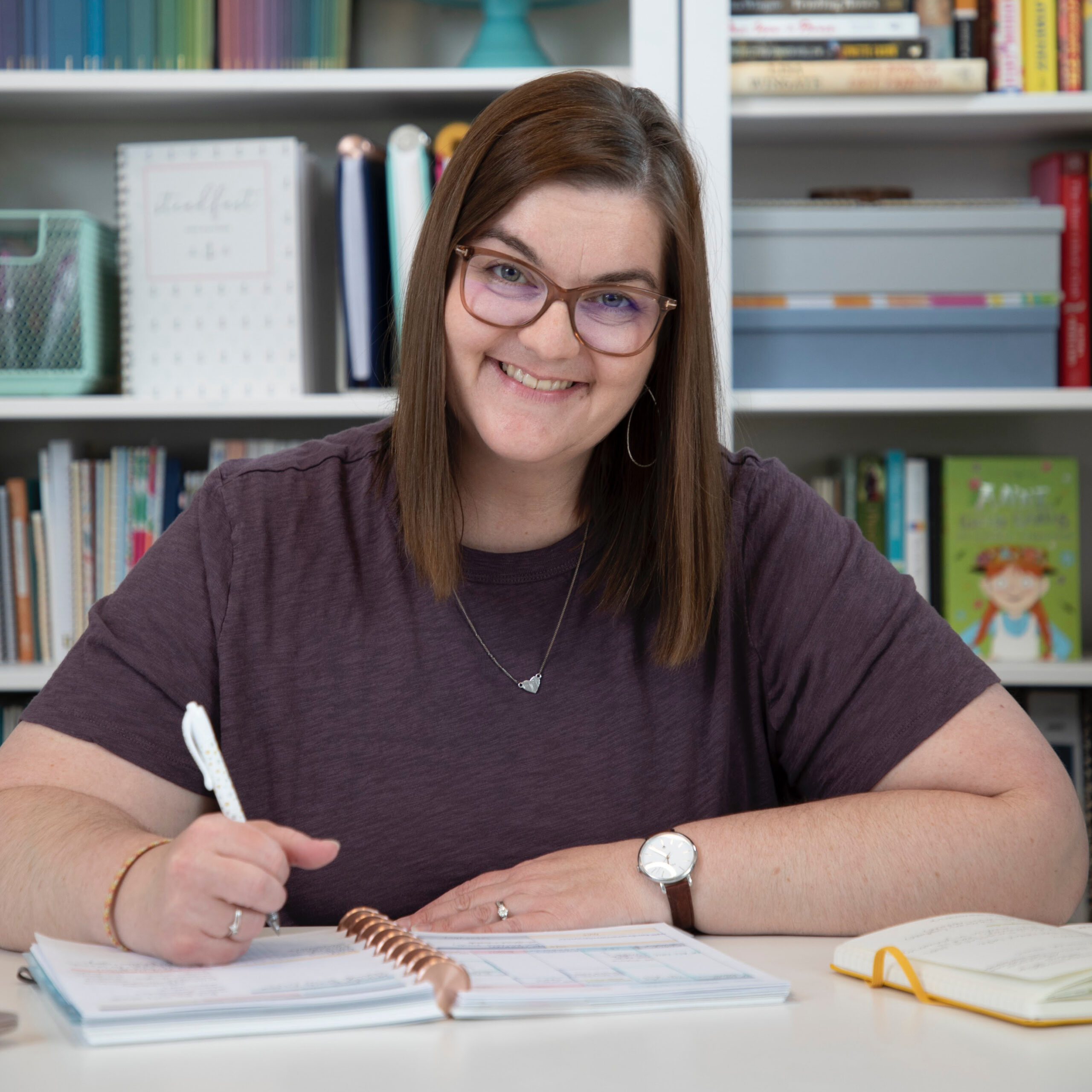 Kayse Pratt serves Christian women as a writer + designer, creating home + life management resources that help those women plan their days around what matters most. She's created the most unique planner on the market, helped over 400 women create custom home management plans, and works with hundreds of women each month inside her membership, teaching them how to plan their days around what matters most. When she's not designing printables or writing essays, you'll find Kayse homeschooling her kids, reading a cheesy novel with a giant cup of tea in hand, or watching an old show from the 90's with her husband, who is her very best friend.