Finding Contentment as a Mom in a World of Comparison
I got a few emails this week. Here's what the subject lines screamed at me:
"HOW TO GET YOUR FIRST 10,000 READERS & MAKE MORE MONEY NOW!"
"THIS ONE STRATEGY COULD TAKE YOUR BLOG TO THE NEXT LEVEL!"
"OVERCOME YOUR LIMITING BELIEFS!"
I'm a blogger, so these kinds of emails are normal. But this week, and for a while lately, if I'm honest, they just feel like a lot of pressure to do more and be better. They play into the underlying current of a culture that says I'm not doing enough.
I'm a wife and I'm a mom and I'm a blogger. With just those 3 things, I basically already need 6 more hours in the day, just to get done everything I need to get done. (6 more hours when the kids are ASLEEP. Let's be specific.) It's a lot.
Still, I struggle with the feeling that I need to achieve more in order to count for anything at all.
Before Jon and kids and writing, I was a try-hard girl. A straight-A girl. A good-at-everything girl. (Except for sports. I have never been good at sports.) I am driven and a hard worker, and I like to be the best, quite honestly. I want to do things well, and I grew up loving the affirmation I got when I achieved things.
(That's not pretty, but there it is.)
This drive to achieve is all well and good when it comes to school and grades and landing a job and teaching classrooms of students, but the desire to be the best, with the goal of affirmation & validation, does not translate well into motherhood.
As a mom, many things I do go unnoticed. Most things, actually. There is very little affirmation or validation from the tiny people at my feet. It's a lot like going to work every day and getting ignored. If I'm honest, motherhood often leaves me feeling empty and used up, instead of accomplished and proud. And so, I sometimes find myself searching those good feelings out elsewhere.
For me, that's often blogging. Writing a post, crafting a new product, developing a new idea or a different way to do something – I LOVE THAT STUFF. I get feedback on what I'm doing, and hear whether or not my work is making a difference in people's lives. With blogging & writing, it's easier for me to feel like I'm doing something that's worthwhile. Motherhood doesn't always feel that way.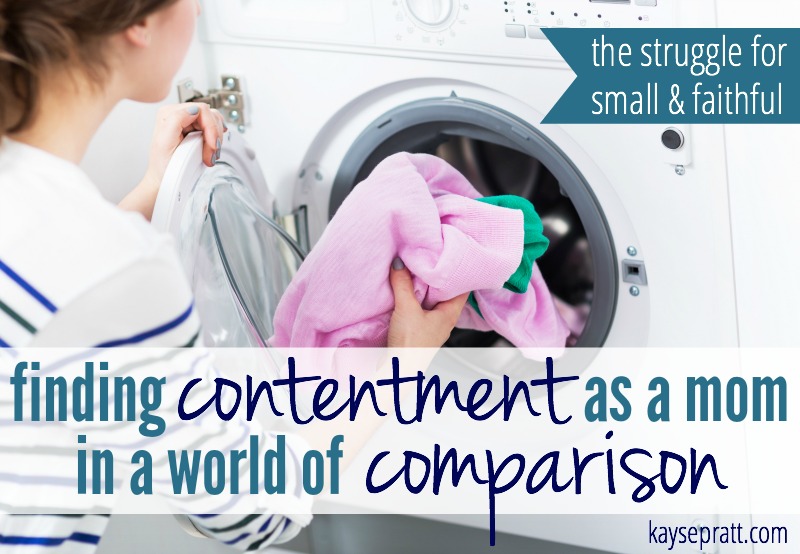 Maybe blogging isn't your thing, but I bet you know what I mean. I bet you've got something that feeds you in a way that motherhood doesn't. And I would also guess that it's hard for you to find contentment in motherhood when this other shiny thing over here looks so great.
Because there are people out there who look like they're rocking life, and balancing all of their spinning plates well, and seem to have it all together. The ones who run million dollar businesses from behind their computers, or the ones who have started a ministry out of their homes and are changing the world, or the ones who lost all of their baby weight before they left the hospital and are now leading teams of people to do the same.
It seems like everyone has a cause, a purpose, a "thing". They are making a difference and doing things that matter, and I'm just over here hoping that my kids nap long enough for me to eat lunch today. I look at all they've accomplished, and I end up feeling like I need a "thing" too.
So I think about it. A lot. I could be a full time blogger. I could work 40+ hours a week and build this place into something that supports my family and brings my husband home from work and hopefully impacts the world for Jesus. I could pay off our debt and we could travel around the world and I could make all of our dreams come true with my own two hands. I could do that. If I read all of those emails and took all the courses and worked really hard, I could do that.
And I might get that affirmation I've been craving, and the straight-A student in me would be proud of myself, and if my numbers were a little bigger and our bank account was a little larger and my home was a little nicer, maybe I'd feel like I accomplished something.
But I am slowly learning this thing God is teaching me, over and over again. That life is not about what I accomplish and what I can prove and what the world thinks about me. It's all about who God is, and how His Gospel impacts my heart and my home and my family. There are truly only a few things that matter. Loving my family well. Staying in the Word. Growing in Him.
Against every try-hard, achieve-it-all bone in my body, I am realizing that while some women are meant to lead movements and inspire change and accomplish great things, my "thing" is this:
Small and Faithful.
Small and faithful. Do you know what the small and faithful things are in my life? Doing the dishes. Reading to my kids. Making dinner. Giving Jon my full attention. Looking into my kids's eyes when they are talking. Washing the laundry. Journaling. Reading the Bible.
Do you know how much affirmation I get for doing those things? Very little.
Do you know how much money I make doing those things? Not one single penny.
Do you know how much motherhood grates against my desire to be efficient & productive? A lot. A WHOLE LOT.

As much as I love my lists, the small and faithful acts of motherhood are not boxes that can be checked off, or projects that can be completed and given a grade. The tasks of a homemaker are not one and done – they are repetitive, menial, and seemingly mindless. They do not satisfy my flesh, or satiate my craving of feeling important and accomplished. They are not fun, or exciting, or newsworthy. I do not get a grade, or a gold star, or a pat on the back.
(Sometimes I get a pat on the bootie, but we all know that is NOT what we're talking about here.) 😉
And so, I struggle. Because I want to be content in my roles at home, but they do not fulfill me like I thought they would. And I'm tempted, always tempted, to chase after other things that might.
My quiet times lately have kept me sitting in Matthew. One verse, in particular. And I don't think it's a coincidence. Matthew reminds us that we cannot say we serve God, and still chase after something else.
No one can serve two masters. Either you will hate the one and love the other, or you will be devoted to the one and despise the other. You cannot serve both God and money.

Matthew 6:24
I cannot fully submit to Christ if I am focused on what I don't have, trying to fill my own empty places with something bigger & better than what I have right now. I can pursue what it looks like everyone else has, or I can find contentment here, where He has me right now. I have a choice to make.
When I'm stuck in comparison, struggling to find contentment in the beautifully simple life God's given me, I go back to His Word, and remind myself of what He says is important…
You shall love the Lord your God with all your heart and with all your soul and with all your might. And these words that I command you today shall be on your heart. You shall teach them diligently to your children, and shall talk of them when you sit in your house, and when you walk by the way, and when you lie down, and when you rise."  – Deuteronomy 6:5-7

"Older women likewise are to be reverent in behavior, not slanderers or slaves to much wine. They are to teach what is good, and so train the young women to love their husbands and children, to be self-controlled, pure, working at home, kind, and submissive to their own husbands, that the word of God may not be reviled."  – Titus 2:3-5

"…you yourselves have been taught by God to love one another. But we urge you, brothers, to do this more and more, and to aspire to live quietly, and to mind your own affairs, and to work with your hands…"  – 1 Thessalonians 4:9-11

"Christ, who, being in very nature God, did not consider equality with God something to be used to his own advantage; rather, he made himself nothing by taking the very nature of a servant, being made in human likeness. And being found in appearance as a man, he humbled himself by becoming obedient to death—even death on a cross!"  – Philippians 2:6-8
It seems like small and faithful is a pretty big deal to God.
I'd be lying if I said it's not a struggle. The struggle is very, very real. I struggle to follow where God leads, instead of forging my own way. I struggle to stay content in the more-than-enough that I have, instead of figuring out a way to get the things she has that I want. I struggle to be confident in my vocation as a wife and a mom, in a culture that constantly tells me that I should be doing more.
The Bible tells me, though, that it is enough. It's enough to slow down and forget about keeping up with the Joneses. It's enough to let the gospel sink deeply and firmly into my soul. It's enough to teach that gospel to my children, to live it out with my husband, to serve humbly and live quietly and love faithfully.
It's enough, because HE IS ENOUGH.
I can use up my life trying to prove my worth, or I can spend my life talking about how worthy He is. In my home, in my writing, and in my relationships.
Small and faithful.
Because no accomplishment, no dollar amount, no list with all the boxes checked off, will ever fill me the way that Christ does. And so, I'll believe what He says over any of the rest of it, and I'll find rest in refusing to indulge the comparison that kills our souls and steals our focus from where it should be.
On Him first, and then those loved ones He's graciously given to us.
Small and faithful. That's enough.
Who's with me?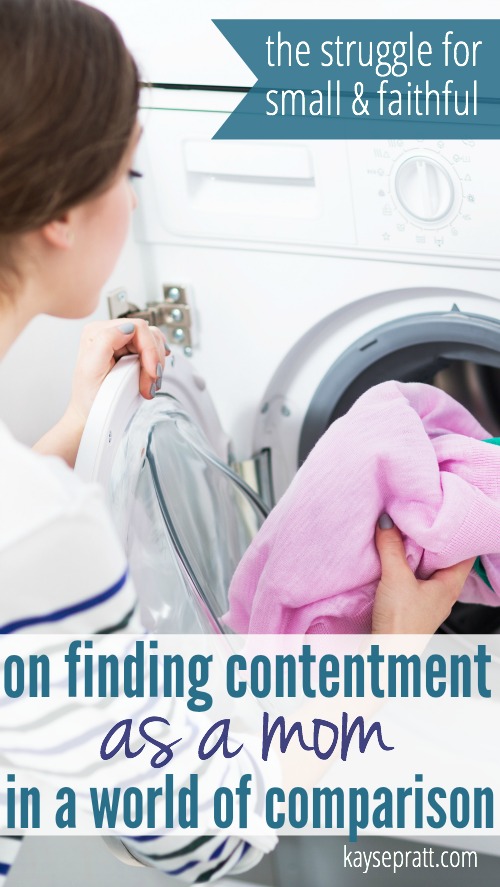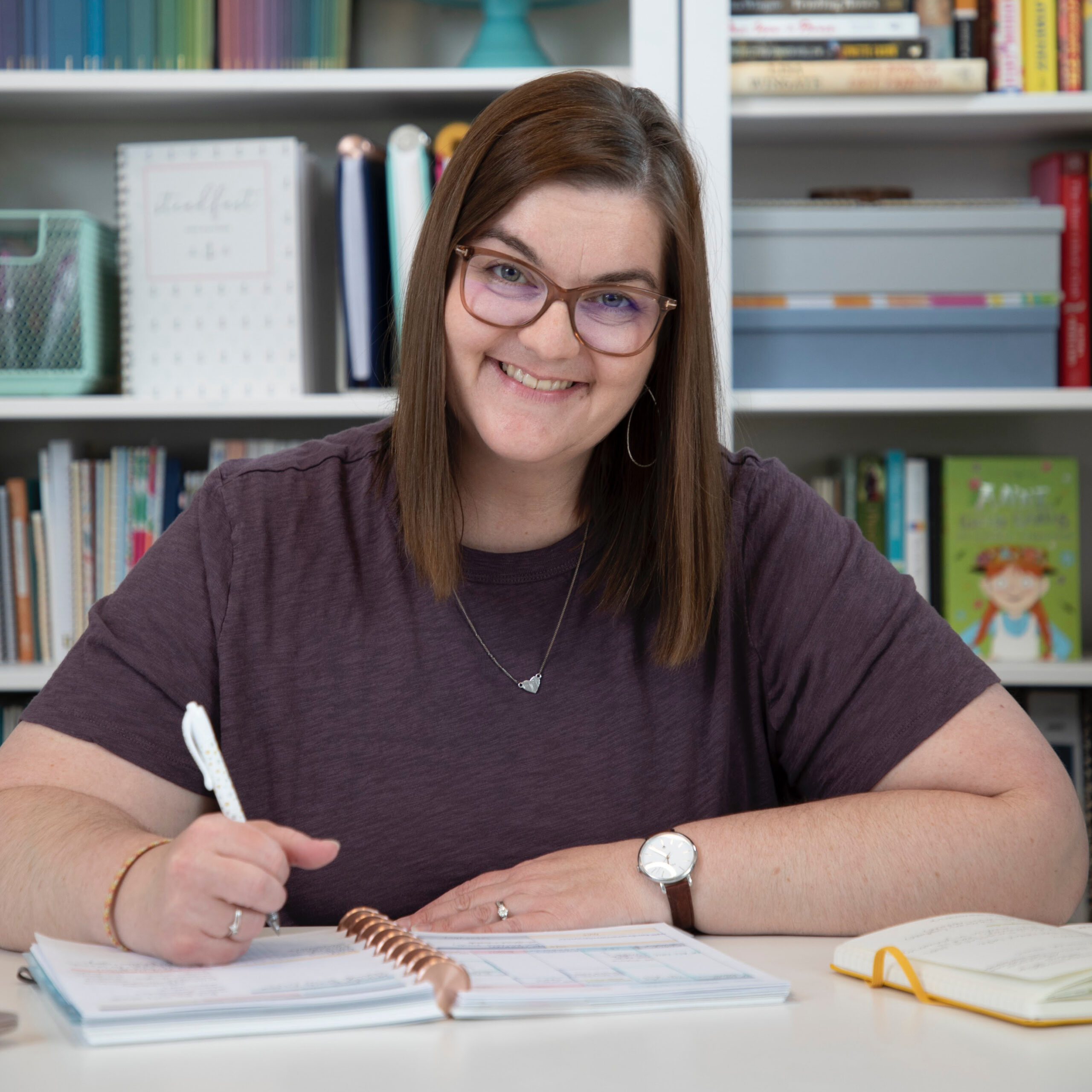 Kayse Pratt serves Christian women as a writer + designer, creating home + life management resources that help those women plan their days around what matters most. She's created the most unique planner on the market, helped over 400 women create custom home management plans, and works with hundreds of women each month inside her membership, teaching them how to plan their days around what matters most. When she's not designing printables or writing essays, you'll find Kayse homeschooling her kids, reading a cheesy novel with a giant cup of tea in hand, or watching an old show from the 90's with her husband, who is her very best friend.