For When Your Discipline Isn't Working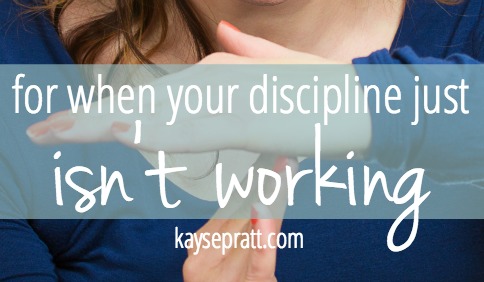 I picked her up and put her in front of me, held her hands and looked into her eyes, and I felt the yell coming. She did too, I could see it in her face.
So I took a deep breath. I shot up a quick prayer for sanity and patience and the right words.
And they came. (Like a miracle, because the yell was seriously right there.)
"Emmy, it seems like you're having a hard time today. You're disobeying and talking rudely and arguing with mommy, and because of that you've had a lot of consequences today. I know it's hard to make good choices, but if you're having a hard time, you can ask for help. Come tell mommy that you're having a hard time making a good choice, and I will pray with you, and we can ask God to help you. We can't make good choices without Him, and He is so very happy to help us."
I braced myself for more arguing, but it didn't come. Her response?
"I'm sorry, mommy. Can we pray?"
I half-prayed for her while I half-looked to the heavens in disbelief. Because for my kid? Apologies don't come easy. And if they do come, they are often forced. (She comes by it honestly. Her momma is the same way.)
Generally, I'm a yeller. I wasn't a yeller until I got married and had kids, mind you. But those three bring out something in me that brings my voice to it's full volume and my eyes to their full craziness. So this change, this different approach to parenting, was a bit of a breath of fresh air for both of us, I think.
I was raised in a house where it was mom & dad's way, or the highway. That's how our house is too, but what I missed growing up was a little bit of the gospel. Not just grace – undeserved favor when I'd messed up, but the actual GOSPEL.
I've spent much of my life trying to do everything the right way. Make the right choice, live by the rules, don't mess up. It's good to want to do the right thing, but sometimes, living so strictly by the rules leads you to believe that everything in your life depends on your behavior – good or bad. If you live right, you'll get good things. If you don't, you wont.
There are two problems with this way of thinking.
First, life just doesn't work that way.
My marriage is my greatest example of this in my life. I did EVERYTHING "right" when it came to dating and marriage. Jon was my first boyfriend. We didn't hold hands for a few weeks (and he was the first guy to ever hold my hand). It took waaaaaaay longer than that to get to our first kiss. We didn't sleep together until we got married. I played by the Christian rules. There was no straying.
I assumed that, as a result of doing things the "right" way, I'd get the marriage I'd "earned". Easy. Pure. Selfless. Clearly, real marriage is none of those things, at least not all the time. But figuring out that my spotless dating behavior didn't secure a spotless marriage was a shocking revelation for me, the girl who had been raised to do everything right. My marriage struggles seriously shook my belief in God's trustworthiness, His goodness, and His love for me. All because I thought that the way my life turned out depended on my behavior – I'd do my part, and He'd do His.
The second problem is that we simply can't do good things apart from Jesus.
The truth of the Bible says that we are sinful beings. Our hearts are desperately wicked! And Scripture tells us that ALL good things come from the Lord. So to be expected to live up to a standard of perfection is both destructive and completely unrealistic. We can't! Not on our own. We absolutely need Jesus.
This is the message I desperately want my kids to know. Yes, I want them to obey, and respect authority, and be quiet when adults are talking, for goodness sake. And there are plenty of consequences in our home as we train our kids up to be respectful adults. But I also want them to know how much they need Jesus. I want them to know that I struggle to obey as much as they do, and our only hope is Christ. I want them to know that life is not about a set of rules, it's about understanding that we are lost in our sin, acknowledging Christ's saving work on the cross, and asking Him to change our hearts as we share His message of new life and freedom with those still held captive.
I'm still learning this myself. I'd like for my kids to learn it faster than I have.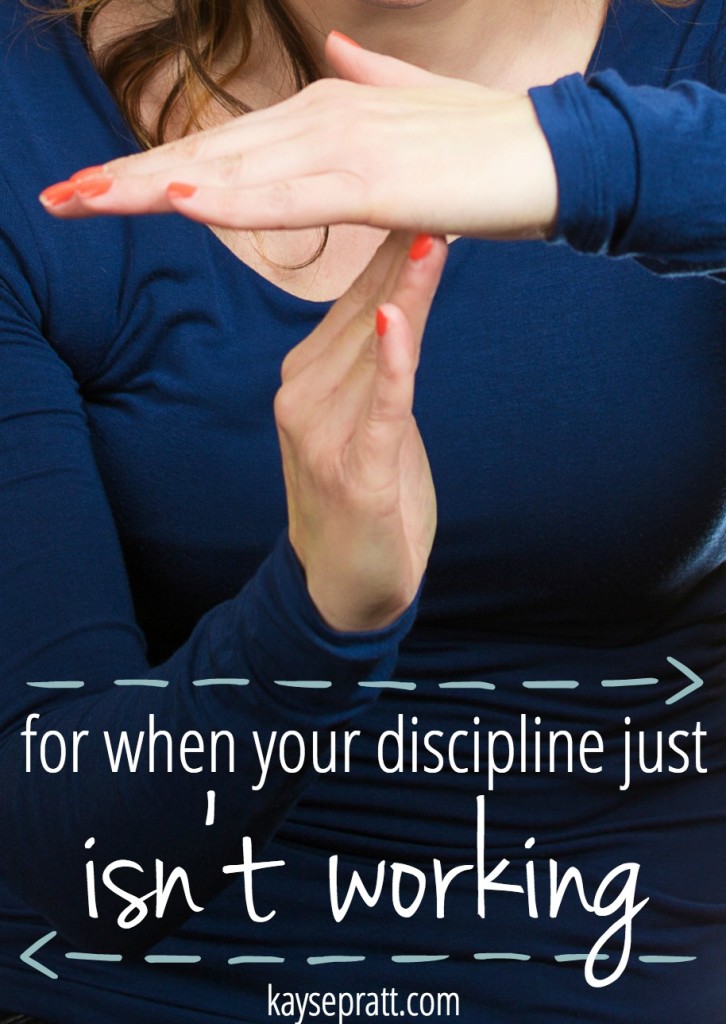 I don't always handle discipline this way. Like I said, I tend to be a yeller. But watching Emily's almost instantaneously repentant (and genuine!) heart, I know I need to make some changes if I want my discipline to continue to reach my daughter's heart. 
Less yelling. More deep breaths. More gospel conversations.
How about you? Is there a time when you've been surprised by how well (or how badly) your approach to discipline was working?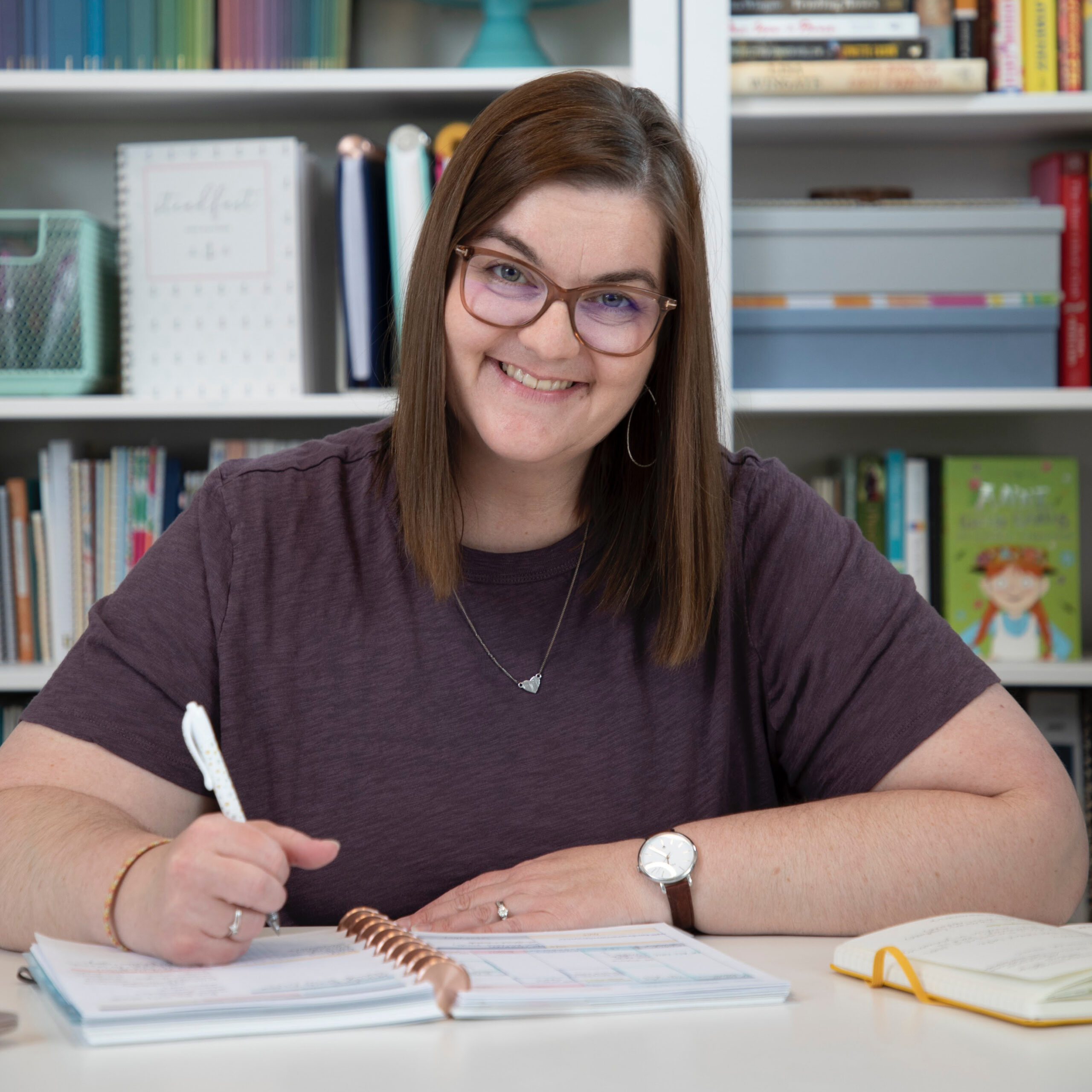 Kayse Pratt serves Christian women as a writer + designer, creating home + life management resources that help those women plan their days around what matters most. She's created the most unique planner on the market, helped over 400 women create custom home management plans, and works with hundreds of women each month inside her membership, teaching them how to plan their days around what matters most. When she's not designing printables or writing essays, you'll find Kayse homeschooling her kids, reading a cheesy novel with a giant cup of tea in hand, or watching an old show from the 90's with her husband, who is her very best friend.