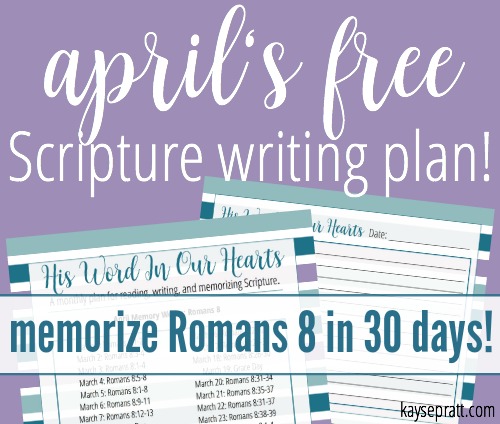 April starts tomorrow, and you know what that means! A new Bible reading plan for us!
If you're new to the blog, here's a little background info. We're pretty serious about the Bible around here, and we're also busy mommas who are struggling to spend a few quiet minutes with the Lord every day. We've learned that writing out Scripture really helps us focus on a few verses at a time, and over a month or so, writing out these verses helps us commit full passages to memory! It doesn't take forever, it helps us focus, and it hides His Word in our hearts. We kind of love that!
So, every month, I provide you with a new study  – complete with a passage broken down into specific verses to write each day, and a journaling page to do your writing and keep any notes or prayers! It's TOTALLY FREE for you to download and print off each month!
This month, we're focusing on one full chapter of Scripture: Romans 8.
It's such a powerful passage on who we are in Christ, how the Spirit helps us in our weaknesses, and just how deep God's love for us is! I thought it was the perfect passage to follow after Easter.
If you're already a subscriber, you should have gotten an email this morning with full access to this month's plan! Check your inbox for an email from me with the subject line "Your April Bible Reading Plan!"
If you're new here, just enter your name and email below, and I'll send the plan out to you right away!
Sign up now!
Get a free monthly plan for reading & writing God's Word!
You'll also receive our weekly newsletter, providing you with encouragement and resources to help you make time for what matters most.
*By subscribing, you're agreeing to our privacy policy.
That's it! Enjoy the study this month, friends! I'm so excited to get started with you!
PIN IT!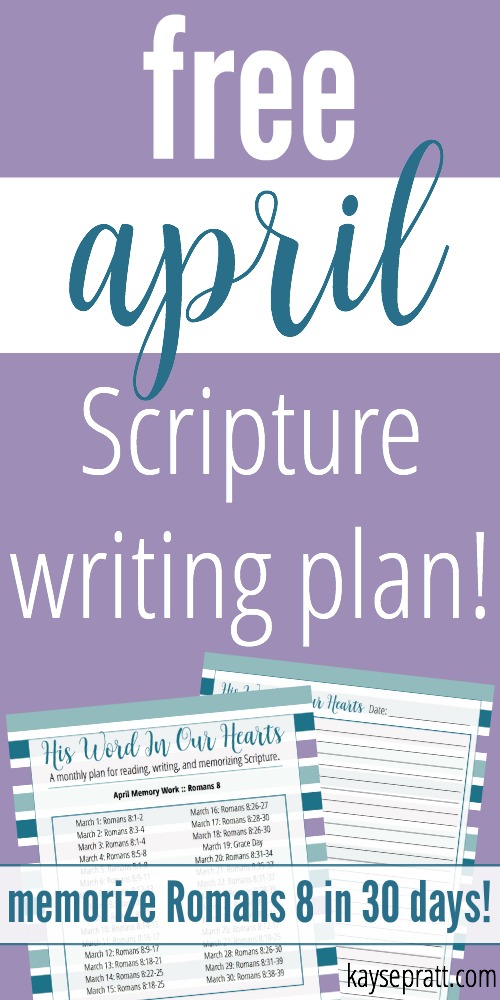 Kayse is a wife, mom, and founder of the Anchored Women community. She writes to help women fight busy, find rest, and build a life that's anchored in Christ. Kayse is also the creator of the S.O.S. Planner, the Anchored Life Kit, and other practical resources that equip women to manage their homes and families in confidence. You can find her writing and her resources at anchored-women.com!